When you see Louis Vuitton, you know you will find class, style, and sophistication. A black LV bag adds that element of bold, exquisite, and gorgeous look to your ensemble. Not to mention classic and always trendy! We LOVE the always classic LV monogram canvas, but let's show some love to an all black LV bag.
Black can match with anything in your closet, and if you are looking for a black LV bag, your search is over. Here are nine classic Louis Vuitton bags that are a must-have in.
Louis Vuitton Neverfull in Black
The Louis Vuitton Neverfull black tote bag is made from epi leather. It is the ultimate classic louis vuitton purse. If you are looking for a big enough bag to fit all your essentials but remain stylish while doing your everyday errands, then this is the perfect handbag for you.
Wile you've likely seen this in the classic monogram print canvas; many people don't realize it comes in an endless about of varietys. It has easy-to-carry handles with a removable pouch made from epi leather, and has a large interior that you can fit your coins, credit cards, keys, and other personal items, making it the perfect Louis Vuitton black bag that can be worn daily (loved as a form of carry-on luggage). It matches with anything in your wardrobe, adding the ultimate luxury to your outfit.
Louis Vuitton Capucines in Black
One of Louis Vuitton's classic handbags, named after his first shop Rue Des Capucines in Paris, is the best accessory for women. Made from a variety of leathers, it features a flap, which you can style in different ways. You can display the flap outside with the beautiful monogram flower canvas, or if you like, you can have the strap back inside to show the LV initials.
Additionally, thanks to its removable straps, it's undoubtedly a versatile and contemporary LV black bag that you can wear all day as a Louis Vuitton crossbody or on your shoulder.
The rigid design and clean lines of the Capucines bag give it a chic and professional appearance. It is made from exotic skins like alligator or python or the best leather, like as Taurillon, and offers a variety of opulent alternatives to suit diverse tastes.
The Capucines bag's unusual flap fastening, decorated with the iconic LV letters, which can be subtly tucked away or prominently shown, adds a touch of refinement and branding, is one of its most distinctive features. The closure mechanism is precisely built to provide secure fastening and simple opening.
With its two top handles, this bag offers a variety of comfortable hand and arm carrying choices. Additionally, it has a removable, adjustable shoulder strap that allows for crossbody or shoulder carrying, offering versatility and ease for many situations.
Louis Vuitton Petit Noe Black Epi
The Louis Vuitton Black Petit Noe bag was designed to be a sturdy and stylish louis vuitton purse. Thanks to its iconic shape, it's spacious enough to fit all your essentials while being lightweight.
The Petit Noe in black made from epi leather is your go-to everyday bag. The Louis Vuitton black bag features a drawstring closure and an adjustable strap perfect for the modern, stylish woman.
The Petit Noe in Black, made from dependable Epi leather, has a distinctively textured surface that lends an air of richness and sophistication. The bag will keep its attractiveness for many years because Epi leather is renowned for its toughness and ability to withstand daily use.
A beautiful and useful feature of the bag is its drawstring closing, which gives it its distinctive look. The bag may be worn on the shoulder or as a crossbody for hands-free ease thanks to the adjustable leather shoulder strap, which offers comfortable and adaptable carrying options.
The Petit Noe has a roomy interior that is lined with silky microfiber and has room for all of your belongings. The bag has a single main section that is ideal for holding daily essentials including a wallet, phone, keys, and small personal things.
Louis Vuitton Montaigne Noir Black MM
The Louis Vuitton black Montaigne bag named after the partisan avenue is a stylish and classic bag perfect for businesswomen and fashionistas alike.
You can use this beautiful black Louis Vuitton bag for everyday wear. It comes with a zipped compartment and padlock, smartphone pocket, two wide sections, and flat pocket perfect for all your accessories. Read our full LV Montaigne review here!
The Montaigne Noir Black has a structured form and crisp lines that give it a sophisticated appearance. While the gold-tone hardware elements provide a modest hint of grandeur, the soft, silky leather adds a touch of refinement.
The bag offers a variety of carrying choices and was made with utility in mind. It has two wrapped top handles that make it easy to carry with either your hands or your arms. It also comes with a removable and adjustable shoulder strap that allows for crossbody or shoulder wear.
The interior of the bag is roomy and thoughtfully laid out when you open it. With various compartments and a center zippered compartment, the interior is lined with a plush microfiber or textile lining and offers enough of room to keep your items organized and handy.
Pochette Metis Black Monogram Empreinte
The Louis Vuitton Pochette Metis handbags were created using the satchel silhouette in mind. The Pochette Metis comes with a handle at the top that you can use to carry or an adjustable strap you can also use to carry as a crossbody. Its perfect size will fit your makeup, keys, coins, cards and can be used to carry other essentials. This is the best LV black bag or black Louis Vuitton bag available by the fashion house in my opinion.
The Louis Vuitton monogram is etched into the leather and adorns the front flap of the Pochette Metis, adding a subtle yet noticeable branding feature. Elegant gold-tone hardware, such as the recognizable S-lock closure, gives a sense of grandeur to the bag's overall style.
The Pochette Metis offers a variety of carrying alternatives because to its small but useful size. It has a leather strap that is adjustable and detachable and can be used to carry it as a chic top handle bag or worn crossbody. Additionally, the bag has a useful back slip pocket for easy access to necessities.
When you lift the flap, the interior is neatly set out. The bag has a roomy main compartment that is lined with plush microfiber for a posh feel. It has numerous pockets, including two open compartments and a zippered pocket, making it simple to organize your items.
Louis Vuitton New Wave Chain Style Black
For women who love to make a fashion statement then opt for the Louis Vuitton new wave chain style bag. The Louis Vuitton black bag is made from smooth quilted calfskin with a detachable Louis Vuitton handle just for the perfect pop of color for your black bag. Its gold-colored hardware with intricate details makes it a stunning piece of artwork. The adjustable chain works perfectly and can be adjusted to suit your style. This louis vuitton purse is the right touch of luxury for any woman who adorns it.
The New Wave Chain Bag is the perfect accessory for transporting your essentials thanks to its small but useful size. It is embellished with a striking gold-tone chain strap that gives the bag a sumptuous and eye-catching touch while also enabling comfortable shoulder or crossbody wear.
The handcrafted quilted leather on the bag has a tactile texture that adds depth and visual intrigue. The color black offers a sophisticated and adaptable canvas that easily goes with different clothes and styles.
This bag has a fold-over flap clasp with a magnetic snap that keeps your stuff secure while also adding style. The interior is lined with silky microfiber or textile, giving it a posh appearance and plenty of room for daily necessities like a wallet, keys, and a phone.
Louis Vuitton Speedy Black
The Louis Vuitton black speedy bag is a beautiful black version of the classic speedy we all know. The black Louis Vuitton bag speedy is crafted from Empreinte leather, which is soft and durable. It's still fashioned with iconic leather handles and signature lock, zip pocket, including the LV monogram canvas pattern or symbols.
The classic speedy bag will always increase in value, and after a while, you can sell it at a price much higher than what you bought it for. Take that into account when you shop for your LV black handbags.
Louis Vuitton Alma Black
A classic and equally elegant LV black bag, the Louis Vuitton Alma is an ideal bag suitable for women who love fashion. The black Louis Vuitton Alma bb is designed from dyed epi leather that showcases the brand's craftsmanship in all the details. It comes with a signature LV padlock and key, adding a touch of luxury and sophistication to the bag. This iconic piece is a must-have for any fashion enthusiast looking to elevate their collection with a black Louis Vuitton bag.
The iconic LV initials in silver or gold-tone hardware can be found on the front of the Louis Vuitton Alma as well as other discreet yet eye-catching embellishments. The sturdy metal feet at the bottom of the bag maintain its endurance and preserve the beauty of the leather.
The Alma in Black is an adaptable and classic accessory that easily goes with many attire and settings. This purse adds a touch of sophistication and elegance to your outfit, whether you're doing errands, going to the office, or going to a social event.
Overall, the Louis Vuitton Alma in Black is a representation of elegant luxury and flawless design. It is a sought-after handbag that endures the test of time thanks to its timeless style, usefulness, and attention to detail.
Black Louis Vuitton Handbags are a Forever Piece: Why You Should Invest
A Louis Vuitton black handbag is a renowned and sought-after fashion item that personifies classic elegance and superior workmanship. Purchasing a Louis Vuitton black bag is a choice that adds flair and functionality to your outfit due to its chic design and adaptability. Tons of Louis Vuitton lovers choose to rent designer bags before purchasing! Here are five reasons why you should invest in a black Louis Vuitton bag (new or vintage) for your collection.
A Louis Vuitton black bag embodies enduring refinement since black is a hue that never goes out of style. Black Louis Vuitton bags maintain its charm and may effortlessly match any dress or event, regardless of trends or seasons. A black bag gives a touch of timeless elegance to every outfit, from everyday casual wear to formal occasions.
Versatility: A black Louis Vuitton brand bag has a lot of uses, which is one of its best features. The black hue allows for seamless integration into a variety of ensembles, whether you choose a traditional Speedy, a stylish Neverfull (loved as a form of carry-on luggage), or an elegant Capucines. It combines many hues, designs, and fashions with ease, making it a dependable and versatile partner for every situation.
Luxury and outstanding craftsmanship are two characteristics that define Louis Vuitton's iconic design and craftsmanship. Every black bag from the company has the recognizable monogram canvas, deft stitching, and superior materials. Your investment will survive the test of time thanks to the meticulous attention to detail, modern and classic styles, and the use of high-quality leather or canvas.
A black LV bag offers extraordinary convenience and functionality in addition to its visual appeal. These Louis Vuitton bags are made to hold your daily necessities while keeping them organized, with thoughtful divisions, strong handles, and plenty of storage space. A black LV bag offers both flair and functionality, whether you need to transport your laptop, cosmetics, or personal items.
Black Louis Vuitton bags are not only an investment but also a fashion statement. Because of the brand's classic appeal and reputation for high quality, Louis Vuitton bags have a robust secondary market. It is a wise and rewarding investment to get a black Louis Vuitton bag because it not only enhances your sense of style but also holds its value over time.
An iconic representation of enduring elegance, adaptability, and workmanship is a black Louis Vuitton bag. It becomes a valuable addition to the collection of any fashion aficionado thanks to its ageless appeal, usefulness, and investment potential. A black Louis Vuitton bag is certain to become a prized accessory that adds flair, refinement, and utility to your daily life, whether it's your first Louis Vuitton buy or a beloved addition to an existing assortment.
Our #1 Pick for LV Black Bag Selection
The Winner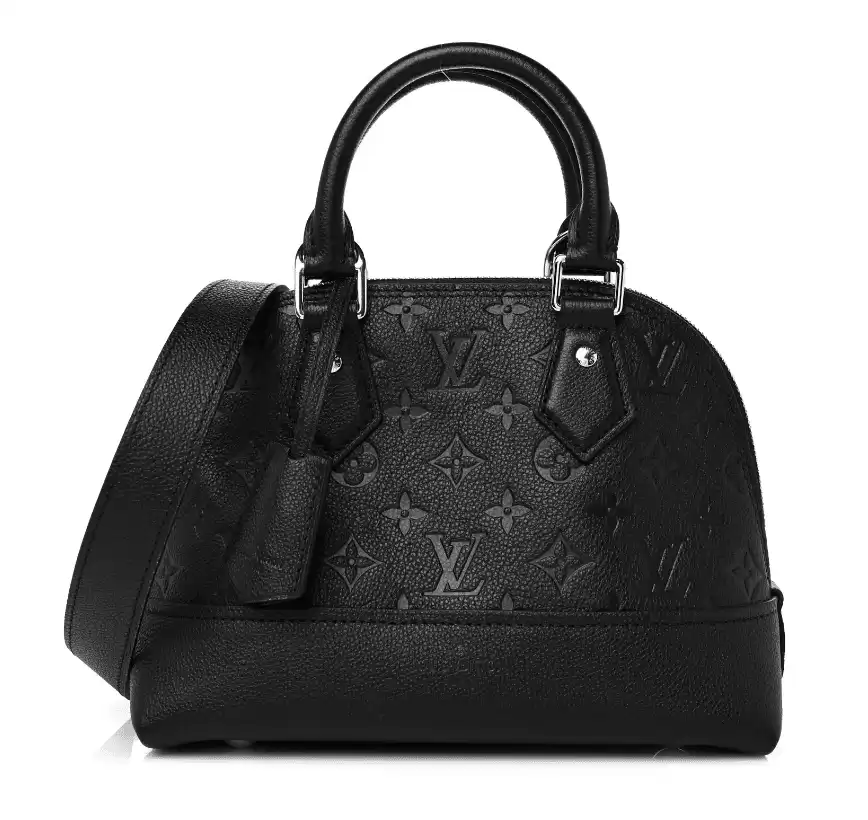 Louis Vuitton Alma Black
The Louis Vuitton Alma in black is a chic and sophisticated handbag featuring a structured silhouette, luxurious leather and signature LV padlock, making it a timeless addition to any collection.
Shop Bags
For a number of reasons, the Louis Vuitton Alma BB in Black is the best black handbag available from the brand. First off, it is highly adaptable and perfect for both day and evening wear thanks to its small size and structured form. Second, the Alma BB's timeless black hue seamlessly matches any ensemble and will keep its elegance for years to come. It is made from dependable Epi leather or black empreinte. The bag's top handles and detachable strap enable a variety of carrying options, while the spacious interior has plenty of room for necessities.
The Alma BB in Black epitomizes elegance, sophistication, and usefulness when combined with the brand's exquisite craftsmanship and famous LV initials, making it the ideal option for anyone looking for a stylish and enduring black handbag. Not to mention the fashion house continues to revamp the varieties (colors, pattern, material) season after season!
Photos courtesy of official websites of fashionfile.