Expecting anything less than fierce from Alexander McQueen would be a sin. Continuing the brand's bold and out-of-the-box style, they've sprinkled more biker-chic into their iconic Jewelled Satchel.
The Biker Jewelled Satchel is Born
The Jewelled Satchel has been reiterated for PF23 season as the Biker Jewelled Satchel. The refreshed design includes the knuckle ring element, which is iconic to the brand. The knuckle ring, which is embellished with exquisite Swarovski encrusted rings, serves not only as a decorative detail but also as a functional handle, making it possible to carry the bag in a way that is both distinctive and stylish. Because of this unique feature, which exemplifies the brand's typical combination of boldness and sophistication, the Jewelled Satchel handbag makes a true statement item for fashion-forward individuals.
The Biker Jewelled Satchel transcends gender definitions and fights to create individual expression. In the world of minimalism, Alexander McQueen stands at the forefront of maximalism.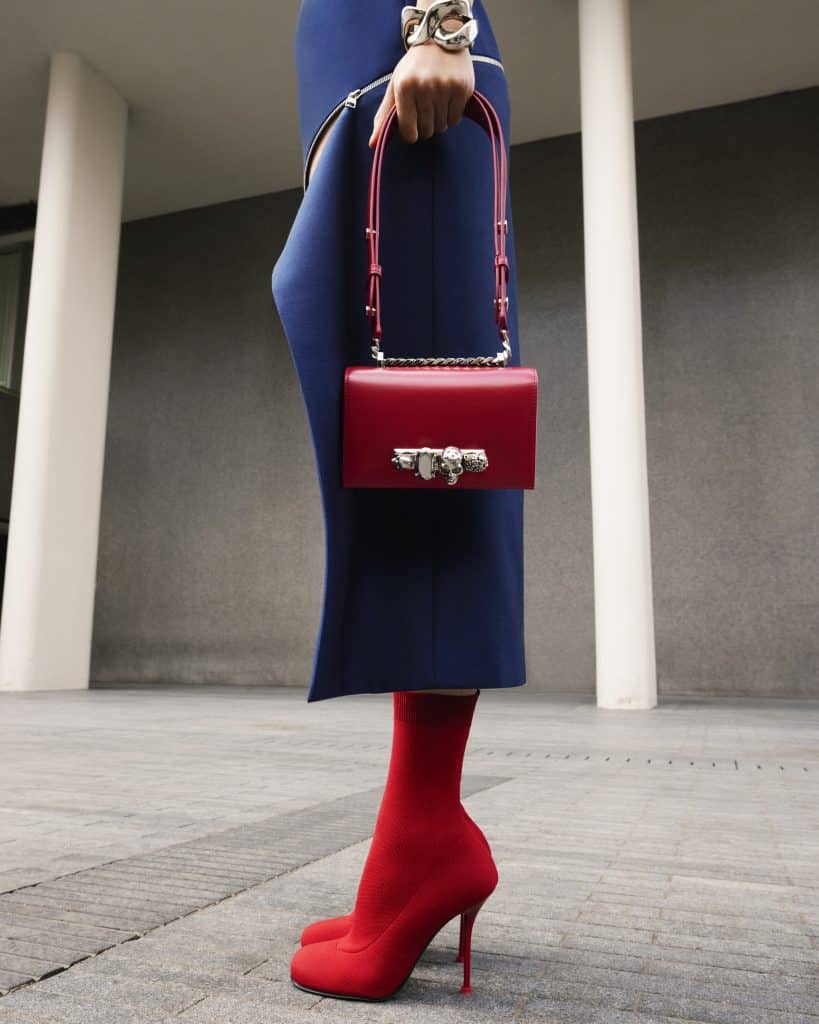 The bag features a wide strap inspired by the McQueen biker aesthetic and comes in black and red leather, colored tweed, and black leather with metal studs. All variations include crisp, antique silver metal hardware. The Biker Jewelled Satchel can be worn cross-body, over the shoulder, or hand-held.
Biker Jewelled Satchel Details:
The Biker Mini Jewelled Satchel starts at $2,390, and the Biker Mini Jewelled Satchel in Black with punk spikes is $2,790. Other iterations and sizes of the Jewelled Satchel can be found anywhere from $1990- $3,890. The mini bag includes one main compartment and one card slot, interior leather lining, and an adjustable leather strap.
Dimensions of the micro: 12.5 x 7.5 x 4 cm / 4.9 x 2.7 x 1.6 inches
Dimensions of the mini: 17.5 x 9.5 x 4 cm / 6.8 x 3.7 x 1.5 inches
Dimensions of the satchel: 24 x 14.5 x 8 cm / 9.4 x 5.7 x 3.1 inches