Travel Bags (the designer ones, cause that's our love language)
Planning your next trip or vacation could be the highlight of your year, but it can also be stressful when it comes to packing. You need to decide on what clothing, shoes, and accessories to carry, but you should also find a reliable bag or suitcase to accompany you on your journey (the designer ones, cause that's our love language here at Bagover).
When looking for designer travel bags, it is critical to pick something that is both sturdy and beautiful. But, with so many luxury brands combining both sleek appearance and functionality, picking the right one can be difficult. Fendi, Louis Vuitton, and Saint Laurent are among the leading baggage brands, but other designers have also started creeping their way into the travel bags industry. 
If you're ready to dust off your passport but haven't found the perfect suitcase yet, we've done the research for you. We've compiled the best luxury travel bags to buy for any trip, whether you're flying away for a long vacation with long hours of travel or planning a quick weekend getaway.
The Best Designer Travel Bags in Weekender and Duffle Styles
The weekender bag is a valuable piece of baggage built for short weekend trips. Finding the right bag with the perfect travel bag details is crucial. These ingenious accessories, large enough for packing a few days' worths of clothing yet small enough to fit in the overhead compartment on planes, earn a unique position in every traveler's armory.
They are portable and come in various forms, colors, and materials to meet the demands of everyone. Here are a few options to choose from.
PRADA Nylon Travel Bag in Backpack or Duffle Styles
Trusty old Prada. We can't get away from the nylon- and we don't want to! The best thing about nylon is that most liquids just roll right off of it, so there's no stress. Nylon is THE PERFECT fabric to take on any trip with you. It's durable, easy to clean, and looks chic AF. Any Prada Nylon Duffle or Prada Nylon Backpack is the perfect bag for any weekend getaway or the perfect carry-on bag. Depending on size, this bag can slip under the seat in front of you easily or sit cute in the overhead compartment too. We love Prada's classic nylon in black because it won't age in terms of style. Starting your designer travel bags search here is crucial. Check out our timeless picks for a Prada Nylon pack.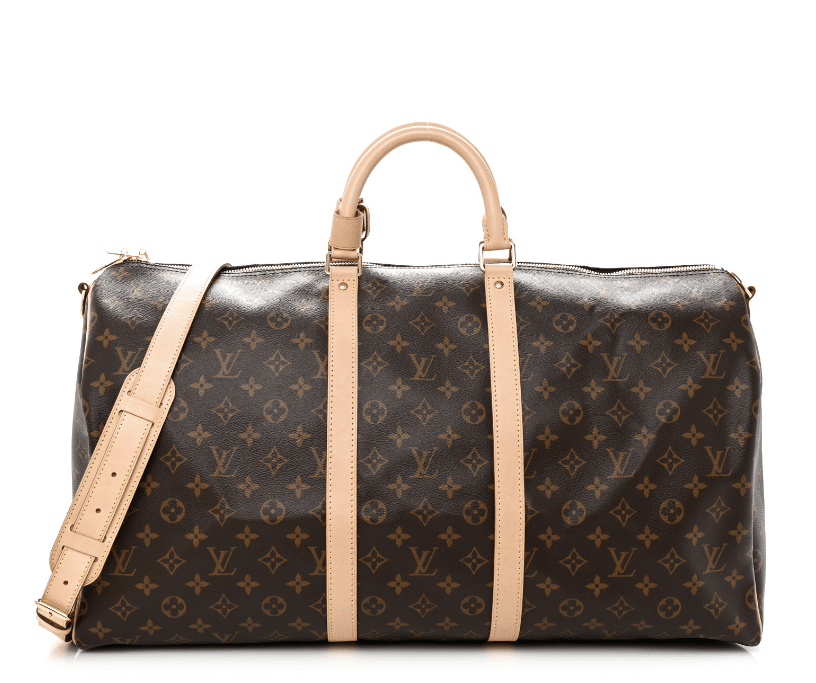 The Louis Vuitton Keepall
The Keepall was created with versatility in mind and is available in four different sizes 45, 50, 55, and 60. the numbers mean the width at the bottom of the bag in centimeters. While the first three sizes are ideal for air travel carry-ons, the 60 is too big to fit overhead. Each bag has a baggage tag, a padlock, and a handle buckle.
However, no duffle is better suited for long-distance road trips than the Keepall 60. for those long holidays spent traveling from one place to another, then this bag is perfect for you. The Keepall may also be ordered with a removable Bandoulière (shoulder strap), which increases the bag's wearability and strength. Check out some resale options below, perfect for men and women. If you want a smaller bag, check out our Louis Vuitton Neverful Review here.
Bottega Veneta Intrecciato duffle bag for the perfect weekend trip
Initially developed in the 1970s to break away from the box-shaped, stiff duffles of the time came the Bottega Veneta Intrecciato duffel bag. The brand's artisans weaved strips of soft leather together to create a criss-cross design that resulted in a lighter weight, more flexible bag, using glove leather that was lighter and more malleable than cow skins commonly used at the time.
Because of the handcrafted construction, this bag retains its shape whether crammed with items in the overhead bin or barely packed for a fast overnight trip. And if you want to stand out from everyone else in the airport, buy this designer travel bags in an unusual color like this brick red or go classic and pick their dark chocolate brown.
Gucci Black Carry-on Duffle Bag (in Black or Psychedelic)
For something more unusual and attractive, go for the Gucci Psychedelic Black Duffle Bag! This designer travel bag (weekender bag) is another must-have item, with details such as vibrant GG emblems all over it, it's one of the best duffel bags on the market. This bag has two internal zipped pockets to pack small essentials, and the main compartment is large enough to hold all of your weekend outfits, one of the best weekender Gucci bags out there.
The two top handles are easy to use, and you may change the shoulder straps at any time. Even better, the straps may be used as backpack straps as well (talk about details)! We particularly enjoy that the bag has a protecting covering at the bottom. If you want to stand out from the crowd, this bag is for you. The perfect weekender bags to pick your essentials, with easy access to your things.
Burberry Weekender Duffle or Backpack
For those seeking a designer travel bag (weekender bag), the Burberry Weekend Shoulder Bag is what they need. This bag has a very traditional style with contemporary urban colors. You can pick the classic brown and neutral tones or go for black. Burberry is a great pick for those wanting a luxury designer travel bag without spending thousands (especially on the resale market). 
This bag has round top handles that make it easy to hold around the airport and a removable shoulder strap that is useful too. Its distinct barrel form distinguishes it from its competitors. The main compartment is, of course, huge. You can maximize the space while packing your stuff, and there's an extra zip pocket to store keys, makeup, and other little items. If one pocket isn't enough, consider using your travel pouch. It's a lightweight bag, although made of leather.
The Best Designer Travel Bags in Luggage Styles
Gucci GG Supreme Carry-on Suitcase
Traveling on a self-care getaway? Buy this trendy statement suitcase with one of the world's most known logos: Gucci's GG print.
The Supreme Carry-On is manufactured in Italy of coated canvas with elegant black calf leather accents. Thanks to its retractable handle, smooth wheels, and outside pocket (also lined with leather), it's a beautiful travel item. It will fit all your clothes and essentials perfectly. Want to travel in luxury? Let's start here.
Louis Vuitton Horizon Soft 55
The Horizon Soft Duffle in Fuschia and vivid orange is ideal for fashionistas who love a splash of color. Using 3D thermoformed technology, Louis Vuitton collaborated with renowned industrial designer Marc Newson to create this stunning double-sided jacquard woven from a single piece of cloth.
If you are going on a beach vacation, this suitcase is perfect for you. The fabric is water and grease repellent, and although thin and lightweight, it is pretty sturdy. The bag has a wide U-shaped double-zip closure and a top handle that lets you use it as a duffel bag or roll it with the extended handle and two wheels.
Prada Nylon Saffiano Suitcase
Prada rarely goes out of style, and this classic black carry-on will be a wardrobe favorite for years to come. The Prada Nylon Suitcase is an excellent alternative for the traveler who likes things subtle but likes the finer things in life.
The four-wheeled bag is made of Saffiano leather (or opt for the Nylon version) and is basic yet stylish. It contains an exterior zip pocket, Prada's distinctive timeless logo plaque, and a top handle. The luggage also has Bluetooth monitoring technology with a 40-meter range, allowing you always to know where your bag is if you have to check it at the airport.
Gucci Diamante Structured Suitcase
If you're lucky, you can find the Gucci Diamante Structured suitcase online on the resale market. It is in a highly classic shape that features light fine gold studs all along the trim, and it is crafted from diamante leather. We love this style from Gucci because it resembles old luggage styles but with modern-day elements. The thing is when someone buys it- they keep it for life, it's THAT timeless. One of our fav picks for designer travel bags.
Bonus Buys!
Sometimes we find some unbelievably cool designer travel bags and can't resist sharing them with you all. Check out our current favorites available on resale sites below! From Tom Ford, Dior and Hermes the list includes the best the resale market has to offer. We also love our contemporary brands like Tumi, Longchamp, North Face, Bric's and more. The best part? You've got plenty of options.