The Best Vintage Chanel Bags Available Now
If you are a handbag enthusiast who loves unique finds, buying vintage is likely your route. The popularity and love for vintage bags have increased over the years. More and more people are starting to appreciate classic Chanel vintage handbags. If you're looking for a Chanel flap bag that looks *similar* to the classic flap but isn't.. check out our article here!
Since Chanel's inception in 1910, the premium brand has grown with women as they have earned more rights and pursued equality. Chanel is a sign of power, and the bags are highly stylish and can complement any outfit in your wardrobe, adding a touch of class and heritage.
Karl Lagerfeld's first designs from the 1980s and 1990s have remained the most sought-after pieces among vintage Chanel collectors. His daring takes on Chanel's famous themes and traditional patterns were surprising and instantly coveted. Furthermore, genuine 24k gold-plated hardware, like chains, clasps, grommets, and CC turn locks, adds to the value of classic Chanel bags. Chanel switched from 24k gold hardware to gold-toned hardware in late 2008, clearly distinguishing vintage and current items. Karl Lagerfeld was a branding genius who swiftly revolutionized the premium fashion label, as seen by his redesign of the interlocking "CC" pattern.
If you have a particular Chanel vintage bag on your wishlist for a while, this article is for you. Stick around as we will show you vintage Chanel bags you can buy, where to buy Chanel vintage bags, and what to look out for. With Chanel's constant price increases, the time to buy is now.
A Collection of Chanel Vintage Bags Worth the Investment
Chanel 2.55
The Chanel 2.55 bag is one of the most coveted in history. Chanel's 2.55 shoulder bag, created in February 1955 (thus the name 2.55), was redesigned by Coco Chanel following her original design in 1929. This style is especially significant because of its famous quilted leather, which has become synonymous with most Chanel bags. Although there is no official explanation for the iconic motifs, it is often assumed to be in homage to Coco Chanel's passion for horseback riding.
This bag encompasses the original design that inspired the Chanel classic flap. Many do not know that the original 2.55 was lined in a burgundy color, referring to Coco Chanel's orphanage uniforms, as she was raised there. The bag is durable and stylish and can last you a lifetime if you care for it well.
Chanel Classic Flap Bag
The Chanel Classic Flap Bag, contrary to popular belief, is not Chanel's first flap bag and is not a disguised version of the 2.55. The Classic Flap Bag, introduced by Karl Lagerfeld in 1983, reinvention of the 2.55, which is now commonly known as "the Reissue."
Chanel's Classic Flap Bag is available in four sizes and, most crucially, features a double CC turn-style lock rather than a rectangular one. As many handbag connoisseurs know, it is the #1 handbag from the brand in terms of sales, and it's also the bag that aggressively shoots up in price almost twice yearly. 
Most Popular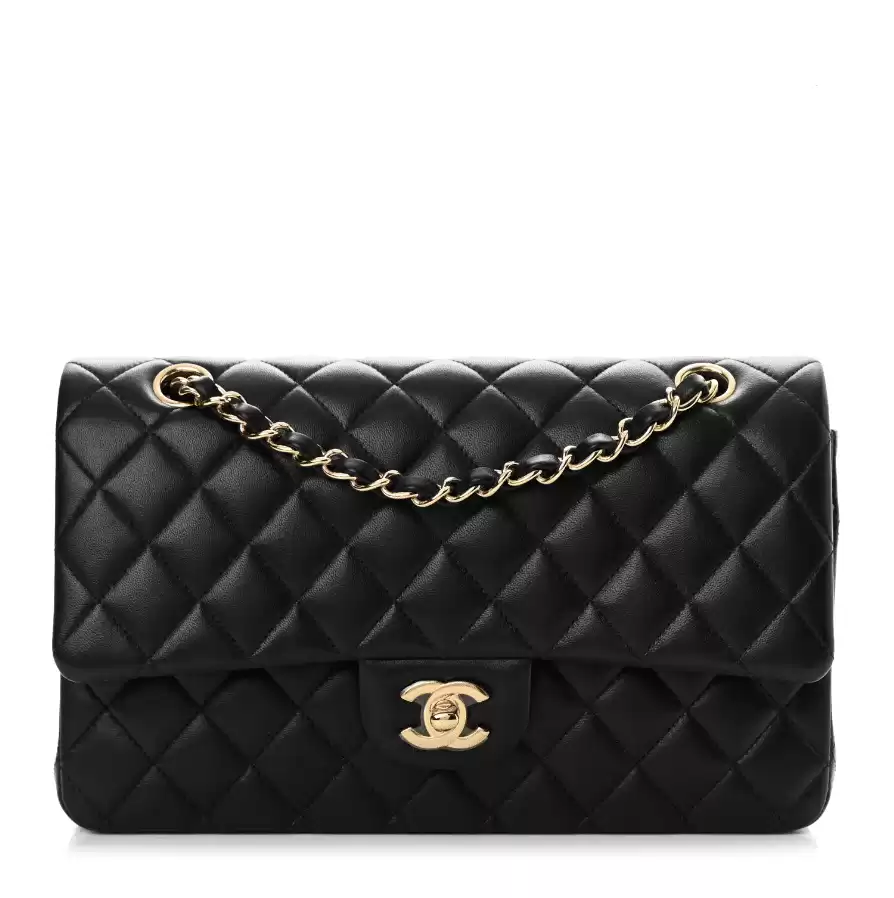 Chanel Classic Flap
The Chanel Classic Flap bag is an iconic and timeless accessory that combines exquisite craftsmanship, quilted leather, the signature interlocking CC logo, and a versatile chain strap, making it a symbol of enduring luxury and elegance.
Shop Bags
Chanel Vintage Kelly Bag
Chanel's Kelly handbag, named after Grace Kelly, Princess of Monaco, might add a touch of timeless quality to any work attire, even the most casual. Similar to the Hermes Kelly, which is one of the most iconic Hermes bags of all time, the Chanel Kelly was created in various sizes, with the enormous one being the most popular among the numerous worldwide Chanel-addicted vintage enthusiasts. The top handle makes it unique to most flap bags and the leathers available are stunning.
Vintage Chanel Camera Bag
The Chanel Camera Bag, introduced by Chanel in the 1980s, is a beautiful recreation of the camera bags used by photographers. The Camera Chanel Handbag has a large interior capacity and depth compared to other legendary Chanel handbags, a perfect accessory for the modern woman. Plus, its the perfect Chanel Crossbody for daily use!
The Chanel Camera Bag, with its full-zip closure and crossbody strap, gives optimal comfort and safety for your possessions. Despite its brief appearance as part of the classic line, the camera case is one of Chanel's most rare bags. However, the camera bag shape and style is considered a classic silhouette in the handbag world. As a result, collectors eagerly seek this timeless Chanel bag, which adds to the allure of the Chanel Camera Bag. 
Classic Chanel Wallet on Chain
The Chanel Wallet on Chain (WOC) is a must-have fashion accessory for every stylish woman. It is effortlessly chic, uncomplicated, and sleek. The Chanel WOC retains the status of a traditional Chanel handbag while still being uniquely miniature in size, thanks to its adaptable 24-inch chain strap and the convenience of its various compartments. The WOC handbag may be worn as a crossbody, over the shoulder, or as a clutch or wallet with the strap tucked in.
Our Pick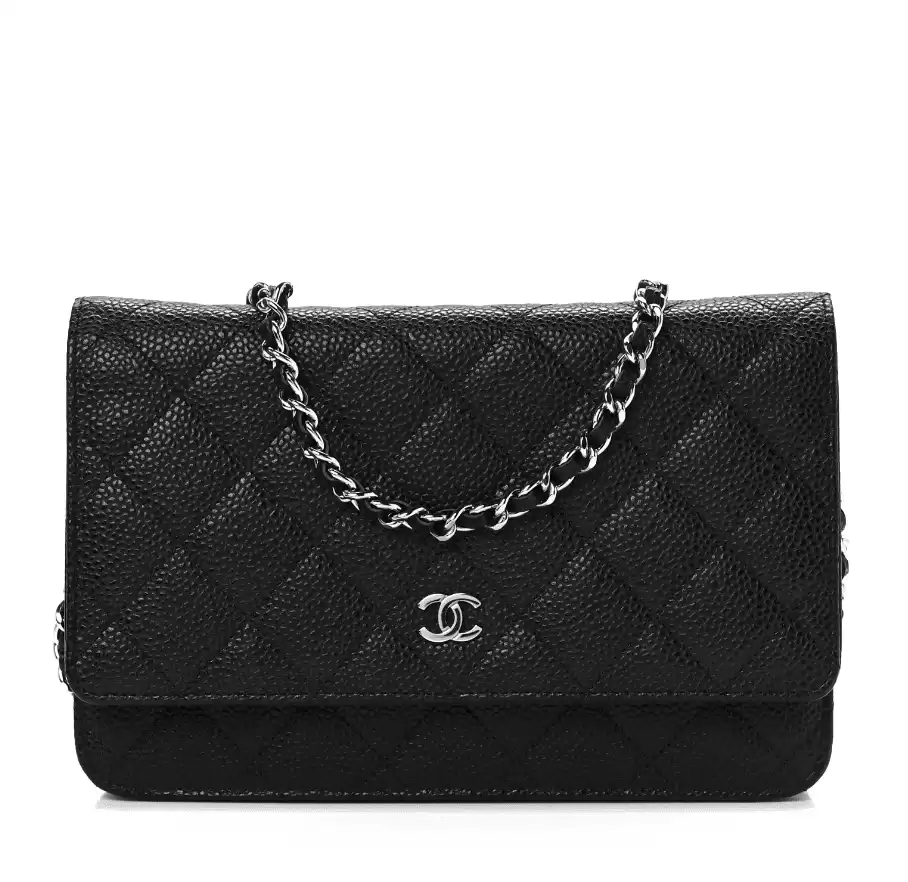 Chanel Wallet on Chain
The Chanel Wallet on Chain bag is a compact and versatile luxury accessory featuring the iconic quilted leather, a chain strap, and a practical interior with card slots, making it the perfect companion for a stylish and hands-free night out.
Shop Bags
Classic Chanel Cosmetic Vanity Case
The Chanel Vanity Case is a stunning shape that remains a classic in the Chanel fashion house. Karl Lagerfeld first introduced the Chanel Vanity Case in the 90's, discontinued it for some time, then reintroduced it in 2016, making it a popular reissue by the brand. This is a perfect Chanel handbag that can carry makeup or toiletries from place to place and can be dressed up as a mini bag for other occasions.
Chanel Vintage East West Chocolate Bar Flap Bag
A stunning take on the classic flap, the chocolate bar flap bag resembles a chocolate bar design, where the quilted stitching is parallel rather than diagonal. If you're looking for a bag that resembles the most popular design by the brand, this bag is a stunning version that is JUST different enough to make it more interesting! It features a single flap with the same turn-lock feature. This crafted Chanel vintage bag comes in a variety of colors perfect for any season! If you get lucky enough to find it on the resale market, snatch it up as the prices of this bag are constantly on the rise!
Chanel Shopping Tote
The shopping tote, a wardrobe staple and early-2000s symbol has long been a favorite among Chanel handbag collectors. The regular Grand Shopping Tote is available in three sizes: Petite Shopping Tote (PST), Grand Shopping Tote (GST), and Grand Shopping Tote XL (GST XL).
After they stopped production of the GST in 2015, the demand for these Chanel handbags skyrocketed. The Chanel Shopping Tote is well known for its spaciousness and graceful simplicity, and it is only available in classic quilting. Furthermore, only two hardware colors — gold and silver – were available. The Chanel Shopping Tote is now a sought-after vintage discovery among avid Chanel vintage lovers.
Where to Buy Vintage Chanel Bags
It can be challenging to obtain vintage or pre-owned Chanel bags, as we have discovered that designer consignment boutiques offer some, but the variety isn't exhaustive. It often changes, so you'd have to pop in rather regularly. Not to mention trying to keep up with the price increases makes it even harder to find Chanel bags at a reasonable price.
Not to worry, though. We have compiled this list of the best sites to buy Chanel vintage bags online. Many of these sites sell other designer accessories, shoes, etc., but since we are chatting about Chanel purses, here are our top favs.
Fashionphile
Fashionphile provides a diverse collection ranging from one-of-a-kind vintage to valuable special editions, with many bags either brand new with tags or gently used in outstanding condition. Even if they aren't the cheapest reseller online, you may still get a terrific price on a durable bag that you know will be in excellent condition.
The site also provides a layaway program where you can reserve an item with a downpayment and proceed to pay for the bag over a couple of days. Once you finish with the payments, they send the bag to you.
They have lots to offer if you're searching for security when purchasing secondhand and various payment choices. Also, check their company site often as they always have something good on sale (sometimes with free shipping)!
Rebag
Among the different resellers we will mention in this guide, Rebag is more affordable. They have an excellent collection of Chanel vintage bags, including the coveted XL hardware flap bag. They also have a good variety of seasonal designs if you want something different.
As far as current classic flap bags go, their selection is limited, consisting mainly of black lambskin leather. If you are looking for a specific color or material, you will need to visit their website regularly or sign up for email notifications. They also have a decent trade-in program if you're ready to accept store credit.
eBay
The benefit of shopping on eBay is that they have a wide selection of pre-owned Chanel handbags. Another advantage is that the prices on eBay can also be reasonable.
The best part? Chanel handbags sold on eBay are eligible for an authenticity guarantee. Hence, as you shop online on eBay, ensure you conduct due diligence and look for the authenticated bags. IF you purchase a bag, receive it, and find it is fake- eBay will accept the return.
Farfetch
Farfetch is a premium shop that has lately begun offering vintage goods. They provide a fantastic Chanel vintage bag assortment and are a trustworthy vendor. Keep in mind that their prices are higher since they have worked hard to discover the most exceptional vintage items to add to their collection.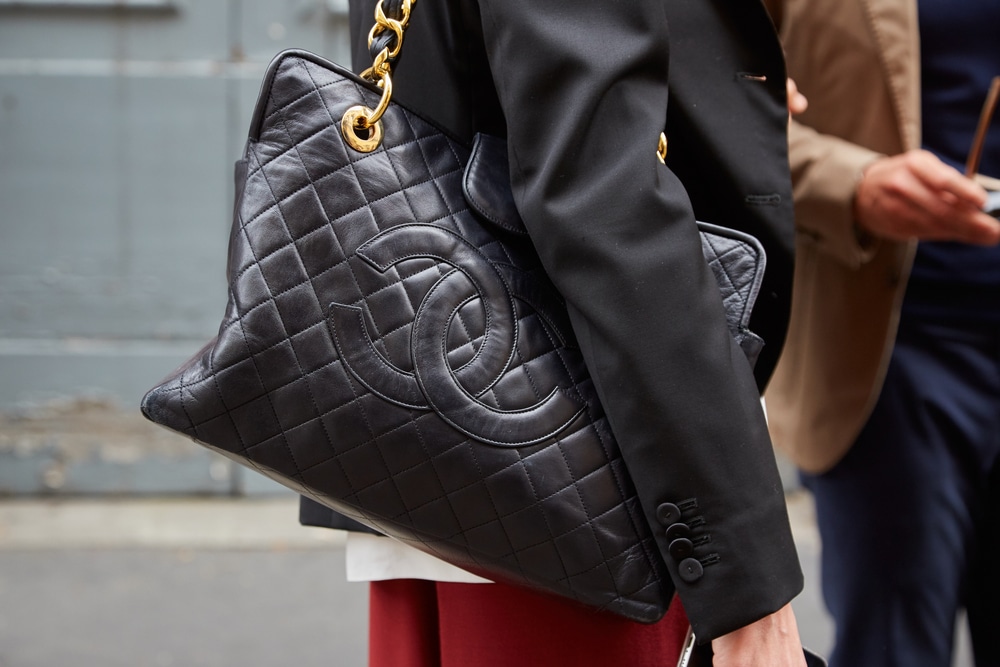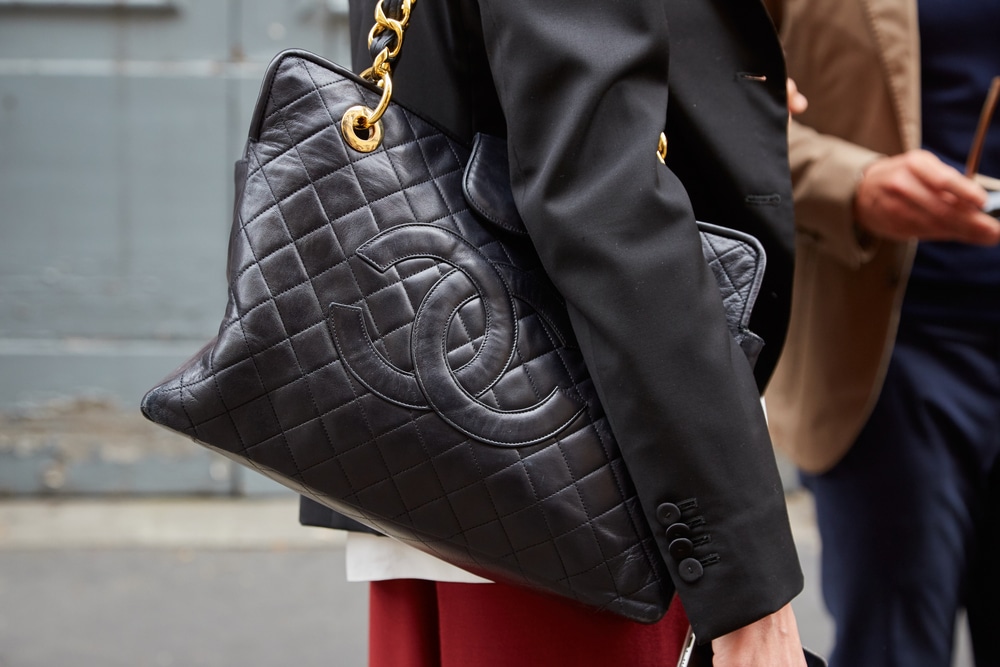 What to look for when shopping online for Chanel vintage bags
Authenticity cards and serial number
All vintage Chanel bags should have an authenticity card, a holographic sticker, and matching serial numbers. Note that bags manufactured before the 1980s do not have hologram stickers, but everything manufactured after the mid-1980s should have both a holographic sticker and an authenticity card. Chanel only removed the use of authenticity cards in April of 2021 and introduced microchips that digitally embed the authenticity details.
Counterfeit packages will include holographic stickers and authenticity cards. Ensure you Google the serial number and see whether the number appears in a reverse Google image search. If it does and is for an active listing, it's a fake. Serial numbers are like fingerprints in that they are unique to each bag.
Leather
It's essential to understand the type you're buying. Lambskin and caviar leather are what are used to create most Chanel leather handbags (excluding exotics). The lambskin is quite soft, while the caviar has a pebbled surface that thickens the bag and hides scratches well.
Don't be afraid to buy a bag in need of repair as long as the price is reasonable. If the leather needs cleaning, the chain needs polishing, or the lining must be mended, you may save money by purchasing a less-than-perfect Chanel vintage bag and sending it to a handbag surgeon you trust.
Stitching
As the saying goes, the devil is in the details, so look for a straight stitching pattern. Furthermore, all stitching should match and meet where the flap folds over in front of the bag. If the handbag has a little pocket on the reverse, the stitching should also match. If the stitching is crooked and does not line up, the bag is likely a fake.
Check cc's
The CC stitching and CC lock on Chanel bags follow a specific pattern. The left C at the top and the left C should overlap the right C at the bottom, while the right C should overlap the left C at the top.