Chanel Bag Classic: Classic Flap Pricing Guide (Updated)
A Chanel Classic Flap Bag is an excellent investment, one that we're confident you'll adore for years to come or one that you can keep and sell for a profit in a few years. While many people hate the constant price increases, the ones who already own the Chanel bag classic bags are happy their investment is rising in value as well!
Most Popular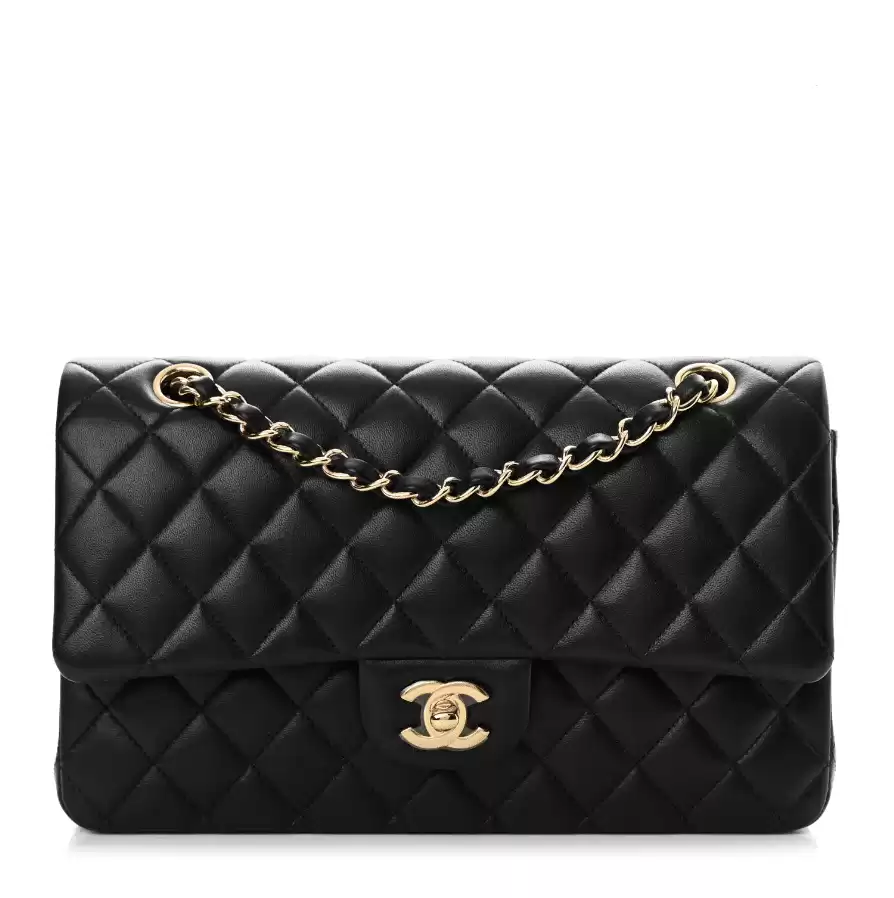 Chanel Classic Flap
The Chanel Classic Flap bag is an iconic and timeless accessory that combines exquisite craftsmanship, quilted leather, the signature interlocking CC logo, and a versatile chain strap, making it a symbol of enduring luxury and elegance.
Shop Bags
When a luxury handbag has been in production for several years, anticipate the price to change slightly. Chanel, for example, frequently has to modify its prices because of rising demand, greater production costs, and a variety of other considerations.
Read: Chanel Flap Bags That Look Similar To The Classic Flap… But Aren't As Expensive
The Chanel 2.55 purse, created by Coco Chanel herself, was initially sold for $220 in 1955, but it is now worth thousands of dollars. These price hikes may motivate consumers to buy before the next price rise, but they also give current bag owners an incentive to sell their bags for profit.
Today's pricing guide gives you the current prices for Chanel bag classic flaps.
Chanel Bag Classic: Chanel Classic Flaps and Other Bags Price Guide
Chanel Classic Flap bag Current Price (USD)
Chanel classic small flap bag $8200
Chanel medium classic double flap bag $8800
Chanel classic jumbo size flap bag $9500
Chanel classic mini square flap bag $4200
Chanel classic mini rectangular flap bag $4400
Chanel classic maxi flap bag $10,000
Chanel 2.55 Reissue
Chanel flap 224 $4400
Chanel flap 225 $8800
Chanel flap 226 $9500
Chanel flap 227 $10,100
Current season styles ready to wear collection
Chanel Black Small Flap Bag Imitation with Pearls $5,200.00
Chanel Mini Tweed Flap Bag $4,300.00
Chanel Black Crochet Vanity with Chain $2,750.00
Chanel Light Pink Velvet Mini Flap Bag $4,500.00
Chanel Black Small Flap Bag Embellished with Glass Pearls $7,000.00
Chanel Light Green Grained Calfskin Classic WOC $2,950.00
Chanel cruise bag collection 2022
Chanel Boy North/South Flap $4,200
Chanel En Vogue Flap $4,800
Chanel Python Gabrielle Small Hobo $5,800
Chanel Sunset On The Sea Flap $4,900
Chanel Casual Trip Medium Camera Case $3,200
Chanel Embroidered Calfskin/Lurex Boy Chanel Small Flap $4,500
Chanel Tweed/Braid Classic Flap Medium $6,600
Chanel Coco Lifesaver Round $4,500
Fall-Winter 2021 Act 2 Bag Collection Current price (USD)
Chanel Black Lambskin Clutch With Chain $2,800
Chanel Printed Fabric Multicolor Flap Bag $4,000
Chanel Gold Metallic Mesh Mini Flap Bag $10,400
Chanel Plexi Mini Evening Bag $10,500
Chanel Black Velvet Glass & Crystal Pearls Mini 2.55 Handbag $10,500
Pre-spring 2021 collection
Chanel Rainbow Metal Blue Flap Bag $7,200
Chanel Sequin with CC Logo Large Flap Bag $5,700
Chanel Scarf Entwined Chain Yellow Flap Bag $3,800
Chanel See Through Flap Bag $4,100
Spring 2021 collection
Chanel Mini Messenger Bag $4,100
Chanel Mini Top Handle Caviar Flap Bag $4,300
Chanel Mini Flap with Braided Top Handle $4,600
Chanel Trendy CC Silver Bag $5,600
Chanel Strass Silver Sequins Bag $9,100
Pre-fall 2021 collection
Chanel Shearling Checkered Flap Bag $5,000
Chanel Top Handle Coin Purse Flap with Chain $1,825
More Chanel Handbags
Chanel Small Quilted Boy Flap Bag $5,400
Chanel Old Medium Quilted Boy Flap Bag $5,900
Chanel New Medium Quilted Boy Flap Bag $6,200
Cruise 2021 collection
Chanel Mixed Fibers Mini Flap Bag $2,700
Chanel Calfskin/Crochet Chanel 19 Flap Bag $5,600
Chanel Coco Charms Flap Bag $4,700
Chanel My Everything Flap Bag $4,100
Chanel flap bag (Chanel 2.55)
A Classic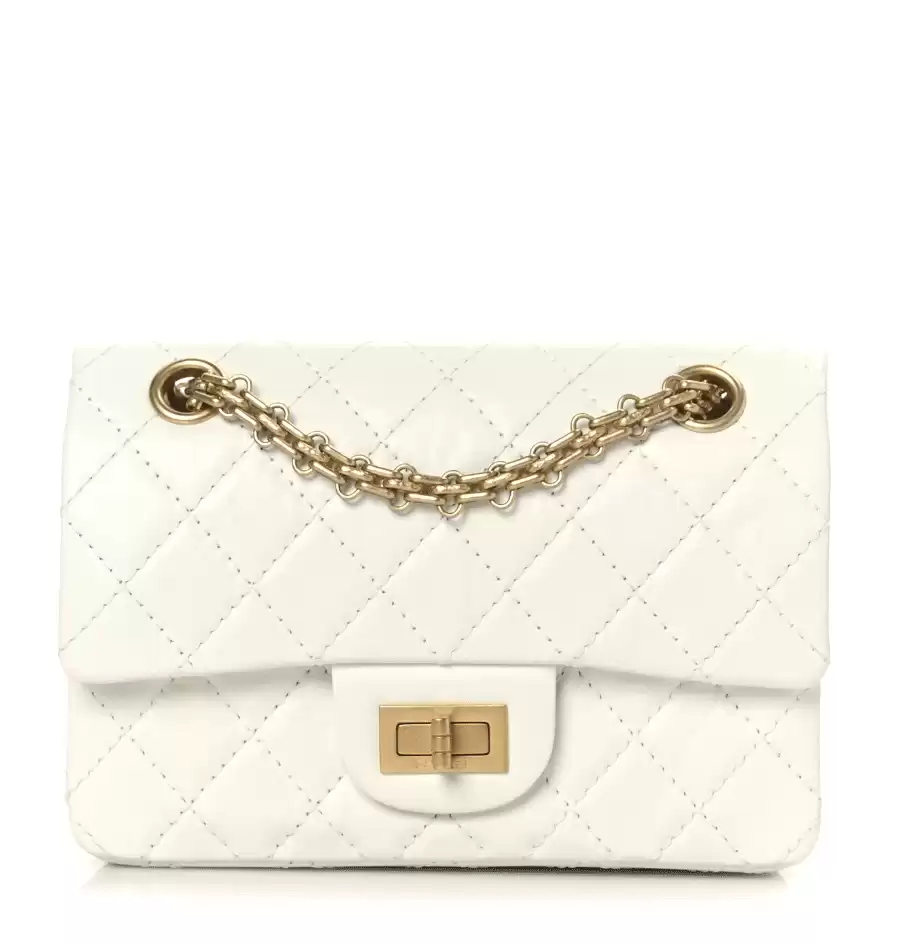 Chanel 2.55 Reissue
The Chanel 2.55 Reissue bag is a revered and timeless piece, meticulously crafted with distressed leather, featuring the signature Mademoiselle lock and chain strap, paying homage to Coco Chanel's original design and embodying a sense of vintage elegance that never goes out of style.
Shop Bags
Gabrielle "Coco" Chanel created her most recognizable handbag, the 2.55 flap, in February 1955. Coco Chanel was a trailblazer, reimagining fashion for the modern lady and pushing the envelope with each piece she created.
The Chanel 2.55 Flap represented fashion liberation: it was the first bag with a shoulder strap, liberating women from the impractical clutch. Women were drawn to the functionality, which had an adjustable chain strap and an accessible rear slip pocket.
The Chanel 2.55 Flap also included two details that we now recognize the bags with diamond-stitched quilting (inspired by men's racing coats) and a deep burgundy inside lining. According to fashion legend, this Chanel bag's beautiful burgundy leather interior lining reflects the color of the uniform Gabrielle Chanel wore as a kid at the Aubazine Abbey convent in France.
The Chanel 2.55 Flap bag is a timeless symbol and is arguably the most recognized Chanel bag classic of all time.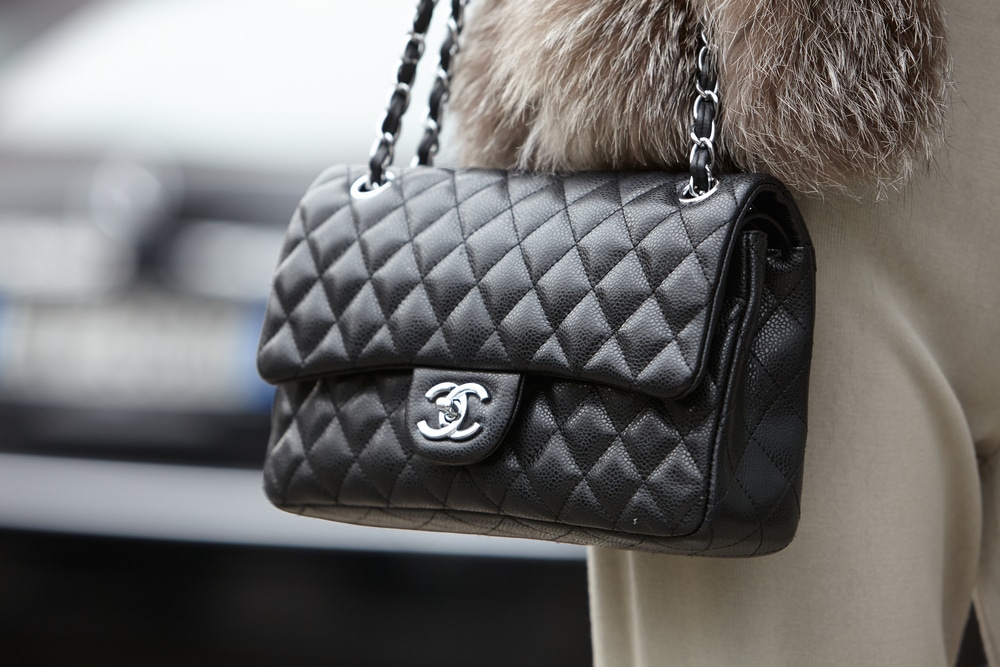 History of Chanel Classic Flap Bag Prices
The Chanel bag classic flap is a classic fashion item that has been popular for many years. The classic flap has seen many price modifications since its first debut in 1983. It's challenging to keep track of all these price changes because the bag was offered at various prices by different foreign shops.
In the 1980s, most businesses sold the bag for approximately $1,000, but by 2008, it was selling for around $2,500. Thanks to the internet, it is easier than ever to keep track of pricing changes.
Great For Daily Use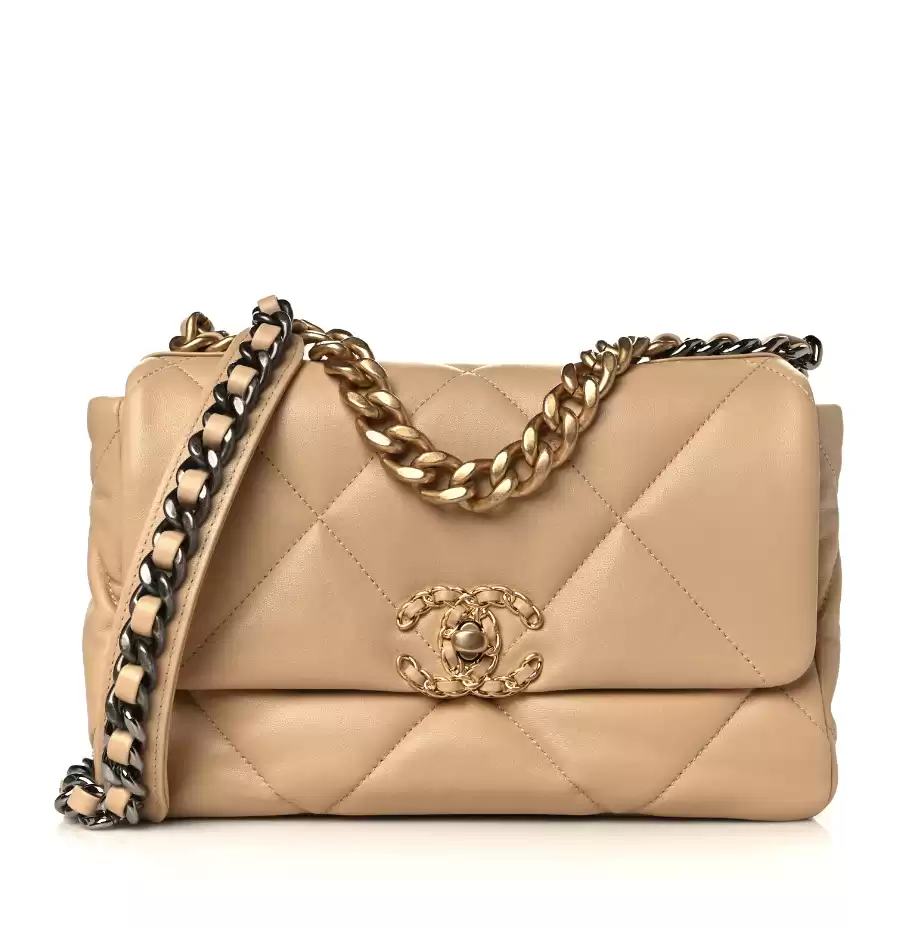 Chanel 19 Bag
The Chanel 19 bag is a modern and coveted accessory, featuring a soft, puffy silhouette, diamond quilting, a chunky chain strap, and the iconic double C closure, representing a fresh interpretation of Chanel's classic design elements with a contemporary twist.
Shop Bags
Classic flap bag costs have risen significantly in the last decade. All sizes have risen at nearly the same rates. However, larger sizes have seen slightly higher price increases.
As you can see, the price of the Chanel bag Classic has risen every year since 2016. The bag's price has increased by 100% in the last decade! This indicates that the purse's price has doubled in just ten years.
Pricing rises have been notably noticeable in 2021 and 2022. Instead of a single yearly price rise, Chanel has increased the price slightly every quarter. For example, the price increased by 13% between November 2021 and March 2022.
With that said, here is the current classic Chanel bag price list.
The Reinvention of the Classic Chanel bag
When Karl Lagerfeld became creative design director in 1983, he wanted to reinvent Chanel's famous 2.55 Flap Bag and created the Chanel Classic Double Flap. Two new elements resulted from his artistic vision: a leather braided chain and a Double C turn-lock closing. Lagerfeld's Classic Double Flap was a huge hit.
The Chanel bag classic Flap was dubbed the 11.12 in spring 2021, commemorating the original Medium Classic Flap's style code – A01112. The Chanel Classic Double Flap's global wearability and simplicity cemented its status as an iconic statement item.
Furthermore, the Classic Flap is available in an infinite range of styles, including quilting (the famous classic vs. the more youthful chevron), different sizes, leather, and hardware combinations. While the Chanel bag classic flap is available in two sizes – chanel classic single flap bag and chanel classic double flap bag quilted caviar jumbo – the double flap version features an additional interior flap.