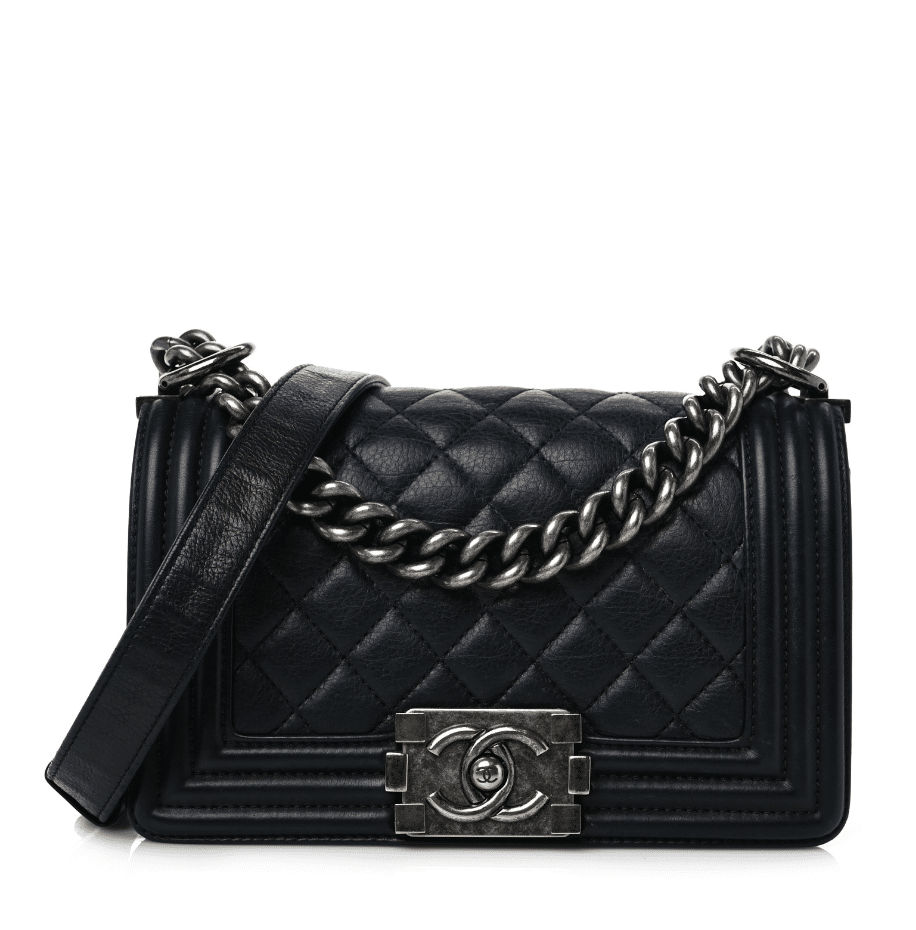 In summary, the Chanel Boy Bag is celebrated for its iconic status, versatility, resale value, premium materials, craftsmanship, sizing options, and exclusive editions. However, its luxury price point and the need for proper care may deter some potential buyers.
Chanel Boy Bag: An Icon?
The iconic Chanel Boy Bag is a must-have for fashion aficionados, and connoisseurs of all walks due to its story, impressive design, and stylish presence. Exploring the source that drove this bag's creation, as well as the superior quality materials employed in crafting it, reveals why these bags are seen by many as an investment piece within the world of style.
Short Summary
The Chanel Boy Bag is an iconic design inspired by Coco Chanel's rebellious spirit and her great love, Boy Capel.
It offers a range of materials, hardware options & sizes for personalization plus limited edition styles.
Investing in the bag is fashionable AND financially savvy due to its high resale value!
In 2011, Karl Lagerfeld brought to the forefront an iconic Boy Bag from Chanel. Named in honor of Coco Chanel's beloved partner, Boy Capel, it holds testament to their romantic bond while perfectly merging masculine and feminine features together. Since its Fall Winter launch collection debut, this bag has come a long way, with various sizes, materials, and exclusive variants now available for purchase at Chanel.
It is clear why such prestigious handbags have become part of the historical legacy as people continue to embrace them in today's fashion scene. Making these pieces your go-to choice when picking out something special! Let yourself be enchanted by all that comes along with owning one of the highly sought-after designs – find your perfect fit amongst the selection of original bags crafted by Chanel.
The Inspiration Behind the Design
The style of the Chanel Boy Bag was directly inspired by Coco Chanel's appreciation for her hunter's cartridge bag and for Boy Capel, with whom she had a great love. This unisex design embodies both Coco's rebelliousness as well as her adoration for Boy Capel. The boy Chanel handbag makes it possible to wear dressed up or dressed down.
It is possible to wear the iconic piece in various ways due to its adjustable strap – making it suitable for even more situations hence why the Chanel boy handbag has become one of THE most beloved accessories from the house of Chanel.
Lagerfeld's Vision
Chanel recently declared that the Chanel Boy Bag has attained a legendary status, being beloved by celebrities and fashion fans. This bag was Karl Lagerfeld's way of paying homage to Coco Chanel's creative spirit as well as her affection for Boy Capel. Making it an iconic symbol in modern fashion history. The Chanel boy handbags not only changed how people perceived luxury brand handbags but also brought newer customers into the prestigious world of Chanel products and services.
A Closer Look at the Chanel Boy Bag Design
The Chanel Boy Bag is instantly recognizable for its box-like shape, boyish attitude, clean lines, and oversized flap. It stands out thanks to the iconic CC logo chain strap that can be customized with a variety of hardware choices. As far as patterning and fabric go, there's diamond quilting, chevron quilting, or reverse quilting which has an unfinished body but is framed in quilt stitching, all adding up to make it one fashionable piece, as most Chanel bags are.
Material Choices
The Chanel Boy Bag comes in a wide range of materials (most common leathers), including luxurious leathers such as caviar leather and lambskin, tweed fabrics, patent leathers, and goatskins. The collection also includes exclusive designs utilizing canvas, PVC or denim textiles. For those wanting an even more lavish look to the bag, there are special editions using crocodile hide python skin or stingray skins available too!
No matter what style you're looking for, this iconic accessory can be tailored exactly to your own personal needs with its variety of material options – from stylish matte black finishes through pretty pastels – which make the Chanel Boy Bag suited both for everyday use but perfect for any chic occasion too!
You won't need to compromise on quality, either. All this splendid craftsmanship means that only high-grade premium pieces have been used here, as most Chanel bags are.
Hardware Options
The Chanel Boy Bag is renowned for its signature double CC clasp and chain strap, offered in various metal finishes like gold, silver, ruthenium, plus antique gold. With the hardware allowing customization options available to customers, each bag becomes unique. Special limited editions such as So Black or glossy plexiglass often accompany seasonal releases of the iconic Boy model by Chanel, which amplifies elegance with a sleek monochromatic look.
The hardware options play a huge part in the overall boyish attitude of the Chanel boy handbag. The graphic clasp or fastening mechanism is extremely unique and durable.
Sizing It Up: Choosing the Right Chanel Boy Bag for You
No matter the lifestyle or wardrobe, Chanel's Boy Bag comes in a variety of sizes (from mini to large), ensuring everyone can find an option suited to their taste and needs. As such, whether it be dressing up for special occasions or going casual on days out, this bag is perfect as either a statement piece with evening wear or a reliable everyday accessory offering plenty of storage options. It all depends on your desired style – one size does not fit all when it comes to finding the right look provided by Chanel's Boy Bags!
Most recently, Chanel announced and launched the mini size, which not only is listed at a good price, but this mini size can be styled in a way that makes it feel like a new bag!
Limited Editions and Rare Finds
Chanel has brought out a selection of exclusive and unusual versions of their iconic Boy Bag that have become highly desirable to fashion aficionados and collectors alike. These rare designs range from the Rainbow Boy Bag, So Black Boy Bag, as well as Mermaid Boys. All offer an interesting variation on Chanel's renowned bag design while still adding style and pizzazz to any wardrobe.
Investing in a Chanel Boy Bag: Pricing and Resale Value
The Chanel Boy Bag comes at a cost, ranging anywhere from $6,100 to around $7,000, depending on size and material. Despite this hefty price tag, it is seen by many as a good investment. The demand for these iconic handbags remains strong, with their resale value increasing over time. Those in search of a fashion statement that won't decrease in value should consider purchasing one of these items.
Chanel recently announced they would no longer be making any products utilizing exotic materials, which has prompted another boost in the value of pre-owned boy bags, even meaning investing now could prove beneficial both historically and economically due to the scarcity within retail stores offering them.
Caring for Your Chanel Boy Bag
To keep your Chanel Boy Bag in optimum condition and retain its value, there are certain steps to take. First, when not being worn, the bag should be placed inside its dust-proof cover before storing. Wrap up the chain with tissue paper as this will avoid discoloration over time. Do not lay it on floors; doing so could potentially damage or cause wear to occur more quickly. Regular cleaning is important. Make sure you use a soft cloth that's dedicated to leather care products, or look into items specifically designed for such bags like a Chanel boy handbag one!
If Attention needs to be paid due to staining, etc., seek help from professionals who specialize in luxury handbag maintenance – they have all the tools necessary while avoiding any harm done otherwise by inexperienced people trying DIY methods at home!
Styling Your Chanel Boy Bag
When it comes to styling the iconic Chanel Boy Bag, you have an impressive array of options. The bag can be worn in a variety of ways – crossbody for added convenience or longer if desired. Alternatively, double up its chain and wear it closer to your body as a shoulder bag. It's easy to style this luxurious accessory in whatever way fits with what you're wearing: throw on some heels and dress up, team with jeans and a t-shirt when going casual or match smart trousers with tailored blazers for that professional touch. Make sure that no matter which outfit combination you choose, the classic silhouette will provide the best fashion flair!
Comparing the Chanel Boy Bag to Other Iconic Chanel Handbags
When making a fashion statement, it is hard to go wrong with any of the classic Chanel handbags. Especially sought-after are both the Boy Bag and 19 model. Each boasts its own distinct look for different occasions. The former has an angular design featuring edgy lines while its counterpart features quilted leather in more gentle curves – one perfect for special events, another designed as an everyday accessory.
The price range also varies between them quite significantly: A Chanel Boy bag could set you back around $6,100 to around $7,000, whereas investing in a 19 would be roughly $7,000 respectively, ultimately though your preference should always come down to personal style, so make sure whichever choice suits yours better!
*Note the prices mentioned above are boutique retail prices; you can find these handbags for lower price tags on the resale market.
Is The Chanel Boy Bag Worth The Price?
The Boy Chanel bag is a definite must-have for any fashionista's wardrobe. Also known as the boy Chanel handbag, this exceptional piece of design boasts timeless appeal with its unique features and style. As such, it can be seen as an investment that will remain in your collection year after year. This article outlines why the Chanel Boy Bag offers so much more than just luxury – but also versatility and potential resale value too!
For both seasoned fans of the brand or those looking to add something special from Chanel into their closet – look no further than the iconic Boy Bag: because you'll get all these benefits without compromising on quality, trendiness, nor functionality either!
Plus, it makes a great investment piece as it is a classic handbag by Chanel.
Summary
Without a doubt, the Chanel Boy Bag is highly coveted and worthy of its iconic status. An expression of both artistry and long-lasting class from Chanel, it has an outstanding design with multiple styling possibilities, making it a great choice for those looking to invest in luxurious fashion as well as timelessness. So when considering if buying the bag is worth it. Absolutely! It's synonymous with opulence & style that never goes out of trend or loses value.
Frequently Asked Questions
Why is Chanel Boy so expensive?
Chanel is renowned for its extravagant prices, which reflect the premium quality materials utilized to craft their garments, think lambskin and silk. Utilizing only the finest fabrics available ensures that Chanel creates luxurious fashion items without any compromise.
What year did the Chanel Boy bag come out?
The iconic Chanel Boy Bag was first released to the public in 2011 as part of a Fall Winter collection designed by Karl Lagerfeld. The boxy design paired with eye-catching hardware made it an instant hit – from celebrities and fashion bloggers to everyday people, the bag quickly gained traction thanks to its timeless style.
Today, the Chanel Boy remains one of their signature pieces. Seen on fashionable arms across cities around the globe and boasting coveted shapes that perfectly blend classic with modernity. It is no surprise this statement piece has become such a staple for so many wardrobes out there!
From feature collections like Fall Winter through to present-day releases, you can guarantee all eyes will be on any upcoming versions of this sought-after Chanel creation: simply known as 'the boy' since it debuted over nine years ago.
What was the inspiration behind the design of the Chanel Boy Bag?
The Boy Bag by Coco Chanel originated from her adoration for the man, Boy Capel. She took a hunter's cartridge bag and successfully blended masculine and feminine touches to form an ageless design that has become popular in fashion culture over many years. Her influential creation combined both genders into one unique accessory, which had been greatly admired ever since its inception.
What materials are used in the Chanel Boy Bag?
The Chanel Boy Bag is crafted from luxurious materials, such as caviar leather, patent leather, lambskin, and goatskin varieties of leather, along with tweed fabric. This bag epitomizes the renowned brand's signature style that has made it a favored choice by many for years.
What sizes are available for the Chanel Boy Bag?
The Chanel Boy Bag comes in a selection of sizes from mini to large, which makes it easy for you to find the one that fits your look and needs. Whether you are searching for something small or big, this classic boy bag by Chanel is sure to provide exactly what you need.