Featured image: @rosaellee on IG
Chanel Coco Handle Price and Buying Guide 2022
The Chanel Coco Handle bag is a hugely popular style by Chanel's fashion house. It is a beautiful bag similar to the classic flap and Chanel 19 but boasts a handle and has a difference in bag style dimensions. We love the coco handle bag, but much like many handbags by Chanel, they are expected to undergo another price hike. If you're looking at the Chanel coco handle bag to add to wishlist, check out the prices at the moment below.
Chanel Coco Handle Price Guide 2021 (January)
Coco Handle Extra Mini $3,900
Coco Handle Mini $4,200
Coco Handle Small $4,500
Coco Handle Medium $4,900
Chanel Coco Handle Price Guide 2021 (December)
Coco Handle Extra Mini $4,300
Coco Handle Mini $4,600
Coco Handle Small $5,000
Coco Handle Medium $5,300
Chanel Coco Handle Price Guide 2022 (updated)
Coco Handle Extra Mini $4,500
Coco Handle Mini $4,800
Coco Handle Small $5,100 now listed at $6,300 (July 2022)
Coco Handle Medium $5,500
Chanel Coco Handle Price Guide 2022 23 pre collection
If this list doesn't prove just how quickly Chanel raises their prices, I don't know what will! We expect to see another considerable price increase in winter 2022 23 pre and spring of 2023. The Chanel Coco Handle bag is among the classic bags that are undergoing price hikes precisely because of their popularity.
Chanel Coco Handle Bags on Trustworthy Resale Sites
Coco Handle Features
The Coco handle bag is a hugely popular option among Chanel lovers as it bears many similarities with the Chanel Classic Flap. This handbag boosts the classic top handle and has a tapered trapezoid-like shape. The bag was named after the fashion house's namesake, Gabrielle "Coco" Chanel.
Since its launch in 2015, this handbag's journey to popularity has been longer than usual. When launched, many handbag enthusiasts stayed away from the bag, which was said to resemble the Hermes Kelly. However, after many seasons and many more materials, colors, and patterns, this bag has crawled its way into the classic club.
The Coco Handle bag features the famous interlocking cc closure that was invented by the icon Karl Lagerfeld (you can find great Chanel vintage bags with this lock too). The single top handle on the Coco handle bag is different from Chanel's Trendy CC handle because it is sturdy and attached to the bag. The handle is more traditional in shape but classic nonetheless.
Chanel Coco Handle Quilting, Hardware, Leathers, and More
Much like Chanel's Classic Flap bag, the coco handle comes in the classic diamond quilting in lambskin and caviar leathers. It also can be found in the more modern chevron quilting in the same materials and various colors.
The hardware on the coco handle bag comes in many variations, thanks to some seasonal looks that the house of Chanel has released. You can find this bag in silver, gold, rose gold, black chrome, and more. The mini Coco Handle was recently launched with monochromatic looks that matched the hardware and leather stain altogether. If you like monochromatic looks or like to enable high-contrast looks, there's a Coco Handle out there for you; simply add it to your wishlist and find a store that can help you.
This handbag has a back pocket that is exact to the Classic Flap Bag. It was said that Gabrielle Chanel created this famous back pocket to store small amounts of cash to tip bellhops on the go! Nowadays, it's perfect for storing credit cards or even a slim phone.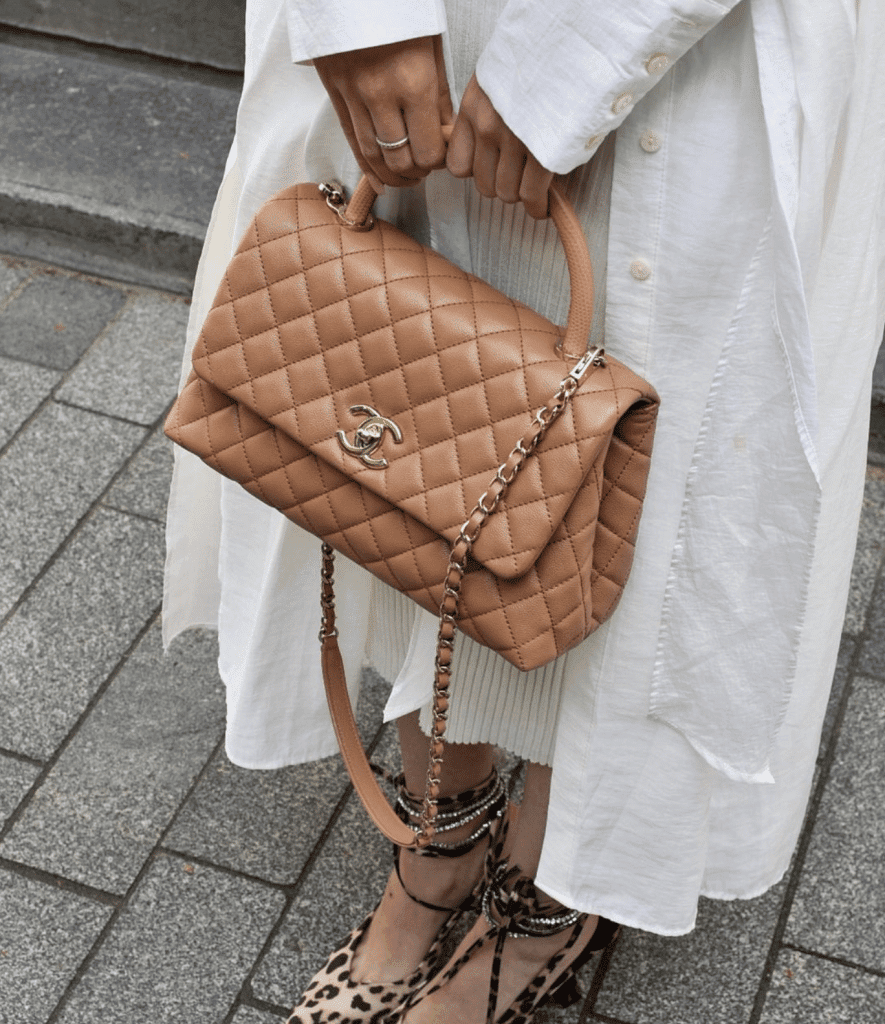 Chanel Coco Handle Bag Chain Strap
Ahh the famous strap! In the original launch of this purse, the chain strap was not removable. However, the newer versions of this bag can be removed and held simply with the top handle. The medium sizes of this bag look stunning without the strap as the handle is more significant to hold the entire length of the bag. I love to hold the bag with the top handle and the chain hanging down as an added bit of edge and style.
The chain strap is made of the same interlocking chain as the classic flap with the delicate weaving of the leather. This bag, however, has an added bonus! The chain strap of the bag comes with a wider strip of leather that sits comfortably on your shoulder. This piece of leather gives the owner much-needed comfort while dispersing the weight evenly and easily.
Chanel Coco Handle Sizes (dimensions in inches)
Mini Coco Handle 5.1 x 7.5 x 3.5
Small Coco Handle 5.5 x 9.4 3.9
Medium Coco Handle 7.1 x 11.4 x 4.7
Large Coco Handle 8.7 x 13 x 4.7
Final Thoughts
The Chanel Coco Handle bag is one of my favorite handbag styles by the Chanel fashion house. It has many of the same features as the Classic Flap bag, but is considerably less expensive! The mini Coco Handle is a beautiful version of the bag (with the smallest price tag, I might add). The fall winter 2022 23 collections look spectacular already, adding the gold laced handle! While this bag continues to soar in price, the best time to buy is now.
The best way to search for what you're looking for is to explore chanel.com. Chanel's boutique services are great, especially if you find an SA (sales associate) to hunt down the exact match on your wishlist. You can find the best Chanel Coco Handle in boutiques and authorized retailers, like the ones mentioned above! The newest and latest versions of the Coco Handle are available in Chanel boutiques.
Although you can still buy the Chanel Handle exclusively in boutiques for much less than a Chanel classic flap, you can also find then for even cheaper on online resale boutiques!