Chanel Flap Bags That Aren't As Expensive as The Classic Flap
We've all been there… itching to join the Chanel classic flap club. But let's be honest, with every passing day, those handbags continue to increase in price. As much as we love the classic flap bag, you may think it just isn't worth the extortionate price tag that comes with it. Thanks to the increasingly popular world of online resale and pre-loved sites, it's become super easy to find a handbag you love within your price range (from past & present seasons).
Coco Chanel launched the fashion house in the early 1900s and rose to popularity in the 1950s with the original Chanel flap bag, which included the mademoiselle lock (currently renamed as the re-issue 2.55). Insert Karl Lagerfeld in the 1980s, who took that handbag and adjusted it slightly to include the interlocking CC turn lock that we know and love today as the classic flap bag.
Chanel bags are made from various materials, shapes, colors, sizes, and more. Luckily, the Chanel fashion house has been around for over 100 years, which means there is a slew of vintage Chanel bags on the pre-loved market.
Let's Recap the Chanel Classic Flap Bag We Know and Love
Includes the diamond quilted stitching in lambskin or caviar leather
A back pocket named the "Mona Lisa" smile pocket
A zipper compartment in the bag's flap was initially created for love letters
The double flap closure with the easily recognizable burgundy color interior
The metal chain with intertwined leather
A List Of Chanel Flap Bags That Is NOT The Classic Flap But Close Enough
Chanel Chocolate Bar Flap
A seemingly similar flap bag that resembles its older sister, the classic flap. This Chanel flap bag is called the Chanel East West flap bag but is more popularly known as the Chanel Chocolate Bar flap. The Chocolate bar flap was given its name for a very obvious reason… it looks like a chocolate bar! I love this bag because it's super similar to the classic flap, but it sports the quilting-shaped stitching in a parallel fashion. The strap can be worn as a shoulder bag and comes in various colors.
Chanel Diana Flap Bag
A stunning group of Chanel flap bags named after… you guessed it, lady Diana. This is an extremely classy-looking flap bag that looks similar to the classic flap but includes a stunning trim around the flap that frames the interlocking CC. I love this bag because it is extremely vintage (think the 1980's), so it has a classic shape. It can be worn with a long strap or doubled up, just like the classic flap. This is an excellent Chanel bag for someone looking for a forever leather bag.
Chanel In The Business Quilted Flap Bag
Here's a bag you probably didn't know about. I love this wild card bag because it's larger, a little more square, but just as sexy as the classic flap. The diamond quilting is in the same direction as the classic flap but is smaller on the flap and larger on the body of the handbag. It also has the same long strap that can be carried with the double strap. It has a usable back pocket, perfect for your phone to nestle into. Love this option! It's larger and much, much cheaper than a jumbo or maxi classic flap!
Chanel Mademoiselle Flap Bag
A Chanel bag that resembles the Diana flap bag but gives off Chanel Boy energy. The Chanel boy bag and the Mademoiselle flap bag are similar in that they are both wider at the base. This is another great option as it is hard to find but is always well priced when you do find it! It has the double strap option like a few of the others mentioned above but can also be worn crossbody. It's a great bag if you're on a budget and are looking for a bag that can fit more things in your day-to-day life.
Chanel Quilted Fashion Therapy Flap Bag
If your budget can stretch a little bit, the Chanel Fashion Therapy flap bag is a stunning option! I love this bag because it is primarily a crossbody but has a beautiful chain strap that is meant to be held as a top handle as well. This Chanel flap bag is a little newer than the others mentioned above but is a great investment. I love that the long chain has a leather strip that sits comfortably on your shoulder.
Chanel Boy Bag
We all know this one, and we might not all love it. Say what you will, but this purse is leaning on the classic side of Chanel because it's been in production for many seasons. It is the edgier, wider, and heavier version of the Chanel classic flap. Honestly? The price difference for the Chanel Boy Bag is massive. You can find these babies for half of the price of a classic flap, and if you opt for a nonneutral color, you can find them for only a couple thousand bucks!
Chanel Re-Issue 2.55
Another handbag we know and love. This purse is the original version of the classic flap that was created by Coco Chanel herself! I love this bag as it is nearly identical to the classic flap but has the mademoiselle lock instead of the interlocking CC that Karl Lagerfeld invented. Since it is the first IT bag created by the founder Coco Chanel herself, it will likely never go out of production… and if it does, it'll come back around within a few seasons. This double flap bag also has a different chain which gives off a more elegant feel to it compared to her classic sister. This purse is on the pricier side but STILL cheaper than the classic flap.
Final Thoughts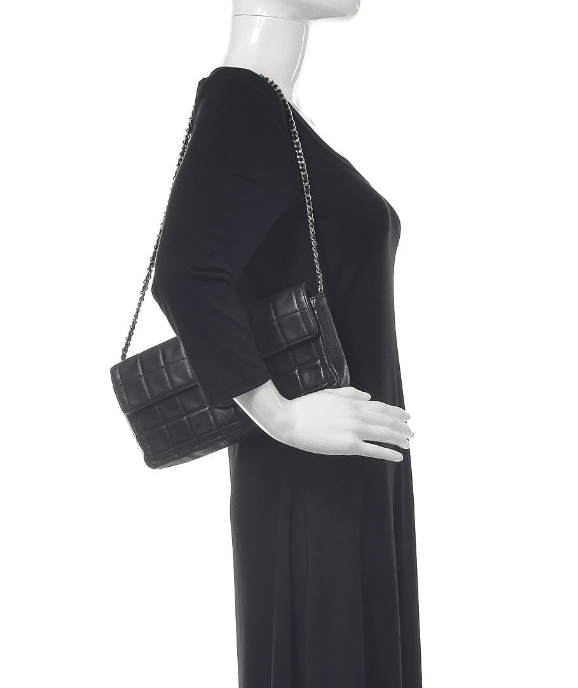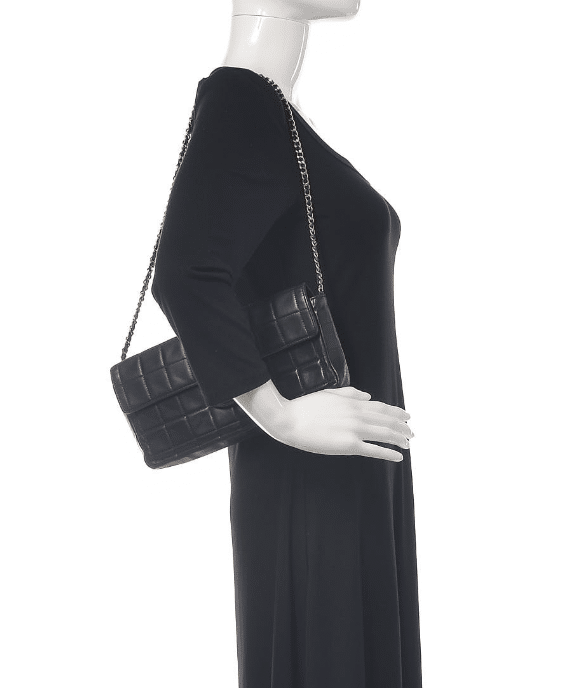 The amount of potentially "classic" handbags by Chanel can be endless. I've only mentioned a few Chanel bags above; however, you can find your own classic bag by doing your own research online. An online store will likely have what you're looking for.
Points you should opt for:
Classic and neutral colors like black, a white chanel bag, and beige can be a better financial investment for your Chanel flap bag.
Opting for a Chanel bag with a similar shape to the Chanel classic flap will ensure the shape of your bag won't date for years to come (rectangular shape).
Shop classic leather on the Chanel flap bags, like caviar or lambskin.
Shop for the same or similar quilting leather pattern on the Chanel flap bags.
Not a must, but find Chanel flap bags with the Mona Lisa pocket smile in the back.
If you've just started your search for Chanel flap bags that resembles a classic flap, then I hope the Chanel bags mentioned above spark your journey! Thanks to Karl Lagerfeld (rip) for creating a handbag that is a classic among all classics.
All handbag images in blog post are courtesy of fashionphile.com.