Chanel Heart Bag Collection
The Chanel heart bag collection calls back to the original Spring 1995 runway iteration, straight from the mind of then-Creative Director and ICON Karl Lagerfeld. Since then, there have been a couple of versions that remain coveted. So, when the 2022 Chanel heart bag debuted, people were rightfully getting themselves on a waiting list with their sales associate right away.
Our Pick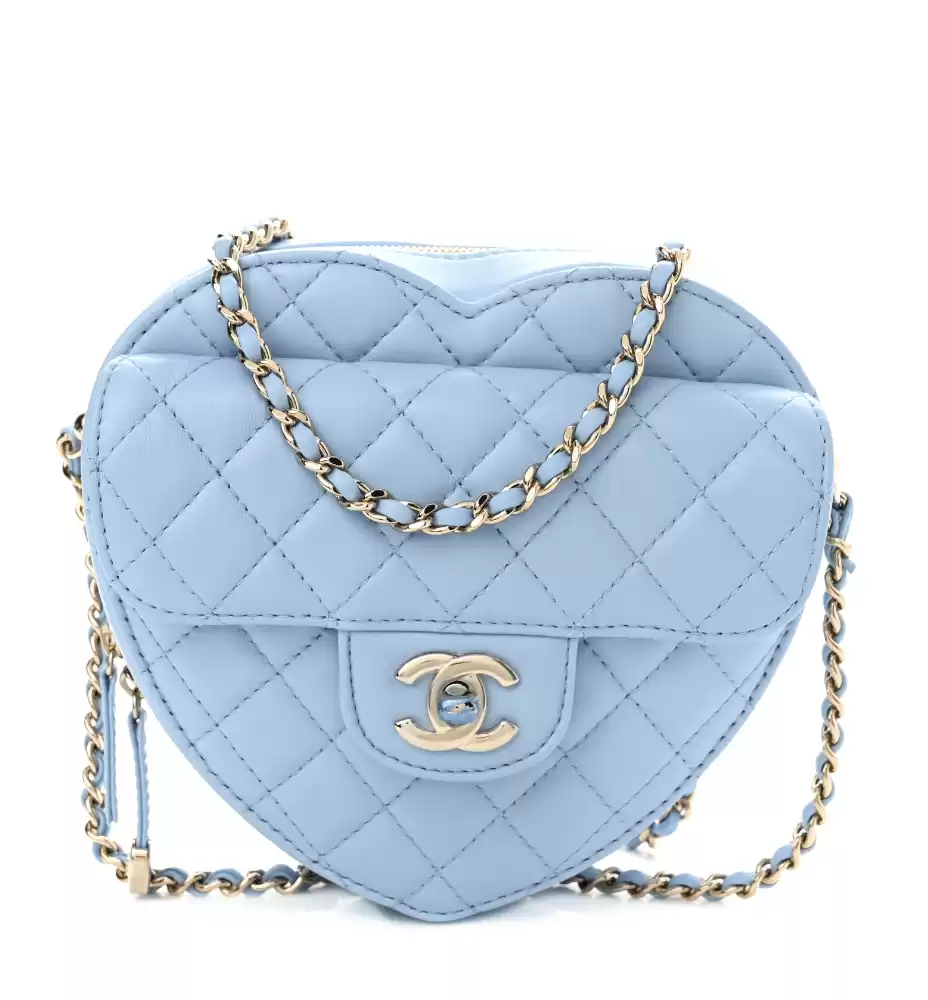 Chanel Love Heart Bag
The Chanel Love Heart bag is modern and chic. It is distinguished by its stunning heart-shaped silhouette, prominent quilted pattern, quality chain, and oversized CC logo, embodying a fun and contemporary aesthetic that effortlessly elevates any ensemble.
Shop Bags
Chanel fans haven't seen a heart bag like this since 2009, and the 2022 Chanel heart bag with a front flap has proved very hard to get. But Chanel lovers still held out hope and a lot of money.
Luckily, when the Chanel heart bags did begin to make it to their destinations worldwide, those who might want to get their hands on one could read reviews on which color, size, and version were the best.
Chanel Heart Bag Variations
That's right — there are more versions of the heart bag collection than you think. This lambskin leather cutie couldn't be kept as just a handbag, meaning there had to be a few different styles of the love heart bag for all sorts of fashion lovers.
The large heart bag, which is most coveted as it has the most room for essentials, is undoubtedly the prototype for all the others. Lightweight, heart-shaped, and timeless, it's no wonder people have been scrambling to get their hands on one.
It is a classic flap bag with traditional quilting, a front flap, with a single chain strap that can be worn on the shoulder or crossbody. Made with lambskin leather, the Chanel bag opens entirely in the middle, with gold zippers on both sides and gold hardware Chanel detail on one zipper for good measure.
The Chanel heart bag also features a back pocket, called a "Mona Lisa pocket," for all that won't fit within the bag.
And, we have to say, not much does fit (depending on size), apart from essentials like classically shaped phones, lipstick, credit cards, a compact or small wallet, hand sanitizer, and AirPods. But for those looking to travel with less, it's not necessarily a dealbreaker.
We've seen photos of people carrying their Chanel heart bag two at a time!
What makes the Chanel heart bag even more impressive, fashion-forward and trendy are all the colors it comes in.
Chanel Heart Bag Color Variations
Though they have been hard for fashion influencers to attain, and some have yet to emerge on the internet, the Chanel heart bags come in pink, black, white, purple, blue, and gold. We love a gorgeous white Chanel bag.
One of the most popular colors you'll find the Chanel heart bag in is pink. The heart shape gives the bags their novelty look, but adding the pink, bright blue, or purple tone makes it more fun to carry. The front pocket also makes it stand out from other Chanel bags.
So, whether you'd like to maintain the classic flap bag style or ramp up your wardrobe for spring, Chanel heart bags are an exciting addition to anyone's collection. Although it may seem trendy, remember that this is a reissued bag from Chanel (what goes around comes around)!
The best part? They nearly have stopped production (for now), so if you did not get to purchase this in-store, you could only shop these bags on the resale market at a premium price.
How Much is the Chanel Heart Bag?
The large Chanel heart bags are the most expensive, coming in at $5,500, which is a typical starting price point for Chanel bags unless you're shopping for a classic flap bag.
The mini is a little more affordable at $3,400. And we have seen that style a lot — we love it.
The belt bag is closer in price to the mini at $3,075. The wrist bag is by far the most affordable at $1,925, but being a small leather good, it's more a novelty than a handbag. Still, wearing a Chanel heart bag as an arm coin purse is one of the most luxurious things we can think of.
As we know, Chanel doesn't come cheap — so neither does the Chanel heart bag. In fact, because the Chanel heart bags have been so difficult to find, retailers are selling them for almost double the original prices online.
If you read a review online, you will see the praises that Chanel fans sing for this bag. It's no surprise many people prefer to purchase this bag over any classic with a top handle at the moment.
We've done our due diligence and cataloged prices for all the heart-shaped bags, and depending on your budget, you might even be able to pick up more than one.
Our Pick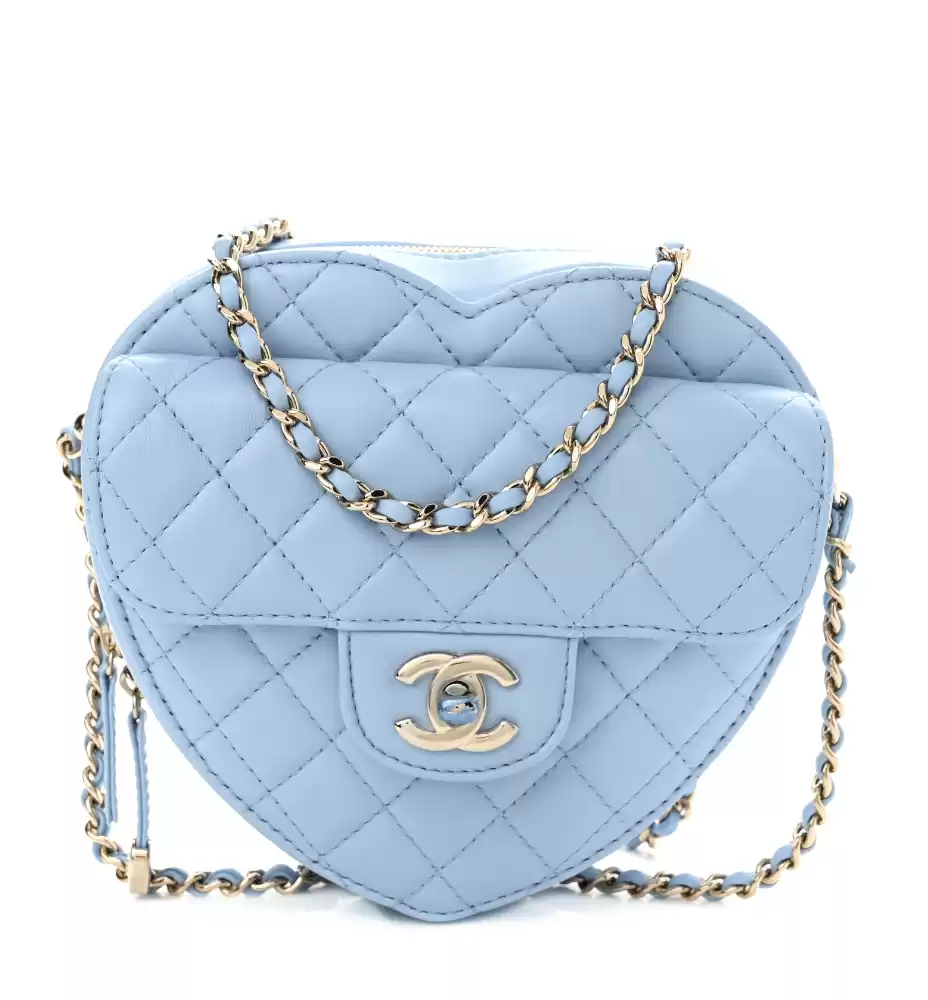 Chanel Love Heart Bag
The Chanel Love Heart bag is modern and chic. It is distinguished by its stunning heart-shaped silhouette, prominent quilted pattern, quality chain, and oversized CC logo, embodying a fun and contemporary aesthetic that effortlessly elevates any ensemble.
Shop Bags
Chanel Heart Bag Sizing- Chanel Love Heart
Large Chanel Heart Bag: 7″ L x 6.75″ H x 2″ W and 19.5″ chain drop
Mini Chanel Heart Bag: 4″ L x 4.75″ H x 1.75 " W and 20″ chain drop
Chanel Heart Waist Belt: 5.25″ L x 5″ H x 1.75″ W and 11.5″ chain drop
Chanel Heart Coin Purse: 3.25″ L x 3″ H x 1.25″ W and 18.5″ chain drop
From the coveted large heart bag comes all the other versions, all touting the same iconic Chanel look: the mini, which can also be worn crossbody or on the shoulder; the belt bag version, which also has the capability of a crossbody bag, and can elevate an outfit easily, and the wristlet, which can't fit much, but can also elevate an outfit and have people in your DMs very very jealous.
Because the Chanel heart bag includes these tiny iterations, all but the large heart bag are technically classified as small leather goods, originally launched in two sizes. The chain straps on the large Chanel heart bag and the mini are 20″ and look great with either a dressed-up or an understated outfit, all Chanel fans can attest.
We've seen many different ways of styling heart-shaped bags since they dropped, and it's exciting to see how creative people have been with how to wear any size heart bag! The front flap is very recognizable now.
Which is the Best Chanel Bag to Invest In?
For those who want a little more space, and because the regular size version is the only Chanel love heart bag not classified in small leather goods (SLG), the best investment might be the large heart bag. Can we just point out that the original Chanel heart bag from 1995 can be found online for over 20K. An investment I would say! Much like a Chanel flap bag or the Chanel coco handle.
Although the large sits at the highest price point, it will likely remain timeless, just like the 1995 Karl Lagerfeld version. Chanel heart bags can still be purchased from luxury resellers, which could be just the sort of vintage item you'd want to invest in.
However, if you want to travel with less and still retain the classic Chanel style, the mini is a viable option.
You can buy two for the upcoming spring season if you're trying to show off. When it comes to Chanel handbags, is there ever such a thing as too many?
Final Thoughts
Because the bags are just so popular, Chanel lovers have been waiting months to acquire the colors and version they purchased finally, but most all say the same: the Chanel heart bag collection is not to be skipped.