It doesn't take a genius to see we are heading into a very bedazzled handbag world. Designers everywhere from Prada, Valentino, Alexander Wang, and more have introduced a handbag or purse line that is crystalized or simply a crystal bag.
For years we spent money on the typical handbag materials that took us through our daily lives, like canvas bags or leather handbags. Now that we have moved past the C-word (fingers crossed), girls all over just wanna have fun. Fun in post covid times clearly means color and crystals, baby. I love this new world of pink and lime-colored handbags and clothing, especially after the veryyyy neutral vibes we lived in for so long.
Don't get me wrong, I love a good neutral or nude handbag, but suddenly, it seems color and crystals have entered the handbag chat.
Why a Crystal Bag?
It seems a little odd to be shelling out thousands on a handbag that will be jailed until time to be used as an evening bag. But what's great about the crystal handbag trend is we are wearing it as daytime purse honey. There are no rules. I recently saw the Valentino crystal bag worn in the dairy section at my local grocery store. And you know what? That girl sparkled all the way through the meats, bread, and cereal isles in style.
A sparkly purse has quickly become its own category in my own collection. Any handbag lover knows that having at least one rhinestone bag gives you a leg up over other connoisseurs. If you are just starting your search for the best designer crystal bag, I'll give you a heads up below.
Our Favorite Designer Crystal Bags & Designer Embellished Handbags Below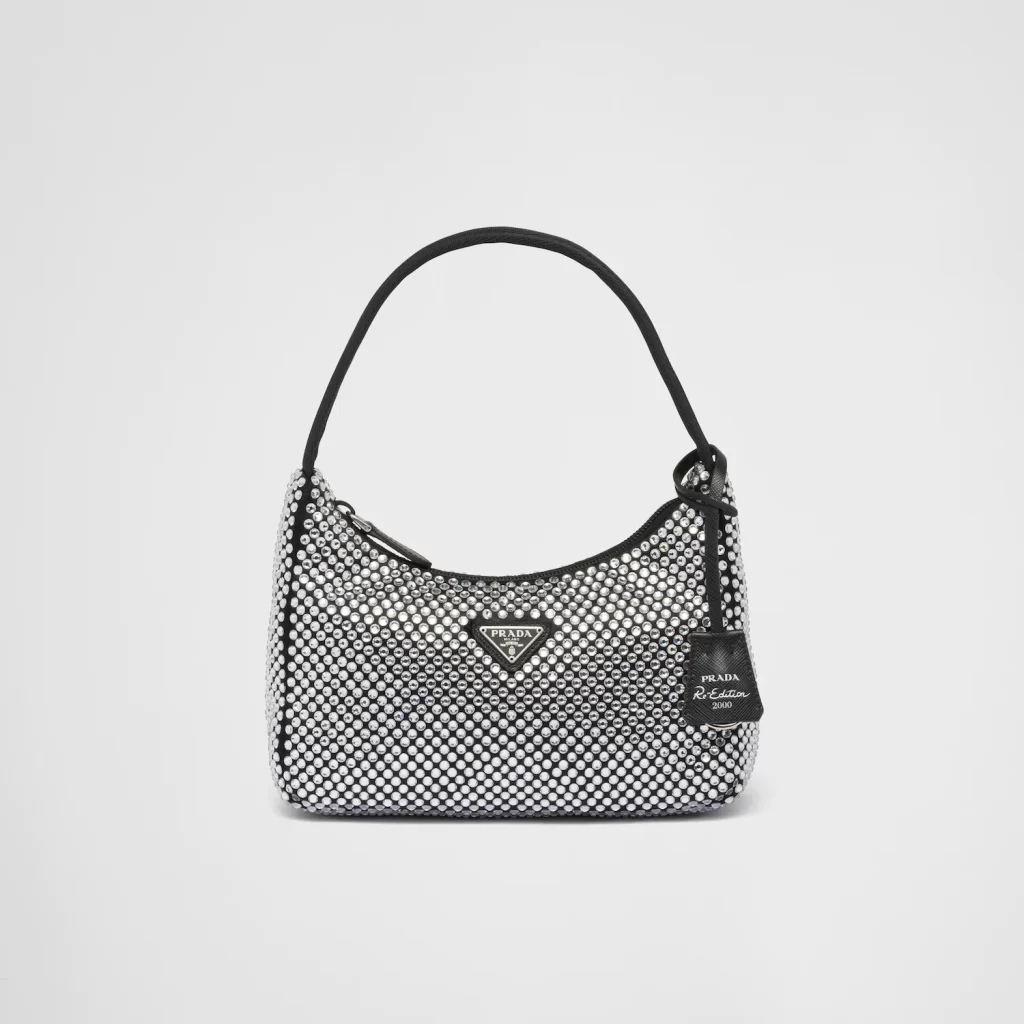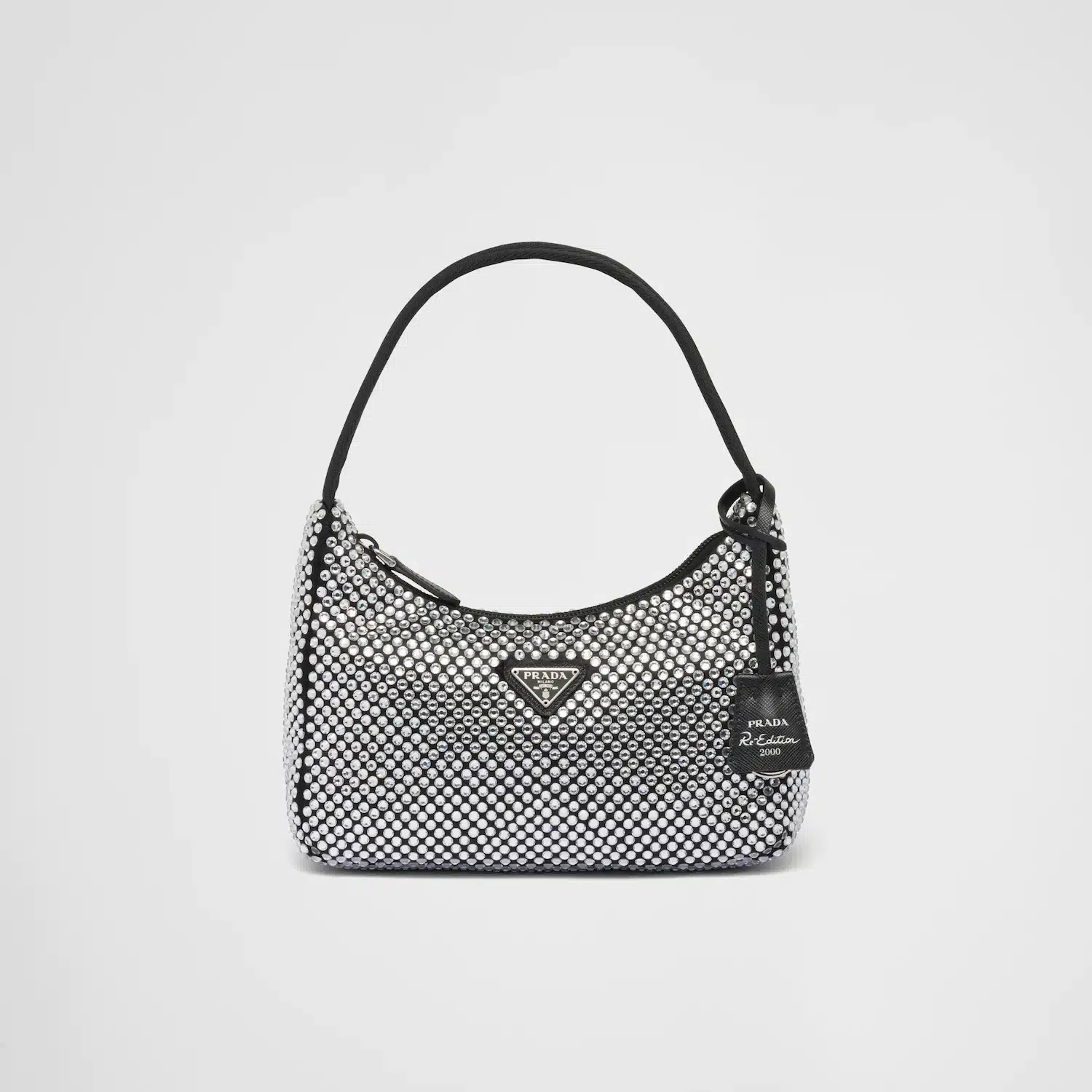 Prada bags baby. In my opinion, the Prada Crystal Re-Edition 2000 bag sparked my life's sparkly bag hunt. Everything in the details of this bag was so different from other rhinestone handbags I had seen. It was a purse that could be worn as an everyday bag. I wasn't in a typical evening clutch style, but instead, the size, the handle, and the shape all lent themselves to being a purse that was useful. It was small, yes, but not micro or mini. I could fit my essential items without making them hard to find.
A crystal evening bag I could wear in the sunshine? Sign me up.
After the Prada Re-Edition launched the Prada Cleo Satin Bag with Crystals. Another bag to further my own obsession with wanting a rhinestone handbag.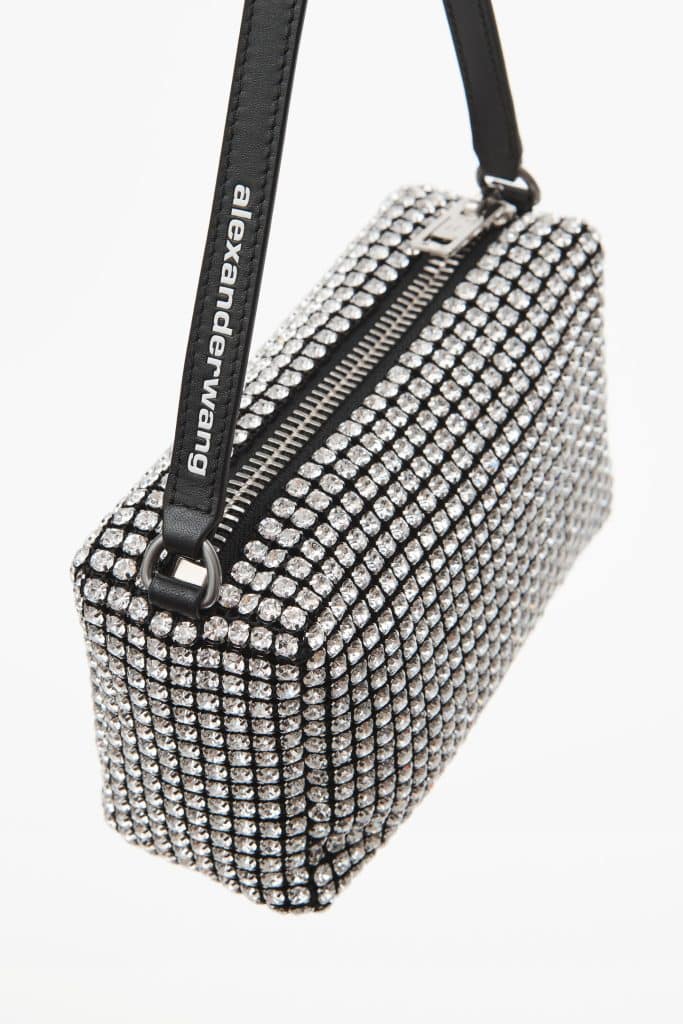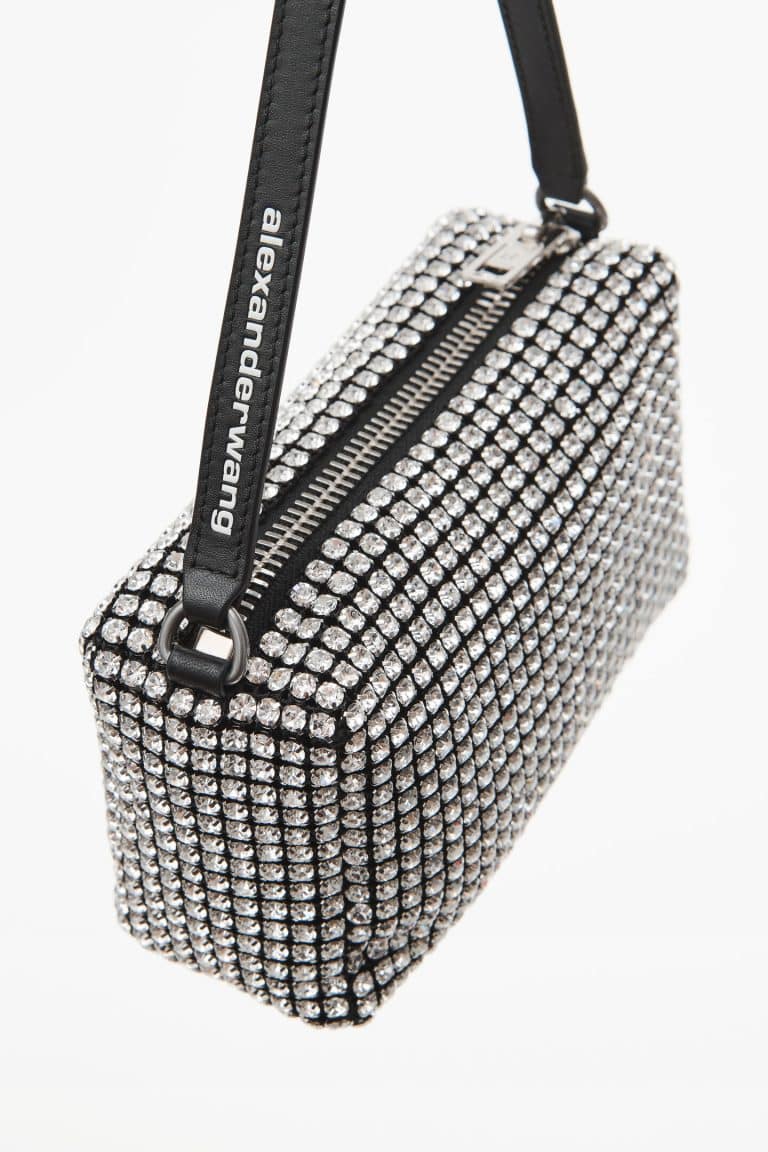 I LOVE this handbag, simply because it doesn't break the bank. It allows you to add an embellished bag to your collection without shelling out thousands. It has a classic shape with a dainty but incredibly stylish handle. From reviews online, it's a small bag but can fit your essentials. Shop this rhinestone bag plus a few others from Alexander Wang.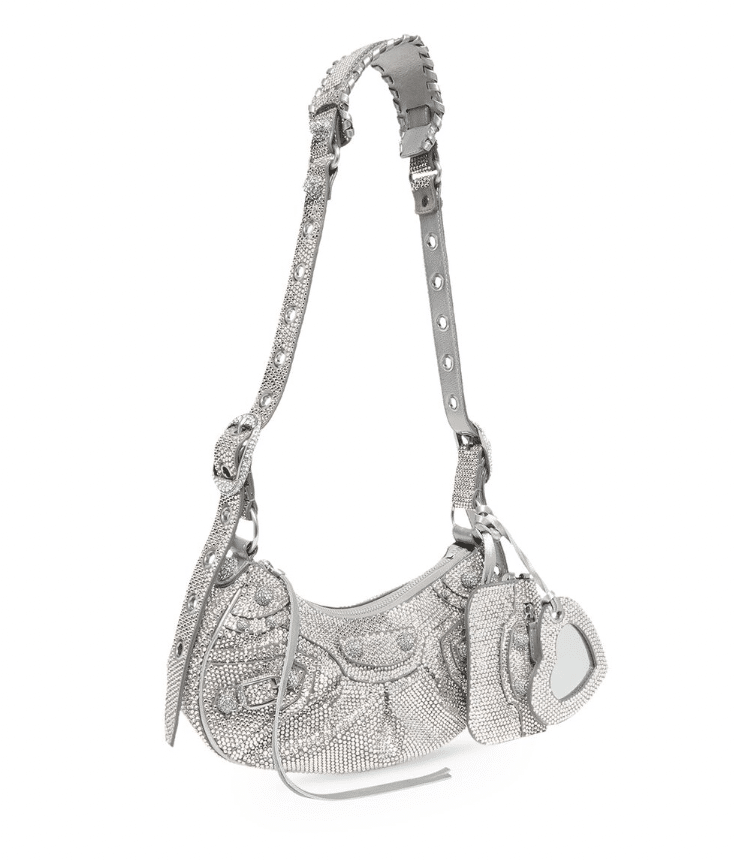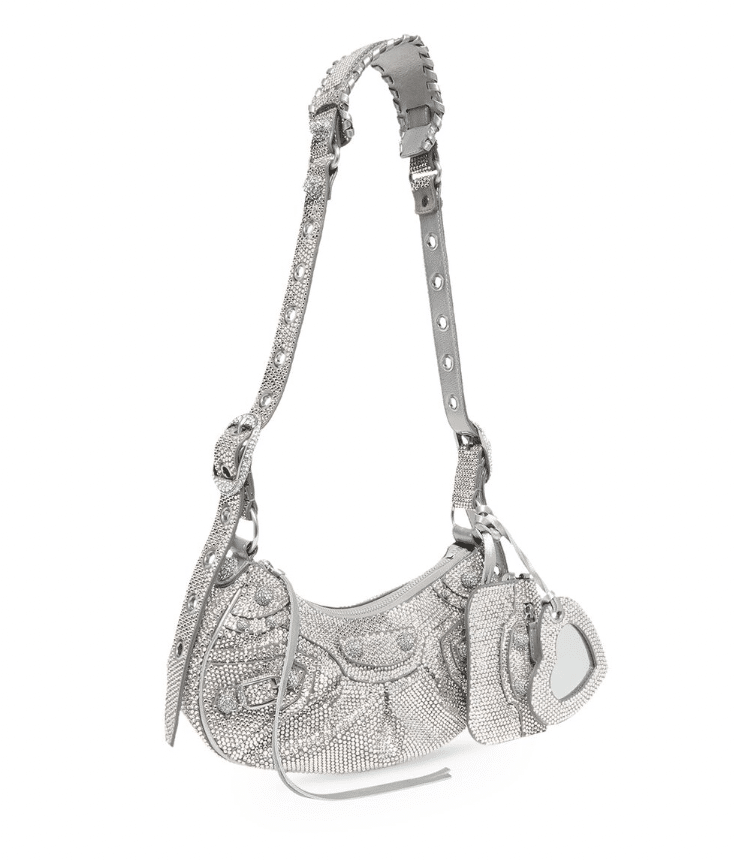 The Balenciaga Le Cagole xs Shoulder Bag with Rhinestones and the Balenciaga Hourglass Crystal-Embellished bag are my two favorite purses at the moment from this brand. We know Kim Kardashian has been pushing this brand HARD. Does that make me want it more? Probably. But that doesn't necessarily mean that I wouldn't want these bags before being heavily influenced by the Kardashians. Checkout the ones I love and add them to your cart before they go up in price (which I predict they will).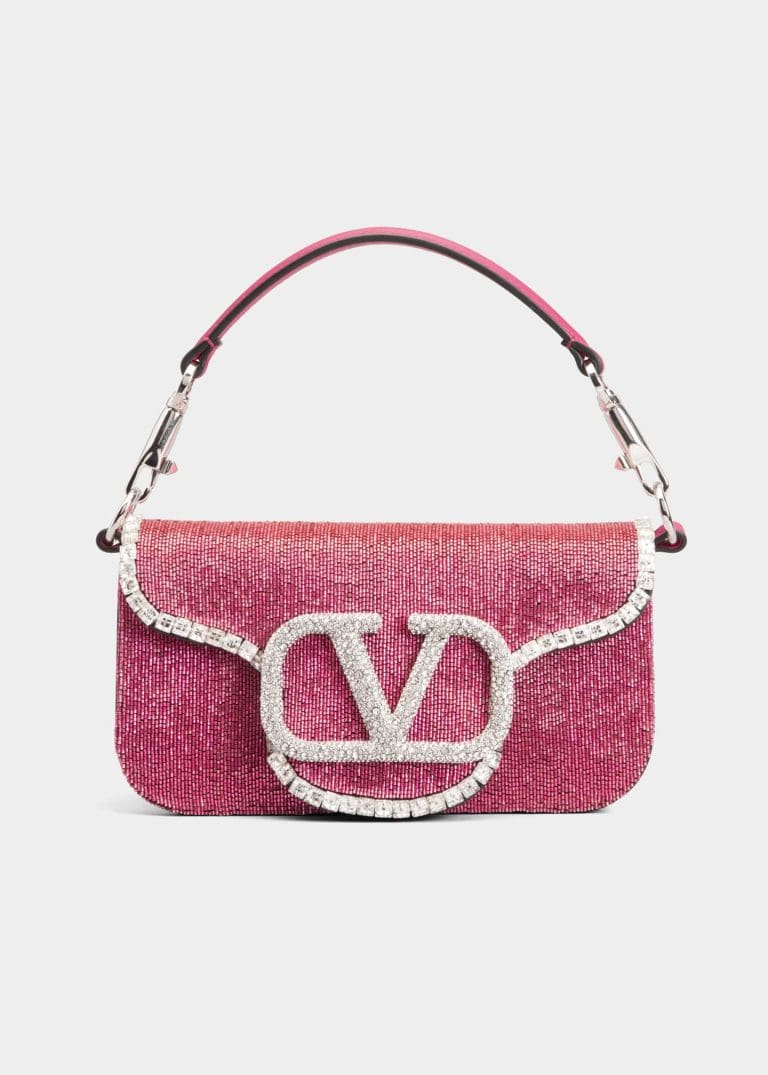 Breathe in and breathe out, gals cause this one is coming in HOT. I was lucky enough to watch the sales associate at Nordstrom put this up on display yesterday as it had JUSTTTT come in the store for purchase. When I tell you this purse is stunning in person… ah! The details, the colors, the structure, the handle options- I love. Valentino really kicked it up a notch this season with their details and styles. Every time I see new-in-season Valentino, I wanna order it immediately.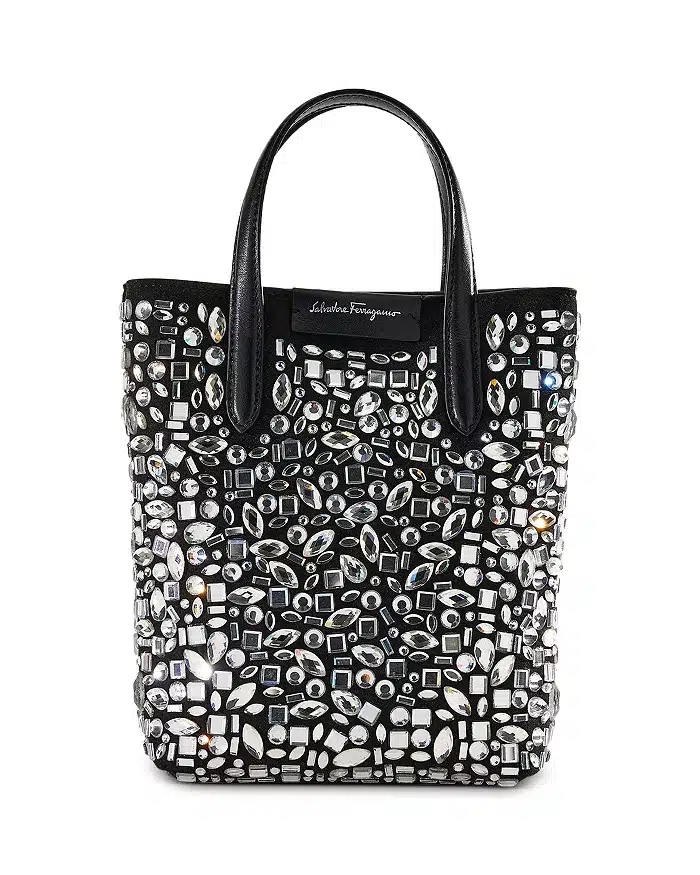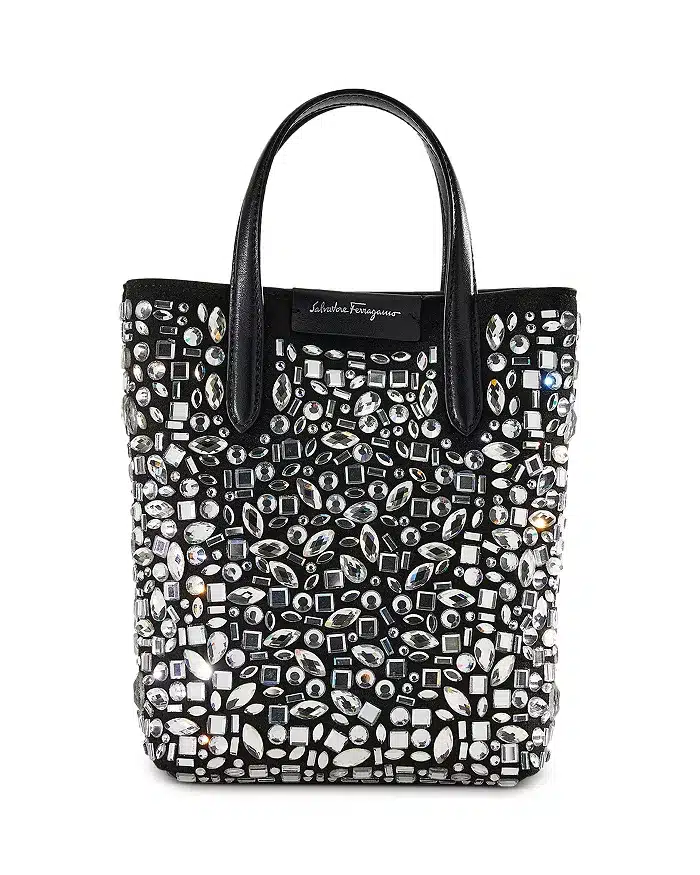 Salvatore Ferragamo Crystal Bag
A brand that I don't find myself gravitating towards, to be frank. However, this stunning mosaic tote bag is so on trend I had to include it! I love the whole look, the shape, the mismatched crystals, and more. I also love the price tag; if you're entering the world of bedazzled purses, you'll enjoy this one.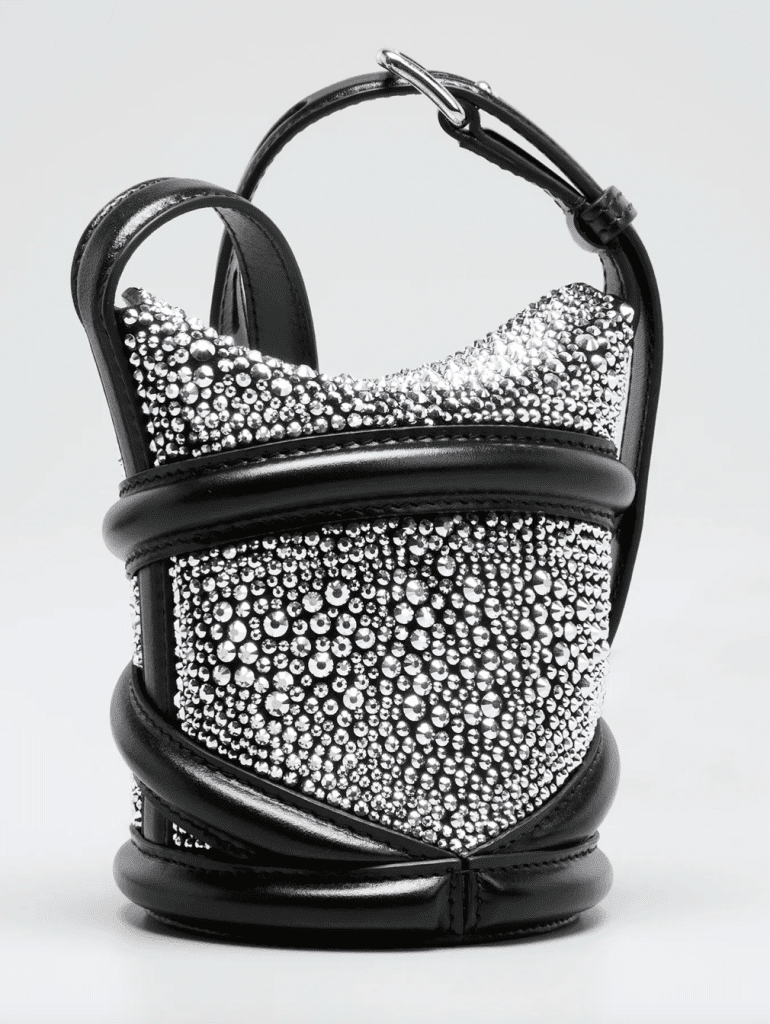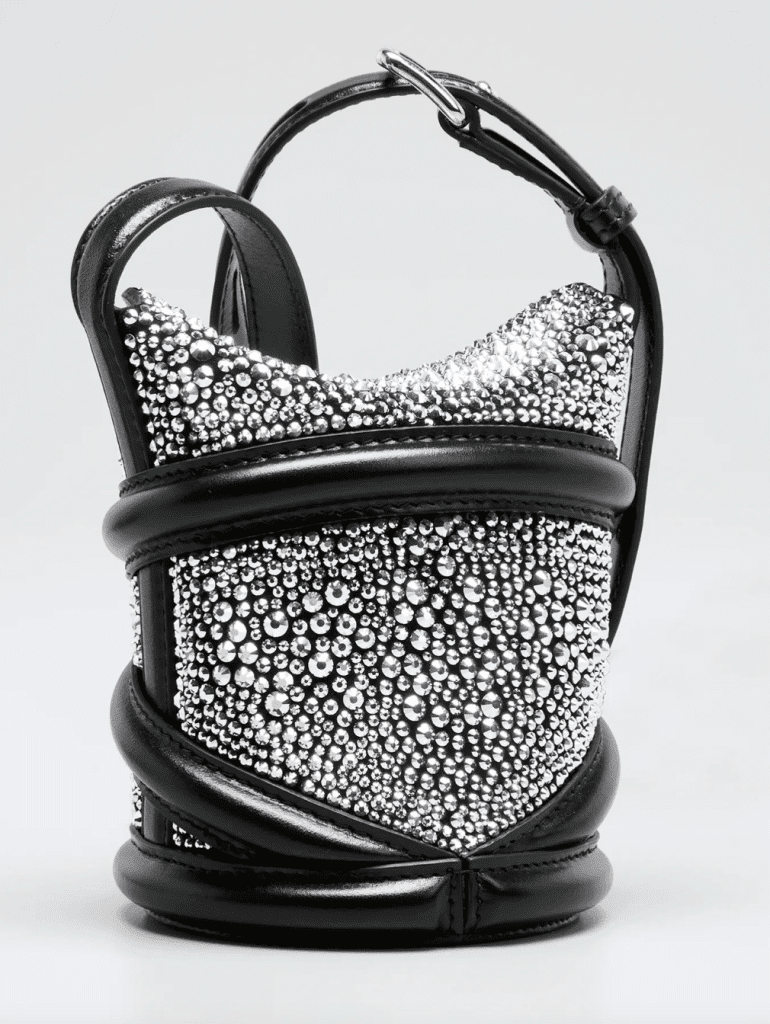 Alexander McQueen Crystal Bag
We love a good McQueen moment, and this bag is IT. The shape is a gorgeous new take on a simple bucket bag but glammed out. I love shopping for classic shapes with new modern twists, and this bag gives me that. Check out the bucket bag and other versions of a crystal bag by Alexander McQueen below.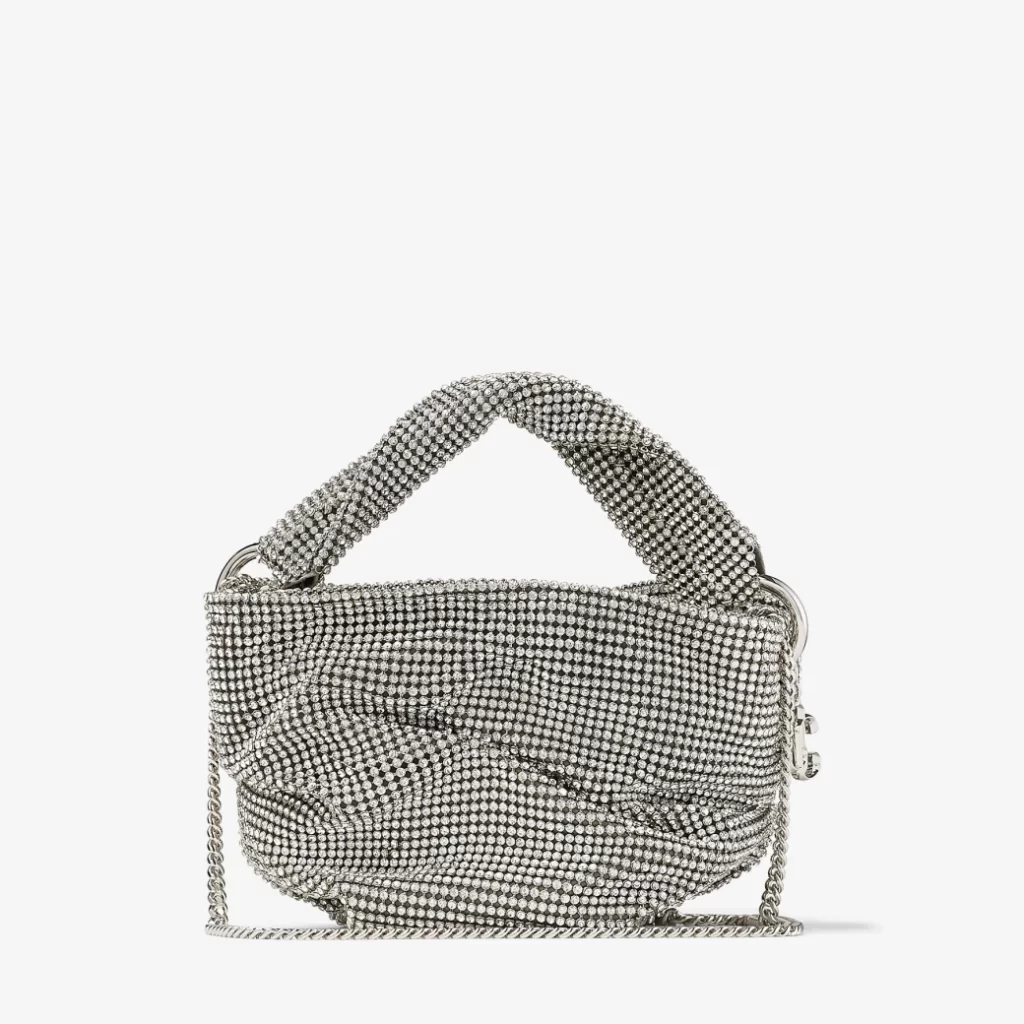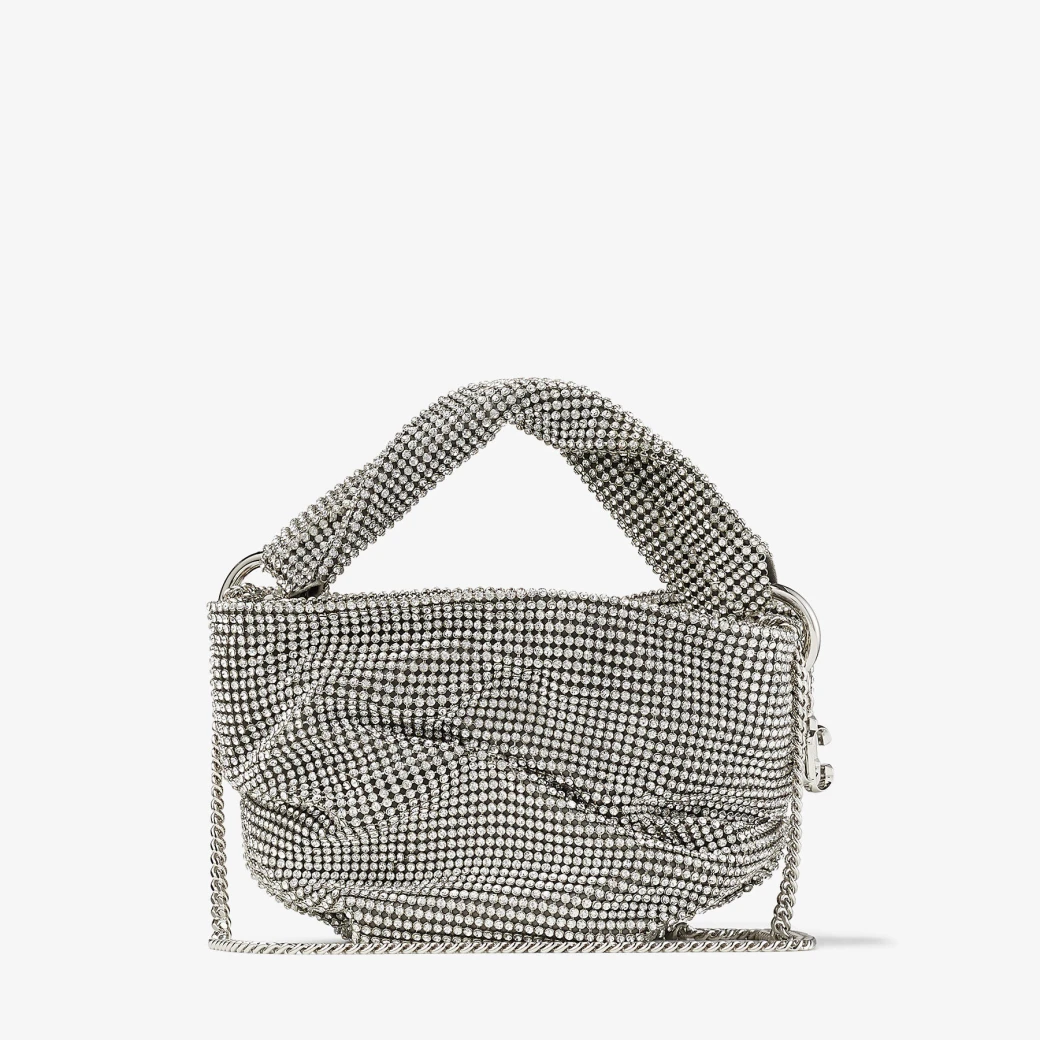 When I think Jimmy Choo, I almost never think purse. However, we all know not only does Jimmy Choo produce the hottest IT shoes and heels, but they also make the cutest evening bags too. I may not put Jimmy Choo at the top of my list, but I did have to mention this bag and a few others specifically.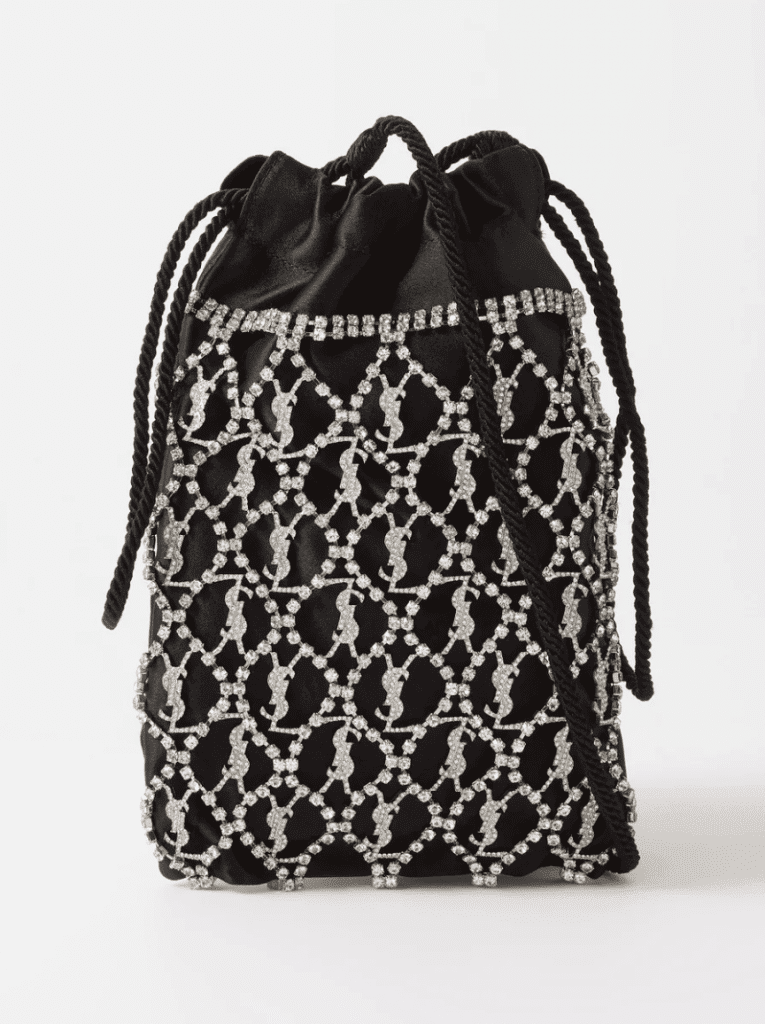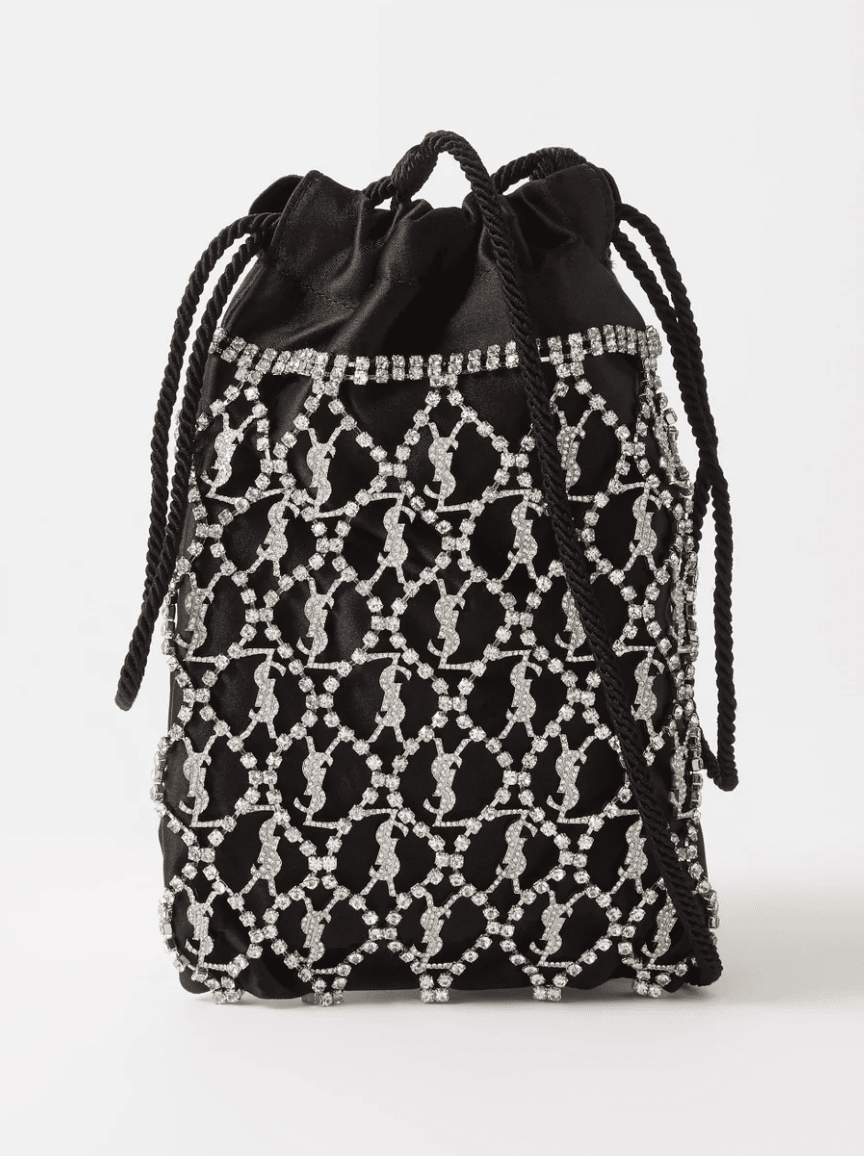 Saint Laurent YSL Crystal-Embellished Bag
Let's talk about THIS bag that it seems NO ONE is talking about at this moment. Check out the crystals and how they have created the most beautiful design with the YSL logo. The satin pouch is in the cutest size, and the crystal-embellished YSL mesh makes this rhinestone handbag so so cool. Love this bag, plus some others listed below too!
Images courtesy of bergdorf goodman, jimmy choo, bloomingdales, nordstrom, prada, matchesfashion, alexander wang.