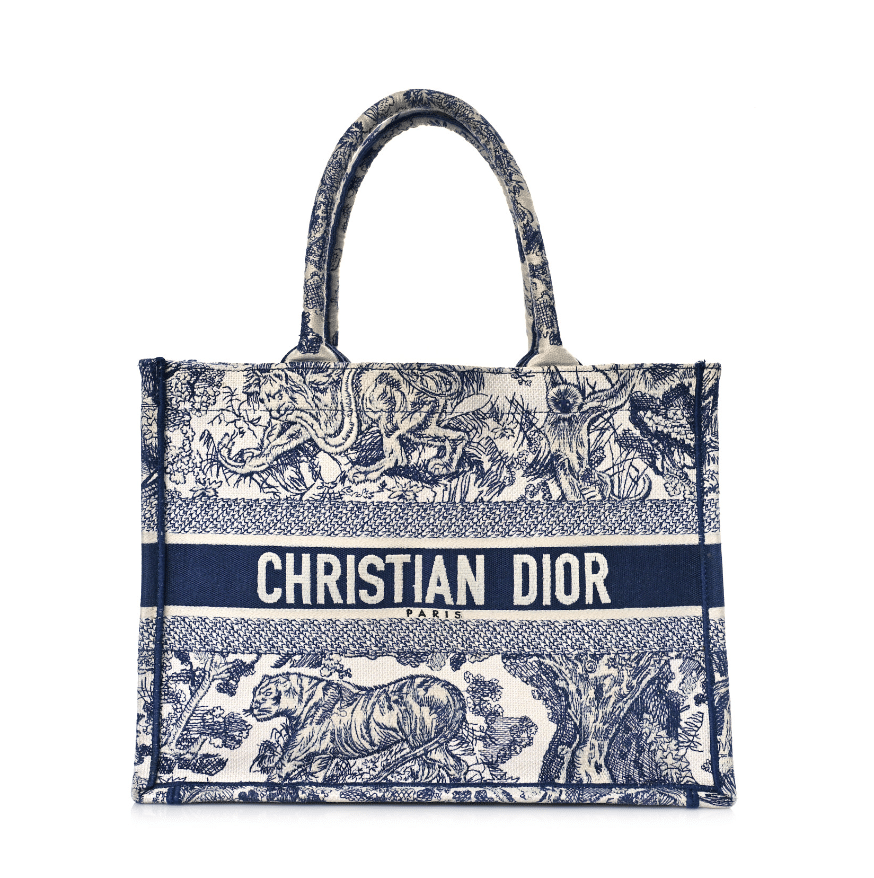 Whether the Dior Book Tote is worth it depends on individual preferences, budget, and style. It offers a unique and fashionable statement piece but comes with a higher price tag and some limitations in terms of closure and versatility.
Christian Dior Book Tote Review: Worth it?
The Dior Book Tote was inspired by a drawing produced by Marc Bohan in 1967, which was found in the Dior archives. Dior creative director Maria Grazia Chiuri introduced the current design, which is a tote that has become iconic in its own right. This tote is instantly recognizable because of the Christian Dior couture label front and center of the bag's design and because it has become such a popular tote amongst fashionistas, influencers, and bag lovers alike. Feature image courtesy instagram.com/dior.
Dior Book Tote Bags Available on Resale Sites Now:
Of those who love the Dior Book Tote, some in the comments might pessimistically say that its popularity is getting out of hand — and it is now too recognizable after being seen so often on the streets of New York and some of the chicest European cities. However, just because the Dior Book Tote is popular and recognizable doesn't necessarily it should be written off entirely. But how do we know when a bag is "played out"? 
We can look to Louis Vuitton trunks, Chanel quilted handbags, and of course, the Hermès Birkin bag, which is always recognizable, always chic, and have made it through decades of design overhauls. Sometimes a bag can stand the test of time. Dior itself certainly has. So, how does the Christian Dior Book Tote measure up to other fashion giants? Is the Dior Book Tote the newly most coveted tote? Luckily, you're here because it's time to get into it. Get your bank account ready; it's time to shop.
Dior Book Tote Pros & Cons List:
Pros:
Statement Piece: With its distinctive and striking design, the Dior Book Tote bag is a true fashion statement. It stands out as a unique item that gives any ensemble a dash of artistic flair thanks to the embroidered or printed designs.
Spaciousness: Exceptional inner space in this bag makes it ideal for transporting bulkier items like laptops, books, or travel necessities. It is an excellent option for everyday usage or travel because of its usefulness and size.
Customization Options: Dior offers a variety of customization pattern choices for the Book Tote bag, allowing you to add your initials to make it really one-of-a-kind and personalized.
Brand Prestige: Owning Dior bags, especially the Book Tote, is a sign of opulence and high-end style. It highlights your appreciation for enduring designer labels and gives your collection an air of exclusivity.
Cons:
Price: The Dior Book Tote bag has a higher price because of its exclusivity and luxury status. This can make it less affordable for people on a tight budget.
Limited Closure: The bag has an open top design without a secure closure mechanism, which can worry people who want more enclosed and safe bags to preserve their valuables.
Size and Weight: The greater size and roomy interior of the Book Tote bag come at the cost of being bulkier and heavier to carry, which may not be everyone's taste, especially for those seeking a lightweight bag.
Limited Versatility: The Book Tote bag's distinctive and attention-grabbing design may limit its wearability in comparison to more traditional and neutral options for particular situations or ensembles.
Watch: How the Christian Dior Book Tote Bag is Made
How much is a Dior Tote Book Bag? (all sizes)
The Dior Book Tote, luckily doesn't just come in one size. There are actually four sizes you can choose from: mini, small, medium, and large. Depending on what you deem "essential" in your Dior tote bag and how much room you need in it daily, how much you want to spend, and simply what you want your style and overall look to be, you have choices.
You have many options when it comes to which Dior Book Tote size you want to hold. And you at least have to be the creative director of your own closet. 
The mini tote, a size that is sweeping design houses everywhere, and will cost you $2,550, is great for an evening out or if you tend to travel light (or hate to sort through your stuff). A small step up in size, the small Dior Book Tote, which is priced at $3,250, is definitely a tote you can carry every day. And one in which no doubt your friends, followers, and passersby on the street will covet. The medium size best Dior Tote bags to buy, which is still technically a handbag, and can fit a book, your wallet, phone, and even a laptop, is going to run you $3,350. The large, which you can carry in your hand or on your shoulder, has by far the most space and definitely the highest price at $3,500.
Dior Book Tote Price Guide
Mini Dior Book Tote: $2,550
Small Dior Book Tote: $3,250
Medium Dior Book Tote: $3,350
Large Dior Book Tote: $3,500
Is the Dior Book Tote worth it?
The price difference when it comes to size is pretty minimal — so depending on your lifestyle and how you style it, a Dior Book Tote is the best for individual needs. And if you aren't necessarily a fan of the Christian Dior inscription, there are special editions, depending on the season, that appear more low-key regarding branding but have just as much style. Are you sold yet?
A con: the bag is unlined, therefor if anything spills inside the bag, it may take some time to remove the stain. How to avoid this? Luckily tons of brands make special inserts that fit all sizes to help keep your mess contained!
Why is the Dior book tote so popular?
The Dior Book Tote bag is so popular because it's Dior, but also because of its sleek and handmade design. Also, tote bags are just majorly in right now. The tote is an easy item to implement into your wardrobe, and it can hold quite a lot. (Maria Grazia Chiuri knew what she was doing.) But it isn't just in appearance that the Dior Book Tote shines — it's also in its crafting. These totes are handmade, and you can tell. It also helps that a Dior Book Tote can fit any device so that you can take all your data anywhere.
You can also pick from a variety of pattern options; from the Dior oblique pattern to different size proportions.
A con: Some may say this tote bag is too new to be called a classic. It may very well be a popular bag now but for how long? Since it's a creation based on an idea designed in 1965, it'll probably stick around for a while.
How can you tell if a Dior book tote is real?
Those interested in getting their own Dior Book Tote can see just how much detail goes into not only the design of the tote bag but also their creation. In the brand's new video showing the construction of the autumn/winter season, Dior Tote bag named the Jardin' d'Hiver; inspired by the beauty of wildlife, it's possible to see this tote go from sketch to finish, with all the artisan's steps in between. These totes are made by hand, and you can tell.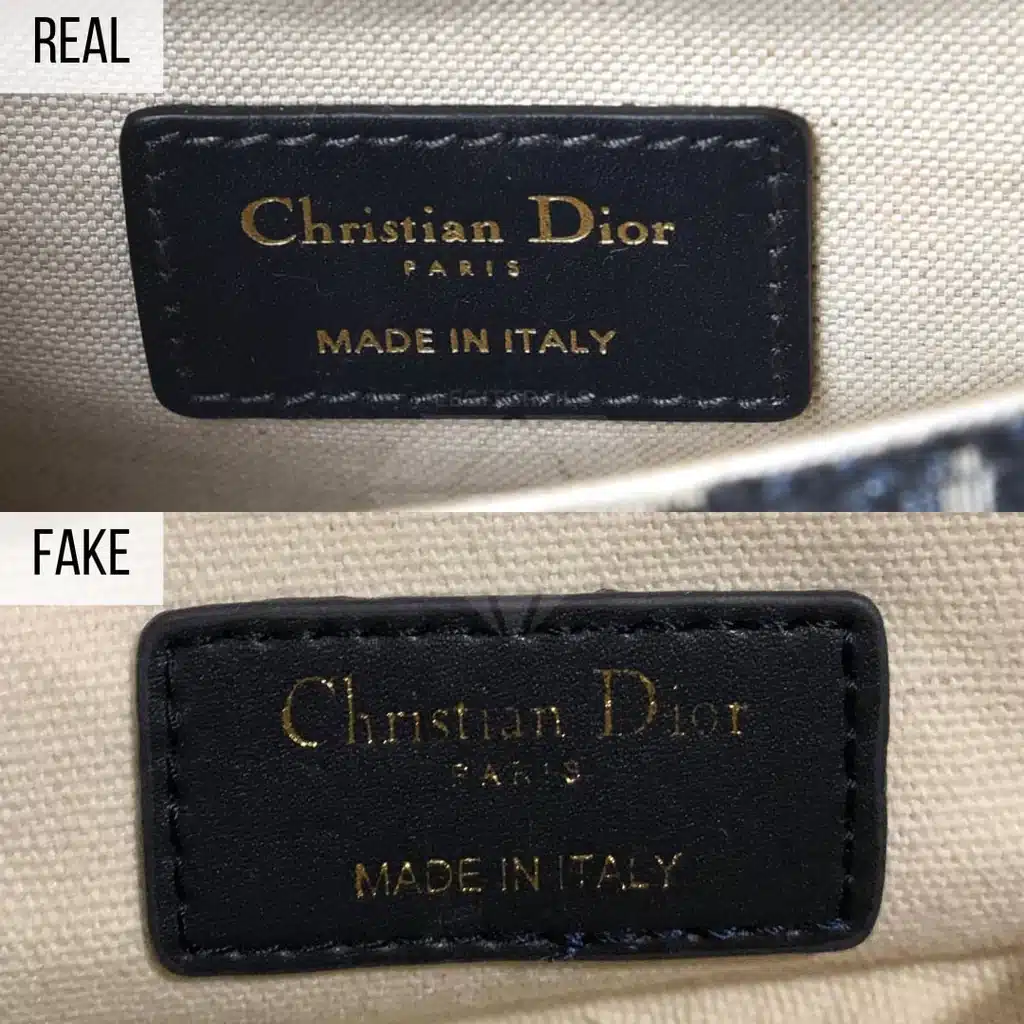 Spotting a fake: Dior products are known around the world as one of the most copied products. The best way to spot a fake is by looking at the inner tags and ensuring they look like the above. Counterfeit versions of the popular styles are a dime a dozen, be careful when vintage shopping. Be sure to stay away from inconsistant stitching and pay attention to quality.
A history of Christian Dior:
Christian Dior began as one of the top haute couture houses in Paris in the 1950s and 60s, headed by the founder, designer, and innovator himself, Christian Dior. Much has been written, analyzed, and celebrated about his reign as head of the fashion house and his life, as well as the artistry he brought to not only the house but the design itself. Christian Dior remains an icon. Though there was a small dip in popularity at Dior after the designer's death, Dior found its way back to a flood of consumers with a new creative director, Yves Saint-Laurent, who loved the idea of being inspired by Dior's past but moved beyond it. Then the Dior house was brought back to life. Dior has always been a brand that treasures art, innovation, modern silhouettes, and more, 
A history of the Dior Book Tote:
Can we ever really write off Christian Dior? Definitely not (even if people in the comments try). And current creative director of Dior, Maria Grazia Chiuri, is making sure of that. The Dior Book Tote was her design, a device she used to bolster Dior's handbag brand, and since its introduction, there have been a few unique edition bags and iterations of the Book Tote. It doesn't seem like the Christian Dior Book Tote is going out of style — time to check your bank account and pool your resources. We'll meet you at the Dior store.