The Fendi Baguette: A 90's baby
We can't get enough of the throwback luxury handbags that mega brands are relaunching (we love Chanel vintage too). Luckily, we got another taste of our FAV one, the Fendi baguette. The Fendi baguette bag has hit its 25-year anniversary since its inception, and it continues to grow in popularity.
Its first debut was in the 90s and hit major popularity after Carrie Bradshaw, Sarah Jessica Parker's character in "Sex and the City," wore it to bits. At one point in the show, Carrie Bradshaw was mugged by a stranger, "gimme your bag," the mugger said, "it's a baguette," Carrie responded; while the robber looked confused, he ran away with the sequined purple baguette nonetheless. Ahh the memories.
The baguette recently celebrated its 25th birthday with a star-studded event at Fendi's NYFW show. Designers like Marc Jacobs (assisted in the new launch), Kim Jones (Fendi's current creative director), and in partnership with Tiffany & co., launched a new line of swoon-worthy baguettes. The bag appeared with every style in an array of patterns, sizes, materials, and more.
Fendi Baguette Styles
Luckily having a long history of baguettes means there's a baguette somewhere for every style. There are large baguettes, small baguettes, sequined baguettes, beaded baguettes, nano and micro baguettes, and much more. Bags with accessories, charms, beads, and more can be worn casually or in full glam attire. The number of different categories these bags can fit into is quite literally shocking.
The different array of colors, leathers, and materials available means if you don't like what's in season now, there's a good chance you'll find a Fendi baguette for you on the resale market.
Shop our favorite Fendi Baguette Bags on the resale market below
Beaded or Sequined Fendi Baguette:
Classic Colors and Patterned Fendi Baguette:
Leather Fendi Baguette:
Bright Colors or non-neutral Fendi Baguette:
Fendi's '23 Resort Show: All About the Baguette
The Fendi '23 Resort Show launched at NYFW, and it was a star-studded event.
Most notably, the icon who single-handedly created THE CRAZE that is the Fendi baguette, Sarah Jessica Parker sat in the front row. SJP was wearing a very Carrie Bradshaw style outfit that fit her "Sex and the City" persona, with a stunning pink and white sequined Fendi baguette bag.
Sitting beside her was the modern-day style icon, Kim Kardashian. Kim was dressed in a full sequined figure-hugging outfit, rocking a baby baguette. But the main star of the show was the baguettes on the runway.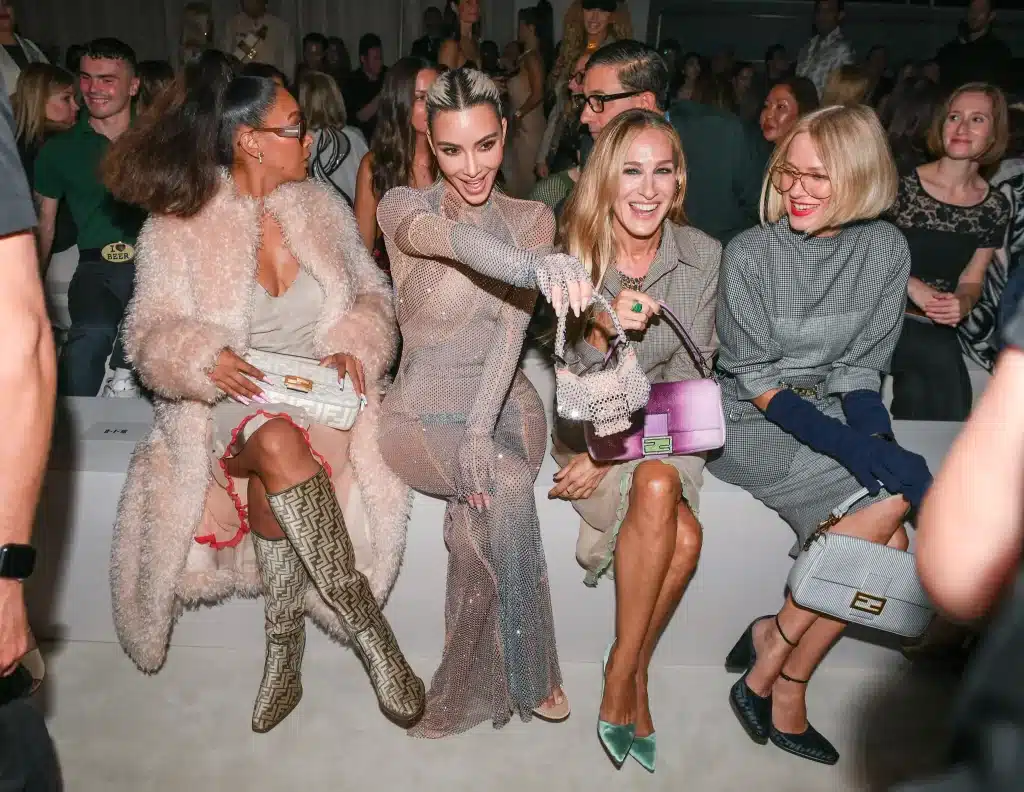 The Tiffany & co. collab was a shocker, but a beautiful baguette came from this partnership. The beautiful baguette that we know and love was dipped in the stunning Tiffany blue color, and we are in love.
The Fendi '23 Resort show debuted items that will likely go on sale by the end of 2022, December.
Is the Fendi Baguette a Classic Bag?
Is the Fendi Baguette a classic bag? In short, yes. With its first launch over 25 years ago, it is still brought out every season by Fendi, thus making it a classic by the brand. When handbags continue to grow in popularity, as the baguette has, it tends to hold their value, thus making it a sound investment.
The Fendi baguette was an accessory with every ensemble that appeared on the runway in the Fendi '23 Resort Show. The Fendi baguette, a perfect shoulder bag, was presented in a way that proved it is arguably one of the best luxury handbags ever designed. Women and men are flocking to get their hands on both the new styles and also the vintage ones as well.
Why is The Fendi Bag called the Baguette?
Fendi, an Italian fashion house that was first known for their fur and leather goods, had introduced a handbag that took their brand to a whole level in fashion. Fendi first debuted its baguette bag in 1997, created by Silvia Venturini. The baguette is compact and thin and was modeled to be held under the arm, similar to how the French carry their baguette loaf of bread. And so yes, the baguette bag was indeed named after a bread. We love a good inspo story.