Why is Goyard So Exclusive?
Goyard bags are now seen as a status symbol, much like the Hermes Birkin bag. The 200-year-old Parisian brand is not as trendy or "known" as most other heritage luxury brands. Why? Because Goyard prefers to stay elusive intentionally.
Unlike other designer handbags, Goyard doesn't try to influence sales through gorilla marketing, influencers, print ads, or even digital ads. This powerhouse brand utilizes the power of word-of-mouth from its most exclusive clientele.
Goyard does not advertise its products online, nor does it preview its prices online. The only way to truly find the current prices of Goyard brand handbags is by walking into one of their boutiques and asking their sales associates. Their website states, "Maison Goyard does not engage in e-commerce – however, depending on your proximity with one of our comptoirs, distance order services may be available."
Where Can I Buy Goyard Bags?
As mentioned above, the only way to purchase a brand-new Goyard bag is by purchasing one in person at one of their boutiques. You cannot purchase a brand-new Goyard purse online via their website nor can you view their current catalog online either.
The best and easiest way to buy Goyard bags online is by finding the best resale sites with like-new pre-owned Goyard bags for sale.
Check Out Goyard Totes on Resale Below
Our Pick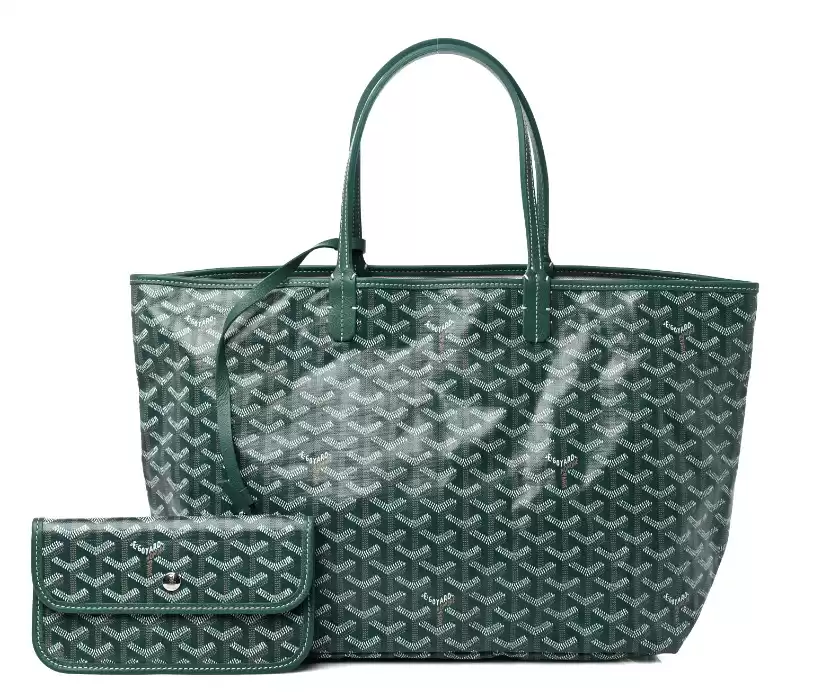 Who Wears Goyard Bags?
Goyard bags have been seen on a number of celebrities and continue to be the tote of choice among people of influence. Kim Kardashian, Meghan Markle, Hilary Duff, Bella Hadid, Kendall Jenner, and Hailey Bieber are just a few celebs who have been spotted with Goyard bags.
Among celebs, many people of influence also opt for Goyard as a handbag of choice, especially their extremely popular totes.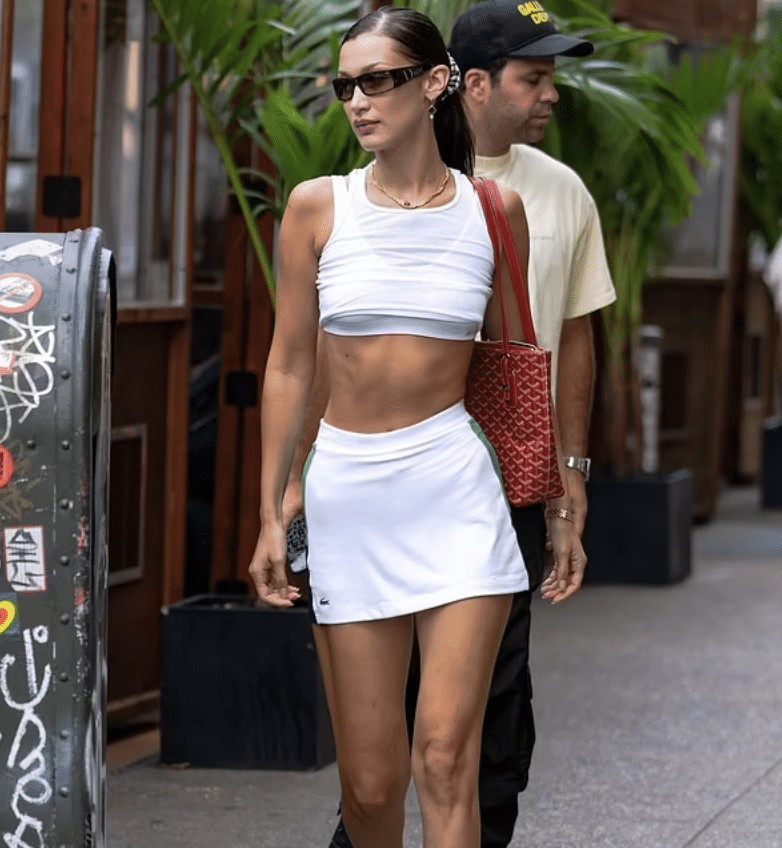 Is It Easy To Buy Goyard Bags In-Store?
Is it easy to buy Goyard totes in-store? In short, sometimes. Goyard has a sense of elusiveness, much like when we think of Hermes and their Birkin or Kelly bags.
Many Goyard customers have reviewed their in-person buying experiences with Goyard. Much like other luxury brands, there is almost always a line of shoppers waiting to get into the boutique. Goyard sales associates only allow 4-6 sales groups in at once (1 sales associate for every small grouping).
Goyard aims to give the white-glove experience by ensuring every customer his undivided attention. This is great for a shopper who is prepared and ready to buy; however, if you're in there to browse, you will feel some pressure to purchase. Because there is a line waiting outside and you are allotted a dedicated sales associate, it does push you to want to buy something. In light of the pressure, be sure you walk in with some idea of what you're looking to buy.
My tip? Shop for Goyard bags in boutiques outside your home country, and you'll save on tax (and possibly exchange rate). Just to give you an idea, in 2021, a Goyard Saint Louis GM in white was listed at the Beverly Hills location at $1685 + 8% California sales tax equalling out to roughly $1820. At the same time frame, the same purse was €1040 (retail price in France), and you could get roughly €124 VAT back, which equates to €916 in euros or $1008 USD (2021 exchange rate). So yes, you could save over $700 on the Saint Louis tote by buying it in Paris, France.
However, if you don't have a European trip planned for all your luxury shopping, buying on resale sites is the second best option. One thing you have to keep in mind is that resale sites will likely sell bags for more than what their in-boutique prices are, simply because of the ease of buying them (much like Hermes, Birkins, or Kellys).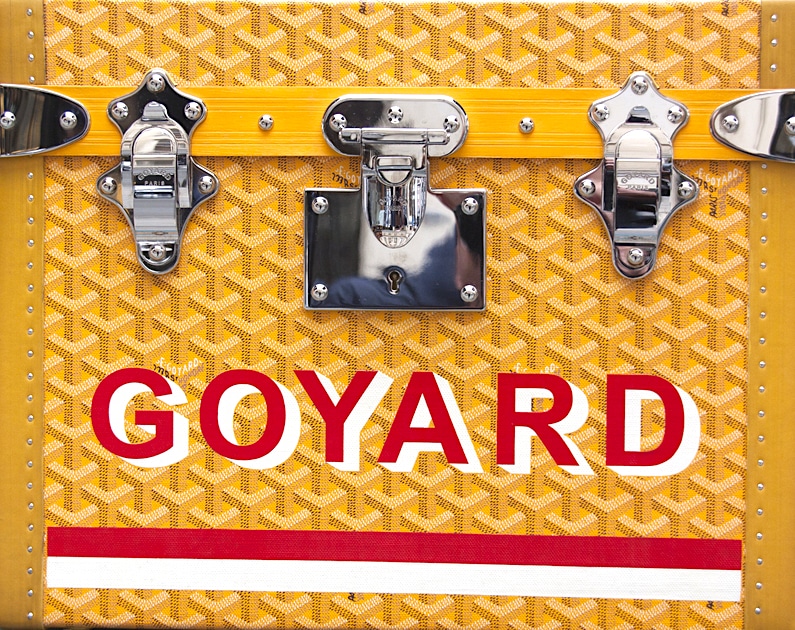 Are Goyard Bags Worth the Price?
Much like any other luxury handbag house, when you buy into the brand, you buy into its history. A French-man name Pierre-François Martin founded the House of Martin in 1792. At the time, the brand specialized in trunks, boxes, and travel luggage. In 1845 a 17-year-old apprentice named François Goyard was hired. The fashion house was passed down to his son, Edmond Goyard, in 1885, and the brand shifted its products and modernized its catalog ever since.
It's the oldest leather goods maker in business (François Goyard took over and rebranded GOYARD in 1853). Louis Vuitton was founded in 1854.
Only luxury brand that doesn't sell their own products (from all categories) online, making it much more exclusive than any other brand.
Buying in person is still hard. Only 35 stores worldwide, and 6 are in the united states. Compared to 530 Louis Vuitton stores in the US alone.
Because Goyard does not advertise its current tote and accessories prices online, it's tough to gauge how often the prices go up. This means buying into the fashion house today could mean a great investment for the future. It may not go through price hikes as much as Chanel does, but the brand is worth the price on quality and demand alone.
Top Zip Closure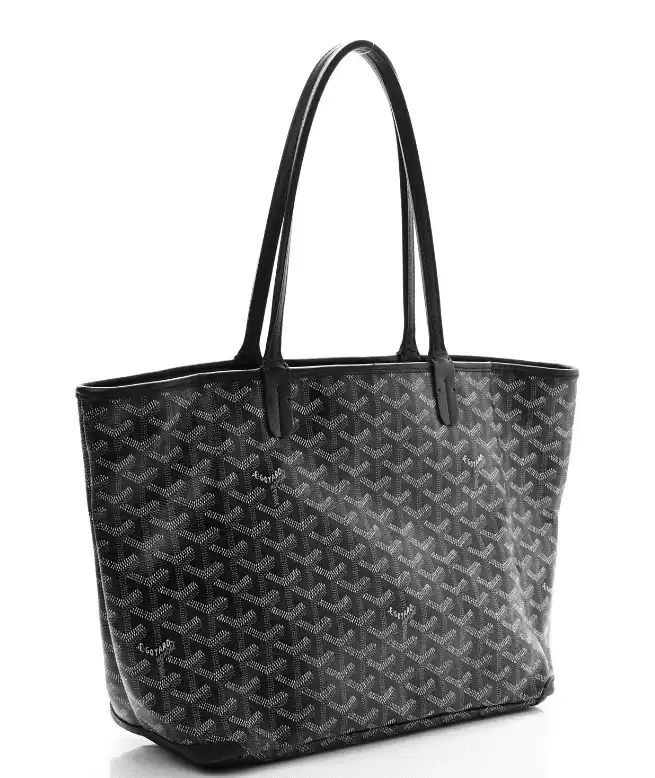 Goyard Artois PM
The Goyard Artois PM is a structured and spacious tote bag made of Goyard's signature coated canvas and a zippered top closure.
Shop Bags
Unlike other designers, Goyard doesn't have an enormous catalog of products. In fact, they're only really known for their tote bags like the Goyard Saint Louis, Goyard Anjou Tote, Goyard Artois Tote in GM, PM, and MM sizes.
Goyard purses are known to be great travel bags. Their Goyardine canvas purses are made with durable coated canvas materials (made from linen) that almost mimic plastic. To carry a Goyard tote is to carry an extremely durable handbag (much like the Louis Vuitton Neverfull).
The signature Goyardine canvas is known for its recognizable interlocking and repeated "Y". The totes available at the fashion house are all adorned with this signature canvas style in a variation of colors. If you opt for a different handbag from this fashion house, such as a trunk, a bucket bag, a wallet, or others… you will likely get it in the interlocking Y print.
Final Thoughts
Although the Goyard name may not be as sexy as Chanel, Louis Vuitton, or Christian Dior it certainly belongs in their category. Goyard is the only fashion house out of the names listed above that DO NOT fall into the marketing trends of online ads, influencer partnerships, online sales, and more. My main point is this; if you cannot get into a Goyard boutique to get a Goyard bag brand-new on your own- then buying into the fashion house via an online resale shop is an awesome option as well. Owning a piece of that history is a great feeling!