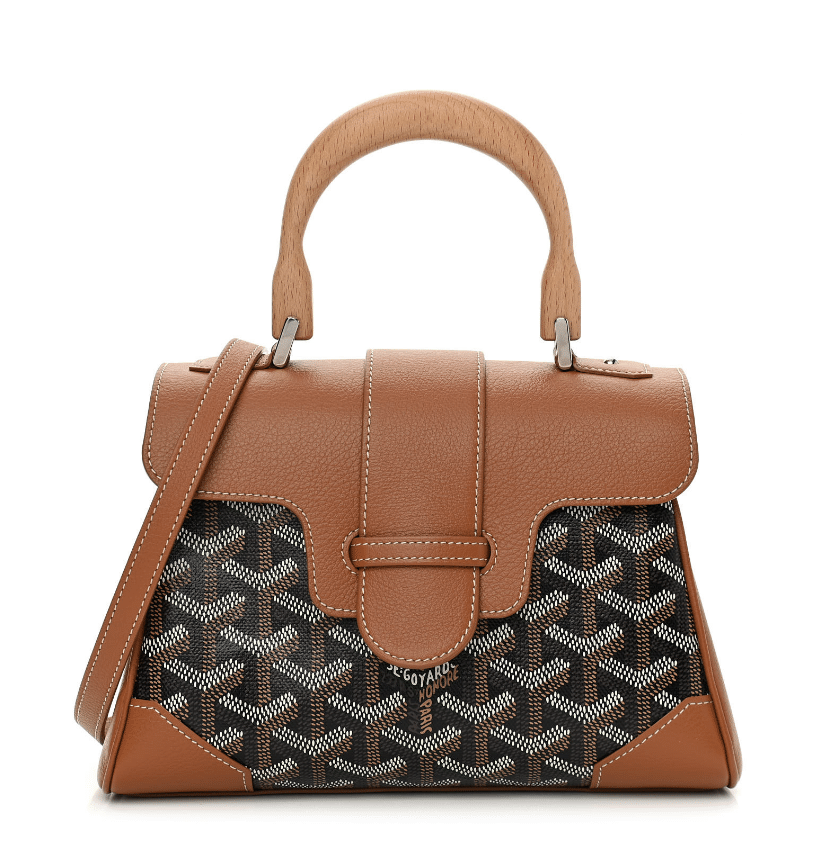 The Goyard Saigon Bag is celebrated for its timeless design, customization options, quality materials, unique history, styles and sizes, exclusivity, and the ability to personalize without extra cost.
However, its luxury price point and limited availability may make it less accessible to some buyers, and it requires careful maintenance to preserve its beauty.
Goyard Saigon Bag
Discover the world of luxury with Maison Goyard's classic Saigon bag – a timeless emblematic piece that exudes elegance. Learn more about its unique features and customization options, plus find out how to properly care for it so you can enjoy this stylish accessory in pristine condition! Join us as we unearth all there is to know about the iconic Goyard Saigon Bag.
Short Summary
The Goyard Saïgon bag is an iconic design with timeless Far East inspiration.
Choose from two styles (Structuré and Souple) and three sizes, plus a range of colors & monogramming services to make it your own!
Prices start at $1,200 – find out why they're so hard to get & how best to care for this luxurious investment piece.
Featured image courtesy of chiehyu930 via IG.
The Goyard Saigon Bag: An Overview
The Goyard Saigon Bag, made by Maison Goyard's François Goyard bags and often referred to as the sagon bag, is a luxurious alternative to traditional totes. It features top-notch craftsmanship with use of high quality materials like goyardine canvas and Clamecy cowhide leather combined with polished wood accompanied for an unmistakable look. This signature design includes a trapezoidal shape along with its hand carved beechwood handle featuring the unique Goyard motif. Aside from structural or soup style options, you can choose between various sizes as well as customization possibilities creating your own personal Saïgon Bag experience!
History and Inspiration
The story of Goyard's Saigon bag, which has French roots, is captivating. In the 1950s, Louis Henri Morel created a special-order bag in honor of his wife as a birthday present while living in Saigon. Inspired by Eastern culture and the far away land with its exotic name "Saigon", it quickly became one of Goyard's most iconic designs.
Currently, there are two versions available: Structuré and Souple, each giving their own unique expression to this classic design piece. The latter version provides an extra flexible touch compared to Structuré yet both maintain that same timeless essence from when first made all those years ago.
Design Features
The Saigon bag from Goyard is one of Maison Goyard's emblematic pieces, crafted with a trapezoidal shape and tuck-in flap. It showcases the house's Y-shaped pattern referred to as 'Goyardenine' inspired by their log driving forebears. Available in both Structuré and Souple styles, they all feature a handcarved beechwood handle for an added touch of classiness. Each style has its own unique details including polished wood batons running vertically along the front flap on the Structure version or it offers more flexibility if chosen otherwise for those who prefer something less rigid looking – despite which option you go for, that will demonstrate how much dedication comes from this brand when making quality design timelessly like no other does – GOYARD!
Goyard Saigon Styles and Sizes
The Goyard Saigon bag is a great accessory for any wardrobe, coming in two distinct styles: Structuré and Souple. These bags can be worn many different ways to suit your style preferences and come in three sizes: Mini, PM, and MM. We'll take an even closer look at both of these types of the Saigon bag along with providing useful size guidelines so you can make the perfect choice for your lifestyle needs.
Structuré vs. Souple
When it comes to the Goyard Saigon Bag, there are two distinct styles available, Structuré and Souple. The former includes polished wood batons which run along either side of the front flap and trunk rivets that add extra durability. This look is more rigid in design, providing a sophisticated air. On the other hand, those looking for something less formal can opt for Souple style with its relaxed vibe created by soft materials combined with wooden accents on top of a flexible bag flap. Ultimately each person will choose what suits their own unique taste best when selecting between these two iconic options from SAIGON by GOYARD.
Goyard Saigon Size Guide
Goyard's Saigon bag, commonly known as the Mini Saigon, comes in three different sizes that will fit your needs and lifestyle. The smallest size (saigon mini) measures 8" x 5.75" x 3.25" – a great option for carrying everyday items like phones or wallets – while their PM model (11 "x 8 "x 4.5") is more suitable to larger objects such as laptops and books. Finally, at 14′′ by 10′′ by 7", their MM version offers plenty of room if you need extra storage space within your Goyard saigon mini-bag. The mini saigon is the most popular size option by far.
Goyard Saigon Customization Options
The Goyard Saïgon bag allows for complete customization so that you can put your own personal touch on it. With a plethora of color choices and the ability to add monogramming, this bag offers many ways to showcase your unique style. Designing the perfect SAIGON look is easy with GOYARD's selection of colors and personalized options, create something special today!
By customizing this handbag, each individual piece has its own distinctiveness – from subtle hues all the way up to vibrant shades, express yourself through fashion when creating a one-of-a-kind bag crafted by GOYARD'S skilled artisans. Choose how you want YOUR STYLE reflected in every detail. Make an accessory truly yours forever more with these wonderful embellishments at no extra cost!
Color Palette
The Saigon bag by Goyard provides an array of color selections to fit the individual's style, in the goyardine canvas. A classic black with leather accents in either gold or black, as well as tan and burgundy colors are all available for one's choosing. Those who want a touch of vibrancy can find solace in their white colored option too!
This extensive collection ensures that everyone will be able to locate a hue which coordinates with their personal wardrobe and preferences. No matter if you seek something timelessly neutral or adorning shades, the Saigon from Goyard has it all at your disposal!
Monogramming
Goyard offers their Saigon bag with a variety of colors, plus monogramming options for personalization. To make it truly unique and reflective of your style, you can have initials, stripes or even stars painted onto the goyardine canvas exterior at varying costs from €120 to over $600 depending on the design chosen. With these customization opportunities available, no two bags will be alike!
Goyard Saigon Pricing and Availability
The Goyard Saigon bag is a highly sought-after item, with price tags ranging from approximately $1,200 to over $2,500 depending on size and customization possibilities. Its rare availability makes it difficult for many buyers to find or purchase the purse.
In this article we will be looking into why obtaining a Goyard Saigon handbag may prove tricky and providing suggestions on where one can locate such an accessory at its various prices.
How Much is the Goyard Saigon? Price Range
The cost of the Goyard Saigon bag is within the range of $1,200 and upwards to $2,500. Style options such as size or adding a monogram can affect its price tag. Despite this higher-end fee, it makes for an excellent luxury handbag purchase due to its classic design quality and remarkable features.
With great attention paid to detail plus practical yet sophisticated look, you are sure not going to regret investing in a unique piece by investing in a Goyard Saigon Bag!
Find the Goyard Saigon Bag on trusted resale sites below!
Where to Buy: Why is Goyard so hard to get?
Goyard Saigon bags are not easily accessible, with only a few boutiques in the world that sell them. This makes these luxury items highly coveted among bag collectors and adds to their appeal of exclusivity. To get your hands on one of these gems, visit Goyard's own locations or use services such as personal shoppers or online consignment sites like Fashionphile and Rebag.
Having more difficulty than other brands when shopping for it is part of what gives this iconic bag its desirability. You'll find exquisite craftsmanship from every stitch made by master craftsmen behind each saigon creation.
Caring for Your Goyard Saigon Bag
To keep your Goyard Saigon bag looking beautiful and valuable, it is important to give regular care. Here are some helpful tips on how to clean the bag properly as well as suggestions for storing it correctly when not in use.
For cleaning, wipe down the exterior goyardine canvas with a dry cloth frequently to remove dust or dirt build-up then treat any marks with a leather cleaner that's specifically designed for treating genuine leather goods such as this type of luxury Goyard saigon bags from Goyard brand. To maintain its original shape while stored away, fill the interior lightly so that there will be no visible creasing or sagging of materials due to its own weight, which can happen if left unfilled over long periods of time without proper storage support structures inside like boxes etc.
Cleaning and Maintenance
To maintain the longevity of your Goyard Saigon bag, you should clean it regularly. A soft fabric without any lint is ideal for cleaning the surface and wiping away dirt or other debris. Take caution not to rub too hard as this could ruin its Chevron pattern. Utilizing a gentle brush on the inside can also help keep particles from settling in. Lastly, use a cloth with leather cream when necessary to preserve freshness of handles over time.
With proper care and regular maintenance of your Goyard Saigon bag – bearing in mind all these tips – you can retain its look while ensuring that it lasts through years to come!
Storage and Protection
To ensure that your Goyard Saigon bag remains in prime condition and retains its value, it is essential to store the item properly when not in use. Keep it away from sunlight, dust and moisture by placing the saigon bag inside of either its original box or dustbag located in a cool dry place. You could Protect this yard piece with a base shaper which allows for maintenance of shape while out of service as well. Doing these simple steps can provide guaranteed protection over time for your valuable saigon purse!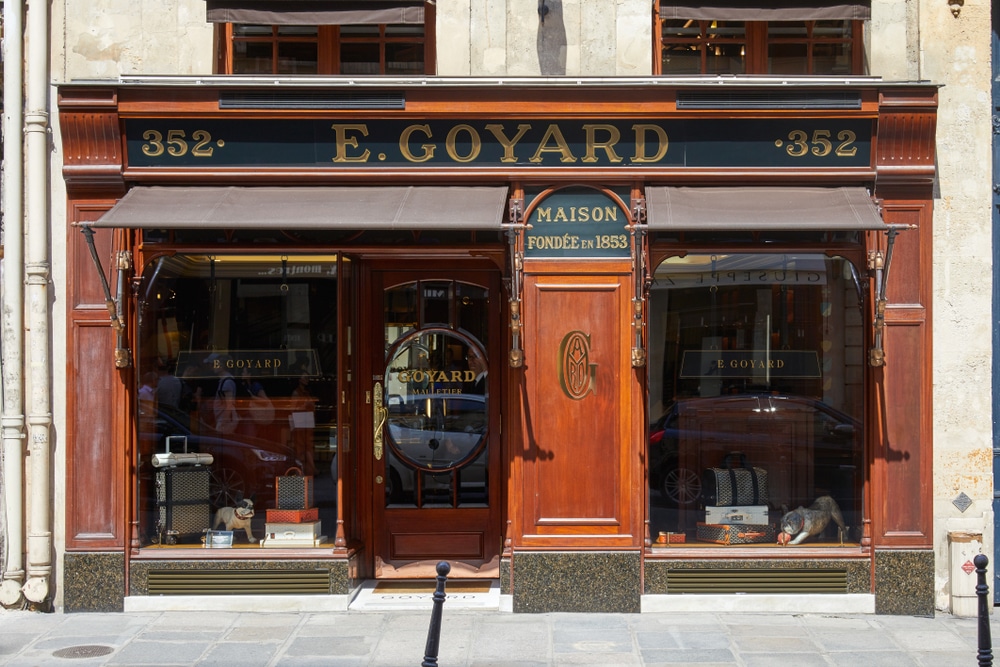 Comparing the Goyard Saigon to Other Goyard Tote Bags
The Maison Goyard brand is renowned for its stunning collections, with the Saigon bag being a prime example. If you are searching to add one of these bags into your closet, perhaps it could be helpful in comparing this design to other well-liked styles from the same label such as the Artois Bag and Saint Louis Tote.
We have provided an insight below which looks at each individual style along with their characteristics so that you can make informed decisions when selecting between them all, including whether or not picking out the classic Saigon will meet exactly what type of fashion statement you desire best!
The Goyard brand is renowned for its lightweight yet durable Goyardine canvas, making the Saint Louis Tote a much sought-after bag. Boasting reversible design and Chevroches calfskin leather handles, it offers greater versatility than the Saigon model, perfect to use as an everyday companion or when travelling. If style and sophistication are what you're looking for, then perhaps consider going with the Saigon. Designed with hand-carved beechwood handles and signature motifs, this bag has elegance written all over it! Ultimately though, which one of these two bags would suit your lifestyle best – only you can decide that.
Goyard Artois Bag
The Style of Goyard Artois Bag by Maison Goyard is renowned amongst its many fans. This bag offers a more casual, yet practical approach compared to the iconic Saigon design. It's adorned with goyardine canvas and boasts a top zip closure as well as handles crafted from chevroches calfskin leather – creating an elegant structure that is easy-to-use.
This style provides customers with alternatives if they are seeking something contemporary without having to compromise on quality or timelessness. While those who desire security in their accessory can certainly appreciate this option above all else. Though differing greatly from the exquisite detailing seen on Saigon bags, there no doubt still remains within it beautiful features which make Goyard stand apart today.
Summary
The Saigon bag from Maison Goyard is a sought-after luxury handbag renowned for its lasting, timeless design and quality construction. Featuring structural elegance with the Structuré style or relaxed sophistication through the Souple version, there are multiple options to suit individual tastes in this iconic piece of craftsmanship around the world. Being mindful of history behind it along with customization choices available as well as caring for it correctly can result in enjoying all that comes out of owning such an exclusive accessory, indeed something worth treasuring forever!
Frequently Asked Questions
How much is a Saigon souple bag?
This Goyard Saigon Souple Bag has a price tag of $2,945. This bag from the renowned brand is crafted with high quality materials to create a unique bag.
What are the sizes of Goyard Saigon?
Goyard's Saigon collection includes the Mini (measuring 8" x 5.75" x 3.25"), PM (11"x8"x4.5") and MM sizes (14"x10"7").
What is the difference between the Structuré and Souple styles of the Goyard Saigon bag?
Goyard's Saigon bag has two wood batons which have been carved and polished along the sides of its front flap, differentiating it from their Souple style that is softer and more relaxed in look.
What customization options are available for the Goyard Saigon bag?
Goyard provides an extensive selection of colors and monogramming services for their Saigon bags, offering customers the ability to craft a one-of-a-kind piece that's totally unique. With these customizations, creating your own personalized bag is simple!
How can I properly care for and maintain my Goyard Saigon bag?
To keep your Goyard Saigon bag in top condition, store it away from direct sunlight or moisture in a dust bag/box. Be sure to avoid contact with oils and other liquids as this can cause permanent damage. Clean the leather material gently using soft fabric cloths along with some mild soap solution. Use quality leather conditioning products when required for optimal results.