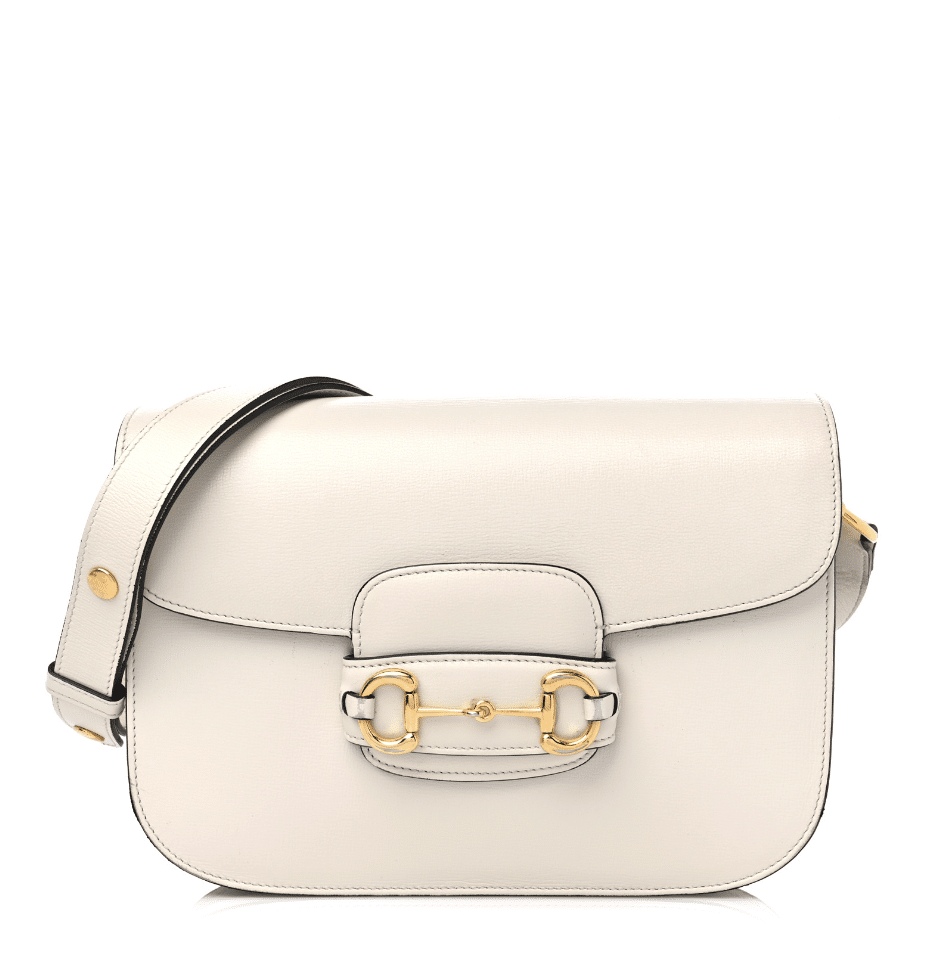 In summary, the Gucci Horsebit 1955 Mini Bag is celebrated for its enduring design, celebrity appeal, high-quality materials, and sustainability efforts.
However, its luxury price point and limited size may not cater to everyone's preferences or needs.
Gucci Horsebit 1955 Mini Bag's iconic status in the world of fashion
The Gucci Horsebit 1955 Mini Bag exemplifies enduring richness and elegance in fashion. This bag, whose origins may be found in the legendary decade of the 1950s, has slyly crossed decades, winning the hearts of fashion connoisseurs all over the world.
The tiny bag boasts the recognizable Horsebit hardware, a nod to the brand's history, and oozes refinement that easily matches any look. Its versatility as a companion for both casual outings and elegant soirées is made possible by its small size and superb craftsmanship, which has further fueled its popularity.
The
Gucci
Horsebit 1955 Mini Bag's charm has been immediately embraced by well-known celebrities and fashion icons, who commonly sport this gorgeous accessory on red carpets and magazine covers. Its distinctive vintage-meets-modern charm and ability to transition easily from day to night have cemented its status as a necessary item in every collection owned by a fashion-forward person.
The continuing appeal of this accessory isn't just due to its visual look; it also demonstrates Gucci's dedication to sustainability and moral artistry, which are in line with modern ideals. The Gucci Horsebit 1955 Mini Bag has been reinterpreted on occasion through limited editions and collaborations, capturing the attention of both collectors and aficionados.
In essence, the Gucci Horsebit 1955 Mini Bag is more than just a statement of style; it embraces a tradition of quality and serves as a link between the past and present that honors design artistry. Its iconic reputation endures, making it a sought-after item that attests to Gucci's ongoing influence on the fashion industry.
Feature image courtesy miamiamine.com.
Gucci's rich heritage and reputation for luxury
The nearly 100-year history of Gucci and Gucci bags is woven into a tapestry with threads of elegance and creativity. Gucci was founded in Florence in 1921 and started out as a seller of high-end leather products before growing into a major force in the fashion industry worldwide. Its recognizable design elements, such as the interlocking Gs and the Horsebit hardware, attest to the company's ongoing reputation for fine craftsmanship, elegance, and trendsetting.
Let's delve into the origins of the Horsebit design, dating back to the 1950s.
The Gucci Horsebit 1955 Mini Bag's history is a fascinating one that recalls the illustrious heritage of the company. The Horsebit design was first used in the middle of the 20th century, although its origins date back to Guccio Gucci's brilliant intellect in the 1950s. The distinctive Horsebit hardware, which pays homage to the equestrian world, swiftly came to represent Gucci's dedication to fusing elegance with a dash of the unusual.
This famous motif is used as the basis for the Gucci Horsebit 1955 Mini Bag, which updates it for the current fashion scene. This small masterpiece, which was reintroduced with a modern flair, exhibits Gucci's ageless style while giving an old design a modern update. The bag's small size and exquisite construction make it a representation of practical elegance that is ideal for today's fast-paced lifestyles.
The Gucci Horsebit 1955 Mini Bag, which revives the spirit of vintage glitz, not only honors Gucci's legacy but also reflects the essence of its founder's vision. With its rich heritage and timeless attractiveness, this accessory serves as a link between the company's storied history and its dynamic present. It continues to enthrall both fashion aficionados and connoisseurs.
Design and Aesthetics:
The Gucci Horsebit 1955 Mini Bag, which has approximate measurements of 8 inches in width, 5 inches in height, and 2.5 inches in depth, epitomizes refinement in its small size. It perfectly combines luxury and usefulness, thanks to great attention to detail.
This tiny bag's selection of fabrics demonstrates Gucci's dedication to extravagance. GG canvas, highly textured calfskin, or even exotic choices like python or crocodile leather are all common examples of the soft leather that is frequently used in this style. The premium materials improve the bag's tactile appeal while also guaranteeing longevity.
The signature Horsebit hardware, an homage to the brand's equestrian history, is at the center of the design. The interlocking Horsebit decoration in gold or silver takes center stage and adds a touch of classic elegance. This distinguishing element not only gives a touch of luxury but also acts as a symbol of the brand's history and ingenuity.
The Horsebit 1955 Mini Bag is distinguished by its craftsmanship. Each bag is painstakingly stitched and put together by trained Gucci artisans, honoring the brand's history of accuracy and quality. Every stitch in the bag demonstrates meticulous attention to detail, which guarantees that it will last for many years.
The Horsebit 1955 Mini Bag's design philosophy prioritizes versatility above all else. It is a versatile accessory that seamlessly transitions from casual outings to formal occasions because of its deliberately calculated dimensions and timeless aesthetic. This small bag adds sophistication to any outfit, whether it is carried as a clutch, Gucci crossbody bag, or thrown over the shoulder.
The Gucci Horsebit 1955 Mini Bag essentially combines craftsmanship, history, and flexibility in a beautiful way. Its proportions, materials, hardware, and craftsmanship come together to produce an item that not only personifies luxury but also flawlessly accents the many parts of contemporary living.
Celebrity Endorsement and Popularity:
Numerous fashion stars and celebrities have been spotted carrying the Gucci Horsebit 1955 Mini Bag, elevating its popularity as a sought-after accessory. The little bag's elegance has been embraced by famous people like Dakota Johnson, Sienna Miller, and Florence Pugh, who have been seen wearing it with ease as part of their fashion ensembles.
Hollywood A-listers like Rosie Huntington-Whiteley and Alexa Chung have also shown their love for this classic accessory by frequently choosing to use the Horsebit 1955 Mini Bag to finish off their outfits. From casual trips to red carpet events, these celebs have not only worn but also genuinely liked the bag for its classic appeal and capacity to subtly uplift their design statements.
Halle Bailey for Gucci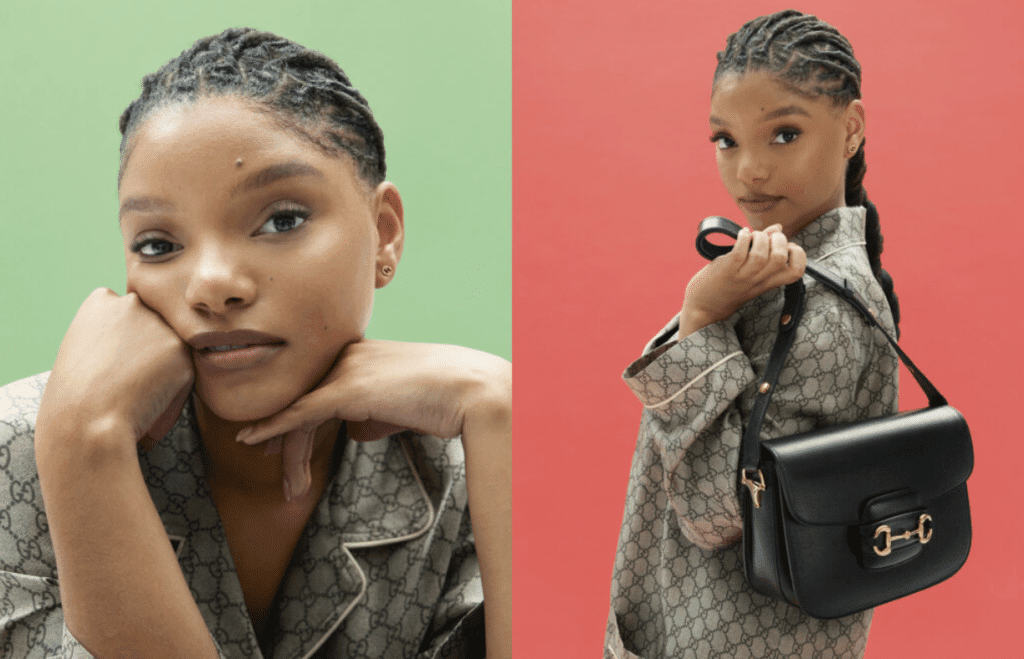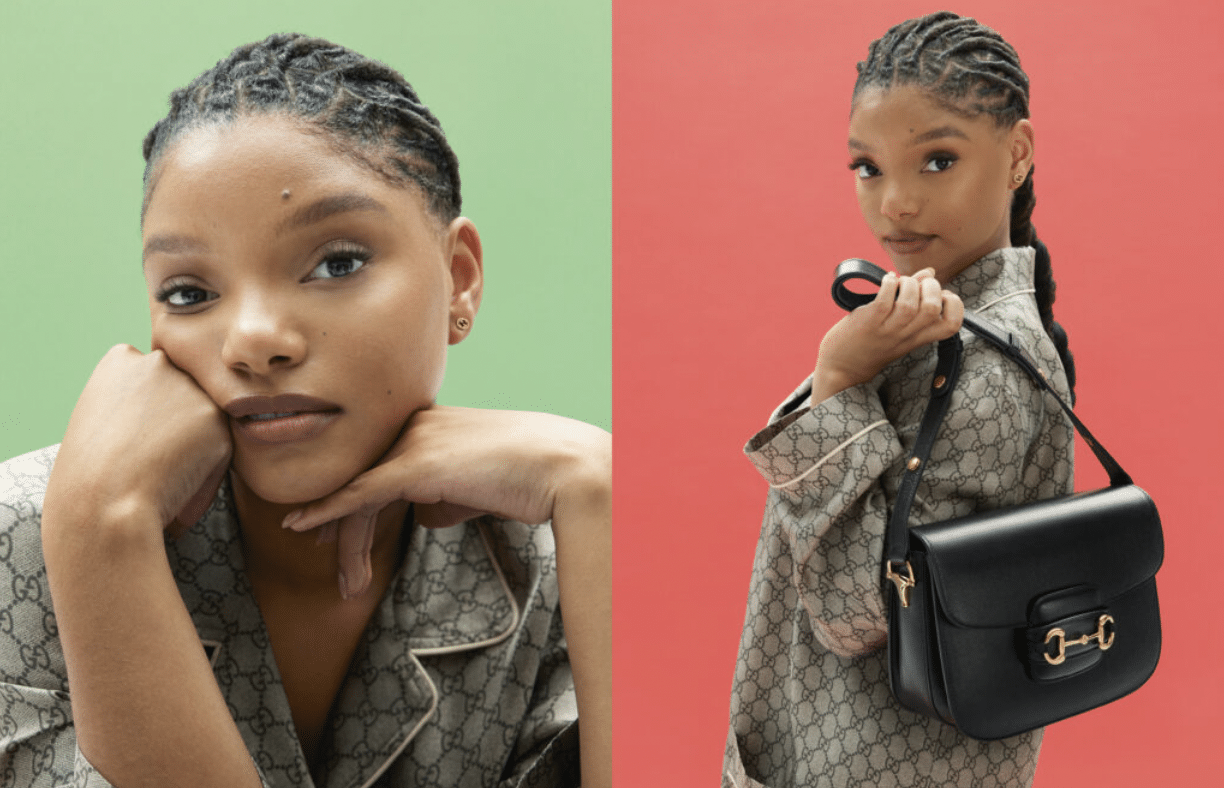 Gucci's Commitment to Sustainability
Gucci's dedication to sustainability is a shining example of accountability and creativity in the fashion industry. The company has made major efforts in recent years to include ethical methods in the creation of its bags. Gucci has integrated sustainability into the very fabric of its classic Horsebit 1955 Mini Bag.
Focusing on using eco-friendly materials is a noteworthy component of Gucci's sustainability journey. The Gucci Horsebit 1955 Mini Bag frequently uses sustainable and organic leather and other ecologically friendly materials. These materials not only sustain the brand's dedication to excellence but also lessen the production's negative environmental effects.
Gucci's endeavors go beyond the use of ethical materials and craftsmanship. The brand has promoted conventional methods and regional craftspeople, guaranteeing that each bag is made with respect for both tradition and the environment. This strategy encourages not only timeless quality but also a sense of obligation to the local community.
Conclusion
The Gucci Horsebit 1955 Mini Bag effortlessly connects fashion's past and present with its enduring fascination. It incorporates the recognizable Horsebit hardware, which represents both tradition and innovation and is rooted in the brand's extensive history. This tiny bag is the definition of luxury and quality because it was expertly made with premium materials and careful attention to detail. The Horsebit 1955 Mini Bag continues to win hearts with its blend of refinement, sustainability, and an undeniable touch of Gucci's unique charm, as celebrities and fashion stars adore its elegance.