Quality and Craftsmanship of Hermes Constance
Hermes Constance handbags are sought after for a good reason. These handbags have unrivaled quality and craftsmanship. Artisans spend 14-18 hours perfecting each bag. These bags are meticulously made by a single artisan from start to finish. Hermes Constances are made with the finest leather and hardware. The Constance bag's iconic H clasp is engineered to close securely and flawlessly. The Hermes Constance exemplifies the brand's ageless elegance and unmatched excellence.
Our Pick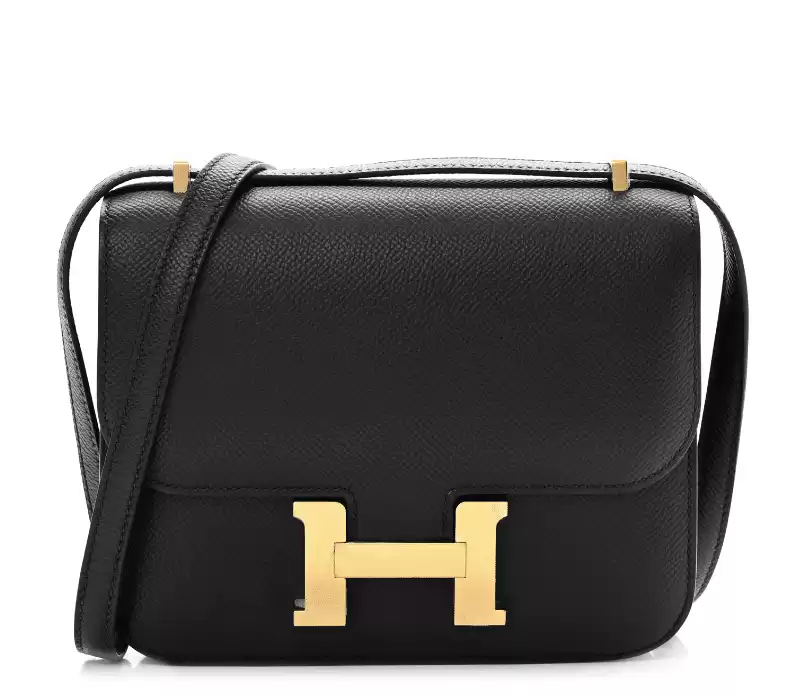 Hermes Constance
Renowned for its sleek silhouette and iconic H-shaped clasp. Meticulously handcrafted from the finest leather, it exudes timeless charm and offers a versatile style that effortlessly transitions from day to night.
Shop Bags
Hermes Constance: Where it got its name
The Hermes Constance's timeless elegance and superior craftsmanship keep luxury consumers buying it despite its high price. Its adaptability and durability make it a great luxury handbag. Olivia Palermo, Princess Caroline of Monaco, and Jacqueline Kennedy Onassis have worn the Constance.
Catherine Chaillet, the first woman to design for Hermès, dreamed up the Hermes Constance in 1969. The bag got its name from the designer's 5th daughter, Constance.
A brief overview of the Hermes brand and the Constance handbag
Hermes is known for its luxury products and artistry. Thierry Hermes founded the saddle and harness workshop in Paris in 1837. Hermes sells leather, clothing, perfumes, and accessories. The "H" Hermes emblem has become a global symbol of luxury and exclusivity.
Hermes Constance Design and Craftsmanship
Since its launch, this bag has become one of the most sought-after luxury purses and quickly became a coveted quota bag. It's rectangular shape and simple lines, combined with minimal hardware, give it a sophisticated and elegant appearance. The meticulous construction of each Hermès Constance takes place in France, where professional artisans spend a minimum of 14 hours crafting each unit out of high-quality materials.
Palladium and gold hardware are conspicuous features of this accessory, along with the hand-cut leather used. The Constance has an adjustable strap contrasting with its body, and the interior is lined with soft leather. Hermès Constance bags are an investment item often chosen for running errands or more formal occasions. They are also a popular size compared to other iconic handbags such as the Birkin bag or Kelly.
Constance's iconic shape, flap closure, and distinctive H-shaped buckle
The unique design, iconic shape, and H-shaped buckle of Hermès' Constance purse make it a popular luxury handbag. The bag's clean lines and streamlined design convey subtle elegance. Even when the bag is jostled, the closure secures the contents. Thierry Hermès' love of horses inspired the H-shaped buckle. Two leather straps slip into a gold or silver H-shaped plate on the clasp, making it useful and fashionable. Constance bags come in black, brown, and vibrant colors, making them a timeless investment piece.
Most Popular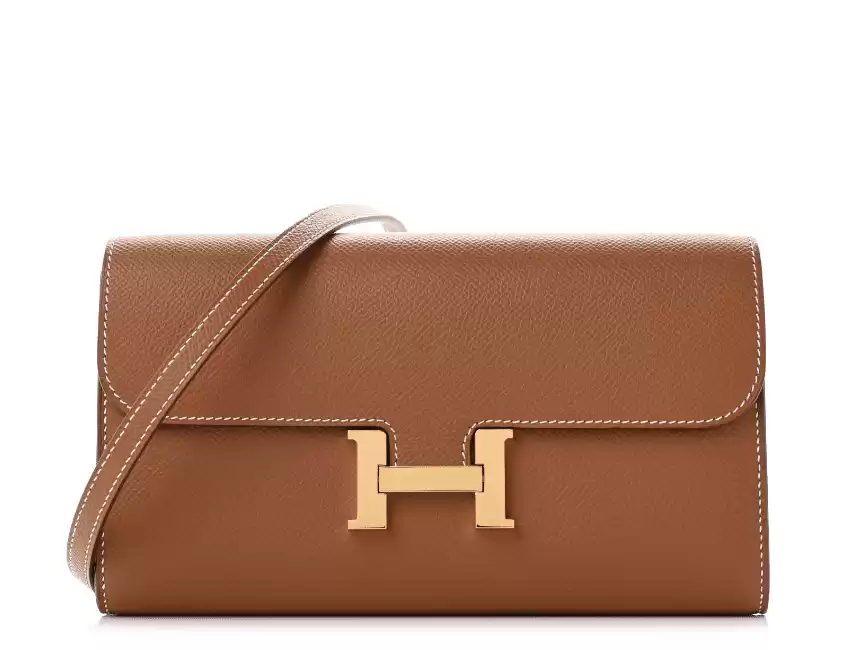 Hermes Constance To Go
Crafted with exquisite attention to detail and featuring the iconic H-shaped clasp, this compact style offers a perfect blend of functionality and elegance.
Shop Bags
Examination of the meticulously handcrafted Hermes leather options, such as Epsom, Swift, or Box Calf
Examining the meticulously handcrafted Hermes leather options, such as Epsom, Swift, or Box Calf, can be daunting for any prospective Hermes customer. However, understanding the characteristics of each type of leather can help you select the perfect leather for your needs. Hermes is known for their exceptional leather accessories, ranging from the most popular Birkin bag to the versatile Kelly bag. Their products are made by expert artisan designers who take great pride and care in their work, evident in every stitch. As an iconic brand, Hermes offers a variety of leather options for every customer.
Hermes purses and accessories often use Epsom leather – a highly durable and scratch-resistant leather perfect for daily wear. On the other hand, Swift leather is best suited for leather goods that need more flexibility and forgiving, given its softer and supple feel. It's also water-resistant, making it an excellent option for wetter climates. Box calf is another popular leather choice, as it offers a smooth, shiny finish that is long-lasting and suitable for everyday wear.
Ultimately, you'll get a high-quality product from Hermes, regardless of the leather you choose.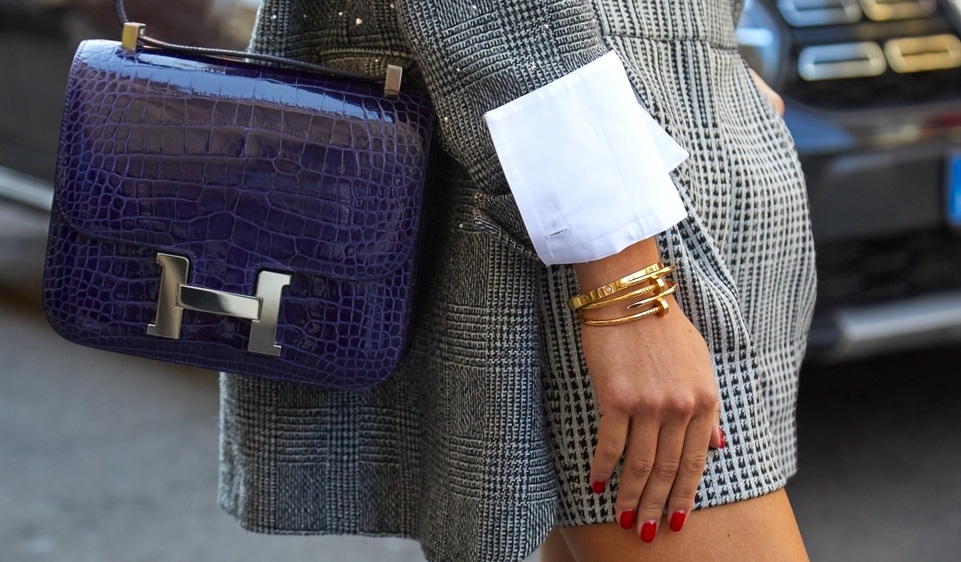 Discussion of the compact size and practicality of the Hermès Constance bag's interior compartments
The internal compartments of the Hermes Constance were meant to store basics without taking up too much space. The bag's front flap opens to expose two big compartments—one zipped and one open—perfect for carrying a wallet, phone, and keys. High-quality leather lines the interior, adding durability and luxury. The bag's small design makes it ideal for casual and formal situations.
Functionality and Practicality of Hermes Constance
Hermes Constances are useful and practical. Its sleek form makes it easy to carry, and its spacious interior can hold a phone, keys, wallet, and lipstick. The adjustable strap makes shoulder and crossbody wear comfortable. The Constance's H-shaped clasp adds security and luxury. Its timeless design and various colors make it a versatile accessory that can boost any outfit, from casual to formal.
Evaluation of the Hermes Constance bag's adjustable shoulder strap and the option of wearing it crossbody or as a shoulder bag
The Hermès Constance bag is known for its classic style. However, a handbag's wearability—how comfortable and practical it is to carry—is vital. This purse has an adjustable shoulder strap that may be worn crossbody or on the shoulder. The adjustable strap keeps the bag from slipping while being carried. Crossbody bags effectively distribute weight, minimizing shoulder and back strain. It fits roomy under the arm as a shoulder bag, improving mobility. The strap's supple leather and utilitarian design make it easy to wear.
Discussion of the secure and convenient flap closure of Hermes Constance
The Hermes Constance handbag from the renowned Maison of Hermès is a globally coveted item. Its safe and simple flap closure, which appears small in size, distinguishes it from other bags. The simple and effective mechanism secures the flap clasp gracefully over the handbag's top to make the purchase safe.
A twist and pull of the Hermes Constance's flap closure is required to operate it, making it both practical and convenient for daily usage. The Hermes Constance's flap closing is both utilitarian and decorative, adding to the bag's overall beauty. The bag's clean lines and minimalist design make it a work of beauty. Overall, the Hermes Constance purse's safe and simple flap closing mechanism is one of many reasons fashionistas worldwide appreciate this iconic accessory.
Superior craftsmanship and attention to detail in Hermès handbags
Regarding luxury fashion, few items are more coveted than the Hermès Constance bag. This iconic design has been a staple of the brand for over five decades, and it's not hard to see why it remains so popular. The attention to detail is evident from the smallest features, like the belt loop, to the rich colors featured with the Hermès Constance.
It's no wonder many women worldwide are willing to pay top dollar for one of these coveted Hermès bags. Whether you're a longtime brand fan or simply looking to invest in a high-quality accessory, this bag is a must-have item.
Hermes Constance Price and Value
Luxury handbags are among the most sought-after. Depending on size, color, and material, a new Hermès Constance bag bought in the boutique costs $8,000–$11,000. This bag exemplifies the brand's commitment to quality, craftsmanship, and timeless elegance. Tons of Hermès lovers choose to rent designer bags before purchasing!
Quality, durability, and rarity make the bag valuable. Collectors love these purses for their investment potential and ability to improve any ensemble. Bags also hold their worth and may even increase due to their limited production. Get the bag if you want a timeless, iconic piece of fashion history.
If you're lucky enough to snag a Hermès Constance in-store, bravo! If you LOVE the bag but don't want to wait to get it offered in-store, the resale prices of these bags range from $10,000- $20,000 and upwards if the leather is exotic.
Check out our favorite resale options below!
Our Pick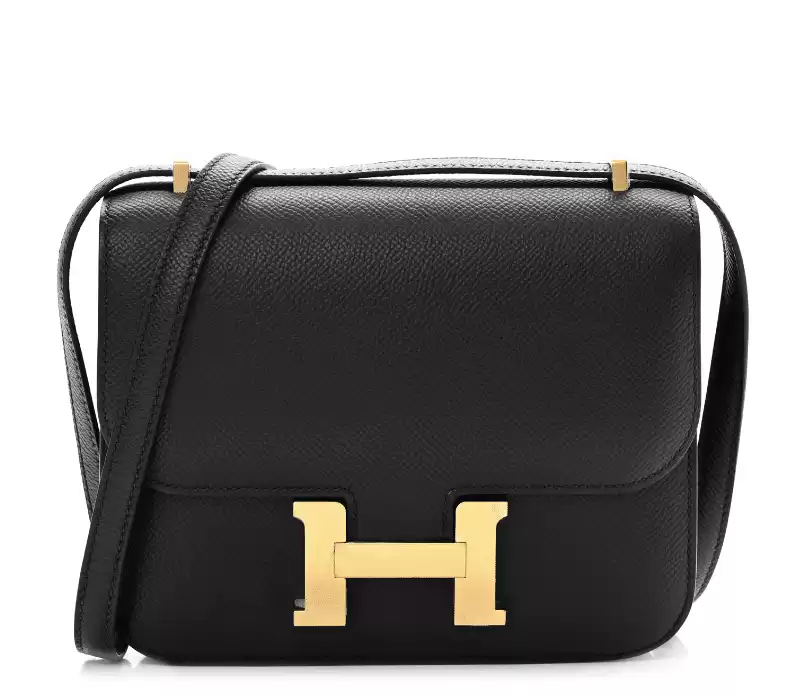 Hermes Constance
Renowned for its sleek silhouette and iconic H-shaped clasp. Meticulously handcrafted from the finest leather, it exudes timeless charm and offers a versatile style that effortlessly transitions from day to night.
Shop Bags
Hermes Constance VS other luxury handbags in terms of value for money
Hermes Constance handbags are known for their distinctive design. This bag outperforms Chanel, Gucci, and Louis Vuitton in resale value and durability. Though expensive, the materials and craftsmanship are top-notch. Value is more than price. The Hermes Constance is a superb luxury handbag investment that lends timeless beauty to every outfit.
Hermes Constance bag's potential as an investment piece
The Hermes Constance bag has been analyzed for its potential as an investment piece due to its timelessness and exclusivity. One reason why luxury fashion fans are eager to invest in the Hermes Constance bag is because of its iconic 'H' buckle that sets it apart from other purses.
The Hermes Constance bag is an ideal choice for collectors of luxury items due to its timeless appeal and limited availability, just like the Constance wallet. The purse's handcrafted construction and use of high-quality materials make it a luxurious and durable accessory. The bag is a legend in the fashion industry, having been worn by Lady Jacqueline Kennedy and other iconic figures. The Hermes Constance bag is available in various sizes, including the Constance 18, and comes with adjustable shoulder straps for added convenience.
Final verdict on the Hermes Constance
The Hermes Constance is a fashion icon for a good reason. Hermes craftsmen take great pride in handcrafting every aspect of this renowned purse. The Constance's unique H-shaped clasp and buttery leather demonstrate its craftsmanship. It's design and ageless appeal make the Hermes Constance appealing. The Constance's popularity is evidenced by its continued production employing traditional processes and craftsmen.