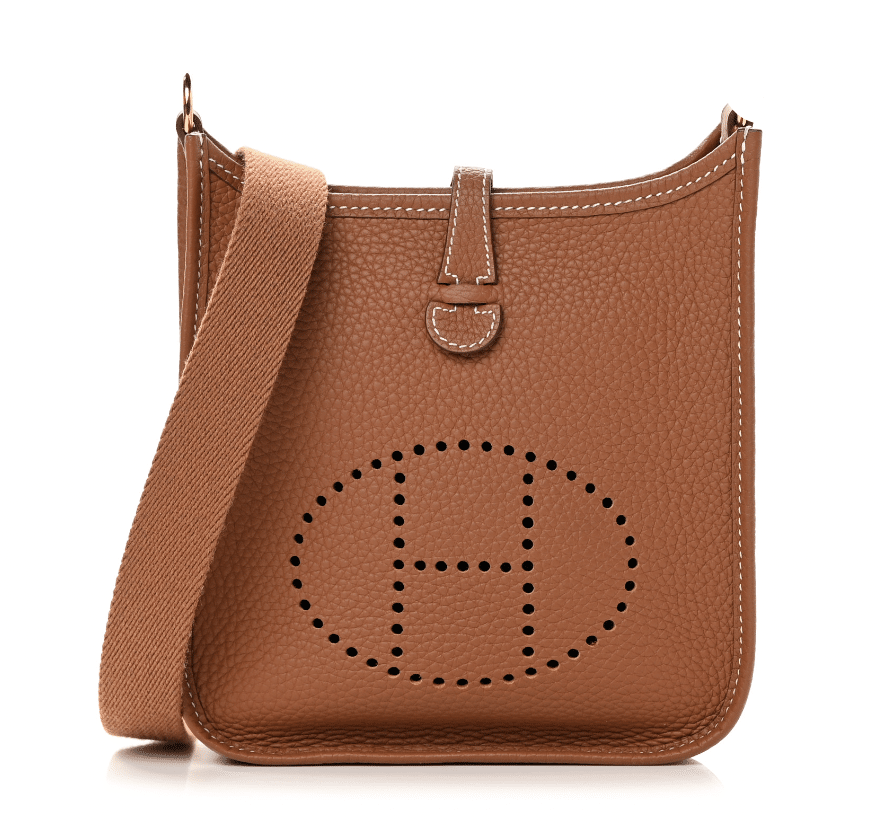 The Hermes Evelyne bag is a timeless and versatile accessory with a classic design and high-quality craftsmanship. While it comes with a premium price tag and limited availability, its functionality, durability, and ability to retain value make it a worthwhile investment for those who appreciate luxury handbags.
A brief overview of the Hermes Evelyne Bag History
The Hermes Evelyne bag is a timeless classic. During rides, motorcyclists can keep their things in a bag that can be worn across the body. The iconic 1970s horsewoman Evelyne Bertrand served as the inspiration for this bag's debut.  Featured image via Instagram by @frau_mone
As a result of its reliability, longevity, and understated good looks, the Evelyne bag became a fast best-seller (much like the Hermes superstar bags like the Birkin and Kelly bags). The bag's distinctive H-shaped cutout on the front is a trademark of the Hermès label, and its understated elegance has allowed it to endure the test of time. Although the Evelyne design has evolved slightly over the years, it has retained its classic touch, making it a trendy accessory that will never go out of style. 
Different sizes and colors are offered for the bag, the most common being the Evelyne III GM, PM, and TPM. If you value practical, minimalist accessories with a dash of class, the Hermès Evelyne is a fantastic option. The combination of its roomy interior, sturdy construction, and user-friendly layout makes it a practical choice for regular usage. If you're looking for a timeless purse that will stand the test of time, look no further than the Evelyne from Hermes.
Details on the Hermes Evelyne Bag Design
Since its debut in 1978, when Hermes designed it, the Evelyne bag has become an icon of the luxury handbag business. It was created as a versatile, everyday purse that may be slung over the shoulder or worn crossbody. 
If you want a trendy item that will last for generations, go no further than the Hermès Evelyne bag, which is guaranteed to be worth the splurge thanks to its classic design, high-quality materials, and superb craftsmanship. The bag's perforated H-shaped front cutout is aesthetically pleasing and functional, allowing for airflow and enhancing the bag's simple, elegant design. It comes in various colors and materials, including Clemence leather, Taurillon Clemence leather, and Epsom leather, and in sizes ranging from small to large (Hermes mini Evelyne being an extremely popular size). With its roomy inside, famous Hermès Palladium or Gold plated "H" buckle and adjustable leather strap, this purse is a must-have. It may be dressed up or down, making it ideal for transporting your phone, wallet, keys, and cosmetics to any event.
Quality and durability of the Hermes Evelyne
The Hermes Evelyne bag is a practical bag that is perfect for storing everyday essentials. Its legendary craftsmanship and longevity are appreciated by those who seek high-end handbags. The bag's crossbody design is not only stylish but also functional, making it easy to carry around. One of the most notable features of the Hermès Evelyne bag is its external pocket, which provides easy access to frequently used items. This Hermes bag has a sturdy construction, and high-quality leathers ensure that it will stand the test of time, even with frequent use. The bag's structural design and hardware are built to last, allowing it to keep its shape and maintain its high-quality appearance for decades. With the right maintenance, the Hermes mini Evelyne bag can remain in pristine condition for years to come. For anyone who wants a high-end bag that won't lose its luster after a few rough years, the Hermes Evelyne bag is an excellent investment.
 

 

View this post on Instagram

 
Sizes and capacity of the Hermes Evelyne Bag
The Hermes Evelyne Bag is a timeless accessory that exudes sophistication through its subtle form. The adjustable size of this shoulder bag is one of its most appealing qualities, as it allows you to take it with you to a wide variety of settings. 
From the compact TPM size, which is ideal for a night out or a fast outing, to the roomy GM size, which can contain a laptop computer or other large goods, the Evelyne Hermes bag is available in a total of four sizes. The PM and GM are the two most common sizes. The PM (Hermes mini Evelyne) is an excellent choice for everyday use, while the GM is more versatile and may be used as a work or travel bag. 
The Evelyne is roomy inside, making toting about your daily necessities a breeze. There is an internal pocket in each size for stowing smaller goods like a phone, keys, or a wallet. The Hermes Evelyne is available in three different sizes, making it ideal for every occasion. With its timeless silhouette and practical features, the Evelyne bag is a smart buy for any woman's closet. If you are a fan of the collection of luxurious bags that serve multiple purposes while still looking great, you should certainly consider purchasing one.
Hermes Evelyne price point
The Evelyne is no exception to Hermes' reputation for crafting top-notch and high-end hermès bags at premium prices. Depending on the leather quality, hardware, and size, the Hermès Evelyne bag can cost more than other hermès bags. Nevertheless, the Evelyne Mini is an excellent affordable alternative, with prices starting at only $2,050 for the Epsom leather version, which has no hardware but features an adjustable canvas strap. The medium-sized Evelyne bag, crafted from the prized Clemence leather, is typically priced between $4,100 and $5,250, minus the gold hardware. In comparison, the larger Evelyne III can range from $5,200 to $5,950 when made from Clemence leather, while the exotic leather options, like crocodile or ostrich, can cost around $7,650. 
With its well-crafted design, classic style, and adjustable strap, the hermès mini Evelyne bag is a widely popular investment that retains its value over time, despite its steep initial cost. The cost increases significantly if you opt to upgrade the hardware with a gold-plated or palladium buckle. It's also possible to expect significant increases in price for uncommon colorways or limited edition Evelyne bags.
Best Part? You can find Hermes Evelyne bags for a much cheaper price on resale websites (depending on the condition, leather, age, etc). 
Hermes Evelyne Review: is it worth buying?
The Hermes Evelyne bag, whether in its original release or its updated Hermes Evelyne III version, is an easy bag investment, as its long-lasting popularity and elegant appearance make it a show-stopper. Moreover, the Hermès mini Evelyne is worth buying because of the high level of quality and skilled labor that goes into making each bag, as well as its adaptability to either a crossbody or shoulder carry, making it a practical choice for everyday life. The Evelyne sellier's popularity belies its relative anonymity, contributing to its long-term worth and scarcity, thus making it a worthwhile investment. Whether you're a fashion enthusiast or you just want a practical and stylish bag, the Hermès Evelyne is undoubtedly an excellent investment that not only serves your practical needs but also tells a piece of fashion industry history.