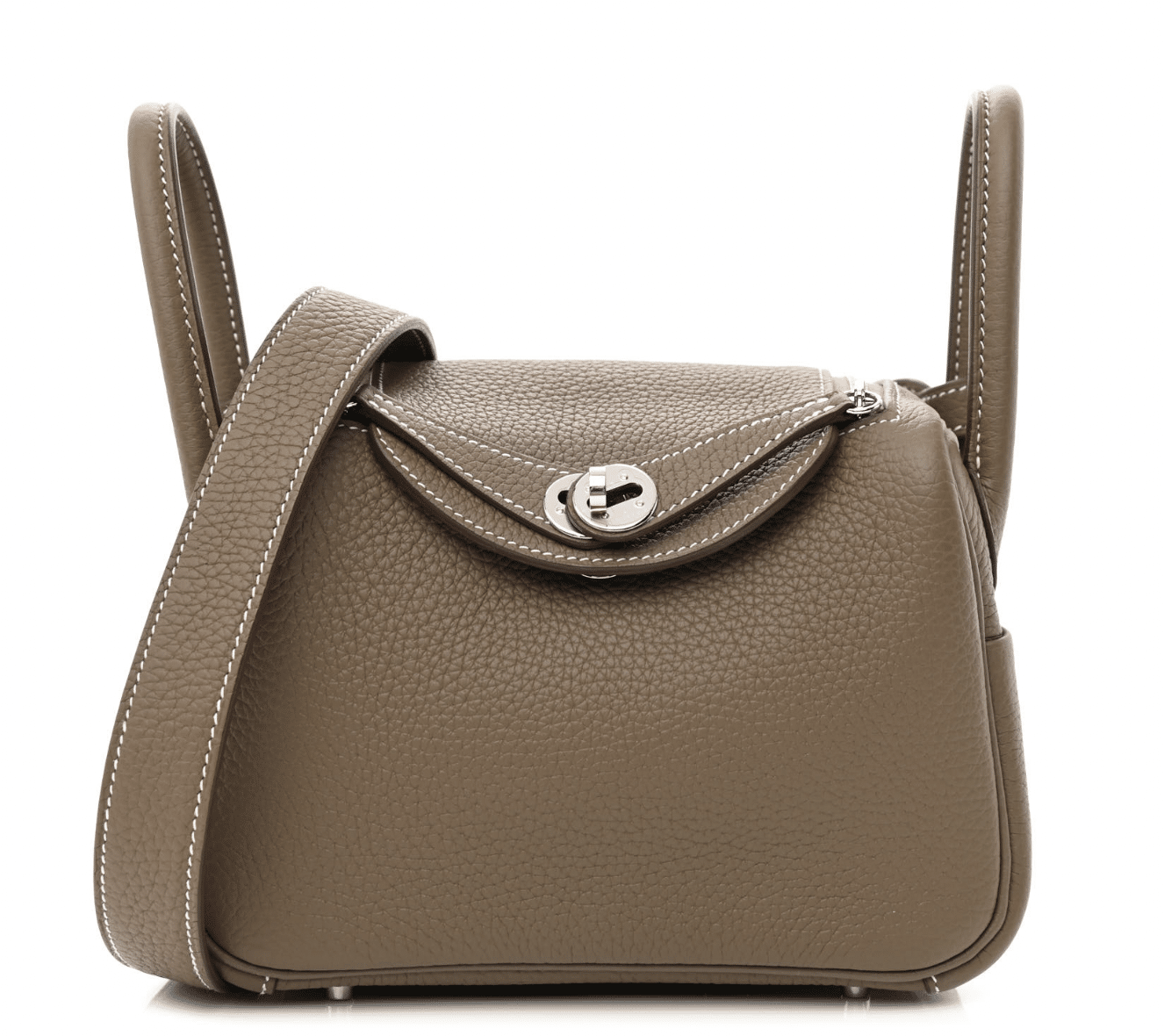 The Hermes Lindy Bag offers a combination of timeless design, versatility, high-quality materials, and functional features.
However, its high price and limited availability may pose challenges for some potential buyers. Nonetheless, it remains a symbol of luxury and fashion excellence in the industry.
Hermes Fashion House and the Lindy handbag
Hermes is a global luxury brand. Thierry Hermes created the Paris-based luxury business in 1837, creating a level of luxury other brands are trying to mimic. Hermes' Lindy bag is a favorite of fashion-conscious women worldwide. The 2007 Birkin-inspired purse was named after actress Jane Birkin's daughter, Lindy. Designed by Jean-Paul Gaultier in 2006 and first released during Hermès's Spring-Summer 2007 collection.
Due to its large and functional design, working ladies who need to carry basics love it. The Lindy bag's double-sided flap closures can be worn open or closed. Lindy Hermès bags come in calfskin, ostrich, and crocodile, so there is a Lindy for every taste and budget.
Hermes and the Lindy handbag are luxury and continue to captivate Hermes fans worldwide.
Hermes Lindy Design and Aesthetic 
The Hermes Lindy embodies classic and modern fashion. Much like the Hermes Kelly, Birkin, and Constance bags… the Hermes Lindy's unmatched quality and craftsmanship make it a favorite worldwide. This brief analysis examines Hermes Lindy's design, usefulness, and ageless appeal to show why it's the go-to bag for style and function.
Hermes Lindy handbags are stylish and functional. It targets style-conscious people who value the usefulness of their accessories. The Hermès Lindy is excellent for errands and nights out. Elegant lines and a relaxed shape make the bag comfortable to carry.
The beautiful lambskin leather asymmetrical external zipper pocket reveals the spacious interior, which can hold many items. Double top handles and a detachable shoulder strap make carrying the bag easy. This handbag is ideal for people seeking a timeless, luxurious, and functional solution.
Hermes Lindy Bag Sizes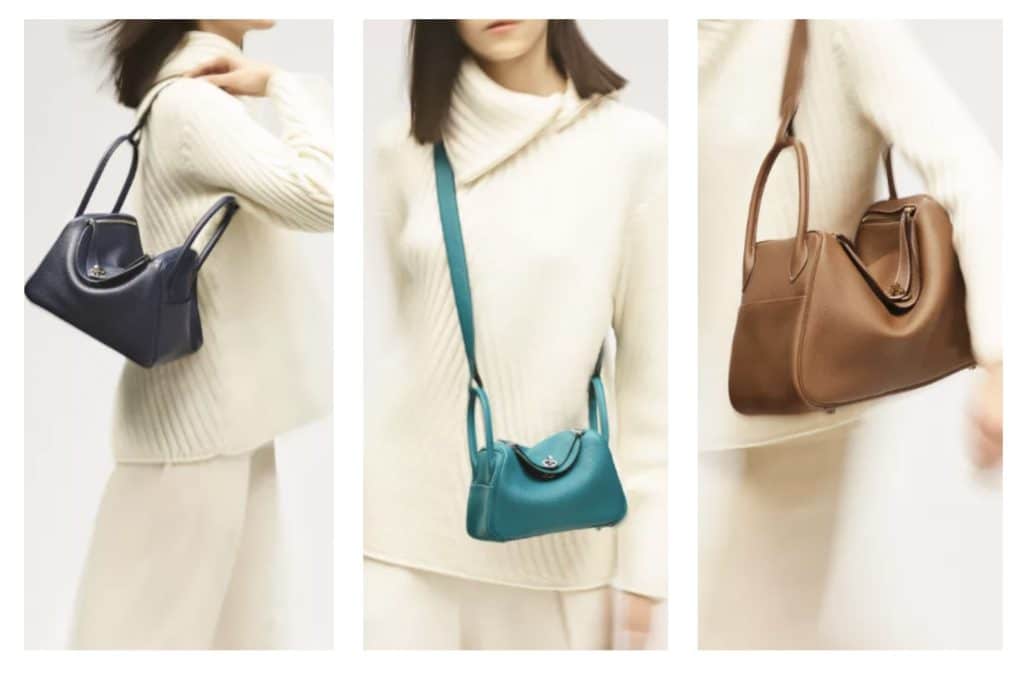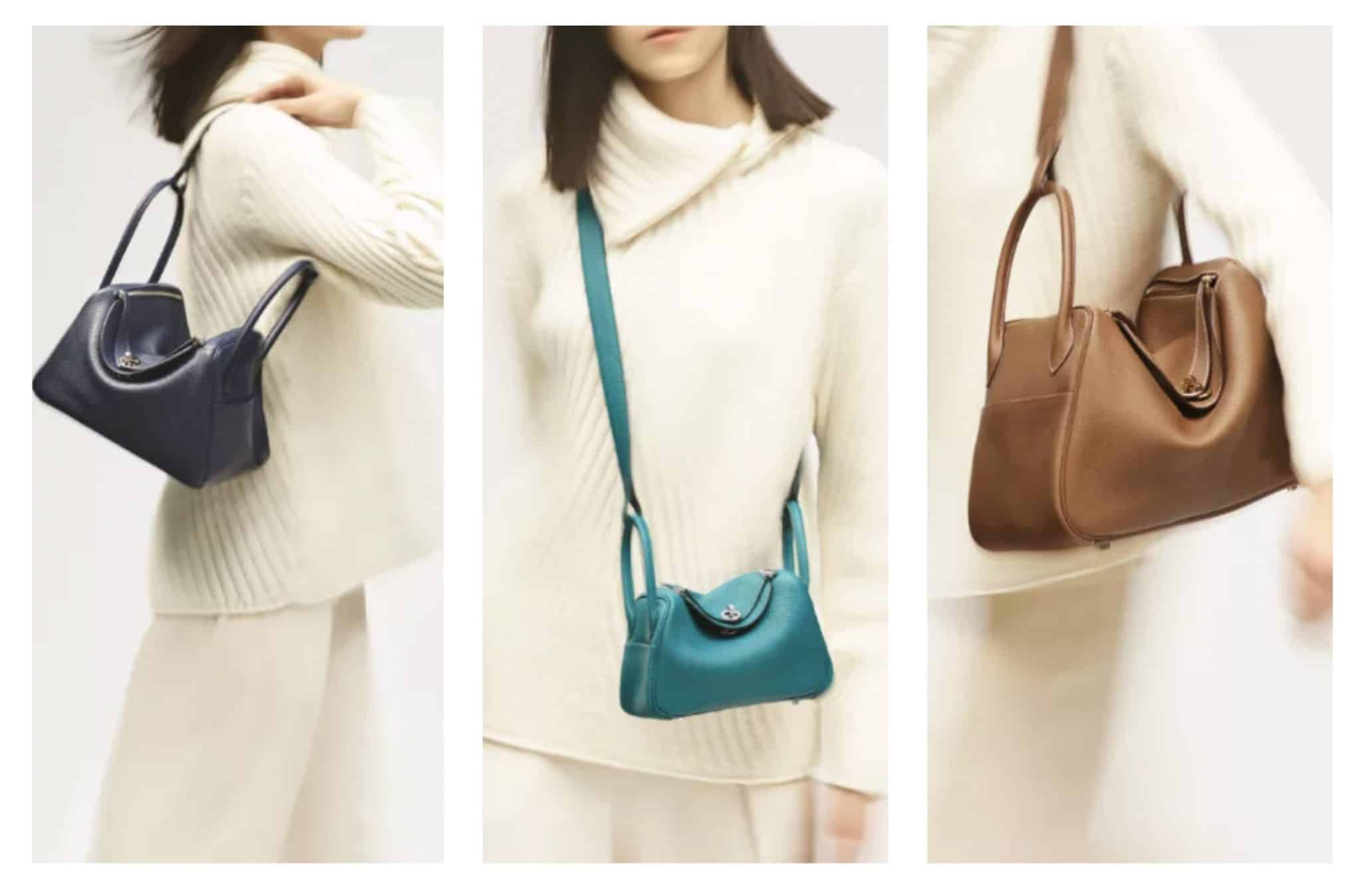 The Hermès Lindy bag comes in many different sizes, so it can fit various styles and valuable needs. Every size, from the small and cute Mini Lindy to the large and useful Lindy 45, has its own unique charm.
With its small size, the Mini Lindy is a perfect example of delicate elegance. It is a stylish choice for those who want a touch of luxury in a smaller package. As you move up the size range, the Lindy 26 has a slightly larger shape that strikes a balance between a small crossbody and a large tote. It's great for people who want a versatile companion for their everyday adventures.
The Lindy 30 is a great choice for people who want a big bag that can hold a lot. It has plenty of space for items while still looking chic and stylish. Lastly, the Lindy 45 is the epitome of usefulness. It has a lot of storage space and is perfect for a savvy traveler or someone who needs a stylish weekender bag with a lot of room.
With so many different sizes, the Hermès Lindy bag fits the needs and preferences of each person, making sure that there is a great fit for every fashionista.
Hermes Mini Lindy Bag Popularity
The Hermès Mini Lindy bag quickly rose to fame, capturing the hearts of fashion lovers all over the world with its enticing charm and small size. This small masterpiece blends luxury and versatility in a way that makes it a symbol of modern style. The Mini Lindy is a great example of the high-quality craftsmanship that Hermès is known for.
Every stitch is a reminder of the timeless beauty of the brand. Its fame comes from the fact that it can be worn both during the day and at night, making it easy for its owner to go from one event to another. The bag's small size gives it a sense of subtle or quiet luxury, and its well-thought-out design makes it useful without sacrificing style.
The Mini Lindy's unique mix of classic lines and current style gives it an irresistible charm that makes it a sought-after fashion accessory. From the beautiful colors to the high-quality materials, each Mini Lindy is a work of art that embodies the highest level of luxury. As a sign of how popular it is, it has become a sign of high status and good taste, a sign of fashion excellence that goes beyond trends and stands the test of time. The Hermès Mini Lindy bag is a gift that is sought after by people who love the way craftsmanship, style, and everlasting beauty come together.
Is the Hermes Lindy an Hermes Quota bag?
Hermes collectors often debate whether the Lindy is a quota bag. Quota Hermès bags are limited bags reserved for customers who have spent a considerable amount of money with Hermes and have met a "quota" in order to purchase something on their wishlist. The Lindy is a popular purse for stylish, functional ladies due to its size and versatility. Since 2007, its popularity has skyrocketed, making it harder to get from a Hermes boutique.
The fashion house doesn't consider it a quota bag, however, it is still extremely hard to get the exact variation you crave. It is a timeless style with modest elegance and functionality that is offered year-round in limited quantities. The Hermès Lindy is a gorgeous, well-made purse that any Hermes fan would be happy to acquire, regardless of its quota status.
How much does an Hermes Lindy Bag cost?
Hermes Lindy Bags, one of the most sought-after luxury handbags, are constructed with high-quality materials and meticulous craftsmanship. The material, size, and rarity of a Hermes Lindy Bag determine its price. Hermès Lindy Bags start at $6,400 and can cost up to $20,000 for limited editions in the boutique. Customizations like hardware or monograms might raise the price of a Hermes Lindy Bag.
You can likely find a Hermes Lindy bag for a lower price on trusted resale sites or a vintage shop. For a popular hermès color (which is likely neutral) will cost you more than the retail price.
Alligator and ostrich Hermès bags can cost over $30,000 on the resale market. Hermès Lindy Bags are expensive because of their quality and elegance. Hermes Lindy Bags are status symbols and fashion statements. Hermes Lindy Bags are still popular despite their high price because they are a lifetime investment in luxury and history.
Description of the Hermes Lindy's modern silhouette and luxurious leather options 
The Hermès Lindy Bag is renowned for its modern design and sumptuous leather options. Blending handbag and duffel bag characteristics, this bag's versatile and useful shape.
The Hermès Lindy's sleek contours lend a touch of femininity, while its sturdy structure ensures durability. Hermès Lindy buyers can choose from a variety of Togo, Clemence, Epsom, and Swift leathers, allowing them to match their style flawlessly. Whether it's black, brown, white, pink, or orange, Hermès Lindy bags come in many colors, so there's an option for everyone.
The distinctive double zip closure of the Hermès Lindy bag not only adds functionality but style as well. The "H" and horse charm that adorn the zippers are recognizable Hermès bag details that contribute to the bag's beauty. The Hermès Lindy bag is a must-have for fashionistas that will elevate any outfit effortlessly.
Functionality and Versatility of the Hermes Lindy
One of the most useful and versatile handbags is the Hermes Lindy. Due to its distinctive shape and design, it offers a wide range of storage possibilities and is comfortable to carry. The Lindy can hold all your daily essentials without feeling bulky thanks to its large main compartment and exterior pockets and compartments. The Hermès Lindy's adjustable materials, colors, and hardware complement its functional design.
Plus, with its removable shoulder strap and longer strap, the Lindy can be worn as a shoulder bag or crossbody bag, depending on your needs. This versatility makes it helpful for people looking for a multipurpose handbag. The Lindy can fit your demands and needs, whether you're running errands or attending a formal function. For design, practicality, and exceptional craftsmanship, the Hermès Lindy is truly a must-have handbag that will be a treasured part of your collection.
Evaluation of the Hermes Lindy's spacious interior and adjustable storage space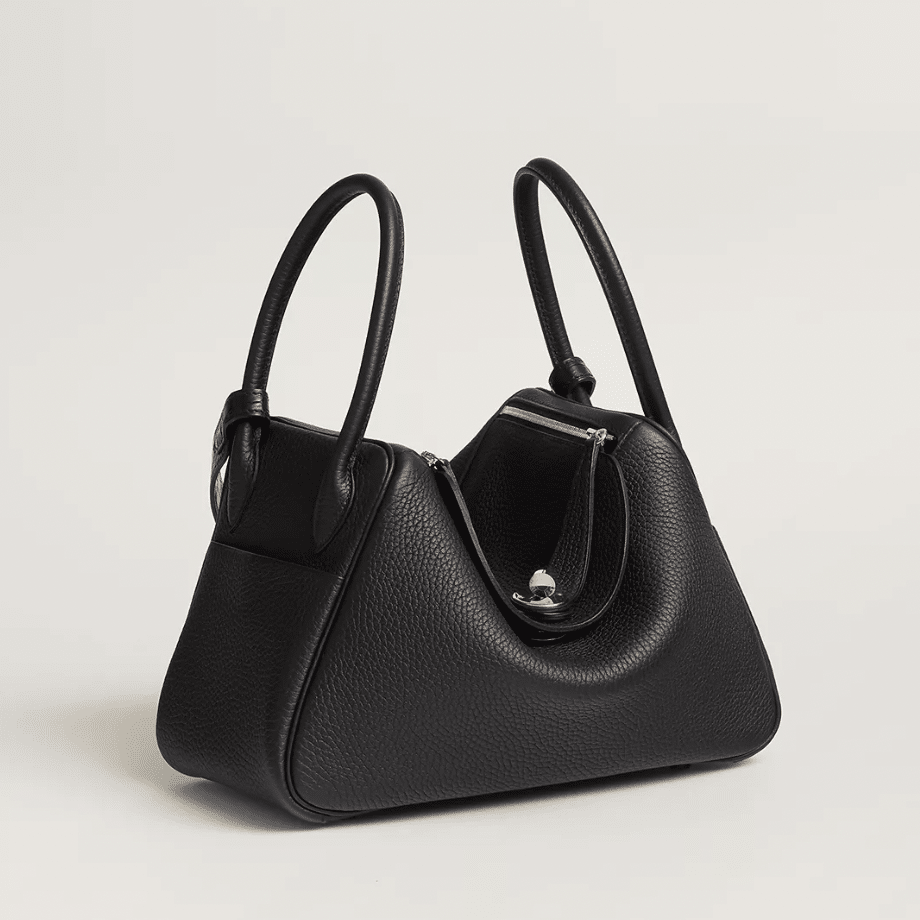 The Hermès Lindy, like many other Hermes bags, provides spacious and adjustable storage space for everyday use. Crafted from high-quality clemence leather, this versatile bag offers a generous interior that can be customized with its flat removable shoulder strap. With two large zippered compartments and two smaller pockets for phones and wallets, it offers ample room for all your daily essentials.
If you prefer something smaller, the Mini Lindy is available to suit your needs. The Lindy's adjustable removable shoulder strap can be attached securely using its lock feature. The Hermès Lindy is a classic, timeless bag that never goes out of style and is an ideal choice for anyone who appreciates functionality and versatility.
Analysis of the bag's dual handles and detachable shoulder strap
A bag's dual handles and detachable shoulder strap greatly impact its usability and convenience, making it an essential factor to consider when purchasing any bag. The traditional dual handles of these Hermès bags provide stability and control, while a detachable shoulder strap offers a hands-free carrying experience. This is particularly helpful for a customer who wants to browse through a store without being encumbered by their bag. Crossbody carrying also adds an extra layer of security, making the bag less prone to theft.
A proper cushioned handle and a padded strap provide extra comfort, while reinforced stitching and robust materials make them strong enough to handle any load. Choosing the most comfortable and practical bag-carrying method for any occasion is eased with these two options. Overall, the handles and detachable shoulder strap of a bag may affect its functionality and comfort, so it is essential to consider its weight, size, material, and strap and handle design when making a purchase.
Final verdict on the Hermes Lindy, highlighting its design, functionality, and enduring style
After a thorough evaluation, the Hermès Lindy is a distinctive and adaptable purse that combines design and practicality. The Lindy combines fashion and practicality with its big interior and a convertible design that lets it be worn as a tote or shoulder bag. The buttery-soft leather and streamlined form make the bag a great investment piece.
It's a timeless shape and rich color combinations make it ideal for casual and formal settings. At its high price, the Lindy is a luxury item that only a few can afford. The Hermès Lindy is a standout piece that adds beauty and sophistication to any ensemble.
The Hermès Lindy is a timeless purse that has a place in fashionistas' closets worldwide. The Lindy has two shoulder or forearm carrying handles and a slouchy, loose design. The bag's distinctive form makes it roomy enough to hold a wallet, phone, lipstick, tablet, or even a book. The Lindy is also very versatile. The bag's many sizes, materials, and colors enhance its versatility. Despite its fashion-forward image, the bag is functional. After nearly a decade, the Hermès Lindy remains popular. It's a classic, useful, and stylish investment.