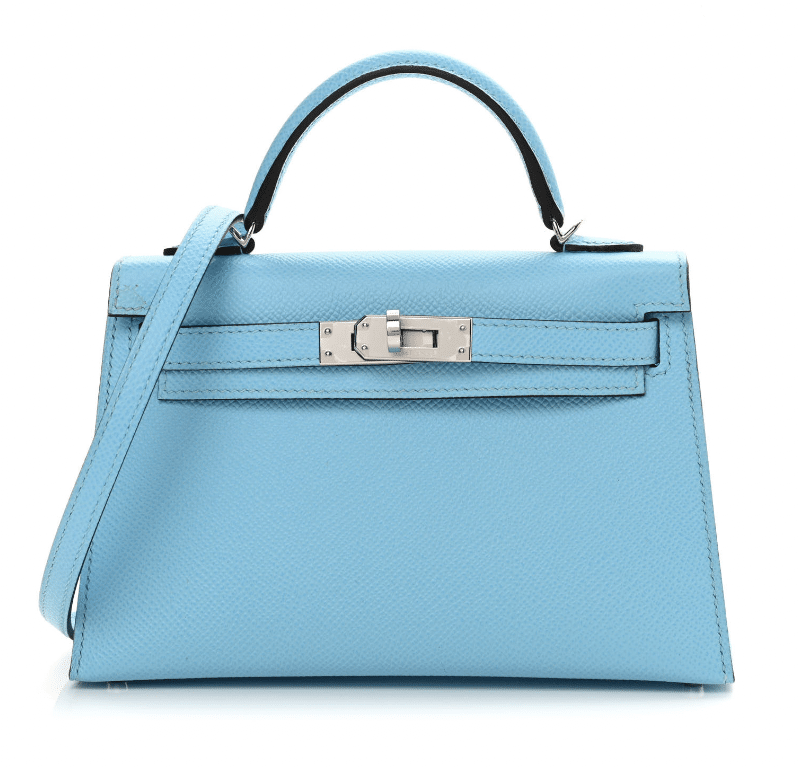 The Hermes Mini Kelly is a coveted and iconic bag known for its timeless design and variety of options.
However, it comes with a high price tag, limited availability, and considerations regarding materials and maintenance, making it a significant investment for bag enthusiasts.
7 key points to know before buying your Hermès Mini Kelly bags
If you have been screenshotting and bookmarking the Hermes mini kelly bags to gift yourself, this guide is for you. Check out some main points to consider before buying the Hermès Mini Kelly of your dreams. 
Budget
Style
Materials
Hardware
Size
Color
Where to Buy
Purchasing your first Hermès mini Kelly is a defining moment for every bag enthusiast; this refined style is a genuine design classic. From deciding which mini Kelly shape best matches your style to determining a budget, savor the moment to ensure you make the right choice when choosing these iconic Hermès bags. See below for our complete guide.
Our Favorite Hermes Mini Kelly Bags on Resale Sites You Can Buy Now
1. Hermes Mini Kelly Price (Budget)
Now that you have your dream mini kelly on your wish list, how much will it cost to get it? Firstly, check out our Hermès Kelly pricing guide here.
A new mini kelly 20 from the Hermes store now retails for roughly $8500 (which consistently increases yearly).
Prices on the secondhand market for the same Kelly bag can range from $15,000 to $80,000, depending on condition, rarity, and material. Therefore, the preloved market has a considerably larger range of pricing, allowing you to shop for bags based on your budget. Yes, buying on the resale market is easier, however much more costly. But but those people who are only interested in the Hermes bags and not their other products, then the resale market is for you. *Remember as soon as you purchase a mini kelly (either new or second-hand) it will likely increase in value almost instantly!
Why on earth would you buy on the secondhand market? Well, if you're unaware, it is historically next to impossible to score an Hermes bag, new, in-boutique. ** The unspoken but very well-known rule in the Hermes Boutique is; spend a lot of money with us on our other products, then perhaps one day you will be offered an Hermes handbag (aka a mini kelly). 
2. Hermes Mini Kelly Style (Structure)
Another step in your Hermès mini kelly buying journey is deciding what style you want to buy. The Hermes mini Kelly is available in Sellier style and Retourné.
The original Kelly, made famous by Princess Grace Kelly in 1956 while trying to hide her pregnant belly, is the Sellier. It features sharp edges, visible stitching, and more feminine curves and is made of tougher leather.
The Kelly Retourné, on the other hand, was flipped inside out during the manufacturing process, giving it a softer look at the edges.
Consider your personal style when selecting your Kelly bag. The Mini Kelly Sellier exudes formal elegance – it looks great carried in the crook of your arm for work or a lunch date – but the Mini Kelly Retourne exudes a more contemporary feel and a more practical compact bag, especially when worn with its detachable shoulder strap.
 

 

View this post on Instagram

 
3. Hermes Mini Kelly Materials (Leathers to pick from)
Hermes uses a variety of leathers in its collection, so it's essential to understand their differences. Some of the most popular leathers, like Clemence, Epsom, Togo, and Chevre leather, are textured, making them more resistant to wear and tear. Most Hermes lovers tend to buy their handbags in Epsom leather as it is the most forgiving leather type (aka will look new for many years to come).
Smoother leathers, such as Gulliver or Calf, are soft to the touch but may be more prone to occasional scratches.
Exotic materials like Lizard, Crocodile, and Ostrich may need extra care, but there's a reason they frequently have a higher resale value – they're highly desired in terms of aesthetics.
4. Hermes Mini Kelly Hardware
The Hermes handbag hardware is made of brass then expertly plated with precious metals such as silver-plated palladium or gold. When thinking about your next magnificent Hermès bag purchase, it's easy to become lost in the colors and rich leathers on offer. You may overlook the exquisite Hermès hardware. However, this is the jewelry for your prized purse.
The metal hardware is chosen to complement each bag and deserves its thought and care, for example, palladium plated hardware, gold, rose gold and other rare hardwares.
Examining the details of real Hermès hardware is also vital for identifying the bag as a genuine Hermès. When choosing the type of hardware you want for your Hèrmes mini kelly, take inspiration from your favorite jewelry, such as your favorite pair of gold earrings or your wedding band, which can be matched with gold hardware or silver.
5. Hermes Mini Kelly Size
Kelly bags differ in size from Micro (only 15 cm across) to the travel-ready Voyage and Relax versions (50 cm across).
With the most frequent Kelly mini sizes being Hermes Kelly 28, Kelly 32, and Kelly 35, a purchase in this range might be ideal for a first-time buyer. However, the Mini Kelly 20 is one of the most popular sizes as it fits enough for day-to-day use and also small enough for a special occasion handbag.
Because of their solid structure, Kelly mini Sellier's models generally fit slightly less than their Retourné counterparts.
 

 

View this post on Instagram

 
6. Hermes Mini Kelly Colors
The color of your first Kelly purse is probably your favorite thing to fantasize about. The Hermes color palette is brilliant and delicious in equal measure, ranging from sunshine-yellow Saffron to sleek blue-black Ink.
Consider this: is your Hermès Kelly an investment item, or are you purchasing it only for yourself? Classic colors like Rouge Hermès, Noir, and Gold will never go out of style and may be worn decade after decade – and even passed down to your daughters.
They are long-term wardrobe mainstays since the colors never go out of style. A neutral color makes your Kelly simple to pair with any outfit, and remember that you can always add a pop of color with a Hermes twilly. 
However, a mini Kelly bag allows us to be bold with color as it is a smaller version of a classic style. We love bright pinks, yellows, and blues!
7. Where to buy your Hermès Kelly bags
As you may well know, purchasing a Hermès mini Kelly bag from a Hermès shop is not as simple as you might think.
Hermès creates an air of rarity around their bags by not displaying them on shelves or making them available through systematic waiting lists.
Instead, these iconic bags are confined in a boutique's private showroom. They are often only offered to clients after building a relationship with a sales associate and spending thousands of dollars on other products such as shoes, scarves, home decor, and more. 
Another alternative you can try is to go for preloved Hermes mini Kelly online! Trustable and professional online resale stores have a fantastic array of mini Kelly bags for sale now, see above.  
The design history of the Hermes mini kelly bags
Hermes Kelly 15
Hermès made two limited-edition mini 15cm Kelly mini bags. The first was from 1984 to 1985, and the second from 1991 to 1992.
These gorgeous Mini Kellys are mostly made of Courchevel, Box, Lizard, and Crocodile, and they have an exceptionally thin strap and little extra hardware.
Hermès released a new 15cm Micro Kelly design in 2011 in collaboration with Christophe Lemaire's Candy Collection.
These were mostly found in Swift or Epsom leather, although they were also made in exotic Lizard skin. These Hermès Micro Kelly bags were accompanied by the Candy Collection's exclusive 15cm Hermès Birkins.
Hermes Mini Kelly 20
The first Hermès Kelly mini 20 was made in 1957, with a mid-length shoulder strap. The characteristic circular top handle, which collectors refer to as a bracelet handle, was not seen until 1980.
It would be another ten years until Hermes released the Mini Kelly 20 in Retourne construction, a model that is now extremely rare.
Hermes then redesigned the Kelly 20 with a new version, the Mini Kelly ii, seven years after its discontinuation (the last known Kelly 20 bag dated from 2009, however, instances after 2004 are rare).
Hermes Kelly 25
The Hermès Kelly 25 has been in production since the early 1960s. Examples from this era are rare and include full-sized Plaque hardware rather than the mini-version found on 25 and 20 Kelly bags today. Interestingly, Hermès Kelly 20 bags have been discovered that are older than Hermès Kelly 25 bags, although they have always had smaller hardware.
Final Thoughts
Investing thousands of dollars into designer handbags seems absurd to many people, especially and Hermes Birkin or Kelly.. However, the people that get it, get it.. the people that don't, don't. The ones who own any classic Hermes bag style right now can likely sell today and make more money than what they originally spent on it. 
Feature image courtesy of @modemoiselle__13, @lenaterlutter, @mrs_bcworld via Instagram