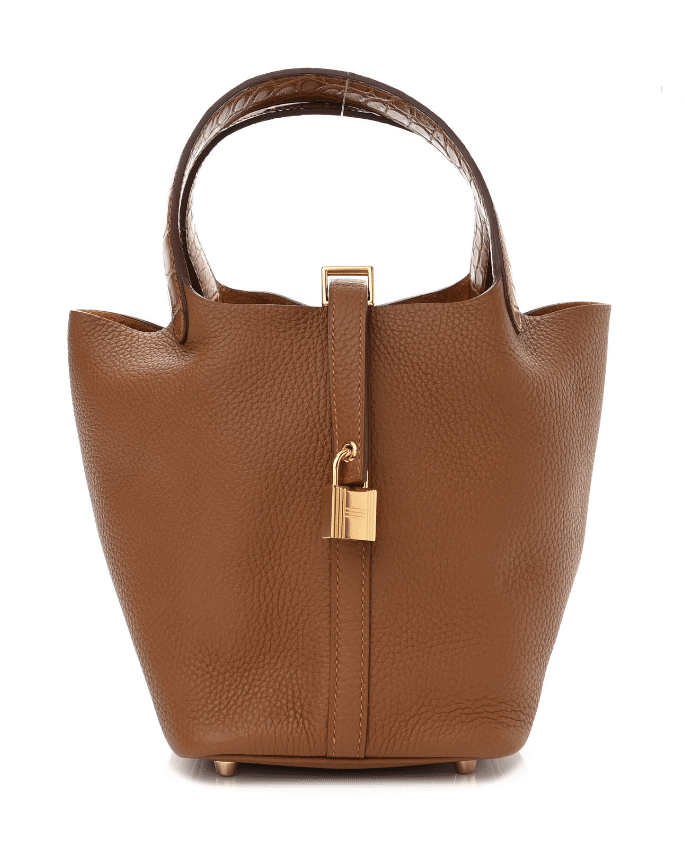 The Hermes Picotin Lock Bag is a versatile and classic accessory with a reasonable price point compared to other Hermes bags.
It's timeless design, variety of materials, sizes, and colors, along with its functionality, make it a popular choice among fashion enthusiasts. However, its limited availability and lack of interior pockets may be drawbacks for some buyers.
Feature Image vk_8112 on Instagram.
Hermes Picotin Lock Bag: The Upcoming IT bag at Hermes?
While some people might spend their whole lives working for the Birkin bag, others of us know that a Birkin isn't the only way you can be decked out in Hermès.
Coveting the Birkin or the Kelly Hermès bags is a lifelong game — but that doesn't mean there aren't "starter" bags you can carry in the meanwhile or a bag with a history and origin all its own. The Hermes Picotin isn't your average tote bag.
Still chic, functional, and with the longevity of all truly good vintage items, the Hermès Picotin bag has been a staple for the Hermès brand for twenty years.
Find the Hermes Picotin bag at discounted prices on the resale market below
Hermes Picotin Lock Key Features
The Hermès Picotin is a bucket bag typically made with durable and soft Clemence leather or Epsom leather and complete with a classic gold or palladium hardware Hermès Picotin lock. The Hermes Picotin was named after the French word, picotin, which is the measurement of oats a horse needs while feeding, and because it is actually modeled after a horse's feed bag, fun fact.
This is a subtle nod to Hermès' equestrian history as well as an indication of how functional the bag can be, regardless of how pretty it is. The elegance of the Picotin cannot be overlooked — it's a reason that this bag is beloved amongst Hermès consumers.
Hermes Picotin Structure, Colors and Leather
The Hermès Picotin has remained in fashion because of its bucketed shape, minimal stitching, lightweight feel, and effortless style. It helps that the picotin lock between the two top handles of the bag is classic Hermès —understated, minimal, and coveted.
That doesn't mean that the Hermes Picotin can only be purchased in one design, or even one color. In fact, in 2022, due to the success of the Hermes mini Kelly, Hermès introduced smaller sizes of the Picotin bag in limited edition daisy embroidered Clemence leather and other styles, which are selling faster than the mini Kellys (and at a much more affordable price point).
Though usually made with Epsom or Clemence leather, limited edition versions can come in alligator, ostrich leather, canvas, or even wool — good luck finding them though — and they still feature two top handles, an understated Picotin lock, the interior is not lined, and are surprisingly roomy for their relatively small size (should you choose to go with the original). It is worth noting though, that the Picotin does not come with lined interior pockets.
Hermes Picotin Sizes
The Hermès Picotin bag does come in three sizes (in addition to the special edition mini) for those who need more room for their favorite books, makeup case, or even a bottle of champagne- the interior is big enough for that.
The standard picotin 18 size is what we see most often on social media, but the beloved bucket bag can also be purchased in sizes 22 and 26. These bags aren't just popular with women either — the largest version has been seen on many a stylish man.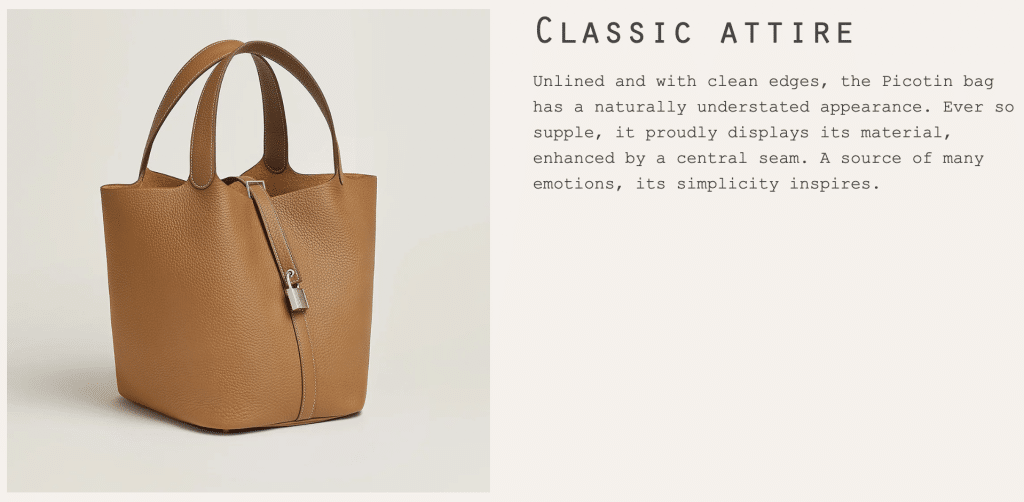 Hermes Picotin Colors
When it comes to available colors, there is a wide range when implementing special edition versions of the bag. The Hermès picotin can be seen in vert, blue jean, anemone, white, yellow, taupe, and asphalt — with variation in shade and many more color schemes.
The standard style picotin colors include noir, etain, etope, and gold, though depending on the bag and the edition, colors, and their corresponding locks, they can be everchanging when it comes to color. There's even a special edition all-black version, called the So Black!, where even the stitching, the leather, and the palladium hardware are black.
One of the main reasons the Picotin has been a mainstay for Hermès is because of its price point. The 18 starts at $2,950, the 22 at $3,150, and the 26 at $3,500- the Picotin Lock is an absolute steal.
 

 

View this post on Instagram

 
Is Hermès Picotin worth buying?
The short answer is yes. The Hermes Picotin bag has only grown in popularity since its initial release. Because a Birkin bag or a Kelly bag is often unattainable for the average person, the Picotin provides the Hermès experience without going absolutely bankrupt.
That's not to say it's necessarily on sale. Special versions can run you up to $75,000 (based on a very, very special edition). Still, with its notoriety, timeless design, picotin lock, impressive resale value, and bragging rights, it's a bag worth considering at the very least.
We've seen the Picotin all over social media — and around the world — because it can be worn as is, or can be dressed up with all sorts of individualized features. The versatility of the bag is another reason it's so popular.
Because it can be worn in so many different ways and has been made in so many different versions, the Picotin hardly disappoints.
Mostly it can be seen elevated with an Hèrmes scarf, specialized key chains, two top handles, shoulder straps, and even a cargo version with an extra side and front pockets. The Picotin gives consumers a chance to make the bag all their own.
Does Hermès still make the Picotin?
This handbag has truly stood the test of time. First introduced in the 1958 Hermès curated collection handbags and rising in popularity in 2002, the Picotin has been essential ever since. In fact, since the pandemic began, these bags have become harder to find — especially the limited edition versions.
With its minimal design and affordability, these handbags stand out amongst the rest. The Picotin is functional, recognizable for its gold or palladium hardware, like those on the Kelly bags, and gives handbag lovers a chance to individualize based on preference. It doesn't seem to be going out of style any time soon; in fact, it's on the rise in popularity again.
Luckily, the Hermès Picotin does not lose its retail value. Because of the durability of the leather its made from (Clemence leather is a popular material), and the iconic design that has stayed on trend despite two decades of production, as well as its popularity amongst those of us who would like to spend less than $3000, it can also be found through luxury resale sites. So, if you can't make it to the boutique in France (or any Hermes location near you), don't stress; find the picotin on any credible resale sites!
So, whether you're a diehard vintage shopper or a fashionista who wants its brand new, the Picotin Lock with the popular two top handles bag is out there in the Hermes store. If you want a bag that stands the test of time, wears, and fashion trends, then you should definitely consider the Hermès Picotin. Tell us when it's time to shop.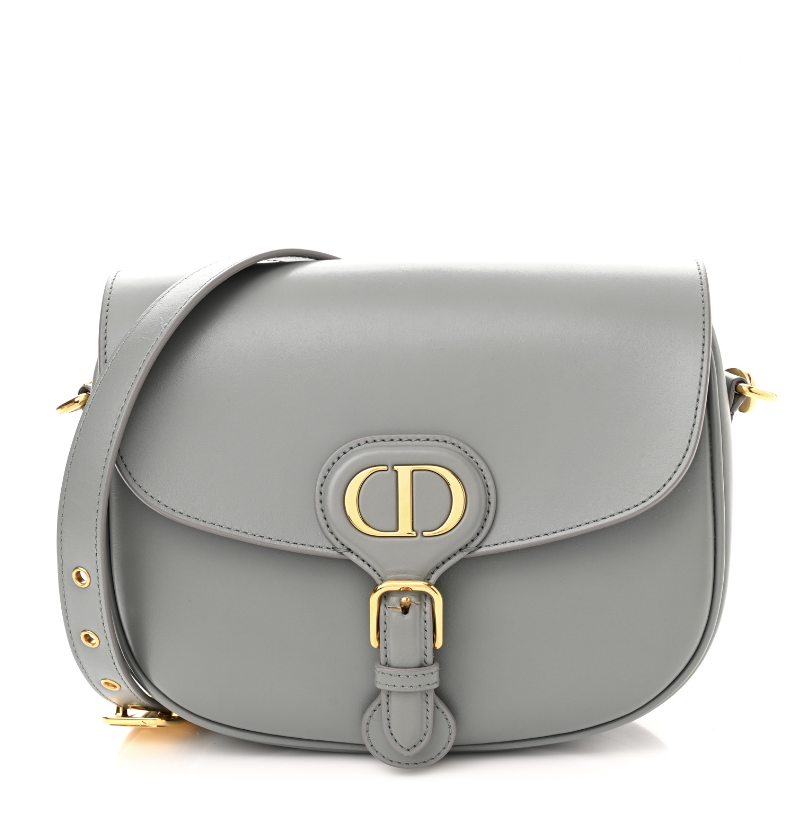 The Dior Bobby Bag blends style and functionality with its practical features, and offers versatility for various occasions, with a potential for good resale value. 
However, its high price of $3,500 may deter some buyers, and certain colors and designs could become outdated with fashion trends.