21 Ways to Store and Organize Your Handbags
Handbags are a quintessential part of your fashion statement. But much more than that, they're also a valuable asset because of their second-hand value.
The second-hand market for handbags has gathered a lot of attention in recent times. Limited edition Hermes Birkin handbags caught the attention of reporters at Business Insider in 2019. These babies retail for around as low as $9,000 but can be resold for as high as $200,000.
Whether you spent $100 or $200,000 on a handbag, the bag will quickly lose value without proper storage and organization.  How to store purses and learning about cool purse storage could be the best way to organize bags in your walk in closet.
In this article, we will look at how to store purses. We will also explore the best purse organization for your handbag collection; if you have one.  If your designer bags are currently hanging from your closet door or simply tossed in their dust bags on your closet shelf, check out the purse storage ideas below to keep your bags organized like a pro!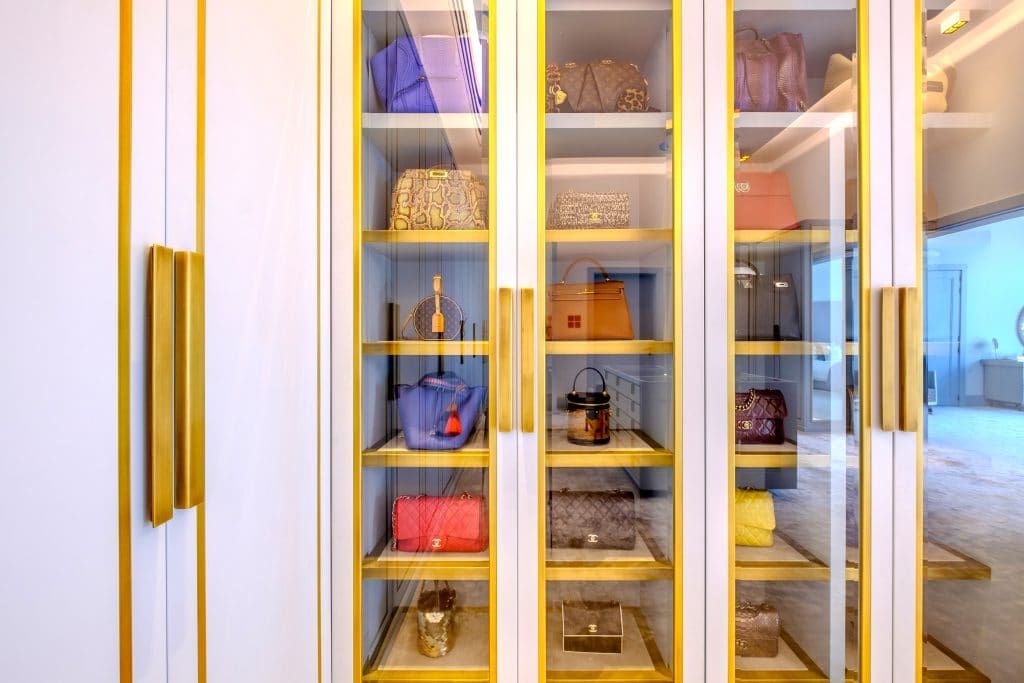 Handbag storage ideas
There are a number of factors that play a role when you are considering storage ideas for handbags and purses. One of those factors is the material of the handbag.
Leather shoulder bags are more delicate than other kinds of bags, so they require more care. The first few great tips we'll share will detail how to store purses with leather handbag storage and purse storage.
How to store a leather bag
These purses are unique because they are made from organic material – animal hide. They are typically durable and are a great complement for every outfit. Top-quality leather handbags are often quite pricey.
Proper leather purse storage is important because they tend to darken when exposed to direct sunlight, heat, or humidity over a long period.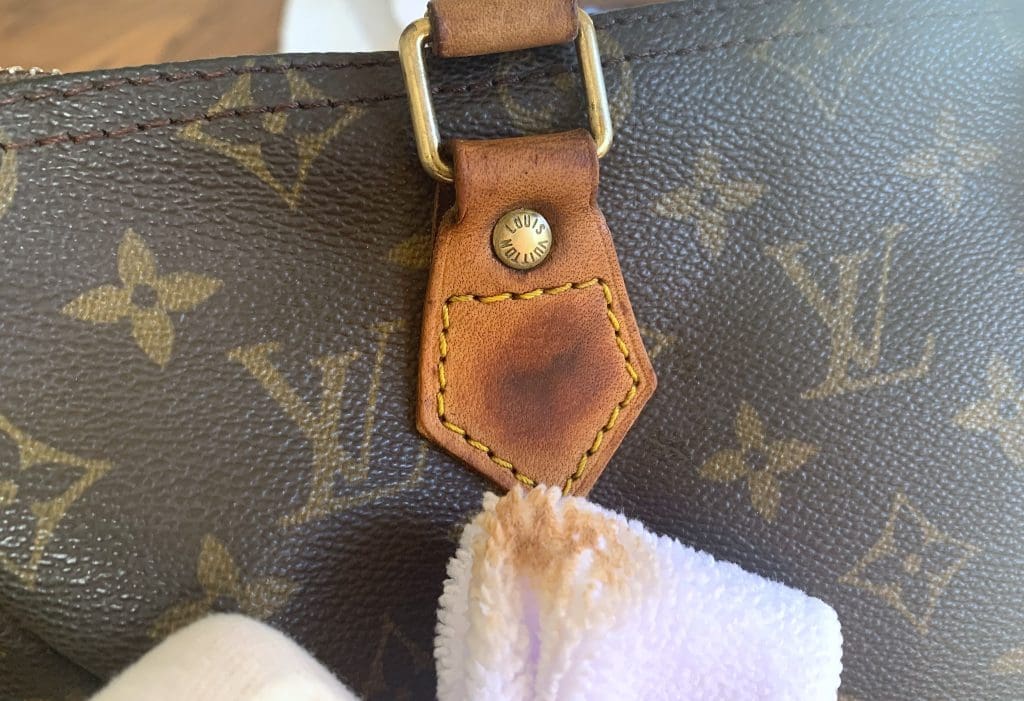 Tip 1: Clean the purses after use
Once you're done using your purses, always make sure to empty them and clean them using soft materials like these microfiber cloths! You can use a lint roller to clean the hard-to-reach parts on the inside.
You can use a baby wipe to clean the exterior if it is made from hard leather. A dry paper towel will suffice for cleaning it too. If you're looking for a deep clean, check out this Kiwi soap perfect for leather bags! (See before and after photo of our first time using it!) It's also super important on how you store your handbags in your closet too, which we will touch on a little later.
Tip 2: Always stuff your bags
If you want to preserve your handbag's structure in storage, you may have to stuff them. Without stuffing, the purse may soften and slump during storage.
The top options for stuffing purses include acid-free tissue paper, bubble wraps, and small pillows. Avoid using a newspaper or magazine for stuffing your handbag. The material used for making them is usually acidic and can stain the insides of your purse if left for too long.
If you use any newspapers, only use ink-free paper.
Tip 3: Cover your purses in a dust bag
Since you've already cleaned your purses, the last thing you want is for them to gather dust again. Keeping your purse in a their dust covers is an excellent way to keep your handbags organized.
Thankfully, most handbags will come with their own dust bags. You can simply refuse the dust bag you got at purchase. If you no longer have it, you'll have to get another one.
Make sure whatever bag you store your purses in is breathable. Putting leather items in airtight storage can be detrimental, especially in high humidity. Alternatively, you can use a cotton pillowcase.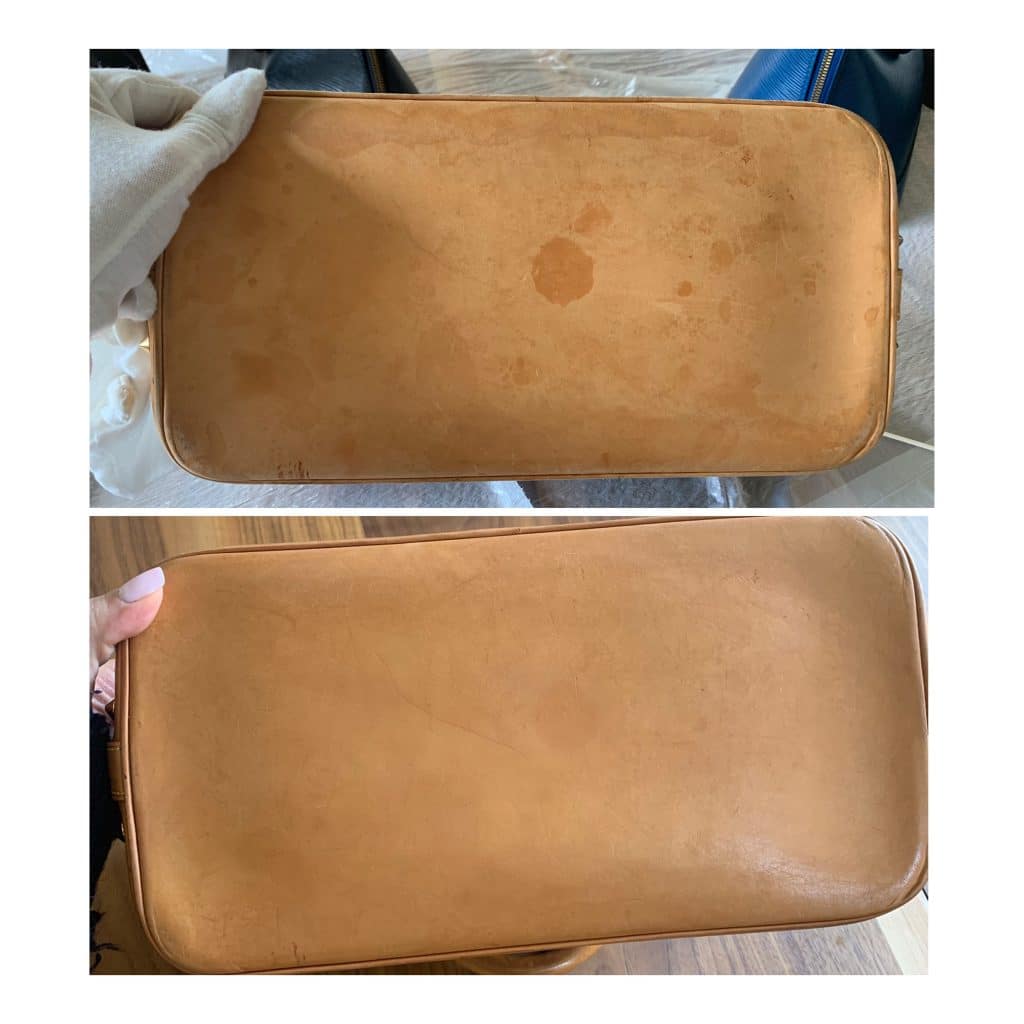 Tip 4: Separate them from each other
This is very important if you have multiple bags. Although the dye on patent leather bags is pretty strong, it can still leave a mark on nearby materials.
To avoid color diffusion, make sure no two bags touch each other. You can achieve this by either returning the bag to its original box or using shelf dividers- we love these ones! 
If you have a lot of purses, you can post a note on each box to help you remember which it is.
To avoid humidity-related issues, leave some silica gel in the box.
Tip 5: Cover all hardware
Zippers and buckles can leave imprints on your purse, especially if the bag is pressing against them during storage. To avoid this, you should cover all the non-leather hardware. Tissue paper is usually effective in situations like this.  If you have dirt and oil build up, try usuing a metal or brass polish cleaner. We use this one and it's INSANELY good, see my before and after photo below.
Tip 6: Try to avoid the hang
While hanging is a good way to store certain materials, leather bags respond differently to it. Leather is likely to stretch and distort when you hang it, and that is something you want to avoid.  Especially try to avoid hanging them behind your glass doors as the sunlight coming through them might frequently change and may burn them.
Tip 7: Treat your bag with conditioners
While leather is typically durable, you can extend its storage lifespan by treating it with conditioners. Just like on regular skin, these conditioners help prevent the leather from drying up and cracking.  Using their respective dust cover will help with their storing too.
We SWEAR by this condioner. See before and after photos here!
General handbag storage advice
Next up, some general bag care and organization for your other handbags, purses, and clutches:
Tip 8: Keep suedes out of the sunlight
Suede is another common handbag material that has an unfriendly relationship with sunlight. It will fade when exposed to too much sunlight. If you have suede purses, make sure that your purse storage location is away from the sunlight.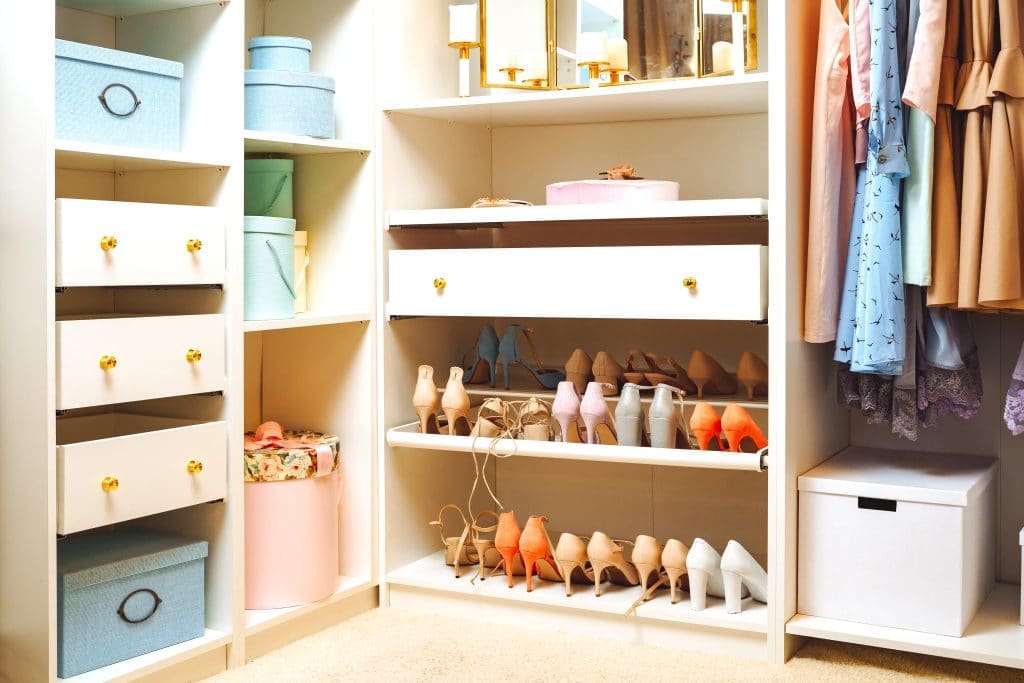 Tip 9: Keep frequently used purses at the front
Do you know that purse that's a great fit for your closet? The one you prefer to snatch on when you're running late? Don't store purses with your special-occasion designer items.
All your bag care could be for nothing if you disrupt them and expose them to dust and sunlight every few weeks.
Tip 10: (You Can) Hang your tote
Although it is not often recommended to hang purses, you can (in most cases) hang totes, actually a great way to store designer bags. Their long handles make them suited to hanging. Using proper tools for this storing technique will help!
Your options for purse storage include a closet rod, hanging hooks, and even shower curtain rings. You can use the back of your closet doors and utilize bubble wrap as well to use as purse pillows.
Tips for organizing handbags and purses
Once you've learned how to safely store your bags, the next thing to move on to is organizing them in a clean manner. Even if you have very spacious wardrobes, arranging your purses properly can still provide some aesthetic value for both totes and small bags.
For this section, we will be grouping the tips by handbag storage locations. You can always modify your room to keep your handbags and purses organized to save space. Many women and men take purse organization to a whole new level but not only using the purses own dust cover but also creating creative purse organization with shower curtain rings!
Check out the container store for awesome purse storage ideas too, where you can find loads of easy access home decor for your small spaces such as open trays, a peg board, magazine files, and more. Talk about apartment therapy!
Closets
The closet is the natural place most people want to keep their bags, but depending on the amount of area you have, you may have to be ingenious about how you store your items. Here are a couple of ideas to give you a perfect solution and reach apartment therapy (or closet heaven) to organize your purses in your closet.
Tip 11: Use shelf dividers to store handbags in your closet
You can turn your closet into a handbag or purse organizer by using shelf dividers. You'll have to stack the bags upright so that you conserve enough space to organize handbags. Try this option out.
Similar to using shelves or cubbies, you can create color-coded arrangements for your purses that allow you to easily find them, talk about a satisfying storage solution.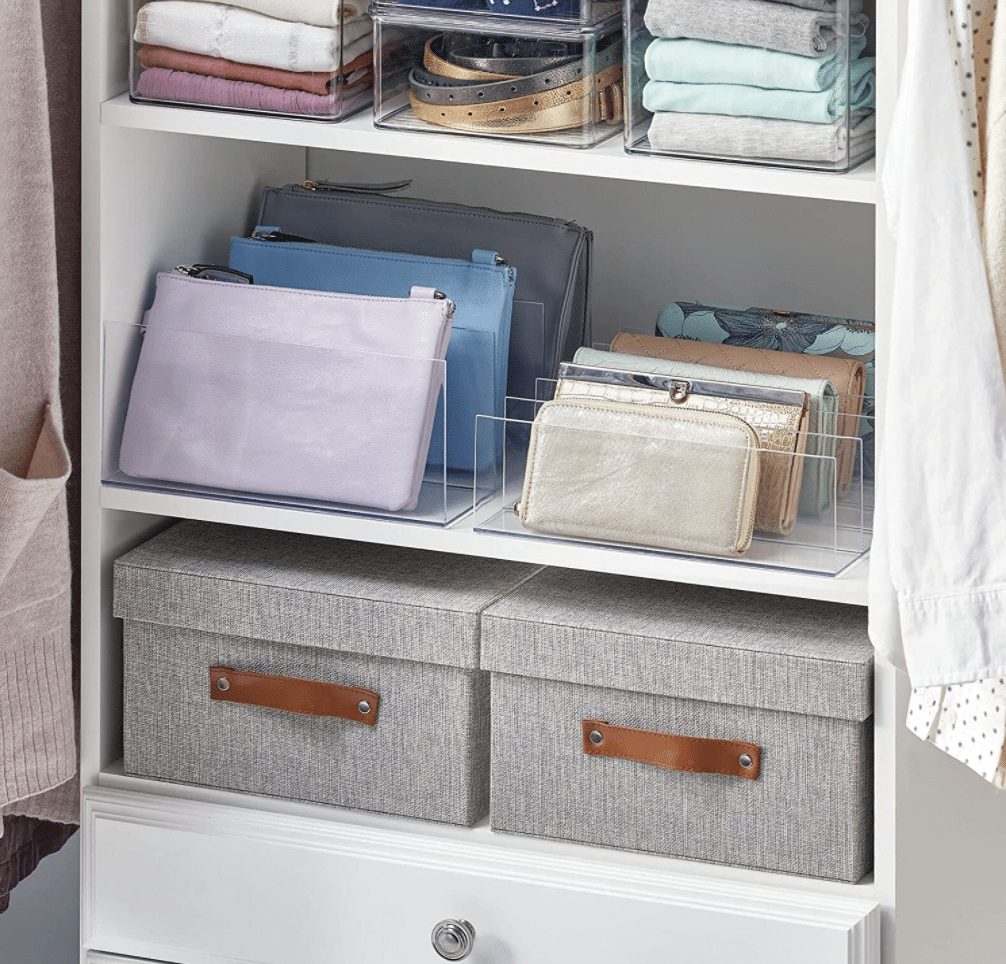 Tip 12: Use the overhead shelves – closets with high shelves
If you have a closet with a high shelf, then it might make more sense for you to put your handbag and purse there. Compared to clothes, we are less likely to rack through our purse collection when trying to put an outfit together. You can keep your special-purpose handbag or purse high up on your closet shelf, so you don't disturb them often.
Tip 13: Use closet baskets
Using closet baskets, you can optimize the sides of your closet to store the smaller items in your collection, i.e. purses and clutches.
Shelves
Shelves are the next best thing to a closet for purse organization. They consume less space and are optimal for displaying your bag collection. Honestly, one of the best ways for storing things in general.
Tip 14: Organize your purses on shelves or cubbies
Shelves and cubbies are an excellent way to organize purses. You can simply place them against the wall to save some space. You may need shelf dividers to be able to maximize space with your shelf properly.
With both shelves and cubbies, you can sort your handbags anyhow way you want. Depending on your aesthetic preferences, you can organize them by size, type or even color.
Tip 15: Use your bookshelf for purse storage
Bookshelves can be a great replacement for your closet. Since they are not specifically made for holding bags, you will need to get shelf dividers to be able to separate your purses.
You can even have both your favorite books and clutches on the same shelf.
Tip 16: Use Magazine holders to arrange small purses
Clutches and other small purses can easily be held inside magazines or file holders. You'll have to organize the clutches sideways such that the shorter side lies on the magazine file to maximize space.
The holders can sit on your shelf or within your closet, so you don't have to worry about using too much space.
Tip 17: Hooks under shelves
If your shelf spaces are large enough, you might be able to use the top frame to store items. To do that, you will have to get hooks that you can place under the shelves. With these hooks, storing purses and clutches is even easier.
Doors and Walls
If you've run out of floor space to keep your handbag collection, you can look to explore some vertical space. Doors and walls provide vertical storage options for handbag and purse organization.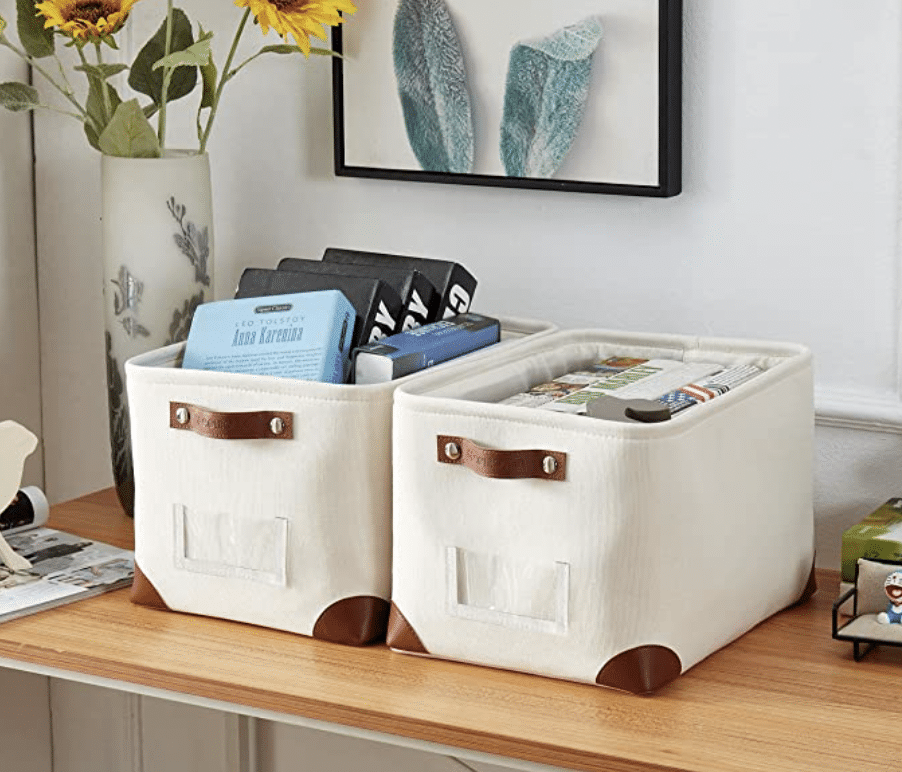 Tip 18: Make use of the back of your door
One underrated place you can use to organize purses is the back of your door. You, however, have to make sure that your door doesn't open completely to touch the wall. If it does, you may risk wearing your purses out due to friction with the walls.
Tip 19: Vertical handbag organizers
There are a number of vertical organizers that you can use for organizing your handbag and purse collection on your doors. They're an inexpensive solution and are really easy to set up.
 Tip 20: Door hooks
Door hooks are an interesting way to organize your bags if you don't want to use a vertical bag organizer. Although they are typically used for coats, you can easily use them to hang bags and purses.
Once you have the hooks set up, you can hang your bags on them. Check this option out!
Tip 21: Store your purse on the wall
If you are strung for closet space to keep your bags, you can make use of a wall in your room. If the bags are colorful, they can even add to the beauty of your room.
Wall hooks can come in handy when conserving space. You can hang some of your tote bags on these hooks. They come in different designs and sizes so finding one that's a good fit shouldn't be too hard.