Short answer: ITALIST is legit, see personal shopping experience below!
Here's Why Italist is Legit:
PROS
Extensive Selection: Italist offers a vast range of luxury fashion items, including clothing, handbags, and footwear, featuring well-known designer brands.
Competitive Prices: Despite offering authentic designer products, Italist's prices are often lower than traditional retail prices, making luxury fashion more accessible.
Global Shipping: Italist ships worldwide, providing an opportunity to shop for luxury fashion from anywhere in the world.
Authenticity Guarantee: Italist guarantees the authenticity of all products sold on their platform, providing peace of mind to shoppers.
Effortless User Experience: Navigating the website is intuitive, with user-friendly filters and categories that streamline the shopping process.
CONS
Returns and Refunds: Italist's return and refund policy states, "Once the return is processed and verified, you will receive a refund for the price of the order, excluding the total of shipping costs, customs duties estimated at the time the refund is paid, processing fees determined by Italist and/or courier charges."
Personal Shopping Experience on ITALIST
You might be wondering if Italist is authentic? I asked the same thing, so I wanted to test it out. I recently purchased a Valentino Loco bag for $1200 + tax (!!), currently retailed at $2890 + tax. I saved roughly $1,664.55. This is not a drill, screenshot of my account below.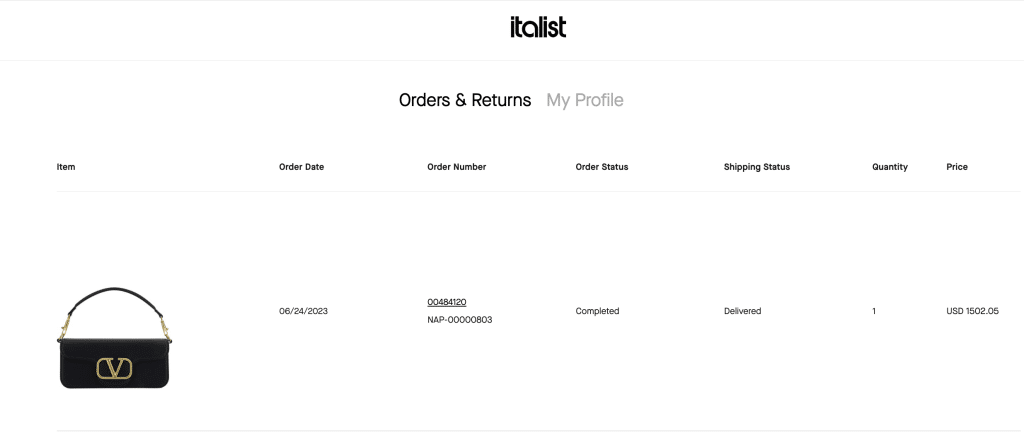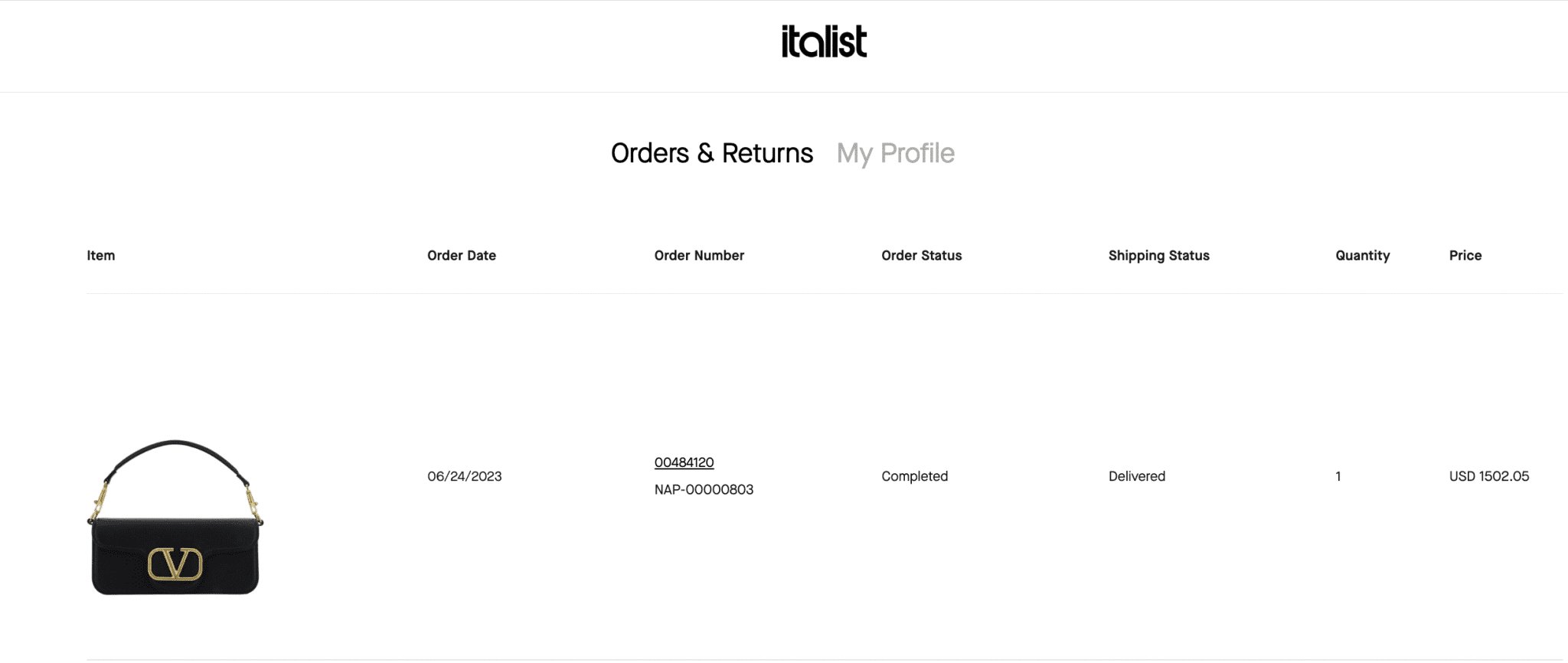 The bag I received from ITALIST less than a week after I ordered: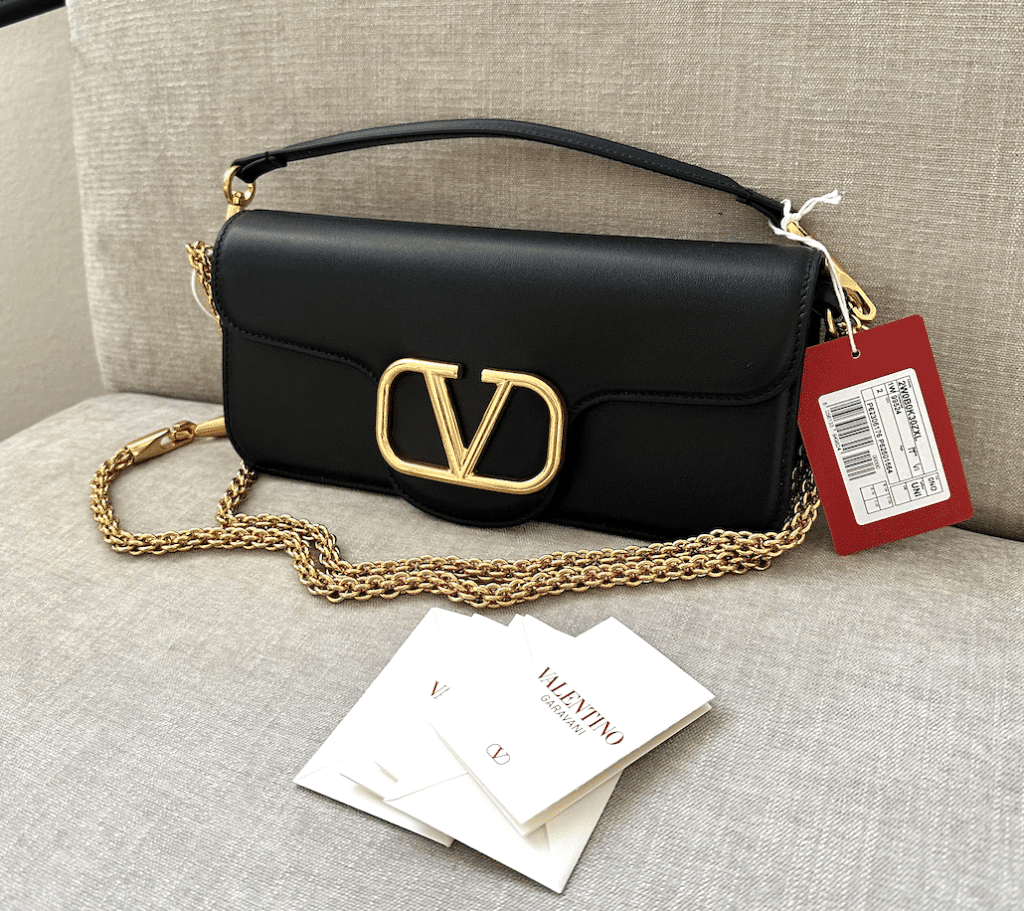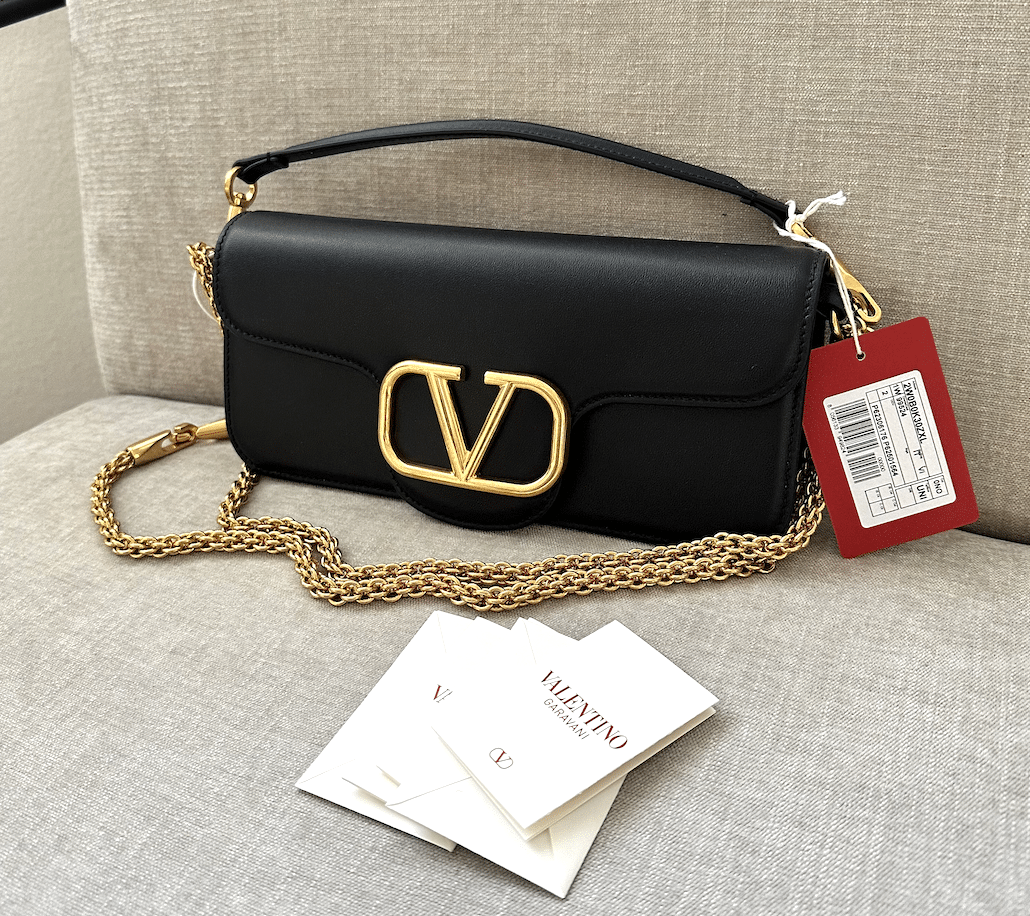 Q&A with ITALIST CEO, Diego Abba.
Q: What is Italist, and what makes it unique compared to other luxury retailers?
A: italist offers a curated selection of over 1,400 luxury brands and 250,000 items at significant savings—i.e. the Italian price. Italian retail prices for luxury apparel and accessories are up to 40% lower than the rest of the world, due to a mix of factors including the structure of the import and distribution of luxury goods, sales and consumption taxes, import duties, and regional price positioning set by each brand.
We can offer these products because we partner with 250 of Italy's most-respected independent luxury fashion boutiques, add their in-store inventory to our site, and make it available to purchase anywhere in the world—with global express shipping free on every order.
Most orders arrive in two to four business days worldwide, which is a huge selling point on top of advantageous pricing and a huge catalog. "
Check out an unbelievable price comparison for new-in Bottega Veneta below.
Bottega Veneta Padded Cassette Crossbody Bag on bottegaveneta.com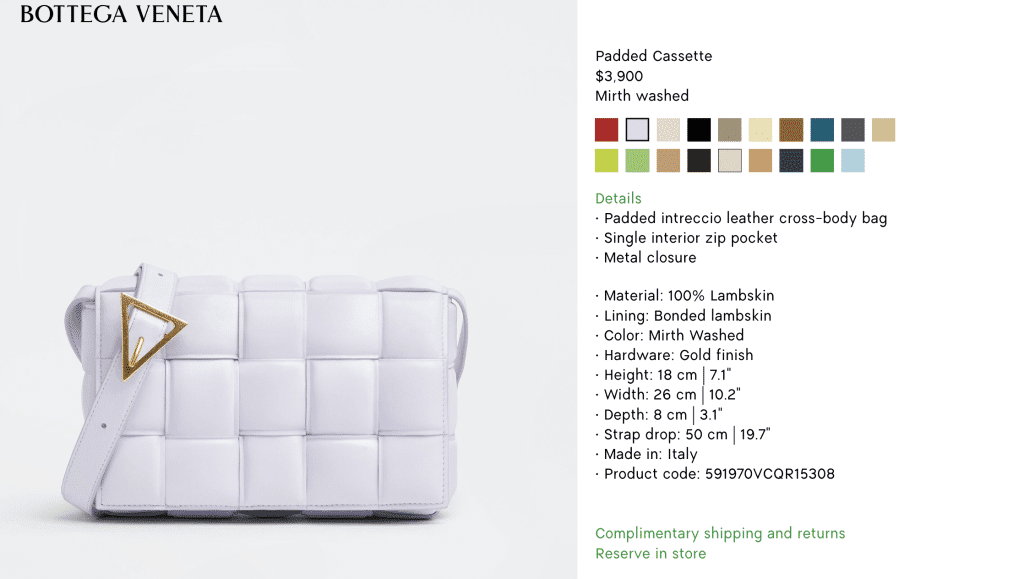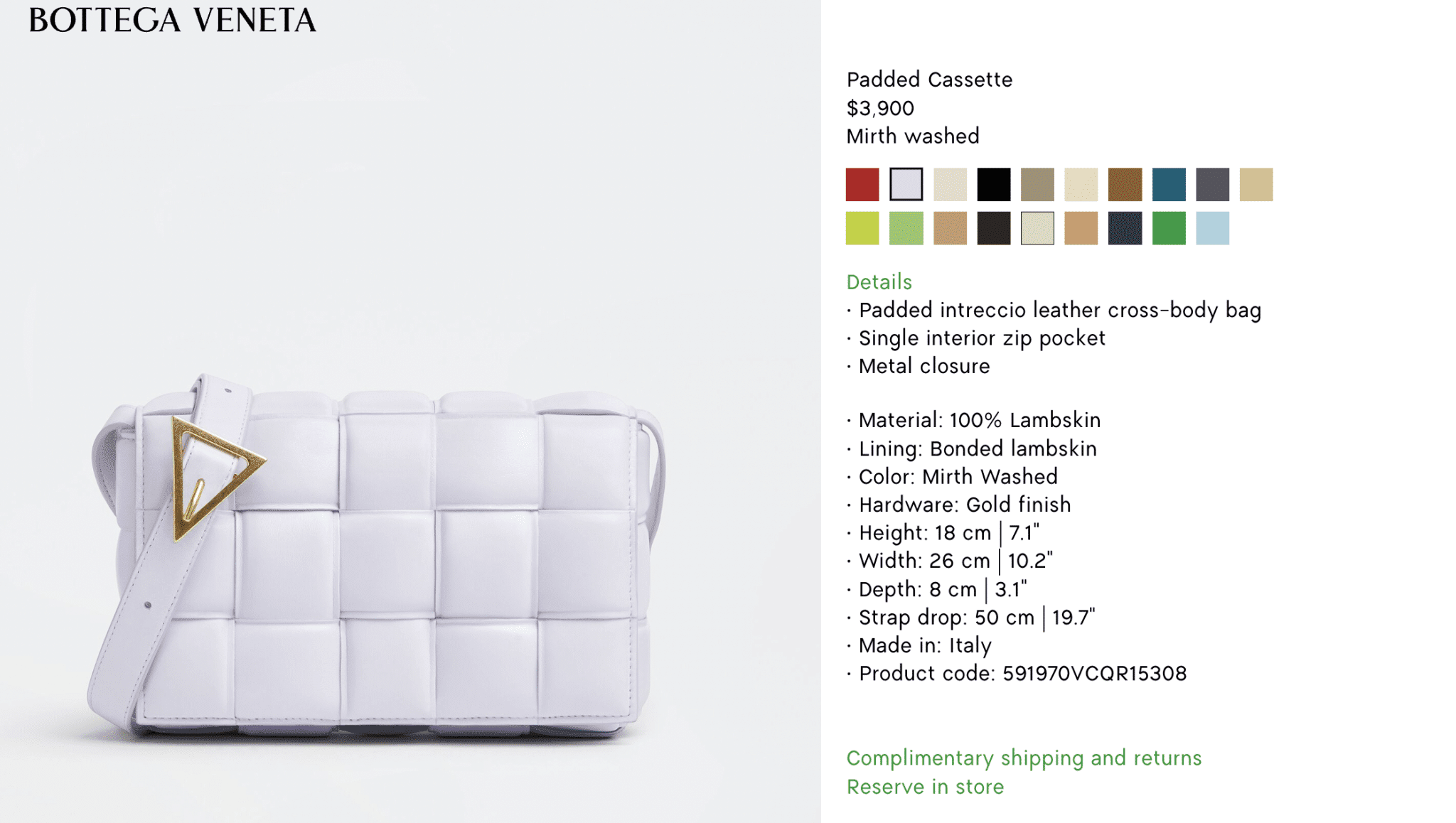 Bottega Veneta Padded Cassette Crossbody Bag on italist.com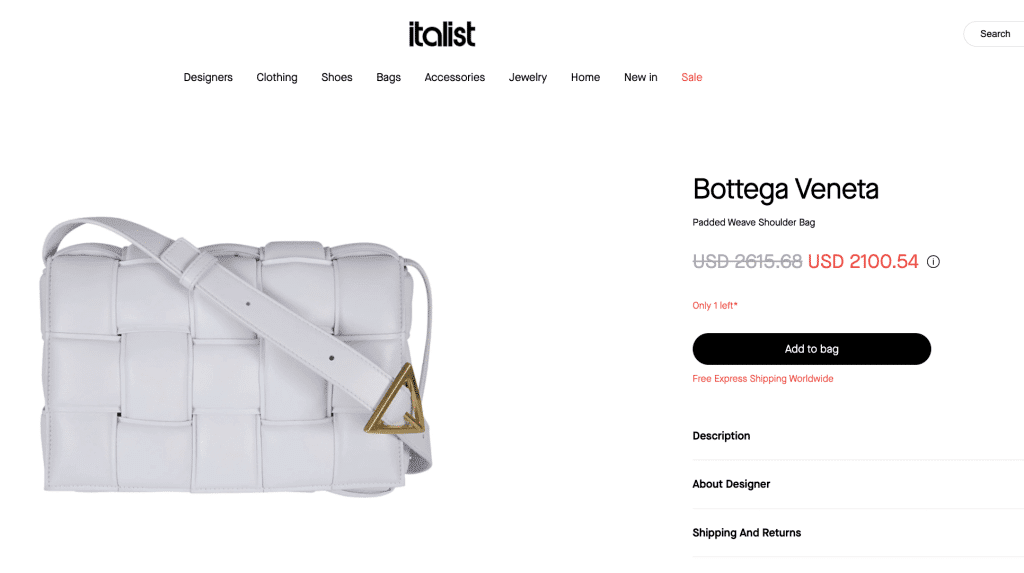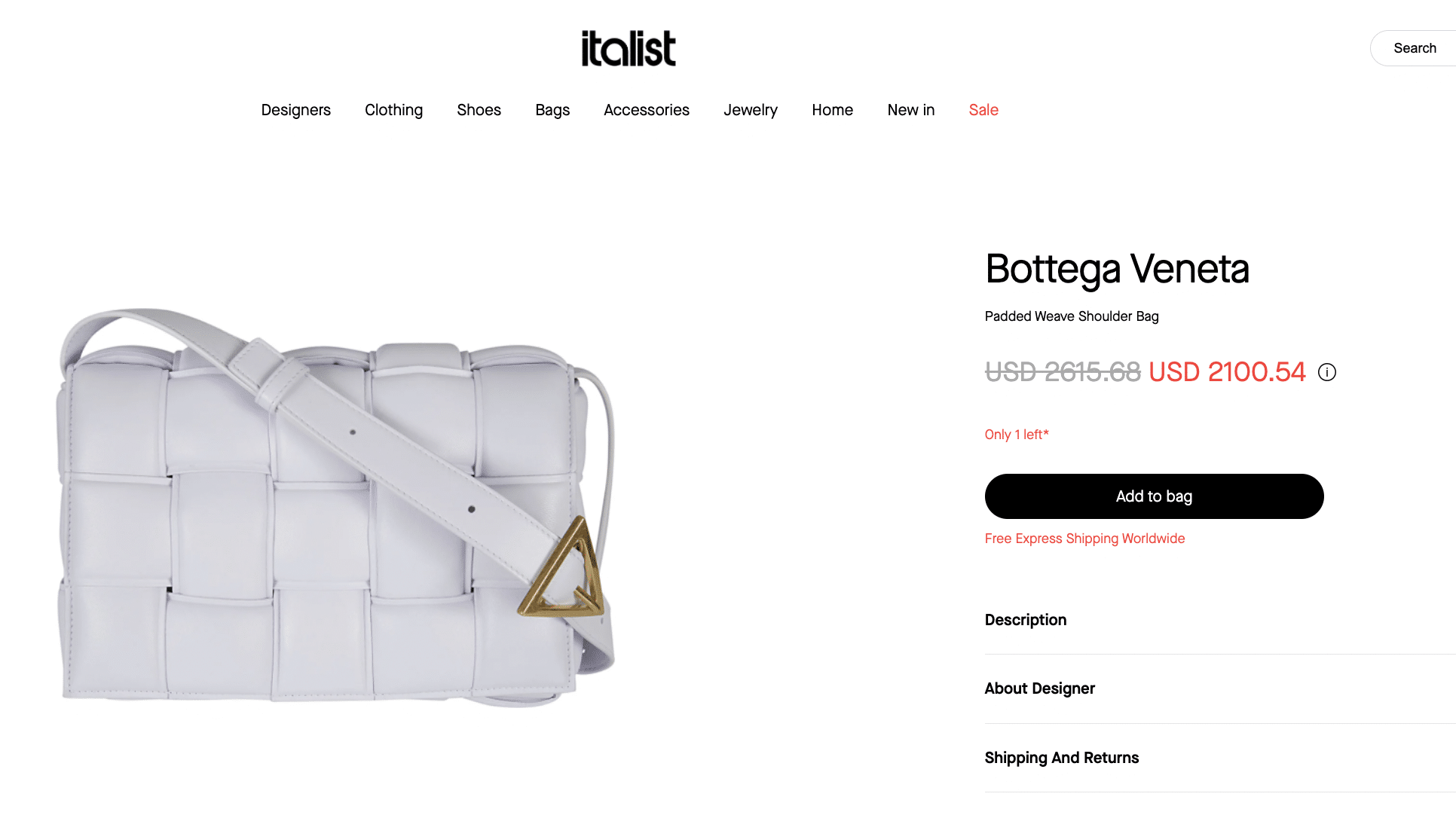 Q: In your About Us section, you mention the birth of Italist coming from Silicon Valley. How does Italist marry the word of luxury fashion and tech?
A: I've really enjoyed being at the helm of italist, because it bridges two worlds that are completely apart and have difficulties understanding each other. Silicon Valley has great difficulties in comprehending and investing in luxury and fashion and the fashion industry is still far from fully embracing technology.
We are bridging these two worlds by creating an innovative value proposition for the consumer in terms of product selection, price and convenience of ordering. This is confirmed by the customers who regularly come back to buy on italist.com over and over.
Q: Italist's products include not only Italian designers but also international brands from France, Spain, and more. Can Italist consumers expect to see more brands added to this list?
A: Yes! We are always adding new products, new brands, and often have niche labels that other stores are slower to get into their inventory. Always check italist first—for selection and the best pricing!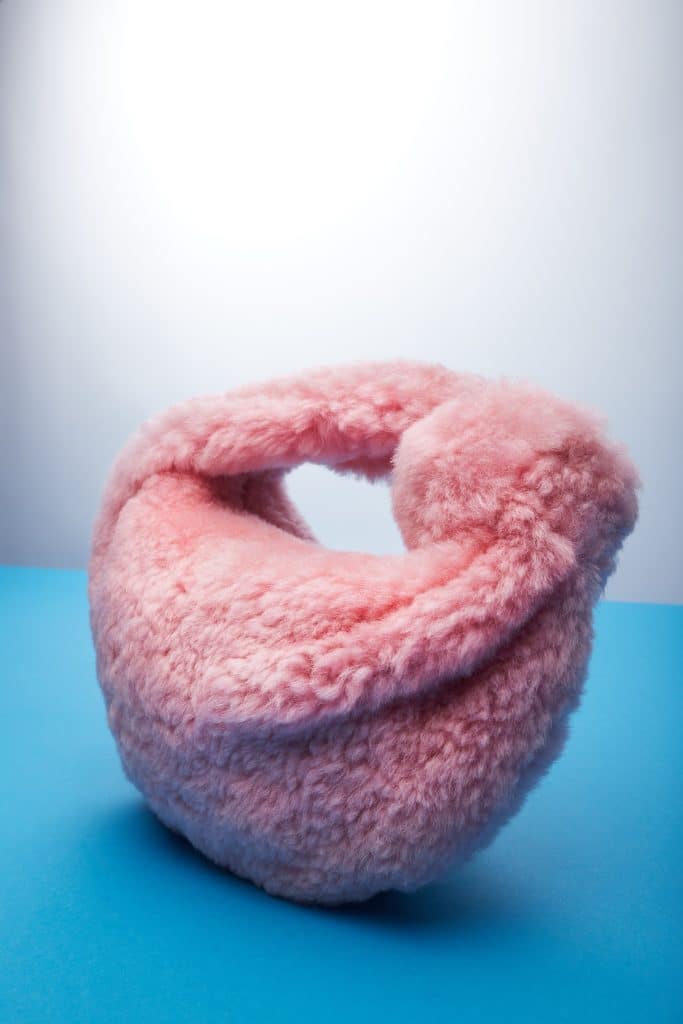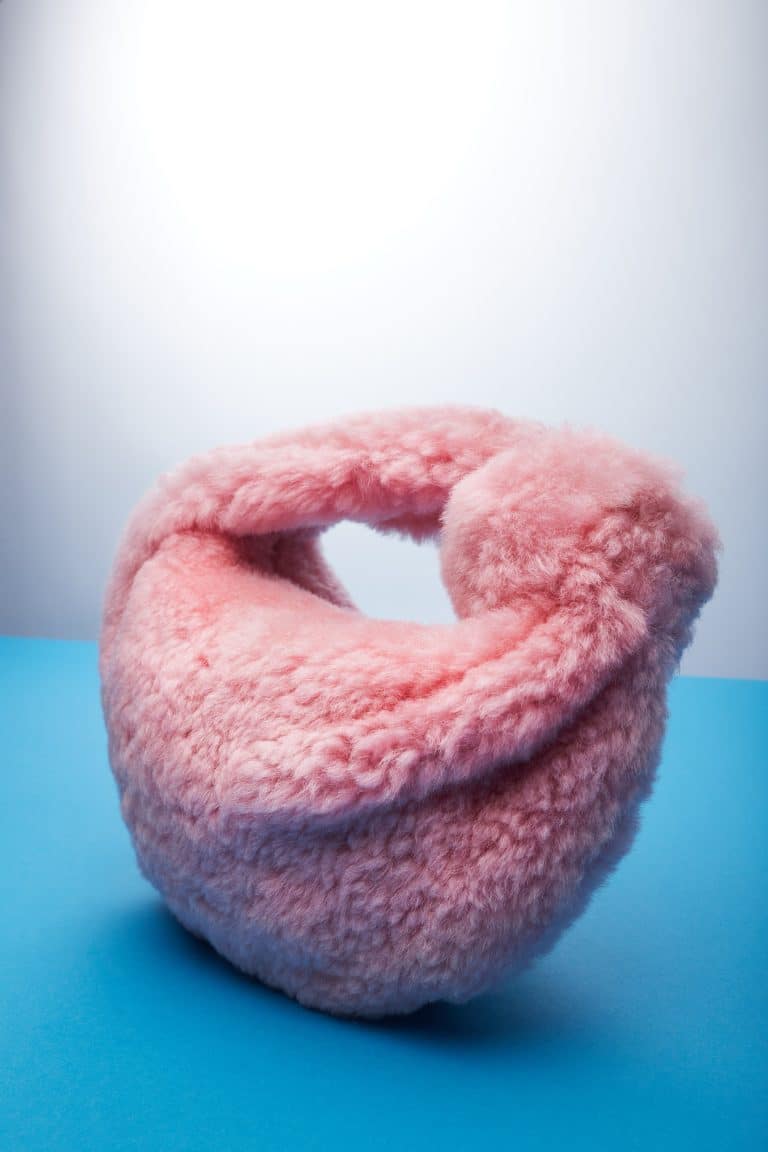 Q: With the rise of online retailers, finding a great and safe luxury retailer online is becoming more challenging. What is the process of accepting certain Italian boutiques over others (to be featured on your site)?
A: We've chosen the best independent luxury fashion boutiques and brands in Italy to be a part of the italist platform. Both the italist team and the buyers at our partner boutiques curate the items that appear online, which are simultaneously available in retail locations across Italy.
We have a comprehensive program in place to vet, rigorously train (plus re-train multiple times a year), and continuously monitor our boutique partners. In addition to running frequent checks to ensure that our partners haven't had any issues with authenticity or quality, we regularly inspect our boutiques' contracts with designer labels to verify that the retailers remain in good standing with manufacturers according to our contract requirements.
Additionally, italist performs frequent stealth orders, acting as regular online shoppers, to confirm that boutiques adhere to our strict quality standards.
Q: Million-dollar question, how does Italist sell new season products at a discount and still make a profit for all parties involved?
A: Because we sell at the Italian price, our prices are lower than the suggested retail prices in other markets to begin with, even before seasonal promotions and discounting.
We leverage technology to maximize efficiency throughout the whole process in order to generate a profit for our partners and ourselves but more importantly, for our shoppers realize a considerable savings.
Q: How does Italist work to improve the online shopping experience with online shopping on the rise?
A: Shopping online means better transparency and accountability. As a company, you will receive customers' feedback according to what you have to offer. The feedback is direct and mostly public through online reviews. Compared to 20 years ago, this is a better and safer environment for all involved.
As much as the barriers to entering the e-commerce market have been lowered, the competition has also increased. Investing in the practical back-end solutions for an e-commerce business is as important as having a sleek digital presence, because while the latter may help you seem legitimate up front, if you can't follow through on your promises, then customers will quickly catch on and lose interest in shopping on your site, because it isn't easy or intuitive or convenient.
We have worked very hard since inception in 2014 to ensure that we can deliver on what we promise—i.e. that our innovative business model functions as it should between our boutique partners in Italy and our shoppers all over the world.
I am also a big believer in engaging in a two-way conversation with our customers through storytelling that is compelling and able to incorporate reactions, ideas and feed-back. By the way, I do read every single feedback from our customers.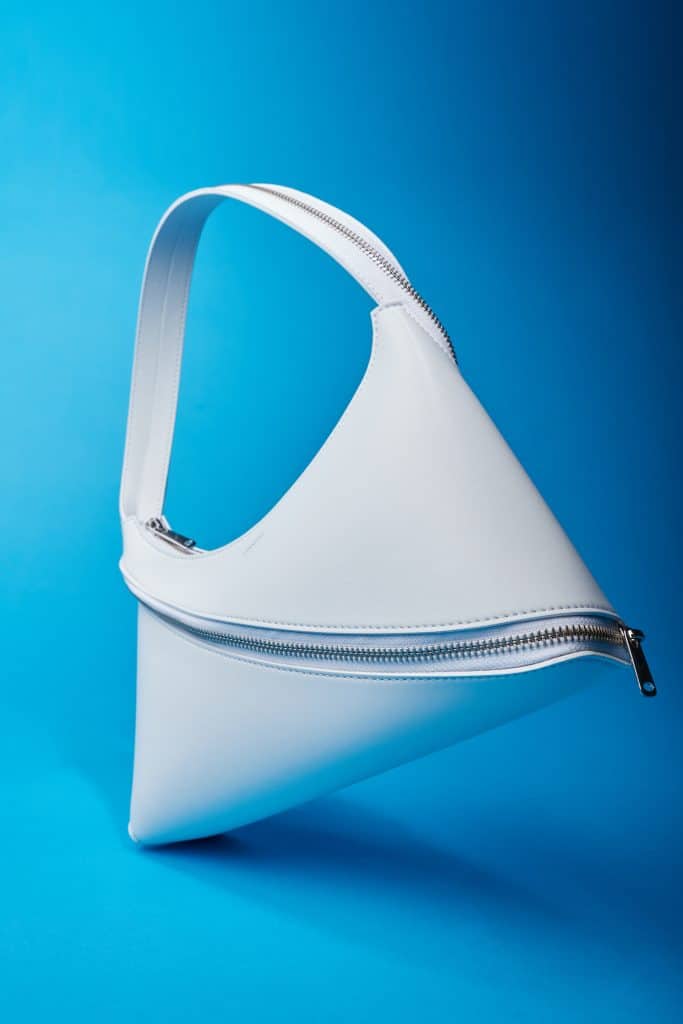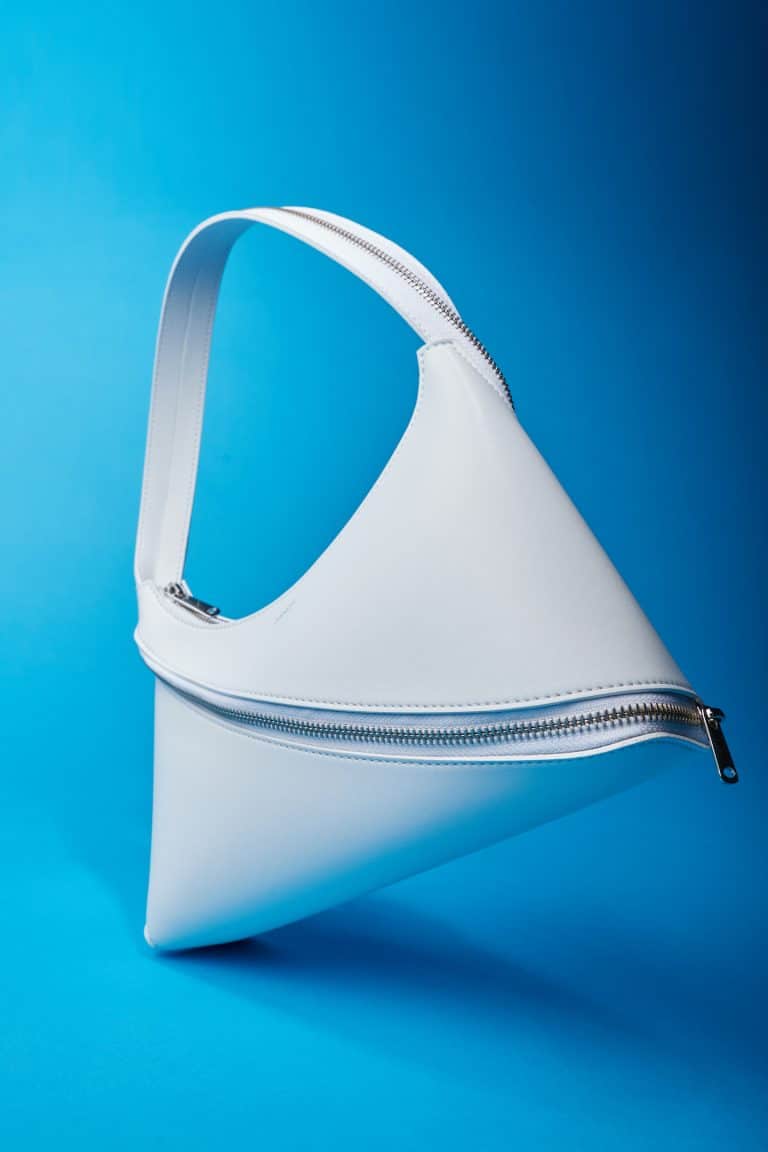 Q: We live in the peak influencer age. Does Italist offer an affiliate program for those looking to add them to their product portfolio?
A: Absolutely! We work with most major affiliate publishers, in addition to running our own affiliate program for ambassadors and influencers. Through Refersion, we can offer easy deep-linking and attribution for referred sales and our affiliates make 20% commission on any sales they refer! You can sign up here.
Q: Consumers are buying more handbags on resale now; how do retailers compete with only new season products? Will Italist ever include resale items in the future?
A: The internet has made it much easier to be a smart luxury shopper, to search for "impossible to find items" at a good value, and to buy, for example from Italist. In the past, consumers had limited options, so they shopped more often based on convenience (physical location) and service. Today, it is much easier to find the product you want and have it delivered to your home or office in just a few days.
At this time we have no plans to enter the resale market since our value proposition is based on our curated, current, and wide selection, and our great pricing that often is even competitive with the resale market.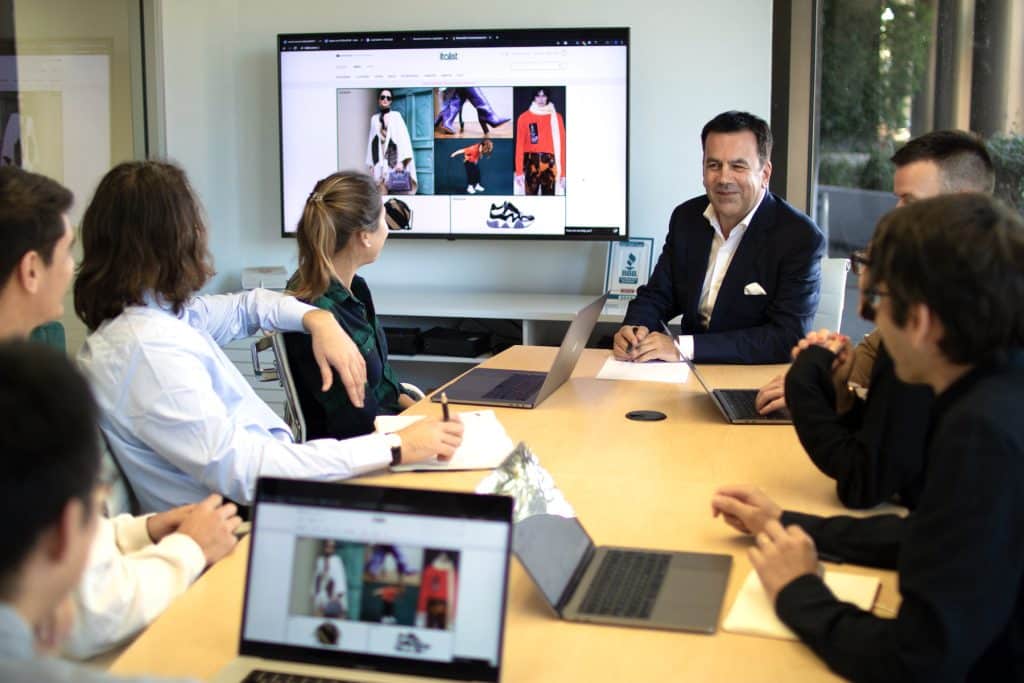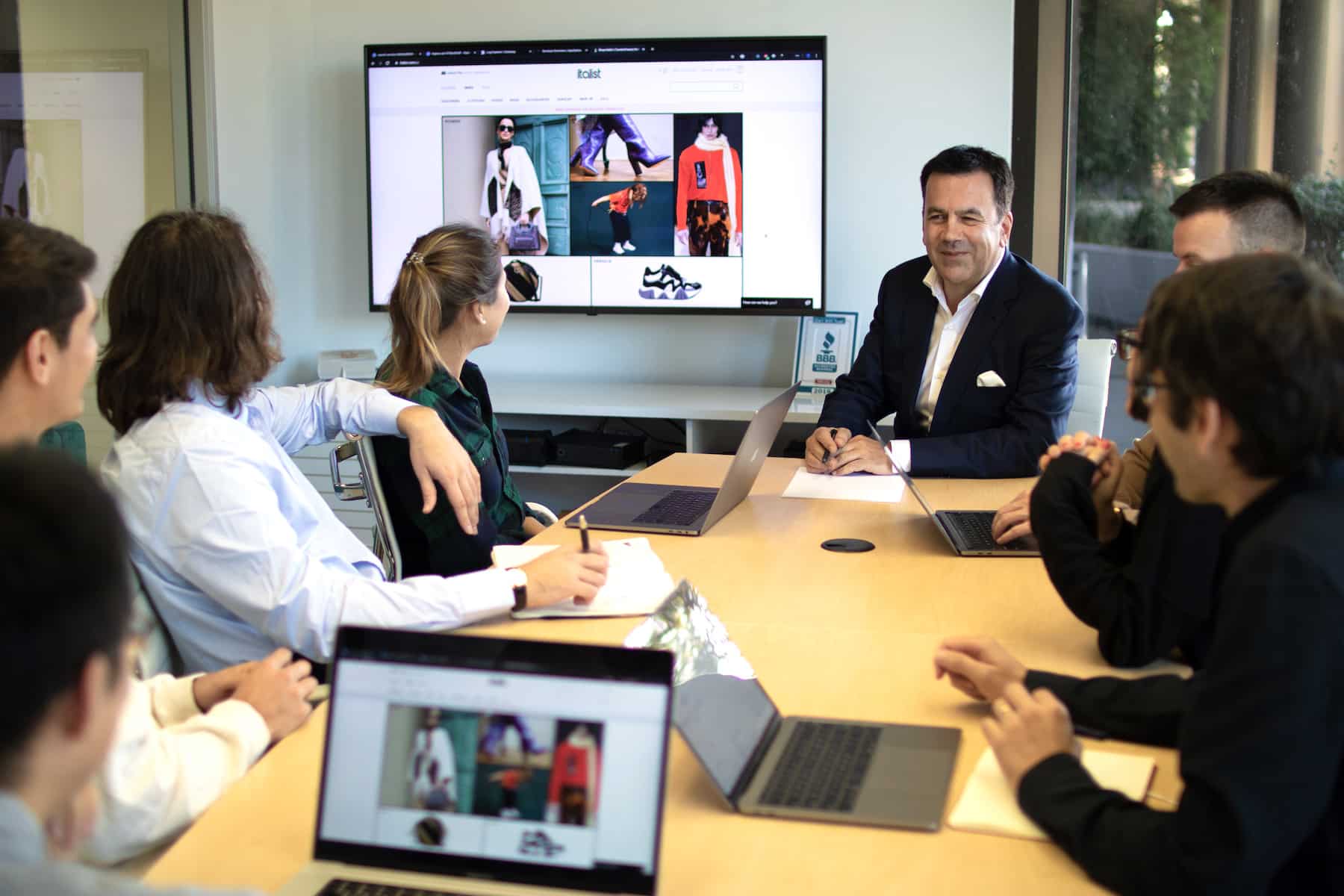 Q: What's the next big step for Italist?
A: We are constantly working to improve our customer experience, enhancing the look and feel of our site and the navigation and menus. We're now working to fully localize our site in several markets; in fact we sell in more than 100 countries but the site is in English.
Japan is live now in both versions (English and Japanese) also with a Japanese-speaking customer service. Korea, China, and the Middle East will be next.
We also have a new native italist app for more seamless shopping, browsing, and customer service. It's available for download for iOS and Android.