Feature image: Photographed by Patrick Lichfield, Vogue, November 1, 1969
Few people have had as much of an impact on the world of fashion as Jane Birkin. Jane Birkin has left an everlasting influence on the fashion world with her stunning good looks, effortless sense of style, and magnetic screen presence. Her influence did not end with her acting and singing successes; she also inspired the design of the Birkin bag, which has become a global icon.
Who is Jane Birkin?
Jane Birkin was born to actress Judy Campbell and Royal Navy officer David Birkin on December 14, 1946, in London, England. Growing up in a family that valued the arts and literature profoundly impacted her development as an artist. Birkin sadly passed on July 16, 2023 at the age of 76.
What did Jane Birkin do?
In the 1960s, the British born actress, Jane Birkin starred in a number of successful British films, which launched her career. In the late 1960s and early 1970s, however, she worked with French filmmaker Serge Gainsbourg, which led to her meteoric rise to prominence. Their controversial and thought-provoking single "Je t'aime… moi non plus" catapulted Birkin to the forefront of the music world.
"Because she embodied freedom, because she sang the most beautiful words in our language, Jane Birkin was a French icon," President Emmanuel Macron tweeted after news of her death broke.
Jane Birkin's Illustrious Career
After starting off in supporting roles, Jane Birkin finally found success in Michelangelo Antonioni's "Blow-Up" (1966). The film's popularity gave her exposure to a new public, and she soon found herself in high demand as an actress. Her ability to both be vulnerable and charismatic was what ultimately won over viewers and directors.
Jane Birkin's collaborations with French singer-songwriter Serge Gainsbourg were legendary. Their paths met in the late 1960s, and the two made music history together. Their public romance and the sensual and divisive song "Je t'aime… moi non plus" made them one of the most fascinating and discussed couples of their time.
After working with french singer Serge Gainsbourg, Jane Birkin embarked on a successful solo music career and singer Jane Birkin. Several CDs were released that showcased her beautiful, expressive voice and demonstrated her ability to tell stories through song. Her music frequently conveyed a sense of openness and depth of feeling that connected with listeners all across the world.
What was Jane Birkins personal style?
Jane Birkin's bohemian-chic and carefree sense of style has had a significant impact on the industry. Birkin wore classic pieces from time to time, helping to establish a style that is still going strong now. Generations of women have been influenced by her distinctive flared jeans, flowy outfits and her straw basket.
"Mom represents a very Parisian style, which is funny because she's not," her daughter Lou Doillon told CNN in 2017.
What was Jane Birkin's influence on the birth of the Birkin bag?
The history of the Birkin handbag has become legendary. Jane Mallory Birkin and Jean-Louis Dumas, CEO of the french luxury house Hermes, were sitting next to each other on a journey from Paris to London in 1981. Birkin complained about her inability to find roomy and chic luggage, while in flight. Dumas worked with her to create a custom handbag that was inspired by her requirements.
After working on the Birkin bag with Hermès, Jane Birkin became a passionate advocate for the brand. She carried the classic handbag frequently, always looking chic and put together. Her outspoken support of the handbag increased its already high demand and solidified its position as a must-have accessory.
Since its introduction in the 1980s, the Birkin bag has come to represent the pinnacle of opulence and exclusivity. The bag's classic style and expert craftsmanship have made it a hit with A-listers, style icons, and collectors all over the world.
The Birkin bag has proven to be a good investment in addition to being a trendy accessory. The bag's worth has risen consistently over the years, making it a hot commodity among investors and moreso, with handbag connoisseurs.
Our Pick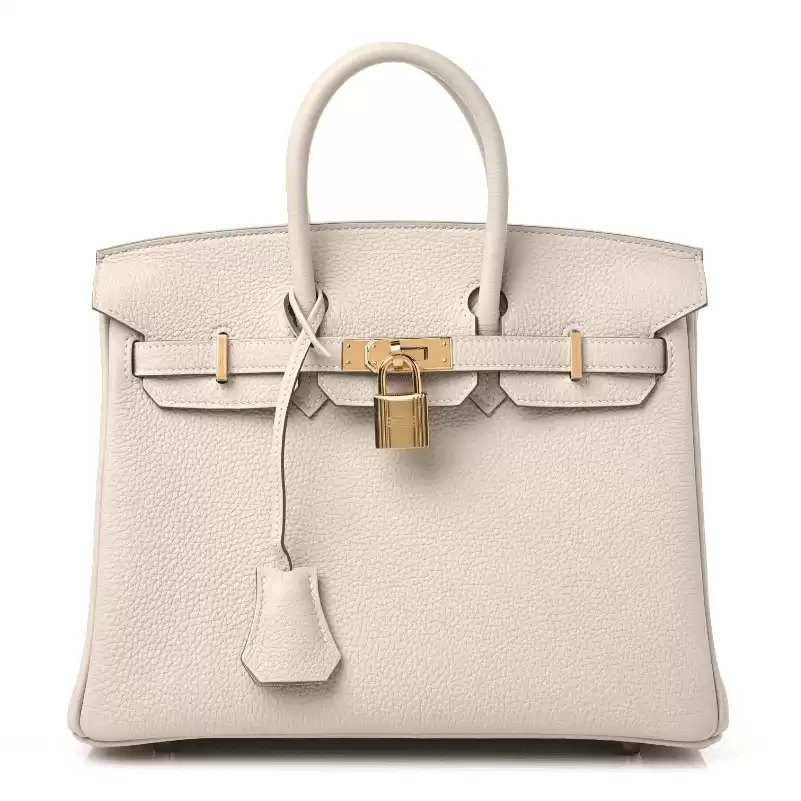 Hermes Birkin 25
The Hermes Birkin 25 is a small and elegant handbag made of various leathers and colors. The Birkin features a flap closure with a turn-lock mechanism and two top handles.
Shop Bags
Philanthropy and the Birkin:
Jane Birkin has utilized her fame for more than just influencing the fashion industry. Concerning the ethical treatment of crocodiles used in the creation of Birkin bags, she has spoken out in recent years. As a result of her advocacy, Hermès revised the Birkin's production process to decrease the usage of exotic skins and tighten up on animal welfare regulations.
It is impossible to undervalue Jane Birkin's influence in the world of fashion and her role as the muse behind the now-iconic Birkin bag. Her natural grace, skill, and enduring beauty have long served as a source of creativity for the fashion industry. Jane Birkin's legacy is forever woven into the fabric of film history and the history of fashion thanks to the Hermès Birkin bag and her successful career as an actress and singer.