A brief overview of the Louis Vuitton Keepall 55 History
The Louis Vuitton Keepall 55, a classic and stylish piece of travel all luggage, was first designed by Georges Vuitton in 1930. Coming from the son of Louis Vuitton himself, Georges wanted to create a bag that was not only stylish but also durable enough for long trips.
Featured image via Instagram by @maevadat
The Keepall 55 was originally made to be carried on top of a car, but its size and quality easily made it a must-have for foreign travel too. Made with the best materials, plenty of room, and Louis Vuitton's signature leather, the Keepall 55 is known for being durable and tough with its reinforced corners, strong hardware, and leather handles.
Today, the Keepall 55 remains one of Louis Vuitton's best-selling items, and it's the perfect journey companion for anyone who wants to make a statement on their next trip and wants to look good while doing it. It has become an icon, so popular (much like the Louis Vuitton Neverfull) that everyone from Jackie Kennedy Onassis to Kanye West has been seen carrying it since the 1970s. In fact, it has been the basis for many other Louis Vuitton designs, such as the Speedy.
Our Pick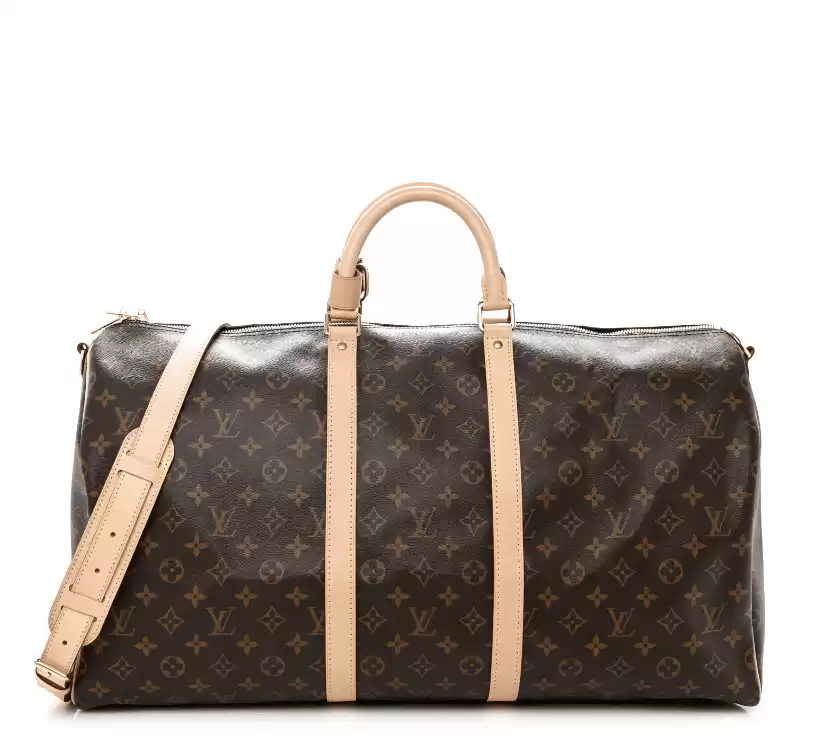 Louis Vuitton Keepall
The Louis Vuitton Keepall bag is a timeless classic, originally designed in the 1930s as a travel bag. It is crafted from the brand's signature Monogram canvas and features a spacious interior.
Shop Bags
Details on the Louis Vuitton Keepall 55 Design
The Louis Vuitton Keepall 55 is a testament to the French fashion house's commitment to modern travel. Its design is a perfect travel bag that balances supreme style and functionality. Made with monogrammed leather, this backpack is as lightweight as it is stylish. The cowhide leather border, double handles, and double zipper make the bag durable and add a touch of class. And with a padlock and key, you can rest assured that your belongings are safe and secure.
The Keepall 55's interior is spacious enough to fit all your essentials, whether you're heading off for a weekend trip or a short work trip to Paris. Its wide opening makes packing a breeze, while the double zipper and the flat pocket keeps everything in order. This bag is a must-have for frequent travelers who want to make a statement. The Louis Vuitton Keepall 55 is a classic piece that will never go out of style and will add a touch of luxury to every modern travel experience.
Quality and Durability of the Louis Vuitton Keepall
The Louis Vuitton Keepall is known for being high-quality and long-lasting, and it is one of the most famous travel bags in the fashion world. The bag is made with the best materials and careful attention to every detail. The product is a bag that is both luxurious and useful.
The Keepall's exterior is made of Louis Vuitton's signature Monogram Canvas, which is both water-resistant and scratch-proof. This means the bag will stay in great shape for years. The inside of the bag is made of soft, strong canvas, which protects the things inside even more. The handles of the Keepall are made of natural cowhide leather, which is stylish but also strong and long-lasting. The high-quality leather wears nicely over time, giving the bag its own patina.
The Louis Vuitton Keepall is a classic piece showing the brand's high-end style and sturdiness. The bag's metal parts are made of high-quality brass, which is strong and rust-resistant. This means that the bag will last for generations and generations. It is a must-have for any stylish tourist who cares about both style and function because of how well it is made and how much attention to detail it has.
Sizes and Capacity of the Louis Vuitton Keepall 55
The Louis Vuitton Keepall 55 is one of the most sought-after pieces of luggage and is loved by travelers worldwide. This iconic piece from the Louis Vuitton brand is perfect for both short business trips and weekend getaways, with dimensions of 21.5 inches in length, 12 inches in height, and 9 inches in width.
Made of strong canvas material with accents of exquisite vachetta leather trim and handles, the Keepall 55 exudes elegance and professional style and is part of the range of stunning Louis Vuitton bags, luggage and accessories. The LV Keepall in EPI leather is a great option for leather lovers. The Louis Vuitton product zoom reveals that the bag's main compartment is spacious enough to hold clothes, shoes, toiletries, and other essentials. Additionally, the double zipper opening provides easy and secure access to the entirety of the bag's contents. The Keepall Bandoulière product also includes a removable and exchangeable shoulder strap, providing the utmost comfort while carrying the luggage.
With a capacity of approximately 48 liters, the bag can easily accommodate many items without worrying about overpacking. The Keepall 55 also includes an interior side pocket, adding convenient space to store smaller items like a passport or phone. Available in various colors and styles, the Louis Vuitton Keepall 55 is a must-have for anyone who prioritizes both style and function in a travel accessory.
Classic Material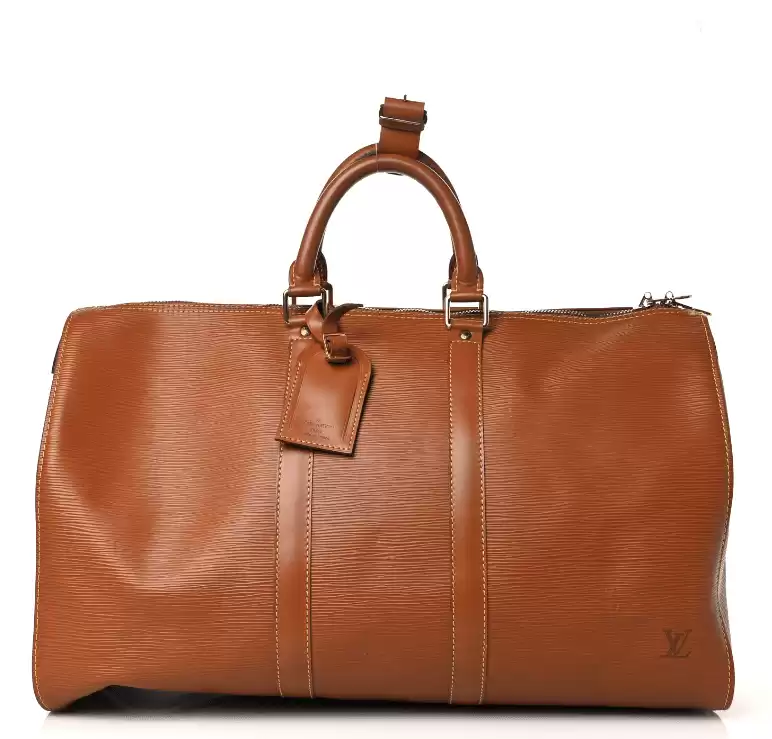 Is the Louis Vuitton Keepall 55 a Carry-on Size?
Many people who travel a lot and love fashion love this bag because of its strong material, stylish design, lightweight shape, and lots of room. But one question that comes up often is whether or not it fits in a carry-on. The answer depends on what size restrictions your flight has for carry-on bags. Most airlines let you bring carry-on bags that are 22 by 14 by 9 inches, which is the usual size for US domestic travel.
The Louis Vuitton Keepall 55 is 21.6 by 12.2 by 9.4 inches, smaller than the usual size for a carry-on bag. But many people have said that they were able to use the Keepall 55 as a carry-on bag on bigger international airlines like Emirates or British Airways with no problems. Before you fly, you should always check with your airline to ensure your carry-on bag is the right size for them. It's also important to consider how much the bag weighs since most flights have weight limits in addition to size limits.
Louis Vuitton Keepall 55 Price Point
The Louis Vuitton Keepall 55 is one of those expensive travel accessories that stand out. It is a favorite of both fashionistas and jet-setters because it is small and has a stylish look. When compared to other high-end designer names, the price of this stylish piece of luggage isn't too bad.
With a price of about $2200, the Louis Vuitton Keepall 55 is a great mix of quality and affordability. Its simple design and classic Louis Vuitton logo make it a great choice for people who like to travel all luggage and look sophisticated and glamorous without trying too hard. So, whether you travel a lot or just like nice things, the Louis Vuitton Keepall 55 is a great investment piece that offers high-end luxury at a reasonable price.
However, if you want to get a great deal, buying the LV keepall 55 on the resale market will almost always cost less than the boutique!
Is the Louis Vuitton Keepall 55 worth buying?
The answer to the question of whether or not the Louis Vuitton Keepall 55 is worth getting is a personal one. Ultimately, it comes down to your style, preferences, and money. But some things about this bag make it a good purchase for many people.
First and foremost, the Keepall 55 is made of long-lasting, high-quality materials. The canvas is strong and won't get wet, and the leather trim gives it a touch of class. The LV Keepall Bandoulière also comes with a shoulder strap that you can take off if you want. The bag is big enough to hold all of your travel necessities, making it a great choice for short trips or weekend trips.
The Keepall 55 is also worth buying because it has a basic style that will never go out of style. Since the 1930s, Louis Vuitton has been making this bag, which is just as famous now as it was then. If you buy a Keepall 55, you'll have a classic piece you'll use and love for a long time.
Some people might not want to buy the bag because of how much it costs. But if you're ready to pay for it, the Keepall 55 is a great choice. It's a statement piece that will make any outfit look better and make you feel like a million bucks. It's also a practical purchase that will serve you well for many years.