The Louis Vuitton Montaigne Handbag
A chic and luxurious purse that has been a classic item for several fashion seasons. With many colors to choose from, such as the popular Noir, Rose Ballerine, and the classic LV monogram, it's no wonder the Montaigne is a favorite among people who value style, usability, and quality. While the Louis Vuitton Montaigne handbag comes with a higher price tag, it is a great investment piece that will last for years. Keep an eye out for this beautiful bag on the re-sale market, where you can snag it for a great deal.
Read about the best Louis Vuitton crossbody bags on the market now.
Find Louis Vuitton Montaigne Options At Discounted Prices Below:
Our Pick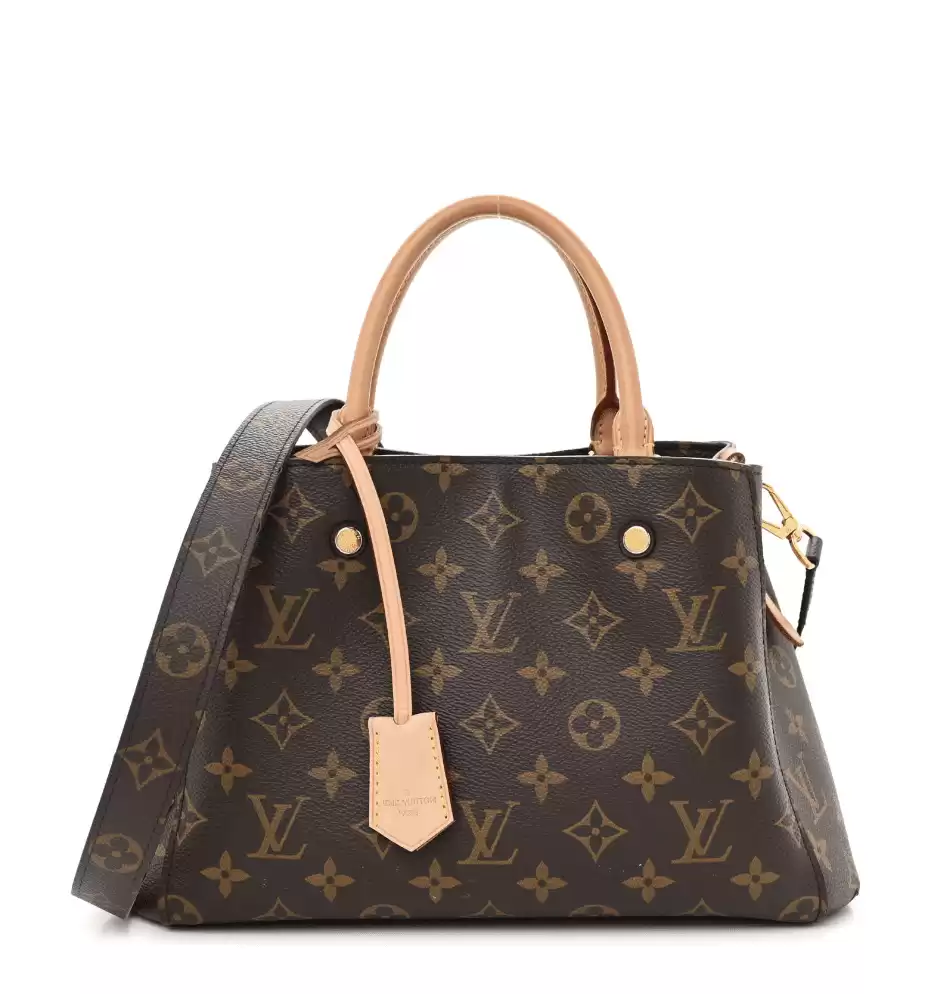 Louis Vuitton Montaigne
The Louis Vuitton Montaigne bag is a refined and versatile luxury tote, crafted from premium leather and adorned with the iconic LV monogram, offering a spacious interior, functional compartments, and elegant top handles for a timeless and practical fashion statement.
Shop Bags
Overview of the Louis Vuitton Montaigne handbag
Inspired by the high-end stores and luxurious clothing of the famed Avenue Montaigne in Paris, this handbag is made of premium leather, which gives it a supple and smooth touch. You can find it in many hues, including the traditional LV monogram. The Montaigne handbag's distinctive form includes a roomy interior, and it can hold all of your necessities, making it ideal for work, travel, or a night out. 
If you purchase a Montaigne handbag, you will own a piece of fashion history that will go with any ensemble and radiate sophistication and class.
Design and features of the Louis Vuitton Montaigne
The Louis Vuitton Montaigne is a chic handbag model that exudes elegance and sophistication. Its simple design and superior craftsmanship make it a must-have purse for any fashion-forward person. With its supple calfskin leather construction, the Montaigne is not only sleek but also comfortable to wear, a great Louis Vuitton bag option.
The bag's roomy interior is divided into boxes, with a central section that zips closed for carrying small items like a cell phone, notebook, and other everyday belongings. Adornments of gold-tone hardware, metal feet, and an adjustable shoulder strap add to its overall image, as can be seen in various reviews. Additionally, the double hook method and padlock closure provide both security and ease for the user making it one of the best handbags in the market today.
The Montaigne is versatile, with double top handles that make it easy to carry by hand or over the shoulder. Available in various sizes and colors, it is simple to select a purse that matches your personal style and preferences. Overall, the Louis Vuitton Montaigne is a classic and useful item that can be worn on any occasion, from formal events to work.
Louis Vuitton Montaigne's exterior and interior design
The distinctive LV monogram logo is prominently displayed on its streamlined exterior, which is made from the highest grade Epi leather, Empreinte leather, or coated canvas. The handbag is the ideal item to go with any outfit because it comes in a variety of timeless colors like black, navy, and red, as well as daring shades like fuchsia and mint green.
The Louis Vuitton Montaigne BB is a smaller version of the iconic Montaigne MM, making it the perfect shoulder accessory for everyday use. The Louis Vuitton Montaigne's interior is roomy and well-organized, and it can easily accommodate all of your things, even a compact laptop or tablet. The interior's plush microfiber lining gives your possessions another layer of security. Additionally, the accessory has numerous pockets, including a flat pocket and a zippered pocket, which offer extra storage space for smaller goods like your phone, keys, and wallet.
The Montaigne MM has a removable shoulder strap, which is one of its most distinctive features; it enables you to wear the item as a crossbody or on your shoulder, making it a multipurpose accessory that can be dressed up or down depending on the occasion.
Size and capacity of the Louis Vuitton Montaigne
For fashion-forward women who want a smart handbag that can carry all their essentials, the Louis Vuitton Montaigne comes in three sizes – BB, MM, and GM.
The BB size at 9.8 x 7.5 x 4.1 inches, is small and ideal for daily use. For those days when you need a little extra room, the PM size is perfect. It measures 13.0 x 9.1 x 5.9 inches and is great for office use. The largest size, GM, measures 14.8 x 11.0 x 6.7 inches and is ideal for women who need to carry more than just the bare necessities.
The long and slender braided handles, attractive golden hardware, and strong yet lightweight leather construction make a stylish and standout statement that will last years without losing its attractiveness. Overall, the Louis Vuitton Montaigne handbag is a smart and practical purchase for any woman who wants a quality and fashionable handbag.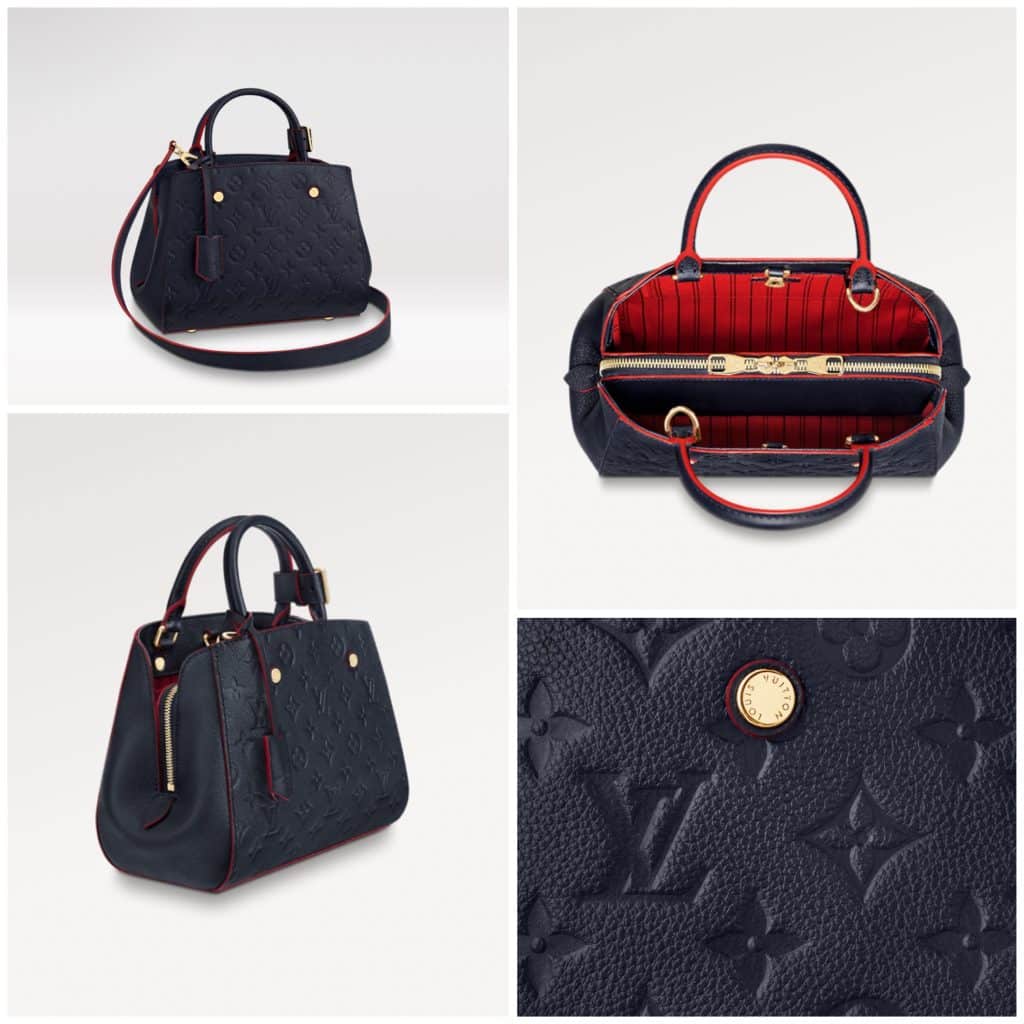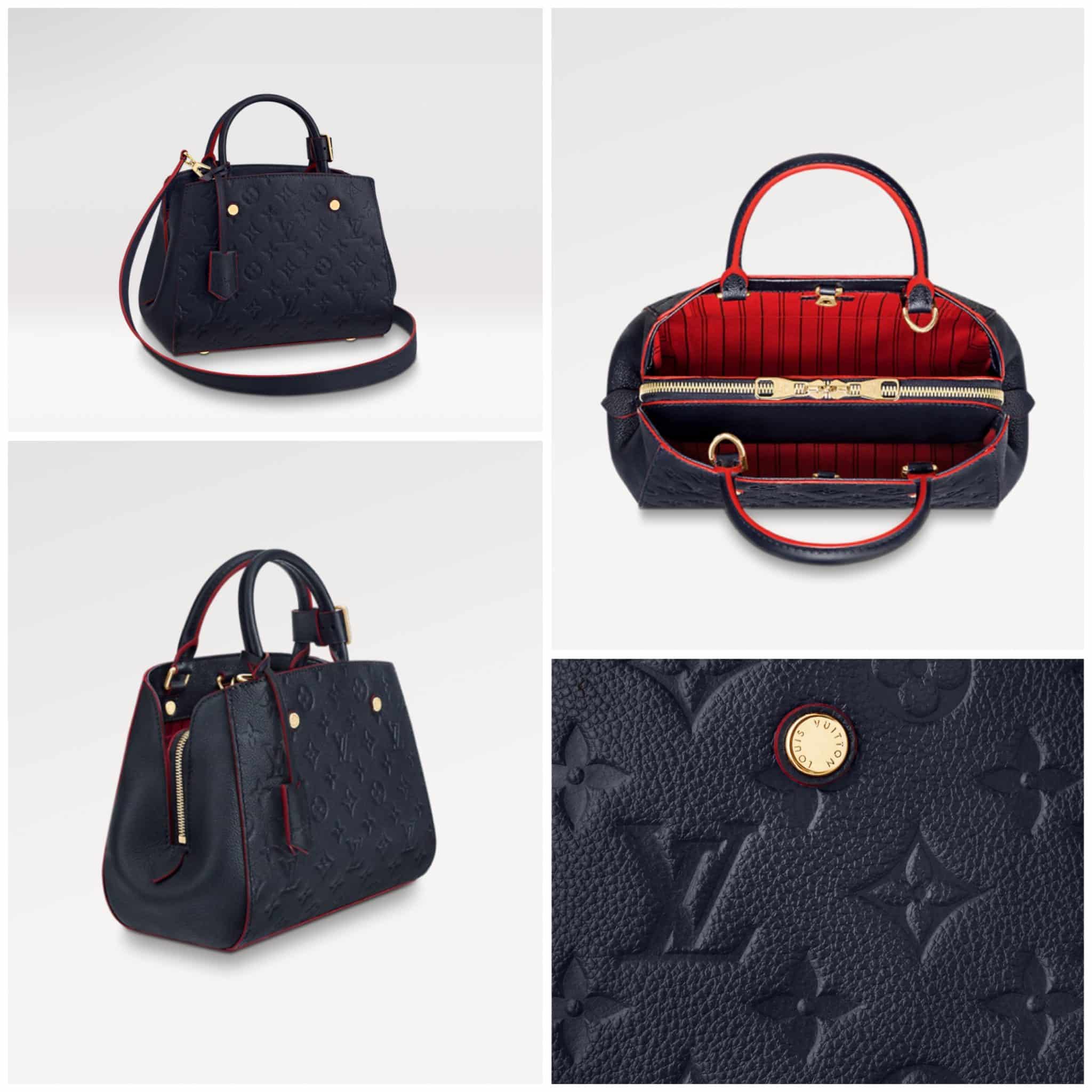 Details on the Louis Vuitton Montaigne handles and hardware
Louis Vuitton's Montaigne handles and metalwork is distinctive. The handles are soft, durable cowhide leather, ensuring quality and intricacy. Another highlight of the Montaigne handbag is its hardware. For durability and luster, it's made of brass coated with gold or silver. The hardware is meticulously carved with the Louis Vuitton emblem and other design motifs, highlighting the brand's attention to detail and exceptional craftsmanship. The handles and hardware of the Louis Vuitton Montaigne handbag represent the brand's dedication to quality and luxury.
A Classic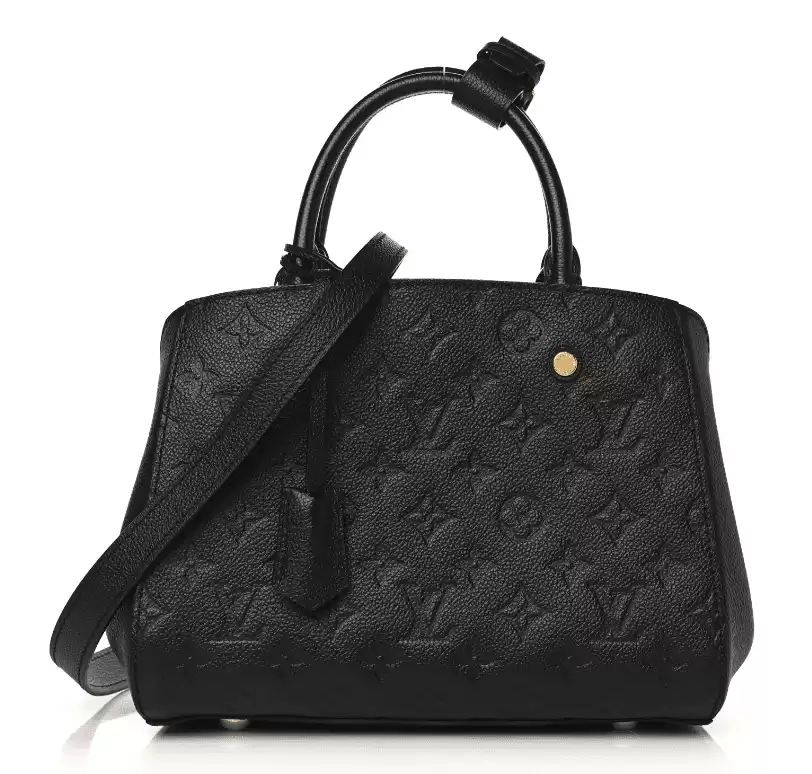 Louis Vuitton Montaigne Noir
The Louis Vuitton Montaigne Noir is a sophisticated and spacious tote bag made of smooth black leather, perfect for adding a touch of elegance to any outfit.
Shop Bags
Quality and durability of the Louis Vuitton Montaigne
The Louis Vuitton Montaigne handbag, with its exceptional craftsmanship and durability, is an amazing accessory that represents the brand's elite status. With a comfortable microfiber inner and a gorgeous, high-quality leather exterior, this handbag is perfect for wearing on any occasion. Reinforced corners and gold-toned hardware make the bag extremely durable, and the numerous pockets and compartments allow for an easy switch between daily needs. This handbag, like all Louis Vuitton products, goes through extensive testing to ensure the quality meets the brand's high standards. The Louis Vuitton Montaigne handbag is a great purchase for fashionistas seeking a stylish and long-lasting addition to their collection.
Louis Vuitton Montaigne materials and craftsmanship
Louis Vuitton is renowned for their high-quality materials and superior craftsmanship in handbag creation. The Montaigne shoulder bag, which is one of their most sought-after bags, is an authentic representation of the luxury standards the brand upholds. This smaller but durable bag is constructed using Louis Vuitton's sturdy and iconic Monogram canvas, which is versatile and perfect for both casual and formal occasions. Additionally, the Epi or Damier Ebène leather straps, piping, and embellishments give the bag extra adaptability, making it perfect for pairing with jeans or dressing up on a night out.
The Louis Vuitton Montaigne price point
A highly coveted luxury shoulder bag with a hefty price tag is the Louis Vuitton Montaigne. The cost of this Empreinte leather bag is frequently in contention; some contend that it is reasonable, while others contend that it is excessive. The smaller Louis Vuitton Montaigne BB is undoubtedly not for everyone, starting at roughly $2,780 for the coated canvas version. The Louis Vuitton Montaigne review MM in coated canvas is currently retailing at $2,910.
Many feel that the cost is reasonable given the high level of materials and craftsmanship used to make the bag. The Montaigne is also a classic investment item that can hold its value over time. However, the Montaigne's high price makes it only accessible to a small group of people, making it a status symbol for the wealthy. Overall, even if the Louis Vuitton Montaigne review and its smaller BB version may not be affordable for everyone, it is a symbol of the company's dedication to elegance and craftsmanship, making it a legendary item in the fashion world.
Personal recommendation on whether the Louis Vuitton Montaigne is worth buying
The Louis Vuitton Montaigne bag's classic style, flawless construction, and adaptability make it a must-have item in any wardrobe. The roomy interior makes it simple to organize necessities, such as a laptop or tablet, and the safe flap clasp guarantees that all possessions are kept secure. With its adjustable strap, the Montaigne is also easy to wear crossbody or on the shoulder, making it ideal for running errands or a night out.
The Montaigne is a truly intelligent purchase that will hold its worth year after year, despite its price tag appearing excessive, given its durability and adaptability. In conclusion, I heartily endorse the Louis Vuitton Montaigne to anybody looking for a legendary and useful item that expertly combines fashion and function.
Images courtesy of louisvuitton.com.