The Louis Vuitton Neverfull tote is one of the most iconic bags in the world of luxury handbags. With its versatility, roomy interior that's "neverfull," and thanks to its timeless design, the Neverfull is Louis Vuitton's best-selling bag.
Introduced in 2007, the Louis Vuitton Neverfull tote was created to compete with the Goyard Saint-Louis Tote, which had been available since the 1930s and was similarly roomy and multifunctional. It was just a matter of time until the Neverfull overtook the Saint-Louis as the most popular model.
If you are in the market for a Louis Vuitton Neverfull tote bag or, you are in the right place. We also go over Louis Vuitton crossbody bags here. This guide will outline all of the different Louis Vuitton Neverfull bags available on the market now. There's a Neverfull style that fits every style, see below!
The Neverfull sizes
Since 2007, only three sizes of the Neverfull have been available: PM ("Petit Modele"), MM ("Moyen Modele"), and GM ("Grand Modele"). While the PM is ideal for daily use and the MM can comfortably accommodate a laptop, the GM has everything you'll ever need.
This design skill is the ultimate proof of Louis Vuitton Neverfull's superior craftsmanship. The Neverfull GM, despite its deceptively delicate handles, can hold up to 231 pounds of weight! Below are the different sizes and dimensions.
PM dimensions are 11.4 x 8.7 x 5.1 inches (LENGTH x HEIGHT x WIDTH)
MM dimensions are 12.6 x 11.4 x 6.7 inches (LENGTH x HEIGHT x WIDTH)
GM dimensions are 15.7 x 13.0 x 7.9 inches (LENGTH x HEIGHT x WIDTH)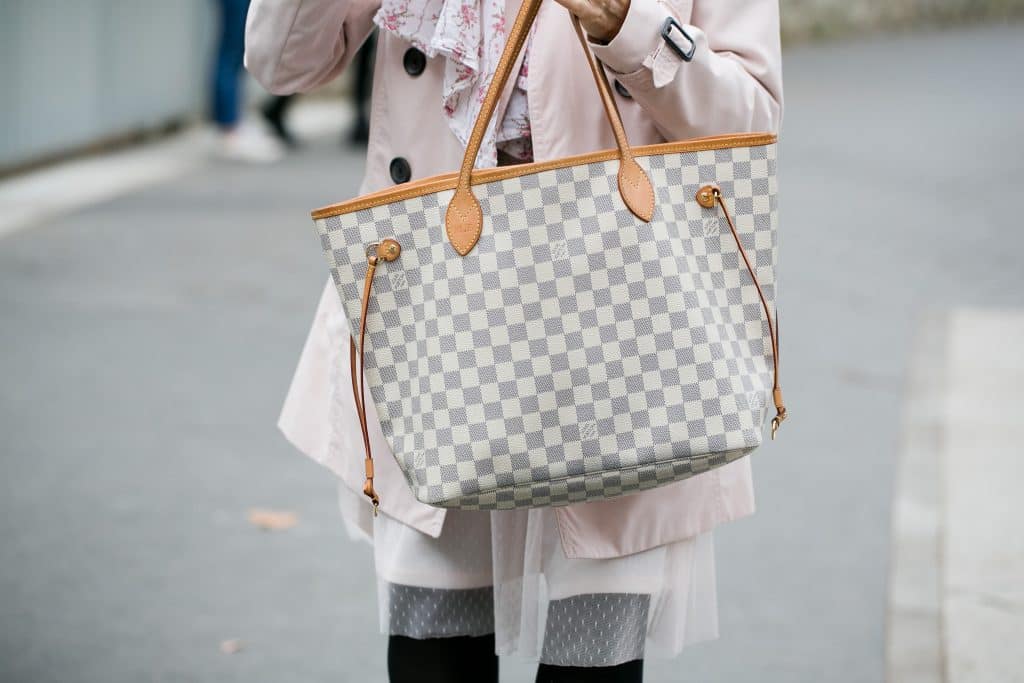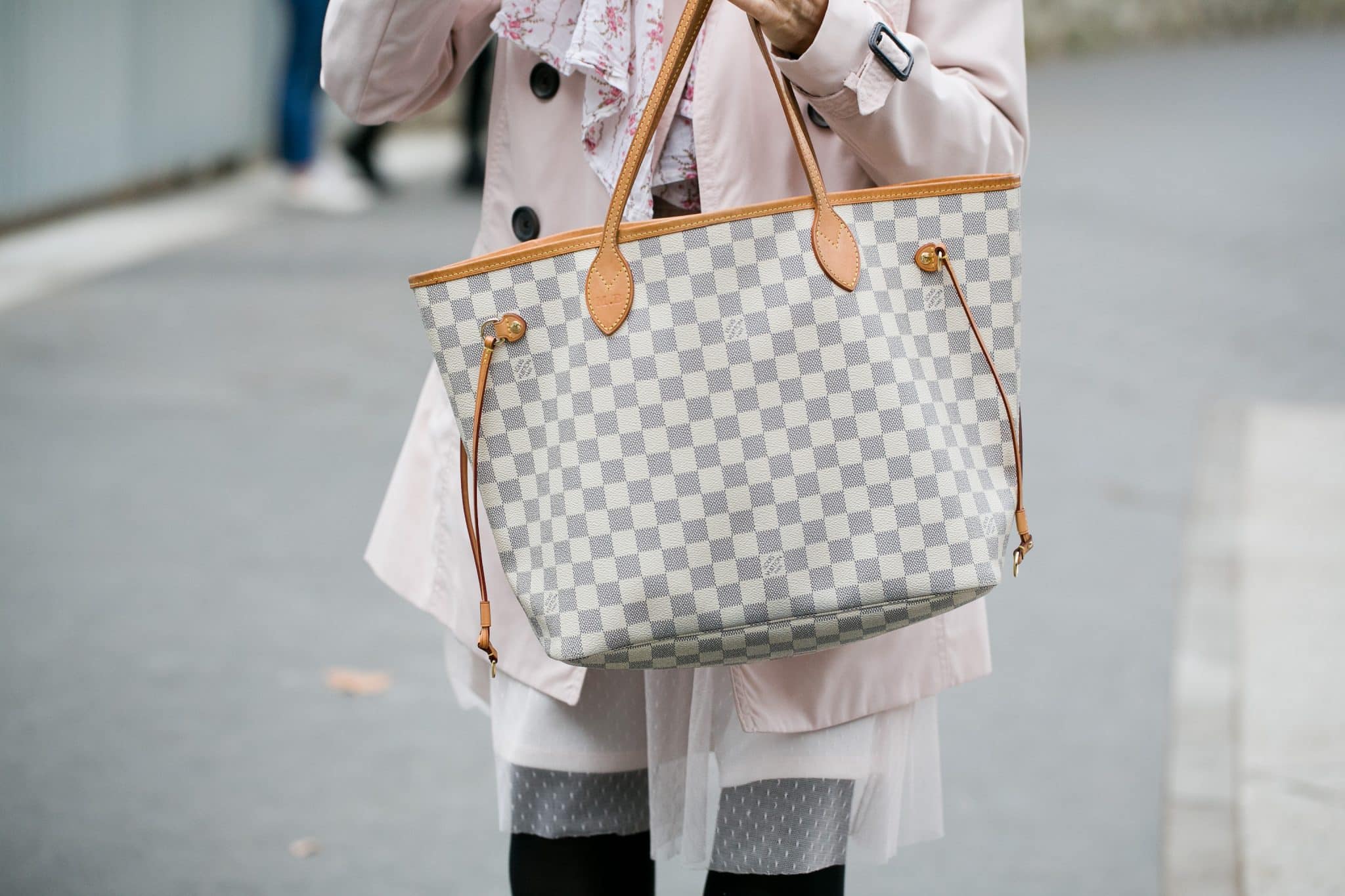 The Louis Vuitton Neverfull pricing
Louis Vuitton regularly raises its bags prices. As of February 2022, these are the Louis Vuitton Neverfull bag prices.
Louis Vuitton Neverfull PM Monogram Canvas bag $1,960
Louis Vuitton Neverfull MM Monogram Canvas bag $2,030
Louis Vuitton Neverfull GM Monogram Canvas bag $2,100
The Louis Vuitton Neverfull Buying Guide
Since its debut in the luxury market 14 years ago, the Neverfull bag has undergone numerous transformations and has stayed true to Louis Vuitton's exquisite style. Only Louis Vuitton's iconic brown monogram canvas was available when the Neverfull was initially released. It was immediately reissued in Damier Ebene, Damier Azur, and finally epi leather, following its huge popularity.
Over the previous decade, various limited-edition Neverfulls have been published, with three to four varieties issued each year, whether seasonal or collaborative. Prints, as well as unique materials and processes, have been used. Here are a few of the most well-known limited-edition items that have been offered in the past.
Crafty Neverfull
The Crafty Neverfull is a culmination of several of Vuitton's earlier designs, such as the Giant Monogram and strong graffiti print, and was released as a capsule as part of the Fall 2020 collection.
Shearling (Teddy) Neverfull
The Teddy Louis Vuitton Neverfull tote bag is an ultra-cozy, ultra-chic winter style composed of grained black leather with a colorful shearling logo, patchwork flowers, and accents, which debuted in Fall Winter 2020.
By the Pool Collection Neverfull
As the summer months approach, The "By the Pool" Neverfull from Summer Capsule 2021 is perfect for lounging by the pool. Since it showcases the large monogram on a gradient of coral orange, bright pink, and pastel blue, it's ideal for those sunny days, and the extra pocket will store your sunscreen and other accessories.
Love Lock Neverfull
This Neverfull, released as a capsule for Spring 2019, is decorated with metallic hearts, locks, and keys to keep your love items safe.
Neverfull Catogram
When the luxury house collaborated with Grace Coddington, a former model and Creative Director of Vogue America who also has a passion for animals, it was only natural that the Neverfull would include cats in this design. A perfect gift for your cat-loving friend!
Game On Neverfull
The Game On Neverfull boasts a multicolor Monogram accentuated by red hearts with a printed playing card appliqué. This is ideal for the eccentric enthusiast who might find the original boring.
LVxUF Neverfull
Several bags, notably the Neverfull, have been updated with Urs Fischer's fuzzy, hand-drawn image. You will find the design in a new Monogram emblazoned in a striking bright red or black on white or black leather.
Since 1854 Neverfull
This Louis Vuitton Neverfull rendition is polished with a retro touch, made of ancient-looking jacquard with 1854 written amid the logos. A stunning design and different look for any LV lover.
LVxLoL
Louis Vuitton designed these Limited Edition League of Legends bags in conjunction with worldwide e-sports firm Riot Games for its Summer 2020 collection. The Louis Vuitton Neverfull from this collection is fitted with dazzling gold and silver streaks.
Monogram Denim Patchwork
This red-accented Neverfull bag, which combines Monogram, denim, and Damier, looks lovely and quite different from Vuitton's permanent collections, and we adore it.
Giant Monogram Neverfull
The Giant Monogram Neverfull has been a success since Summer 2019 and is a Summer spin on the legendary Monogram. The slight logo size change started a huge trend in the luxury industry as many other luxury brands started enlarging their logos too.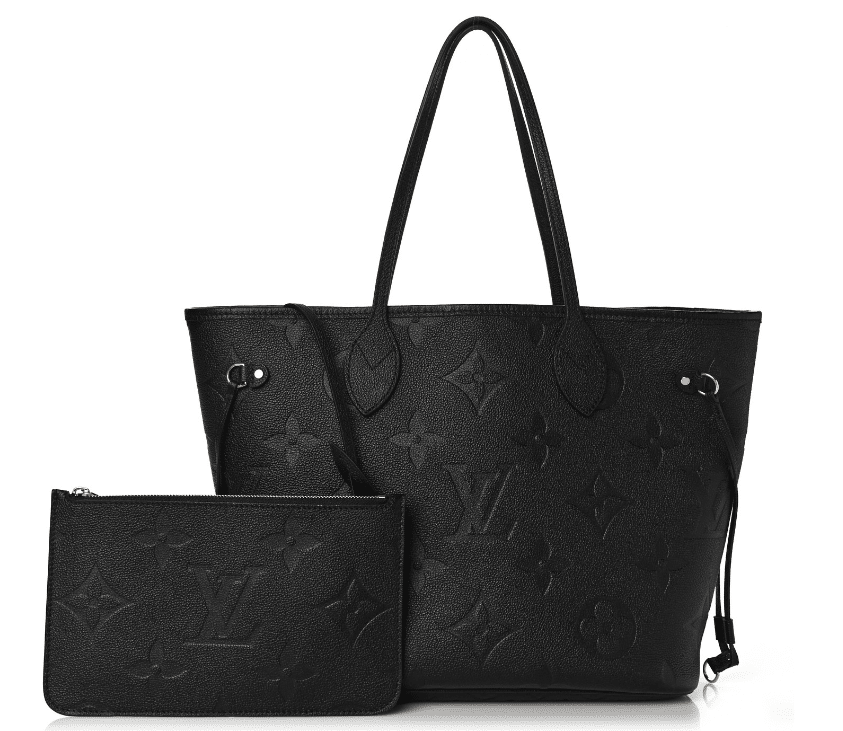 Jungle Giant Monogram
The Jungle Giant Monogram is "the most radical version of the traditional Louis Vuitton pattern ever" and is guaranteed to bring out your inner beast!
Escale Neverfull
The Louis Vuitton Summer 2020 collection included a tie-dye pattern in pastel tones, paired with the Giant Monogram to provide the ideal holiday bag.
Karakoram Neverfull
The Karakoram Neverfull bag modifies Damier Ebene and features striking red pebbled leather details, not-so-prominent polished brass studs, and black leather trimmings. However, the accompanying pouch is the original version.
Kabuki Monogram
The Cruise 2018 collection incorporated Kabuki details and was created in partnership with famous Japanese designer Kansai Yamamoto and displayed in a spectacular presentation outside Kyoto, Japan's Miho Museum.
Despite the name "stickers," this bag emanates a far more whimsical, mysterious, and informal look than the simple heritage details.
Race Neverfull
This Louis Vuitton Neverfull bag is inspired by racing, whose flag has a checkered pattern similar to Louis Vuitton's Damier Ebene and gives off a sporty, elegant, and bright vibe.
Tahitienne 2017 Neverfull
This rendition of the Neverfull is made solely in Damier Azur with floral designs in Rose Ballerine and feels like a breath of fresh air in the tropical summer sun!
LV×Jeff Koons Masters Neverfull
Louis Vuitton designed an artsy and edgy, art-emblazoned collection in partnership with modern artist Jeff Koons that shocked us all. But if you feel the edgy design, go for it!
Patches Collection Neverfull
The Louis Vuitton Neverfull – patches collection is best worn casually, with their sparkly, cheerful, and playful stickers (or patches).
Neverfull World Tour
Like the Patches Collection above, the My World Tour Louis Vuitton Neverfull bag is embellished with stickers.
The stickers are inspired by all of the hotels that the house's Creative Director, Nicolas Ghesquière, has visited worldwide. It's supposed to make you feel like you've also conquered the globe– or perhaps use it as a travel bucket list?
Monogram Jungle Dots Neverfull
The brand created a new design comprising colorful dots and palm fronds for Spring/Summer 2016. The collection is also known as the Palm Springs collection and is ideal for your summer wardrobe.
Totem Neverfull
The classic monogram canvas is embellished with colorful and lively multicolored designs in this popular Neverfull style. For all Louis Vuitton collectors, this is a must-have.
Ramages Neverfull
The Ramages line of Louis Vuitton neverfull bag launched in Summer 2015 alongside the "V" collection, both inspired by marine life and bright and swirling in tones of pink and orange. The word "ramage" literally means "wild, untamed boughs, and branches," which is precisely the feeling the prints give off.
Monogram "V" Neverfull
It's large but not bulky, with side laces that tighten for a sleek style or loosen for a casual look, and it's made of smooth Monogram canvas with natural leather trim.
Also decorated with a prominent but straightforward "V" in two colors: pink and turquoise, with names of renowned towns printed alongside the V's in some bags.
Stephen Sprouse Graffiti Neverfull
Louis Vuitton's first and possibly most renowned artist collaboration was with New York-based designer Stephen Sprouse in 2001. Sprouses' graffiti and rose motifs were revived in 2009, radicalizing the Louis Vuitton Neverfull's typical monogram canvas, thanks to the amazing outcomes of this cooperation.
This collection is still selling at significantly higher-than-retail prices a decade after its inception.
MOCA Takashi Murakami Neverfull
This exceedingly rare, highly limited edition Neverfull, adorned with the "Hands" sign on Monogram Canvas, was only made available at the Los Angeles MOCA (Museum of Contemporary Art) and most likely sold out before anybody in the mortal world ever knew it existed. It does, however, appear on the resale market from time to time.
Why should you buy the Louis Vuitton Neverfull bag?
Given its exquisite craftsmanship throughout the years, the bag has undergone different transformations but still retains its sturdy and luxurious features. Originally the interior color was cherry or striped beige. Over the years, the colors have changed from Rose Ballerine to Fuschia to Mimosa. Any color you love is available.
The Neverfull is also reversible, an intriguing feature that is sometimes overlooked. Thanks to its unique seam design and finishing, the tote can be turned fully inside out for a new look.
The Neverfull is an excellent example of Louis Vuitton's mastery of detail, which the brand is known for. Since 2013, each tote has included a removable accessories bag that may be used as an extra wallet-like place for keys and cards. You can also carry it as a pochette on its own.
The Neverfull is the perfect "first luxury bag" purchase as it can stand the test of time (thanks to LV's durable canvas). It's also the perfect addition to any handbag lover's collection, after all, no bag collection is complete without a Louis Vuitton Neverfull!