Louis Vuitton Petite Malle's Birth
Nicolas Ghesquière's ingenious design for the Louis Vuitton Petite Malle was showcased in the Fall/Winter 2014 catwalk show directed by Marc Jacobs, which propelled it to fashion icon status. Today, luxury fashionistas recognize the Petite Malle as an item that will stand the test of time. It is distinguished from other Louis Vuitton bags by its trademark coated canvas and leather materials, structured form, and Louis Vuitton hardware.
The Petite Malle Louis Vuitton handbag has a feature that is reminiscent of the brand's ancient trunks, and the interior of the clutch is roomy enough to accommodate necessities such as phones, keys, and wallets.
In understanding the detail of the Petite Malle, it is marked that Louis Vuitton's iconic travel trunks or monogram luggage have played a significant role in its history. These trunks were purchased globally and became a symbol of luxury travel due to their sophisticated design and longevity. 
Our Pick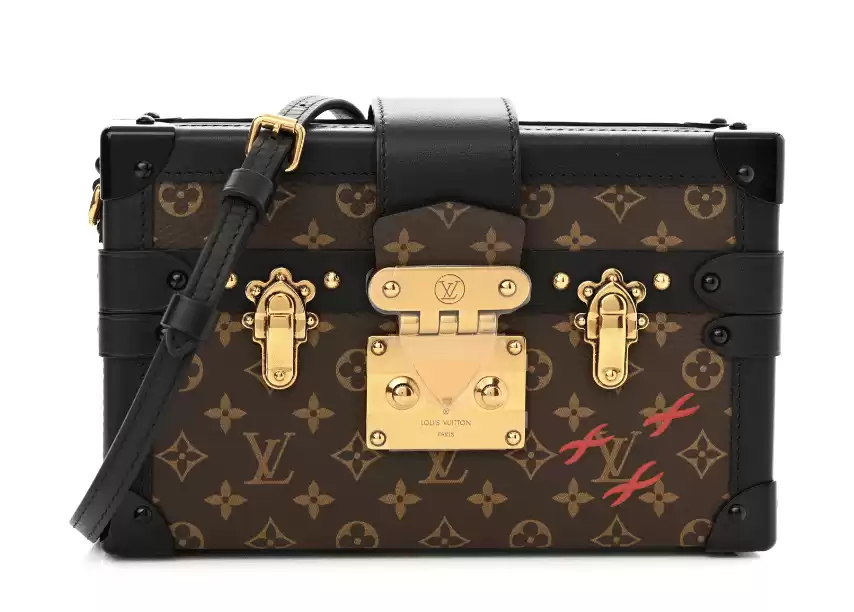 Louis Vuitton Petite Malle
Inspired by the brand's iconic trunk heritage, it is crafted with exquisite craftsmanship, featuring a structured silhouette, signature Monogram canvas, and gold hardware.
Shop Bags
Why is the Louis Vuitton Petite Malle so expensive?
Heritage & Craftsmanship: A Louis Vuitton Petite Malle bag's journey starts with the company's illustrious history and dedication to quality craftsmanship. Each bag is painstakingly handmade by experienced artisans, who rely on years of know-how that has been handed down through generations. From the carefully chosen materials to the accuracy of the construction, the attention to detail is visible in every element. It is an heirloom piece worth cherishing because of the distinctive Monogram canvas or Epi leather and high-quality hardware, which guarantees durability and longevity.
Exclusive Design: The Louis Vuitton mini trunk clutch is proof of the company's cutting-edge design approach. This little version, which was inspired by the classic trunks that Louis Vuitton first produced, beautifully and glamorously represents the history of the house. Its striking and instantly identifiable appearance is mostly down to the attention-grabbing metal corners, the unusual S-lock closure, and the painstakingly carved trimmings. With the possibility for unique customisation, each bag is a work of art that makes it stand out from the crowd.
Limited Availability: By carefully regulating the accessibility of their items, Louis Vuitton preserves an air of exclusivity. A lot of care is taken to ensure the rarity of the Petite Malle by Louis Vuitton bag by producing it in small amounts. This intentional tactic fosters a perception of rarity and desirability among collectors and fashion fans. Owning a Louis Vuitton PM purse denotes membership in an exclusive group that can afford the most sought-after and limited items from the world of luxury fashion and appreciates them.
Brand Legacy and Status Symbol: The distinguished reputation and century-old tradition of Louis Vuitton are major factors in the cost of their goods. Louis Vuitton, one of the most recognizable and prominent luxury brands, symbolizes an affluent and refined way of life. The Petite Malle by Louis Vuitton purse embodies the height of luxury with its blend of history, skill, detail, and superior design shape. It is a status symbol that immediately conveys an appreciation for finer things in life and a taste for the sophisticated.
Details on the Louis Vuitton Petite Malle Design
This one-of-a-kind Louis Vuitton design from 2014 exemplifies the brand's renowned craftsmanship and creative prowess, all contributing to its beauty, quality, and functionality.
The word "petite malle" translates to "small trunk" in French, and the design of this particular petite malle was inspired by the style of Louis Vuitton trunks in order to achieve a look that is both stylish and retro. The Louis Vuitton petite malle is not only more transportable and appropriate for the contemporary lady who is constantly on the move, but it is also a sturdy platform that provides robust functionality for everyday usage. For those looking to discover a timeless accessory that blends style and utility, the Louis Vuitton Petite Malle is undoubtedly a must-have.
Read: 9 Classic LV Black Bags You Need To Add To Your Collection
Sizes and capacity of the Louis Vuitton Petite Malle
The Louis Vuitton Petite Malle is a sleek and diminutive handbag that takes its name from the brand's iconic trunks. The PM, which is 7.9 x 4.9 x 2.4 inches, is ideal for every situation due to its dimensions. As a result of its roomy interior, which can accommodate items such as a phone, wallet, and lipstick, the Petite Malle by Louis Vuitton is an excellent choice not only for casual get-togethers but also for going out on the town in the nights.
Because the Petite Malle includes a roomy interior made of cross-grain leather as well as a robust S-lock in the manner of a trunk and a magnetic clasp, you can be certain that your possessions will remain safe and secure inside it.
This chic and space-saving item has got you covered for any occasion, whether you're going out for a night on the town or setting off on a long trip. It features a strap that can be removed, adjusted, and worn either over the shoulder or crossbody. Simply said, the Louis Vuitton Petite Malle is a timeless and opulent accessory that no self-respecting fashionista should be without in their collection.
Therefore, if you want to line up an item that will give your ensemble an air of refinement and chicness, the Petite Malle by Louis Vuitton bag is a great addition.
Can a phone fit into the Louis Vuitton Petite Malle Bag?
The legendary Louis Vuitton trunks served as the inspiration for this miniature trunk-style bag, which radiates luxury, elegance, and refinement in every manner. But can a phone fit in this clutch that costs, let's be real, a lot of money? Both yes and no, is the answer. Due to its diminutive size—7.9 x 4.9 x 2.4 inches—the Louis Vuitton Petite Malle is not intended to hold large items; however, depending on the size of your phone, it will likely fit.
The Petite Malle V by Louis Vuitton is a larger size that also boasts a top handle that stands at 9.4 x 6.3 x 5.1 inches. 
The Petite Malle East West by Louis Vuitton is the east-west version of the purse that also boasts a long and adjustable shoulder strap, the bag is 10.6 x 4.7 x 2.6 inches.
Phones that fit in the Louis Vuitton Petite Malle:
iPhone 14 Pro Max
iPhone 14 Pro Plus
iPhone 13 Pro Max
iPhone 13 Pro
iPhone 12 Pro Max
Samsung Galaxy Note 8, 9, 10
Samsung Galaxy S8, S9, S10, S20 Ultra
A flat compartment on the back of the bag can comfortably accommodate any phone with a thin case, making it a practical option for those who want to carry the essentials. Unfortunately, the pocket's size is constrained, so it might not be the best option for people who need to carry many phones or thick phone cases. Regardless, the Louis Vuitton Petite Malle is a statement bag that personifies class and sophistication that never goes out of style. While some might find using it as a phone carrier impractical, it is still a high-end accessory that would improve any attire.
Louis Vuitton Petite Malle Price Point
Inspired by the history of the brand and its journey, the Louis Vuitton Petite Malle is available in different materials, which determine its price point.
Louis Vuitton Petite Malle Prices:
Monogram Canvas: $5,700
Reverse Monogram Canvas: $5,700
Glass Beads & Satin: $7,700
East-West: $6,500
Souple: $3,200
V Monogram Canvas: $6,800
V Mother-of-Pearls: $9,500
Python Leather $7,550
High Shine Lizard: $12,200
Niloticus Leather: $22,000
Soft Shine Alligator: $31,000
Brilliant Alligator Golden Hour: $31,000
Brilliant Alligator Leather: $33,000
Nonetheless, the Louis Vuitton Petite Malle inspires awe and leaves its marks wherever it goes, cementing its position as a highly sought-after accessory in the fashion world. The brand's classic style and commitment to quality are at the forefront of this bag's design, making it a gorgeous addition to any collection for those who can afford it.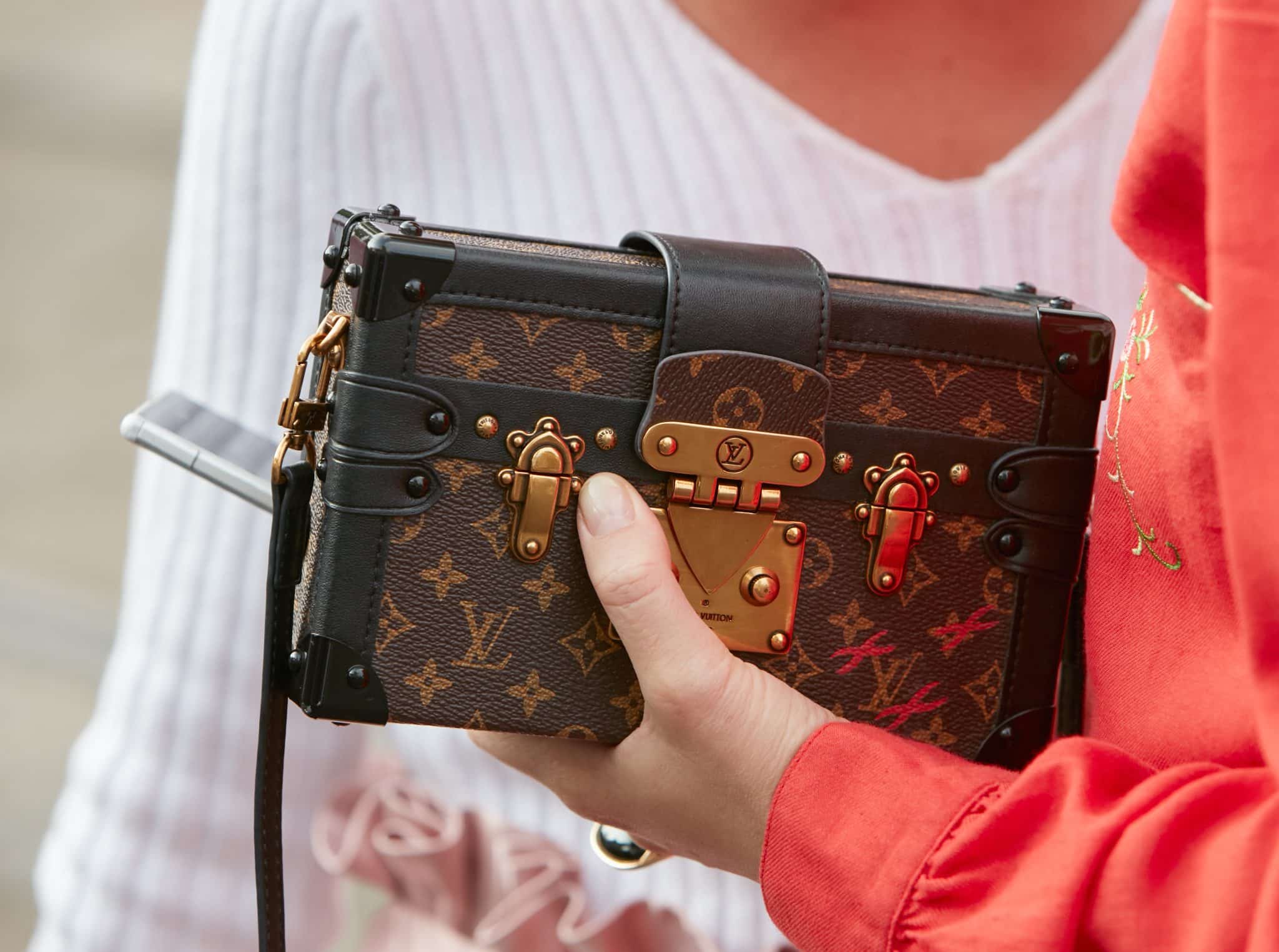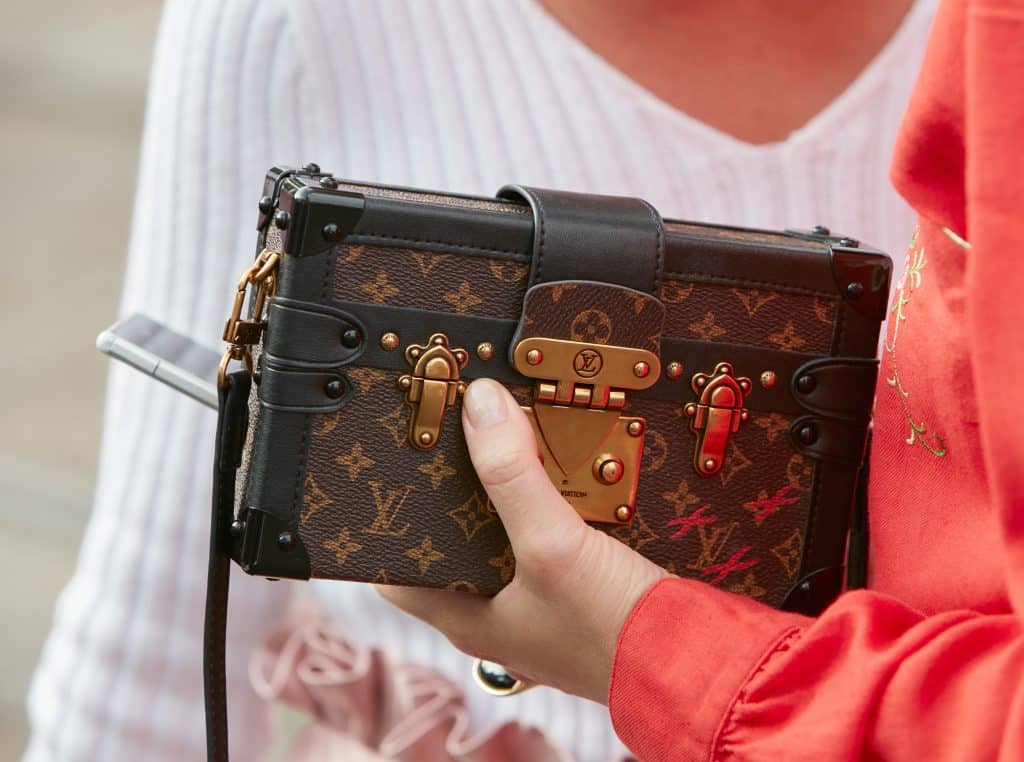 Is the Louis Vuitton Petite Malle a classic LV bag?
Since its introduction in 2014, the Louis Vuitton Petite Malle has unquestionably established itself as an industry standard. Its unmistakable elegance, which was conceptualized by former creative director Marc Jacobs while he was in New York, is a result of its rigid rectangular shape and distinct features, such as its golden trunk-inspired hardware and brand-specific monogram canvas.
The intricate embellishments, inspired by photographer Albert Kahn's vintage images of France, share a similar look to the classic trunks Louis Vuitton once produced, which served as inspiration for the design. The Louis Vuitton Petite Malle, also referred to as the mini trunk, is swiftly establishing itself as a classic vintage-inspired piece in the Louis Vuitton handbag collection, despite not having been around as long as some of the iconic bags like the Louis Vuitton Speedy or the Louis Vuitton Neverfull.
The Louis Vuitton Petite Malle is unquestionably a classic Louis Vuitton handbag that continues to be in high demand.
The extravagant cost of the Louis Vuitton Petite Malle Mag bag is justified by the company's unrivaled history, fine craftsmanship, and unique style. Its increased standing as a representation of luxury and sophistication is a result of its constrained supply and connection to Louis Vuitton's illustrious past. This sought-after item is more than simply a piece of clothing; it's an investment that will last a lifetime and embodies the superb craftsmanship and allure that have made Louis Vuitton an unstoppable force in the world of high fashion.