Luxury goods and designer handbags offer superior quality, are stylish, and are worth every penny. However, not everyone can buy a new $3,000 or more high-end handbag. Moreover, even if you are a true lover of luxury goods, keeping up with trends or filling one's closet with the most luxurious handbags is a hard addiction that is too expensive for most.
Thankfully, rent designer handbag companies are a thing. Just like shopping online for other items, you can temporarily own your very own Gucci, Chanel, or Tory Burch handbag without spending thousands of dollars. What's more, renting designer handbags allows people to see, feel, touch, wear and possibly fall in love with an expensive find before or without actually buying it. Nevertheless, if this is your first time considering a handbag rental, then you have come to the right place. Here is a quick overview of the rent-a-handbag process in general and our list of the top 9 designer brands to rent.
Great Sites For Renting Designer Handbags
But before getting into the best brands, we think it is beneficial for you to know which companies to rent your designer brands and handbags from. Overall, luxury good rental companies are ideal regardless of whether you are trying to decide which designer bag to buy or need one for a special occasion. That said, the top 3 sites to rent designer handbags include: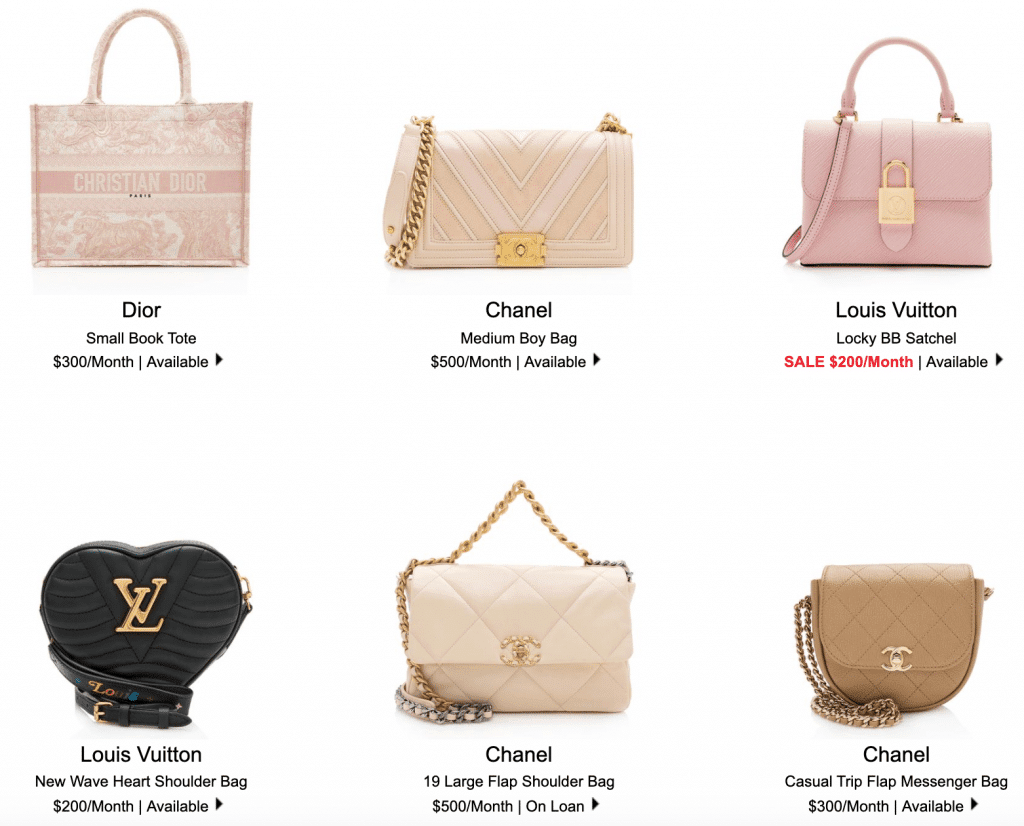 Bag Borrow Or Steal, a Seattle-based company, founded in 2004, offers a monthly non-committal option and a subscription membership. With Bag Borrow Or Steal, rental prices start at $50+ a month for mid-designer labels (ex. Michael Kors or Tory Burch) and go up to $500+ a month for more high-end brands like Louis Vuitton, Gucci, Chloe, and Chanel.
How It Works
With this option, you can rent your chosen accessory on a month-to-month basis. Once you have selected your luxury handbag is shipped to you free of charge and arrives in a pristine condition—all rentals are cleaned professionally before each use. After your leasing period ends, you will receive an alert sent to your email address, and then you simply return the item. And, if you want to keep the bag for longer, the good news is that Bag Borrow Or Steal automatically renews your monthly membership.
If Accidents Happen
Here, if your high-end accessory is damaged, stolen, or lost while in your possession, then you are responsible for the full retail price of the item. However, once you are charged for the full price of the bag, it is yours. To avoid this unfortunate scenario, it is important to note that unacceptable damage includes both interior or exterior stains and surface scrapes or tears.

In 2009, Rent The Runway was founded and now has multiple locations in New York City, Washington, D.C., Chicago, San Francisco, and Los Angeles. Here, you get three leasing options to choose from 4-8 days, monthly, or unlimited. Plus, Rent The Runway offers low to high-end items/bags with fees starting at $7 and going up to $250 (for 4-day rentals). Alternatively, if you opt for a membership with this particular bag rental service, it will cost you somewhere around $69 a month.
How It Works
At Rent The Runway, the process is straightforward: choose your bags, complete the checkout process or reserve the items for 7-30 days, wait for prompt delivery, and enjoy. Moreover, at the close of your rental period, all you need to do is return the purses via UPS. Note, handbags are cleaned for free with this company as well.
If Accidents Happen
Similar to other bag rental services, if the item is significantly damaged while in your care, then you can expect to pay the full retail price. Likewise, if you lose/misplace the bag, it is stolen, or never returned after its due date, there are late fees ($50 per day for 20 days). If you cannot find or recover the bag, then after said period, you will be charged up to 100 percent of the retail value plus applicable sales tax.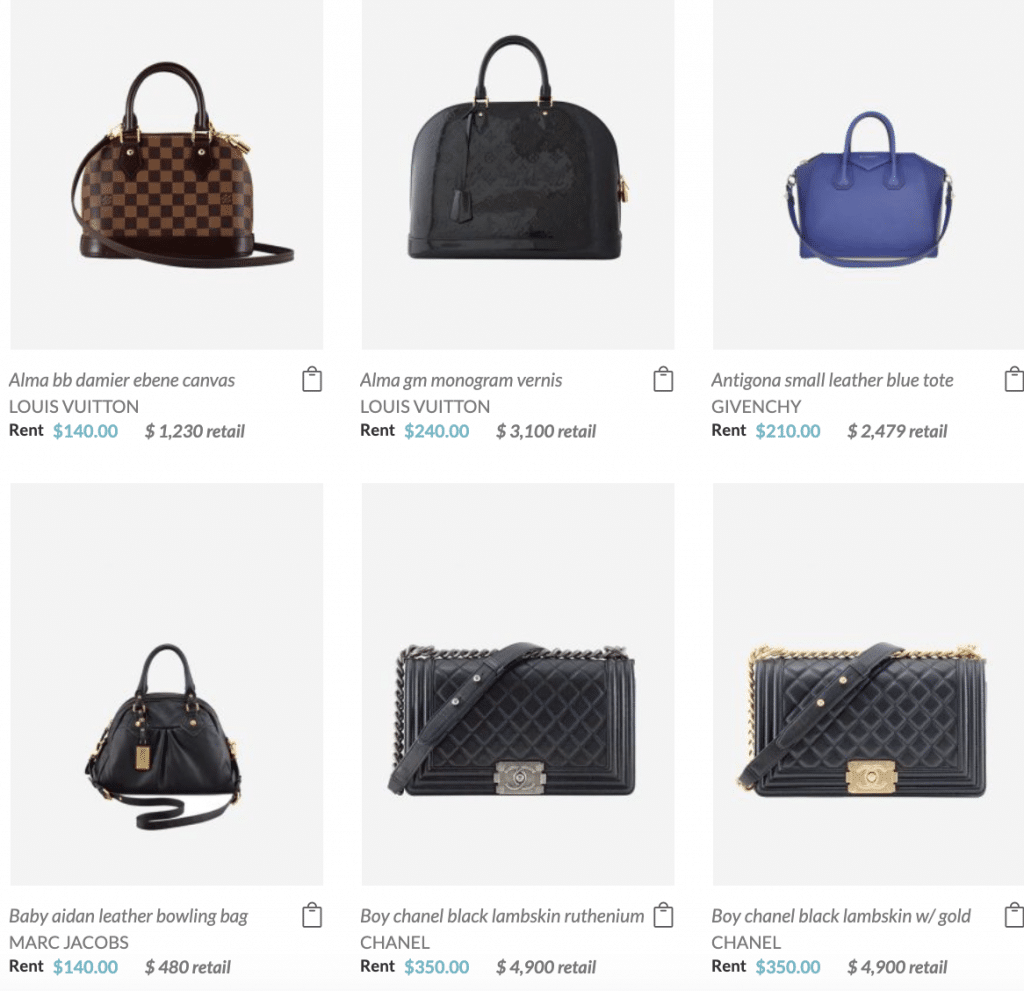 On the other hand, Bag Romance is a Texas-based handbag rental company that was founded in 2015 and offers 7-day rentals (fees start at $45+) or 30-day rentals (fees start at $75+). Designer bags like Saint Laurent and Louis Vuitton rental fees range from $ 100 to $200 per week.
How It Works
This is yet another monthly membership with free shipping and free professional cleaning. Bag Romance has a wide variety of designer handbags you can choose from and a user-friendly checkout process. Here you are also able to reserve your luxury goods for 7-30 days, and once your rental period is over, you can return your rental at UPS.
If Accidents Happen
The nice thing here is that Bag Romance is a little more understanding with minimal damage or rather wear and tear. Consequently, you do not have to worry about minor stains and expected damage. Plus, This particular company includes free insurance with every handbag. But be that as it may, any significant damage or theft is not typically covered by the insurance—so make sure you keep that in mind. As is the policy with most designer handbag rental services/companies, you must pay the full or original retail cost of the handbag in the event of loss or extensive damage (plus sales tax).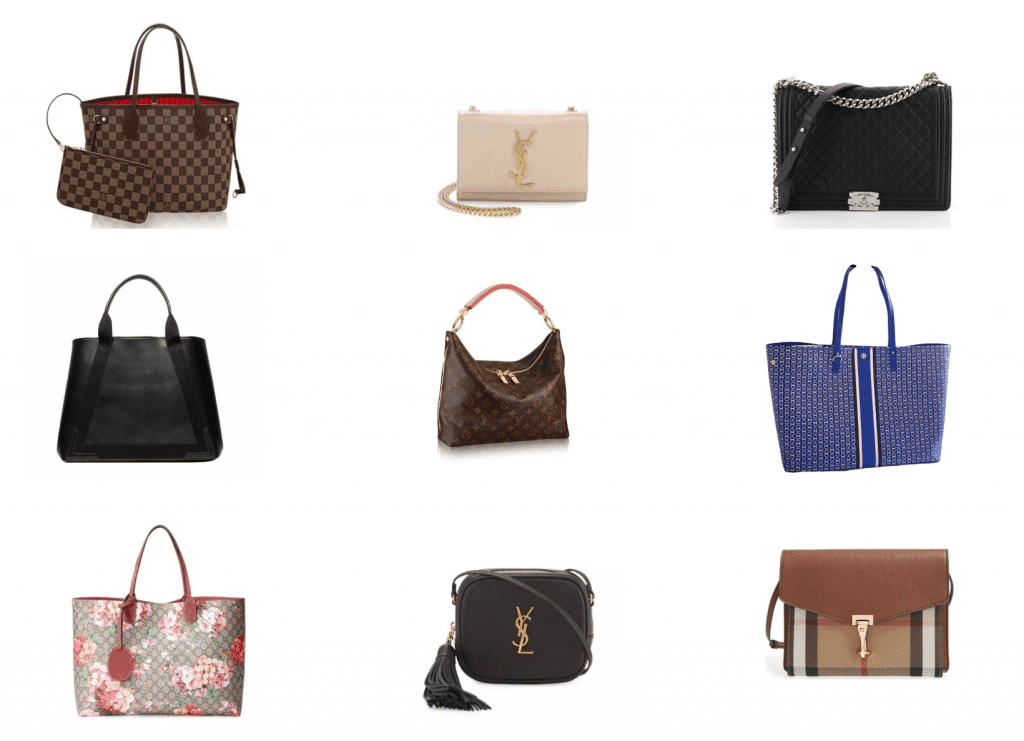 Other Noteworthy Bag Rentals
A few other luxury bag rental companies to also check out include ArmGem (a Denver, Colorado-based company, monthly service, low to mid-range purses rent start $60+. ArmGem's, high-fashion purses range from $350 to $500 per month). Bagtropolis (located in the US, a one-time $199 new member fee + $99 per month). Vivrelle (NY-based monthly subscription), Cocoon (UK company with premium and deluxe memberships), Villageluxe (NY-based single or bi-weekly leasing service), and The Bag Vault (Australia-based service with 3-, 7-, or 30-day leasing periods) are additional options too.
Top 9 Brand Designer Bags For Rent
Now that you have a better understanding of the rent a designer handbag process and where to look for quality, authentic gems. The top 9 fashion brands worth renting are as follows:
Chanel
Louis Vuitton
Saint Laurent
Dior
Gucci
Prada
Marc Jacobs
Chloe
Balenciaga
Overall, any coveted designer brand accessories that you can add to your cart on these sites if you prefer to rather than buy at the moment are worth considering.
Purchasing Your Rental
Of course, if you are looking to buy your rental, some fashion brands like Louis Vuitton, Chanel, and Tory Burch offer their clientele rent-to-own bag programs available through various third-party rentals. If you are interested in purchasing your rental or buying pre-owned/rent designer bags, make sure you check out the above-mentioned companies' latest buy, lease, and layaway policies.
Ultimately, these are just a few fashion/lux style bag rental services available to you. That said, if you want to lease the best of the best but want to ensure that you do not end up paying full retail price, then there are several things you can do to protect handbag rentals. In fact, there are at least four things you should do whether you are leasing or purchasing—utilize the protective packaging, be careful with denim (as color can transfer to lighter colored bags), avoid wearing fabrics or accessories that might snag, and keep your eyes on it at all times.
It's definitely worth renting a luxury handbag as it could allow you the opportunity to hold and use a bag for a few days before you decide to splurge on their high retail costs. A 'try it before you buy it' scenario.
Photos courtesy of official websites of bagborroworsteal, renttherunway, bagromance, armgem.