The story of Fikile Mpofana's metamorphosis from South Africa's corporate boardrooms to the opulent world of luxury accessories has drawn interest from the fashion industry. She has meticulously developed the Fikile brand, which has become a symbol of South African luxury in a market that has historically been controlled by European behemoths. Fikile is positioned to completely change the luxury fashion scene thanks to its unwavering dedication to quality and intense love of crafting.
Fikile TAKEN Mini Bag
The TAKEN Mini Bag from the brand gives us a breath of freshness regarding creativity. The handle, which doubles as a gorgeous bracelet, is the eye-catching sparkle showcase of this piece. The double-encrusted crystals laid out in parallel with one another ensure that all eyes will land on IT.
The crystal encrusted handle is hand mounted, crystal by crystal, by skilled Italian artisans that takes nearly 3 hours to complete. Her handbags are works of art skillfully created by seasoned Italian artisans who are experts in their field. Fikile's TAKEN Mini Bag has an opulent suede inside and combines the classic charm of 100% satin with the velvety embrace of nappa leather. With its luxurious handle encrusted with fine crystals, the TAKEN Mini Bag is a stunning show item, crafted in Italy.
The Fikile TAKEN Mini bag is currently listed at $1594 and comes in various colors such as off-white, black, red, green, blue, yellow, orange, and purple.
The mini bag's trapezoid shape hints at the Jacquemus Le Chiquito bag, a familiar handbag that's made waves in the luxury industry as of late. However, the Fikile TAKEN Mini bag's design trumps the Le Chiquito from the satin material, sharper silhouette, and the added crystal handle.
TAKEN Mini Bag Specs:
12 x 8 x 7cm (length x height x width)
Satin & Nappa Leather
Suede lining
Crystal stone handle
Hardware: Brass & palladium plating
Magnetic flap closure
External handle size: 14 cm
Handle Drop: 11 cm Dust cover included
Made in Italy
What Fits Inside the TAKEN Mini Bag:
To be honest, not much. But what do you really need to carry besides your mini essentials? See below for a representation of what fits inside the TAKEN Mini Bag. Pictured: TAKEN mini bag with what fits inside essential, including two cards, cash, mini mascara, mini perfume, chapstick, mini setting spray, mini lipstick size.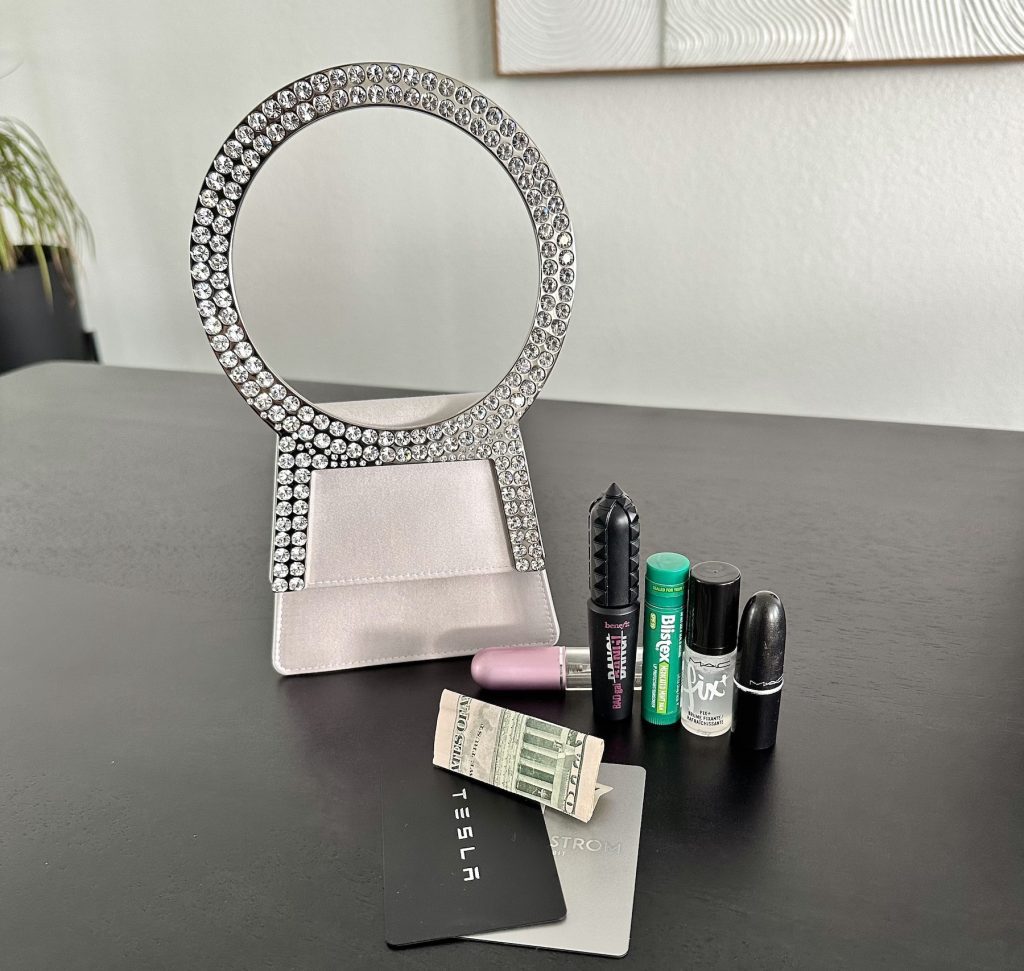 Fikile: Celebrity Mentions
The response from fashion influencers and celebrities, including the likes of @Somizi, @Sarahlanga, @Evafleurose, @Blue_Mbombo, and @alicia_krakowska_hadid, is a testament to the brand's growing influence and appeal. They have embraced Fikile's designs as representations of quality and elegance, demonstrating the brand's dedication to attainable luxury with a contemporary twist.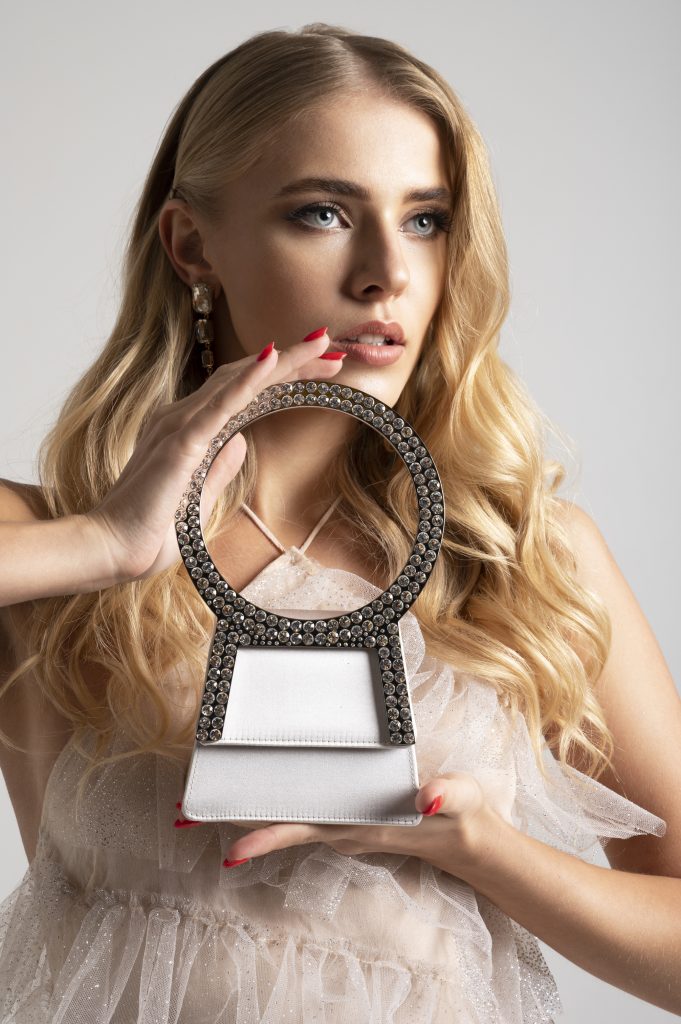 Fikile Mpofana's Story
Fikile's transition from a corporate position to the handmade accessory industry is a testament to her unwavering spirit of entrepreneurship. Fikile's brand is characterized by its exquisite craftsmanship, which is evident in each piece. A quote from the founder, " Our ethos is deeply anchored in the tenets of sustainability, artisan craftsmanship, and timeless elegance. This is the essence of who we are, elegantly crafting each piece with a dedication to sustainability, an uncompromising attention to detail, and a flair for the fashionable."
Fikile Mpofana is influencing how the world views South African luxury. Her brand demonstrates that luxury can have a heart and a soul and is a monument to the strength of willpower, skill, and ethical awareness. Fikile is a rising star in the fashion industry with a symphony of elegance; as it continues to light the way for a more inclusive future for luxury fashion, we should all be keeping a close eye on it.