Finding the right Valentino Crossbody Bag for You
Let's explore the world of Valentino bag and reveal a chosen list of 10 outstanding versions of Valentino crossbody bag that perfectly capture the brand's enduring appeal. Let's discuss reviews, costs, eye-catching images, and more as we delve into the soul of each variety and the distinct attraction it provides to the world of fashion, ranging from timelessly elegant classics to cutting-edge styles.
10 Valentino Crossbody Bags We've Curated
Valentino Garavani Rockstud Spike Crossbody Bag
The Rockstud Spike Crossbody Bag is an absolute legend in the world of fashion. This purse, made from soft quilted leather, features the label's distinctive pyramid studs, which lend a touch of edginess to the otherwise sophisticated design. The chain strap can be removed for multiple looks, making this purse suitable for both work and play. This Valentino crossbody bag is a classic that will never go out of style, whether you choose to keep it simple with black or experiment with bold colors.
Iconic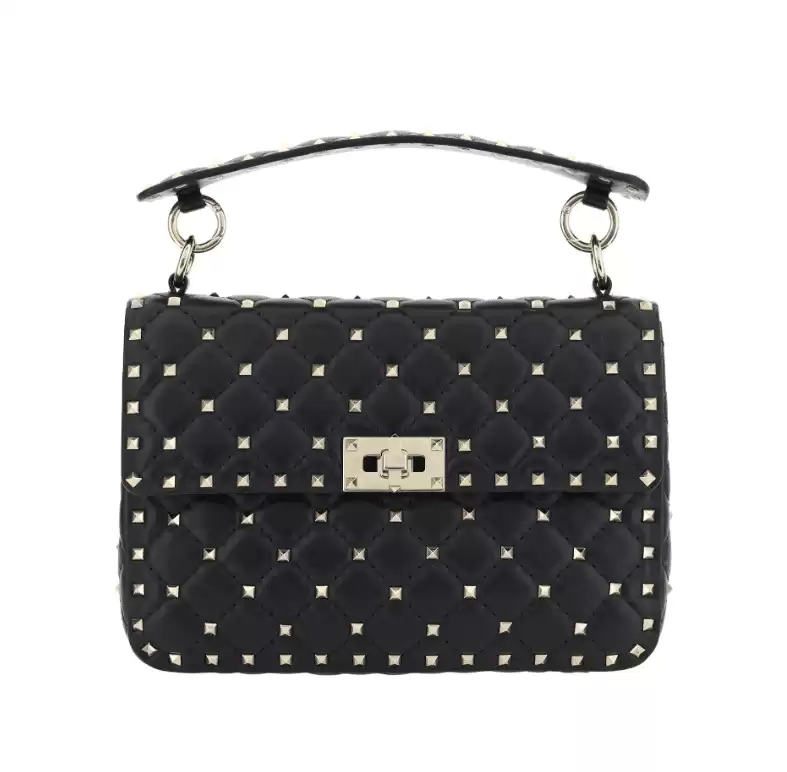 Valentino Garavani VSLING Crossbody Bag
The VSLING Crossbody Bag is an essential for people who value contemporary style. This chic square clutch, with the label's signature V-logo hardware, is a perfect example of Valentino's uncanny ability to combine modern design with classic elegance. The leather strap can be adjusted to provide a snug fit, making this a great option for both everyday wear and formal occasions. The VSLING Valentino crossbody bag, made from the finest calfskin leather, offers an aura of refined simplicity that instantly improves any outfit. The mono-colored hardware is the perfect modern touch!
Valentino Garavani Roman Stud Crossbody Bag
An alluring fusion of sophistication and edge can be found in the Valentino Garavani Roman Stud Crossbody Bag. Its gorgeous quilted leather exterior, created with great attention to detail, highlights the brand's superb craftsmanship. A rebellious yet chic touch is added by the enduring Roman Stud detailing, which perfectly encapsulates contemporary luxury. This Valentino crossbody bag, which has a removable crossbody strap, expertly strikes a balance between functionality and a refined air, making it the perfect travel companion for both daytime outings and evening soirées.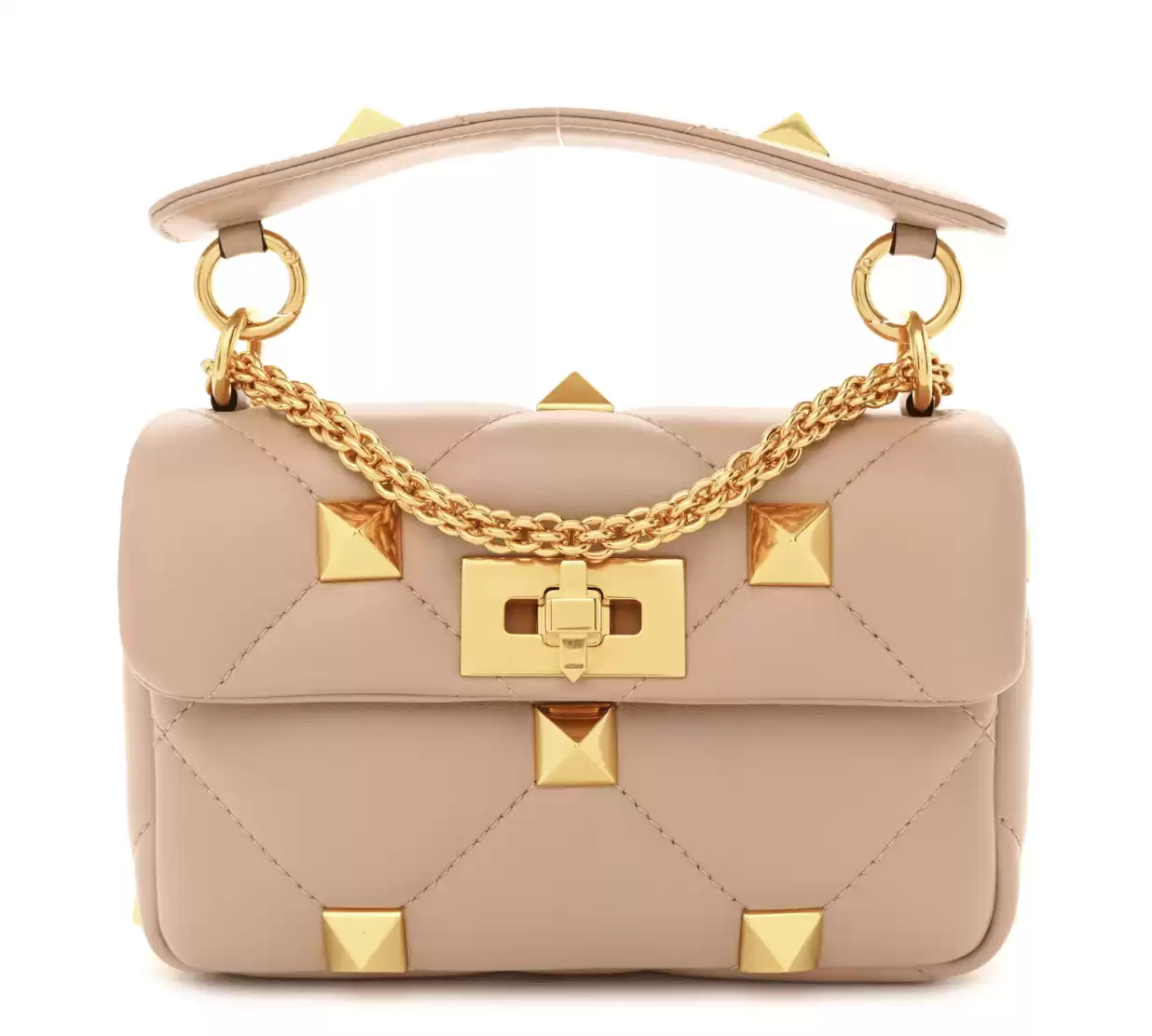 Valentino Garavani Roman Stud Bag
The Valentino Garavani Roman Stud Bag is a masterpiece of meticulous craftsmanship, adorned with intricate Roman Stud detailing that encapsulates a fusion of history and modern luxury.
Shop Bags
Valentino Garavani Supervee Crossbody Bag
The Supervee Crossbody Bag by Valentino Garavani is a remarkable example of modern style. This bag has sleek lines and a structured form that scream refinement in the modern day. Its massive VLogo plate, which serves as the design's focal point, gives a hint of grandeur while upholding a minimalist look. A statement piece for the fashion-forward person, its multipurpose crossbody design, superior leather, and precise Italian craftsmanship provide an accessory that smoothly transitions from day to night. The bag size is great if you love tiny ones!
Valentino Garavani Go Logo Crossbody Bag
The utility and luxury of the Valentino Garavani Go Logo Crossbody Bag are combined. Its small size and recognizable VLogo hardware epitomize modern elegance. This bag, made of luxurious leather, has a deep texture in addition to a sophisticated appearance. Its adaptability and removable crossbody strap make it the perfect companion for both casual strolls and formal occasions, giving a touch of class to any ensemble. This is an amazing option to all to your shopping bag.
Valentino Garavani Rockstud Double Zip Crossbody Bag
The Valentino Garavani Rockstud Double Zip Crossbody Bag is the perfect combination of modern functionality and edgy appeal. This purse emanates a rebellious yet elegant appeal thanks to the distinctive Rockstud accents. It provides plenty of storage while retaining a slim profile thanks to its dual-zip pockets. Any outfit will make a dramatic statement with to the famous accessory's crossbody strap, which can be tucked in and used as a clutch for fun late nights, a transformative Valentino crossbody bag.
Valentino Garavani Candystud Crossbody Bag
The Candystud Crossbody Bag is a great option if you want accessories that are both fun and sophisticated. This bag, with its distinctive stud embellishments by Valentino, strikes a nice balance between youthful enthusiasm and sophisticated luxury. The small form factor is practical, and the variety of eye-catching color combinations gives you scope for personal expression. The Candystud purse is the epitome of modern chic, and it works wonderfully as an accent piece for both solid-colored and patterned ensembles. I particularly love the top-handle addition to this Valentino crossbody bag.
Valentino Garavani Loco Crossbody Bag
A classic work of art, the Valentino Garavani Loco Small Crossbody Bag mixes a modern silhouette and traditional elegance. This bag epitomizes contemporary luxury and chic style because it is embellished with the recognizable Valentino V logo. The structured shape of this high-quality leather bag oozes sophistication and offers functionality thanks to its well-organized inside compartments. With the help of the removable crossbody strap, and top-handle, you can easily add a splash of flair to your outfit. If you're a lover of shoulder bags, this is a great option.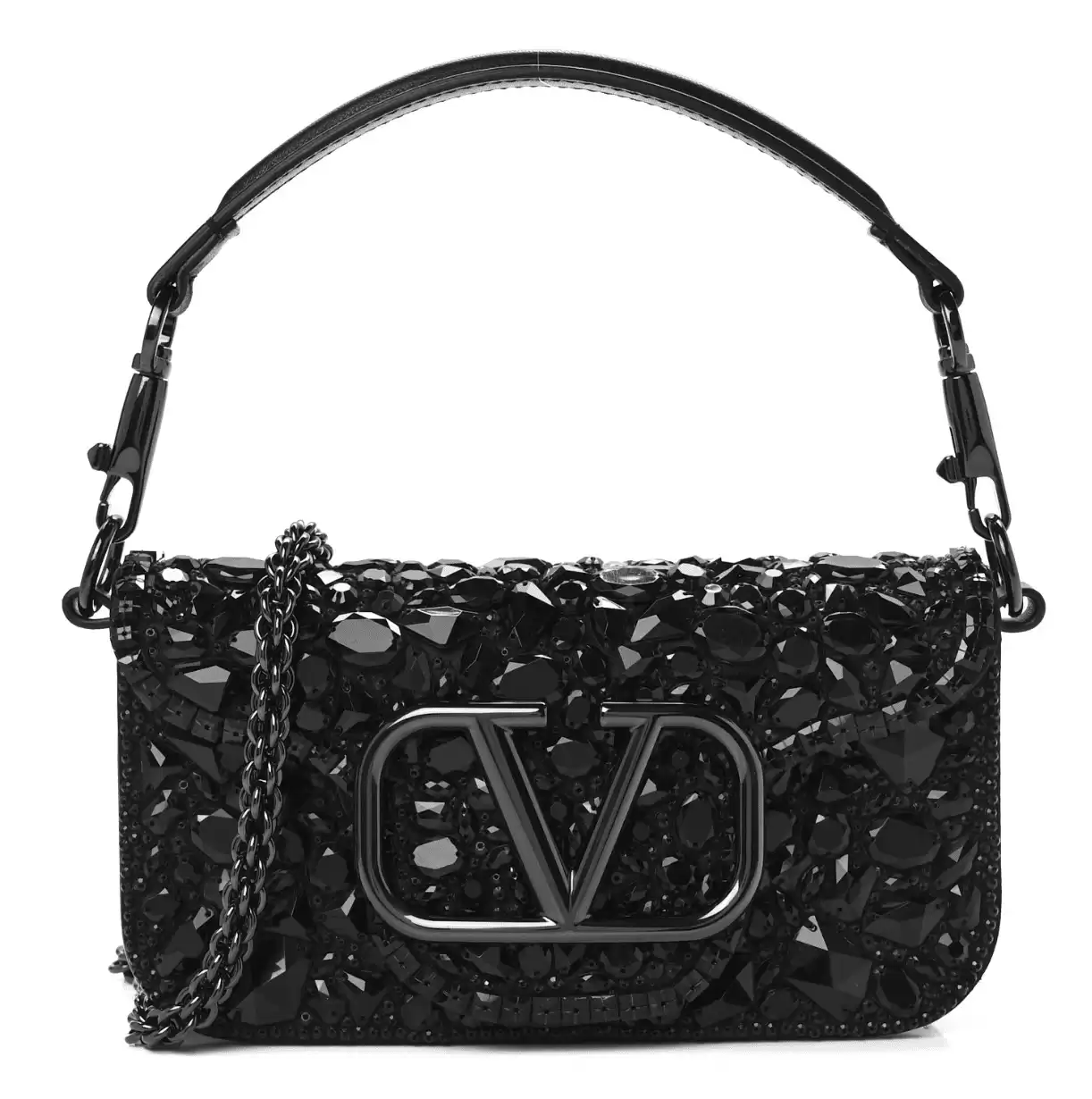 Valentino Garavani Loco Bag
The Valentino Garavani Loco Bag embodies an eclectic blend of playful eccentricity and refined sophistication, showcasing bold patterns and luxurious materials.
Shop Bags
Valentino Garavani One Stud Crossbody Bag
A symphony of grandeur and sophistication is the Valentino Garavani crossbody bag One Stud. The exterior's characteristic quilted leather and delicate Roman Stud detail pay homage to the brand's history of fine craftsmanship. This classic piece receives a bit of contemporary glitz from the recognizable push-lock fastening decorated with the One Stud. It flawlessly blends practicality and style, making it a compelling accessory for both formal occasions and everyday elegance. It is designed with a removable crossbody chain strap.
Valentino Garavani Rockstud Flair Crossbody Bag
The bold refinement of the Valentino Garavani Rockstud Flair Crossbody Bag is personified. This purse, which is embellished with the recognizable Rockstud pyramid studs, embodies both a rebellious spirit and a high fashion taste. A dramatic yet elegant appearance is created by the rigid design and edgy hardware of this beautiful Valentino crossbody bag. With its versatile design and removable crossbody strap, it is a standout accessory that easily transforms from day to night, enhancing your look with a dash of modern charm.
The Allure of a Valentino Crossbody Bag
The alluring mix of elegance and adaptability found in Valentino Garavani crossbody bags attracts to both the fashion-forward and the practical. Each design is a work of art, a seamless union of meticulous craftsmanship and classic style. These crossbody bags seamlessly go with you through every aspect of life, whether it's the rebellious allure of Rockstud embellishments, the modern flair of VLogo hardware, or the classic elegance of minimalist lines.
Valentino Garavani crossbody bags have cemented their status as the ultimate accessory and a true representation of contemporary luxury with an unmistakable blend of sophistication, originality, and enduring charm.
Valentino Garavani History
The story of the Valentino Garavani fashion house was created in the heart of Rome, where the whispers of history meet the glamour of modernity. A young, imaginative Valentino Garavani founded his namesake fashion brand in 1960, fueled by his love of design and unwavering determination.
Valentino's designs have always teetered between tradition and modernity, capturing the most fashionable elite in the world. His eponymous "Valentino Red" came to be associated with wealth and charm; it was a color that demanded attention and hinted at romance.
The 1960s saw the emergence of Valentino's own style, which featured expertly made, sculpted forms that emphasized the beauty of the female body. His association with the screen legend Audrey Hepburn solidified his reputation as a master of haute couture and the personification of enduring refinement.
Valentino's fashion house advanced throughout the decades as the globe did. The 1970s and 1980s both embraced extravagance and flamboyance, whereas the 1970s witnessed bold experimentation with textiles and patterns. Modern, sleek minimalism was introduced in the 1990s, and it appealed to a new generation of fashion connoisseurs.
The Valentino Garavani fashion house remained a symbol of luxury throughout it all, praised for its commitment to innovation and workmanship. Celebrities and fashion icons wore Valentino's works of art on red carpets, showcasing the brand's artistic expertise. Not to mention the Valentino's iconic runway shows that garner millions of viewers worldwide.
Valentino Garavani passed the baton to fresh creative brains in the new decade, yet his legacy lived on. His spirit, captured in each stitch and form, served as an example for designers who came after him. With its blend of class, drama, and modern sensibilities, the Valentino Garavani fashion house continues to amaze the globe today and captures the very essence of classic Italian luxury.
Why Invest in a Designer Handbag?
Buying a designer handbag makes a statement about your appreciation for classic elegance and enduring quality. These items are more than just eye candy; they are long-term investments that can grow in value. The combination of high-quality materials, careful craftsmanship, and timeless designs results in a bag that is more like a work of art than an accessory. Plus, the limited availability and meticulous craftsmanship guarantee the bag's longevity, so you can enjoy owning a designer handbag for years to come.
Valentino Garavani Crossbody Bags Conclusion
The many iterations of the Valentino Crossbody Bag have shown off an intriguing journey of sophistication, originality, and timelessness in the world of high-end handbags. Each iteration brings something new to the fashion industry, from the edgy allure of the original Rockstud to the sleek sophistication of the VLogo hardware.
A Valentino Crossbody Bag is so much more than a bag; it is a work of art, a tribute to exquisite taste, and a blank slate onto which one's individuality can be skillfully written. These handbags have become symbols of elegance, befitting any formal or informal occasion. They demonstrate that true luxury never goes out of style.