What is Saffiano Leather by Prada?
Saffiano leather is high-quality leather that's used on premium handbags manufactured by luxury brands, most notably, Prada. There's a high chance that you've handled some saffiano leather, whether or not you know it. However, once you come to recognize the texture, it's quite distinct and unmistakable.
If you own handbags with saffiano leather, then you know how valuable they can be. Thus, you'll need to preserve them in the best possible condition while rocking them. But to do that, it helps to understand exactly what saffiano leather is, how it's made, and specific strategies you can use. Thankfully, this article addresses all that and more.
History of Prada's Saffiano Leather
Saffiano is textured leather with a unique cross-hatch pattern, layered on a vegetable-tanned base. Original saffiano is highly durable and resistant, which is not surprising since it's used in many high-end products, including by brands like Prada.
The best saffiano leather is full-grain, meaning the manufacturers use the entire hide's width when manufacturing it. The texture on this leather has a crosshatch pattern, and it's achieved by using a specialized stamping machine. Another benefit of the stamp and crosshatch print is that it makes the leather resistant to scratches, durable, and relatively easy to clean.
From history, the original saffiano leather was made for Mario Prada in Italy. Back then, the unique leather was patented by Prada, and he used it in making many of his products, including bags and shoes.
Other manufacturers still use saffiano as a signature leather, but cheaper quality items have also flooded the market over time. As a result, it's easy to get a purse and handbag for pennies compared to genuine saffiano leather bags.
However, this new range of faux leather is famous for being of lower production quality. You can tell every time you handle it while shopping.
The generic categories also mean that saffiano leather is now synonymous with a cross-hatch design, whether or not it meets the standards of the genuine thing. As we'll see under 'how is saffiano leather made,' there's more to the process than simply getting a hatchet print.
See discounted Prada Saffiano Leather bags on the resale market now: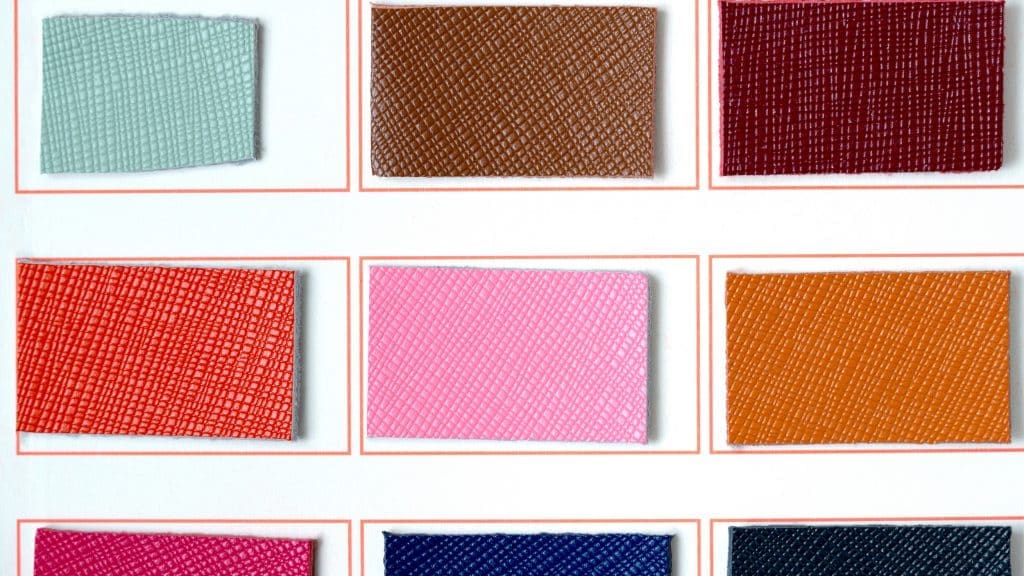 How is Saffiano leather made?
Saffiano leather was created when Mario went in search of a specific kind of quality. He wanted leathers that could be unique, durable, strong, and gorgeous. Back then, Prada ran a leather shop in Italy that had a reputation for selling high end purses and goods.
He visited tanneries in Italy, hoping to create a unique formula for his leather. He eventually created one and secured a patent for his fashion material. Made from calf leather or hide, the leather is first heated to about 70 degrees Celsius, after which the signature saffiano pattern is machine pressed in the cross hatch way into the leather for about 15 seconds. The heat allows it to set in the leather. Following his, the entire leather is coated with a wax finish.
You'll notice that not all saffiano bags have the same color. That's because some of these full-grain leathers are dyed to accentuate different colors. This vegetable tanning also gives it more depth because the patterns will have slightly different colors. The remarkable thing is that they still retain their durability and resistance to scratch and water.
Not all saffiano leather is made using calf hide. Some are made from synthetic materials or cheap genuine leather. Cheap, in this case, doesn't necessarily mean bad quality. It could mean a lesser grade of leather. But because it has a wax coating finish and is vegetable tanned, the leather bags will have some stain resistance and other related saffiano qualities.
When saffiano leather was first invented, only Prada used it to make purses and other designer goods. But eventually, the patent expired, and it was basically free for all. It was adopted by more than one fashion house as they added it to their collection. The fashion houses also brought in a different style, using it to make a range of Italian beauties, whether it was a uniquely crafted handbag or a highly durable leather purse.
How do you care for Saffiano leather?
If you own a saffino leather bag, you're in luck because they are quite easy to clean. The stain and water resistance of your bag basically do all the heavy lifting for you. Here is a step-by-step breakdown of everything you need to do for saffiano leather below. Click here if you're looking for an in-depth way on How to Clean Your Louis Vuitton Bag.
Step 1: Check for cleaning instructions on the Saffiano leather bag
Look out for specific care instructions for the leather bag, like cleaning along the grain for instance. These ensure that the soft and textured surface of the leather handbag remains as beautiful as intended. Prada typically comes with an informative care card with every leather purchase.
Step 2: Practice on a less visible area on Saffiano leather
If there are no cleaning instructions, you'll need to be careful when working on the stains. It helps to test your cleaning products and overall technique on a less visible surface. For example, you could clean the soft but less visible inner part of your bag.
While testing, check your cleaning cloth to see if you removed any color or coating finish from the leather. If you did, it's best to find an alternate method.
Step 3: Use mild solutions on Saffiano leather
Consider using baby wipes. These are perfect for cleaning your saffiano leather bag because they are gentle and won't cause any harm. When rubbing, be sure to be gentle and maintain one direction – usually along the grain. A related piece of advice is to go in circular motions until you cover the entire surface.
Another great option is soap and water. Join soap and water to gently wipe down the bag. A few drops of liquid soap with two cups of warm water will work just fine. Dab a cloth in the mixture and gently wipe the surface of the saffiano leather. Then, use a dry hand towel to remove excess liquid once you're done with the process. Be careful not to let water sit on the bag.
Step 4: Cleaning stains on Saffiano leather
With stubborn stains, you may need to use some rubbing alcohol. You can purchase these at a wide range of supermarkets and stores. Simply dab the area of saffiano leather you wish to clean. If you rub it, the color or finish may come off. Instead, pat it and let the alcohol dry for about 15 minutes. Using a Q-tip to apply the rubbing alcohol will help to control the application.
Many have used leather cleaners or conditioners to help soften the leather. Leather conditioners could take a good amount of debris off the surface of many different kinds of leathers.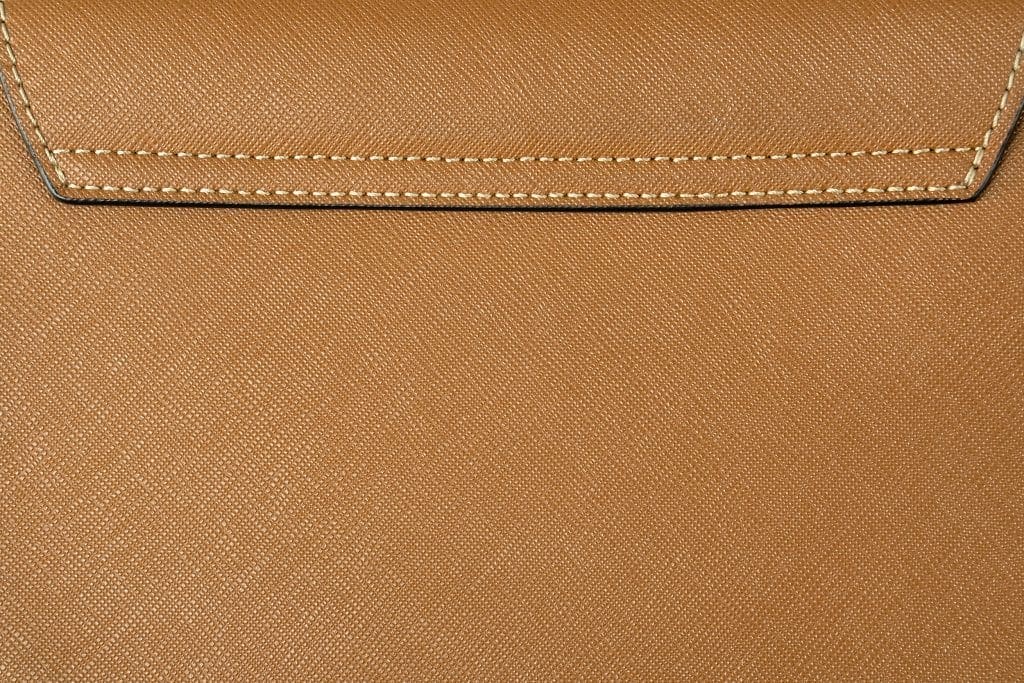 Why is Saffiano leather so desirable?
Saffiano leather is desirable for many reasons, but it often comes down to a few things.
Saffiano Leather is Beautiful
Saffiano has a distinct pattern that makes it elegant to see and pleasurable to touch. The cross hatch pattern provides a rich texture, and you can just feel the quality, regardless of what direction you run your hands.
Saffiano Leather is Distinct
In the beginning, saffiano leathers used to sport the distinct design that they are known for. But with so many synthetic varieties out there, it's slightly harder to stand out; however, you can still tell a saffiano handbag from one made of faux leather just by the feel and style of it.
Saffiano Leather is resistant to stains, scratches, and water!
The resistance of saffiano dates back to the time of Mario Prada. The leather would be pressed and then coated with a wax finish. The combination made it highly resistant to all kinds of impacts. An original saffiano handbag would still have the same benefits, but faux leather wouldn't share the same durability.
Saffiano Leather is Exclusive
One of the reasons people crave Italian leathers is their exclusive nature. They are part of a designer collection that's basically priced for a small section of the world population.