Louis Vuitton Golf Trunk Newly Released
Golf, a sport that has gained immense popularity throughout the years, has now become an avenue for luxury brands to showcase their creativity and innovation. With the release of the Malle Golf Trunk, Louis Vuitton, a company famous for its classic trunks and baggage, has elevated the standard once more. While Louis Vuitton bags are typically their most popular accessory, they've added a new product to drool over.
The Golf Trunk is a great mix of style and usefulness. The trunk is made to carry everything a golfer would need on the course. It has places to put golf clubs, golf balls, gloves, shoes, and even a change of clothes. The trunk is made of strong but light materials, which makes it easy to move from place to place.
The Louis Vuitton Golf Trunk is unlike any other golf trunk because of its innovative construction. The Monogram canvas is used to make the trunk with leather accents and brass hardware. The Louis Vuitton monogram decorates the trunk's exterior, making it look more refined and recognizable.
The cavernous interior of the Golf Trunk lives up to the lofty expectations set by the outside. The trunk's interior is lined with microfiber, which gives it a plush appearance and shields the golf gear within from any potential harm. The microfiber trunk interior is a material that is frequently found in high-end automobiles and boats.
Click here to view our Louis Vuitton Neverfull Price List
The amount of storage space provided by the Golf Trunk is one of the most remarkable aspects of this product. The Golf trunk features one perspex monogram drawer and a specific location for storing your LV monogrammed golf balls. There is sufficient space for fourteen golf clubs, eighteen gold balls, one flag, one putting mat, two towels, and three club covers. There is also a double handle for convenience when transporting everything.
Description Size:
L57 x H144 x D57 cm
22.5 x 57 x 22.5 inches
** Sold without golf content; those are invoiced separately.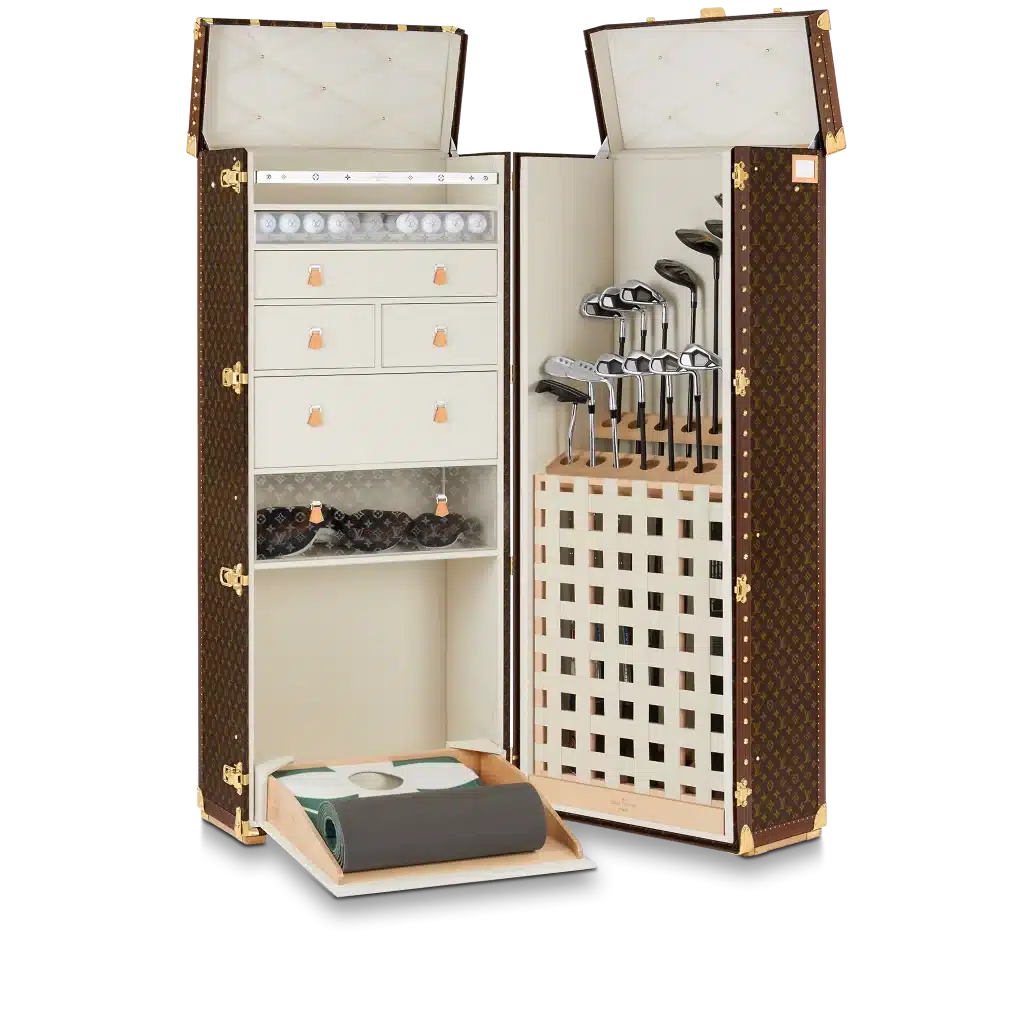 To summarize, the Louis Vuitton Golf Trunk is a revolutionary product that will forever alter the landscape of golf bag accessories. The opulent appearance and practicality of the trunk make it an essential purchase for any golfer who plays the sport frequently. The Golf Trunk is the ideal accessory for every golfer, whether you play the game professionally or take it up as a hobby in your spare time.
With the Golf Trunk, Louis Vuitton has once again demonstrated that it is possible to blend luxury and functionality; this time, the proof comes as a trunk.