One thing I always like to do before purchasing a bag is obsessing over it. I look up video reviews, read about pros and cons, pick out color combinations, etc. When I notice I'm missing something in my handbag collection, I think about the brands I'd like to buy into and the investment potential. Whether you're looking to start your handbag collection or add something new, we can all agree the YSL LouLou bag is a great bag to own.
Saint Laurent LouLou Price
Luckily, if you love Saint Laurent Lou you, there's likely a size, material and color already made for your style. The Saint Laurent shoulder bag comes with two main compartments (one zip, one main) and a chain link shoulder strap that can be doubled up on your shoulder or easily adjusted to create a crossbody look. All Saint Laurent handbags or any goods are made in Italy. The small saint Laurent Loulou bag is slightly bigger than the extremely popular Toy bag (which I will touch on later).
The small Loulou is a great option if you're looking for a bigger bag than most of the micro handbags available on the market now. It can easily hold many things, including your large phone, wallet, keys, miscellaneous, and even a water bottle.
Saint Laurent bags might be classics, but they do launch their classic bags with fun colors and materials every year- check out this crystal-encrusted version below!
YSL LouLou Crystal Bag

YSL LouLou Crystal Sparkly Bag in Silver
LouLou Small Specs
80% CALFSKIN LEATHER, 20% BRASS
DIMENSIONS: 23 X 17 X 9 CM / 9.8 X 6.6 X 3.5 INCHES
SHOULDER STRAP DROP: FOLDED 30 CM / 11.8 INCHES, SIMPLE 56 CM / 22 INCHES
Currently $2590 (as of July 2022)
Currently comes in 15 colors and material options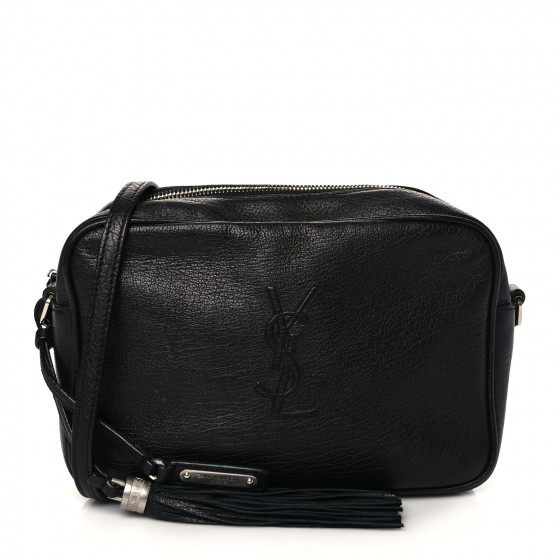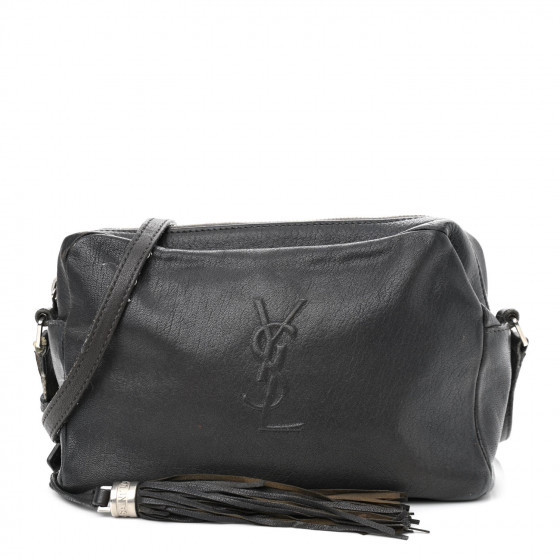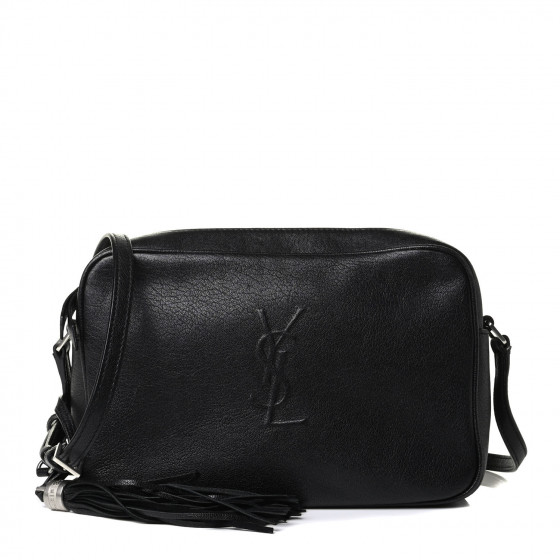 LouLou Medium Specs
80% CALFSKIN LEATHER, 20% BRASS
DIMENSIONS: 32 X 22 X 12 CM / 12.6 X 8.7 X 4.7 INCHES
STRAP DROP: DOUBLED 26 CM / 10.2 INCHES, SINGLE 48 CM / 18.9 INCHES
Currently $2850 (as of July 2022)
Currently comes in 13 colors and material options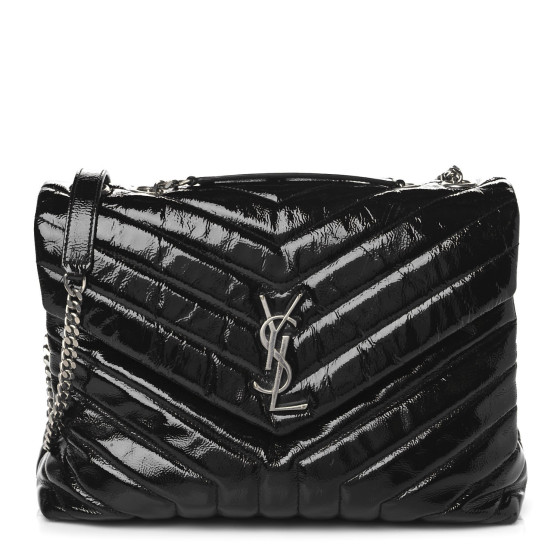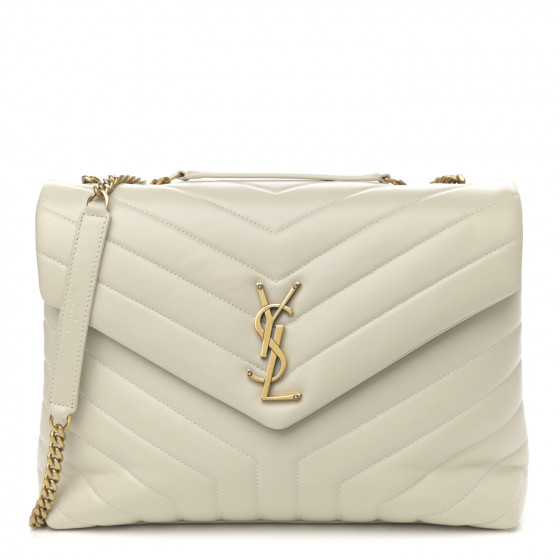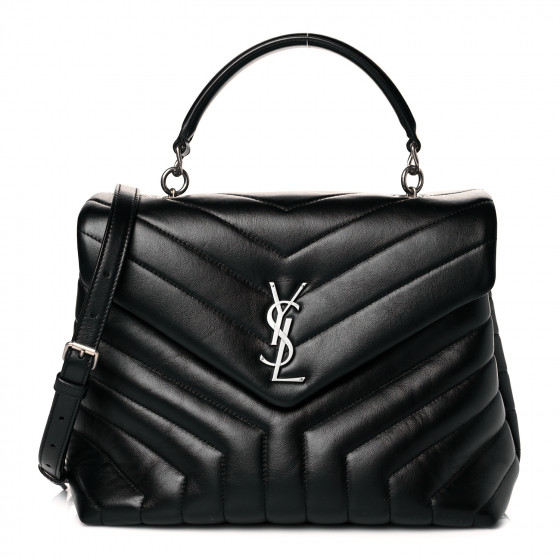 LouLou Large Specs
80% CALFSKIN LEATHER, 20% BRASS
DIMENSIONS: 38 X 27 X 14 CM / 14.9 X 10.6 X 5.5 INCHES
STRAP DROP: FOLDED 26 CM / 10.2 INCHES, OPEN 48 CM / 18.8 INCHES
Currently $3100 (as of July 2022)
Currently comes in black (Noir) leather and in bronze metal hardware.
Saint Laurent LouLou Toy Strap Bag Price
Arguably the most popular version of this Saint Laurent Loulou is the LouLou Toy bag. This bag does not come with a chain link double strap but instead only comes with a long adjustable crossbody strap. Luckily, the crossbody strap can be double looped inside the bag, which can be worn as a shoulder bag as well. The strap can also be removed, which is essential if you're looking to use this purse as a clutch too!
The Saint Laurent LouLou is super easy to wear because it's much smaller and is perfect for daily use like shopping, grocery runs, beauty appointments, and life in general. It's a great bag for any fashion style, a gorgeous little version.
LouLou Toy Specs
95% CALFSKIN LEATHER, 5% BRASS
DIMENSIONS: 20 X 14 X 7,5 CM / 7.8 X 5.5 X 2.9 INCHES
SHOULDER STRAP DROP: 57 CM
Currently $1850 (as of July 2022)
Currently comes in 9 colors and material options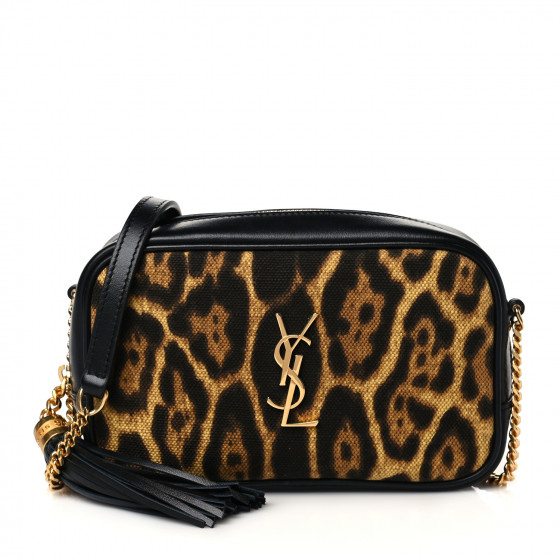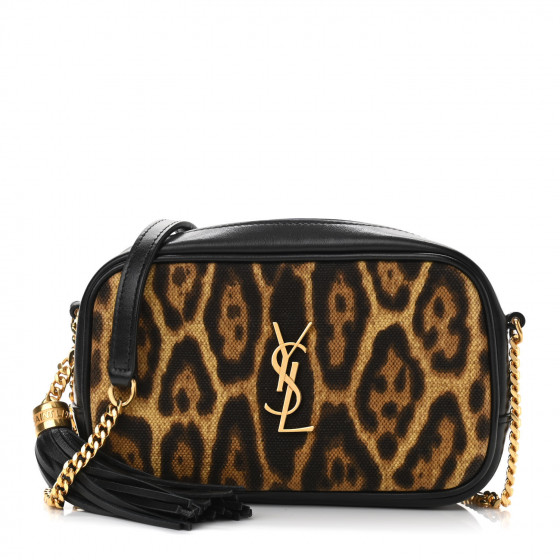 YSL LouLou Aesthetics and Beauty
The #1 thing a handbag connoisseur aims for is to find a beautiful purse. We love the details, great access, essentials, flap situation, how it can be worn, purchase price, how I can carry it, the list goes on and on. The great thing about the Saint Laurent Loulou is how many different ways you can wear it; on the shoulder, crossbody, or tuck in the straps and use it as a clutch.
One of my favorite parts of the Loulou small (all sizes have this) is the front flap. I love how the ever-so-classic YSL logo is the center of attention, and the handbag's purse embossing is shaped to almost frame the logo. My favorite color-way is the stunning aged brass gold logo that comes with virtually any color purse you choose (you cancan also opt for silver hardware).
The Saint Laurent Loulou can be found in all currently available variations on the YSL website. My favorite place to shop for this purse is on the resale websites (listed above).
Is the YSL LouLou Bag a Classic?
Buying into classic bags is a great way to ensure you're protecting your investment. Saint Laurent is a brand that is considered a heritage brand, as it has been around for many years. It's a cool, always fashion-forward type of brand that has stayed in the moment for many years. Any YSL bag would be a great buy, especially in leather, a classic style, and classic colors.
Although launched in 2017, the YSL LouLou bag has already become a quick classic. The Loulou small bag has become a popular size with this style and can always be found in any Saint Laurent store. In fact, the small Loulou has grown so much in popularity that it has steadily gone through a few price increases since its launch. I always like to say that if you love a bag, don't wait too long, because chances are- the price will go up when you least expect it.
Does the YSL LouLou Bag Hold its Value?
As mentioned above, the YSL Loulou has become a classic style in the YSL brand. Although a newer bag in their collection (2017), it is sought after every season on their site. The gorgeous shape and cute "Y" shaped leather design make it so unique to the brand that women and men gravitate towards it.
As for it holding its value? You could get lucky and potentially sell the bag for more than you purchased it if you hold on to it long enough. With designer brands all over taking their turn at price increases yearly, it's a no-brainer that a shoulder bag of this magnitude will eventually ride the wave too.
It's better if you baby your bag. Unfortunately, I like to over-use my purses and don't baby them too often, so I do find that some micro scratches end up on the handbag and hardware of my purses. However (pro tip) if you keep them inside closure sticker on, it'll prevent those minor scratches on the interior hardware. Be careful; the glue underneath the plastic may start to break down if left on for more than five years. The better the condition, the more bucks you can pocket when you go to sell it.
Final Thoughts
I'll be honest. I haven't really been excited about the YSL brand for quite some time. I quickly got tired of their popular Sac De Jour tote and their Kate bags. But in recent years, I have gravitated towards their Rive Gauche tote, the Sunset handbag, and of course, the Loulou. I see the Loulou bag staying in the YSL lineup for quite some time. If you're looking for an amazing day-to-day purse that can be worn day or night, this one is perfect! They may adjust their shape, puffy-ness size, and straps in future years, but I do foresee this bag is a good enough investment to buy into now.