Christian Dior Tote Bags Are Here To Stay
We are entering an era where larger tote bags are finally trending again. As a mini bag lover, this hurts a little, but I'm also psyched, I can finally carry more than a cardholder and lipgloss with me from now on. A tote bag is essential in any gals wardrobe as these larger bags are necessary for our everyday lives. We need tote bags that can take us from season to season, pair well with our own style, and come from our favorite fashion house; Christian Dior. Check out our Dior Saddle Bag Buying Guide Here
The Winner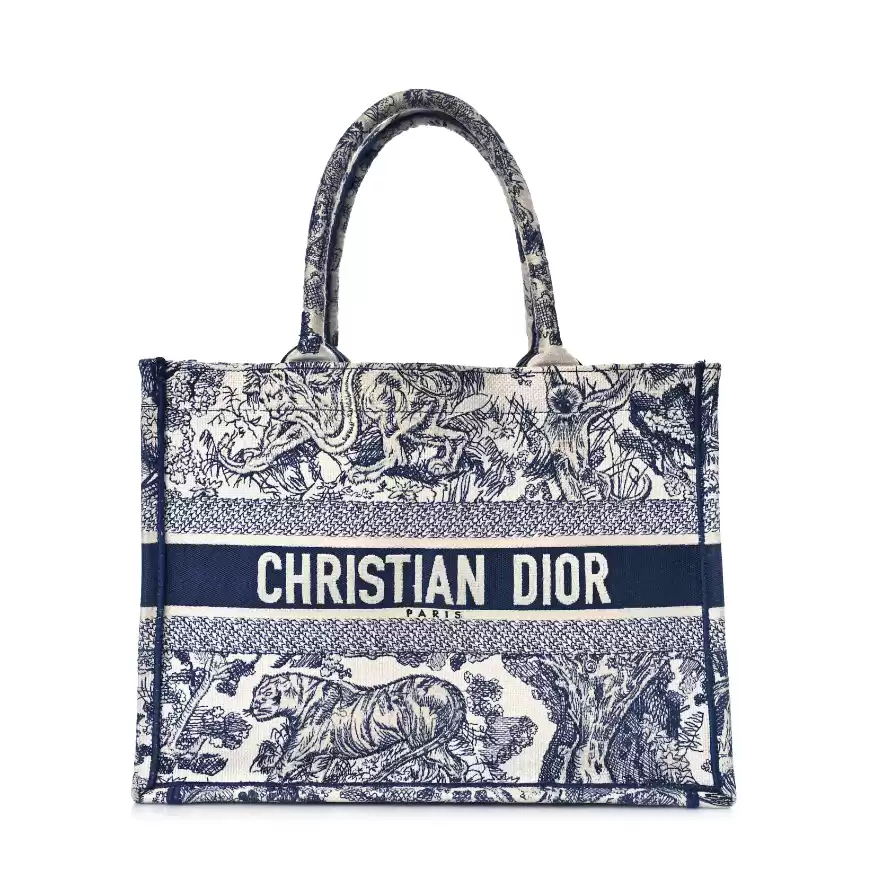 Dior Book Tote
The Dior Book Tote is a spacious and practical bag featuring the brand's signature prints and sturdy canvas material, perfect for carrying everyday essentials and adding a touch of elegance to any outfit.
Shop Bags
The original and perhaps the most popular size of the Dior book tote is of Dimensions: 42 x 35 x 18.5 cm / 16.5 x 14 x 7.5 inches. You can now find the tote in a small size such as the small size Dimensions: 26.5 x 21 x 14 cm / 10.5 x 8.5 x 5.5 inches or the Mini Dior Book Tote Phone Bag 13 x 18 x 5 cm / 5 x 7 x 2 inches (comes with strap & fits all iPhone sizes!)
These totes can be worn over the shoulder or handheld. While many say this bag is quite heavy without anything in it, it is crafted with the finest of materials… those don't come light. Before purchasing, you have to know what you will be using the tote for. It may not be totally good for an every day but will come in handy as a travel bag as it can sit comfortably on your rolling carry-on bag.
Nonetheless, since the Christian Dior tote bag was launched, it now has many versions available. See the complete line of sizes below.
Dior Book Tote Sizes
Large Dior Book Tote: (42 X 35 X 18.5 CM)
Medium Dior Book Tote: (36 X 27.5 X 16.5 CM)
Small Dior Book Tote: (26.5 X 21 X 14 CM)
Mini Dior Book Tote: : (22.5 X 15 X 6 CM)
The Dior Diorissimo Tote Bag
Lowest Cost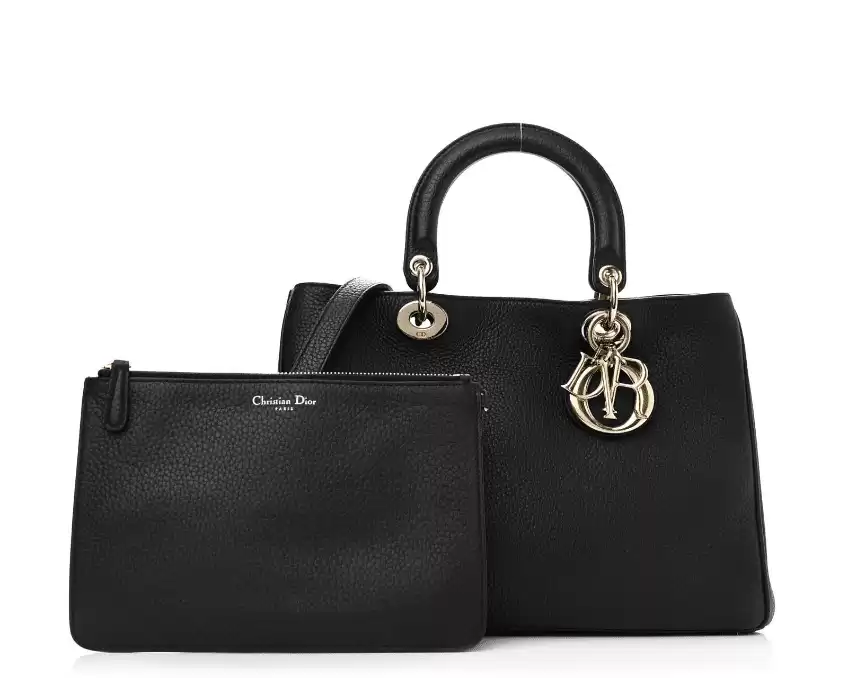 Dior Diorissimo Bag
With its clean lines, luxurious leather, and iconic "Dior" charms, this bag exudes sophistication and versatility.
Shop Bags
An oldie but a goody. But let's not get too crazy; it's not that old. Just because Dior doesn't necessarily sell this handbag anymore doesn't mean it's not still relevant. I mean, one quick look at this, and you might think it's a variation of the famous Lady Dior bag! The hardware is engraved with the Dior logo; it's a simple shape yet elegant; it comes in small and large sizes and a whole array of colors! It even comes with a matching pouch, and as far as totes go, this should definitely be on the list.
This bag screams elegance, and similarly to the Lady Dior bag, it has a "DIOR" charm hanging from the handles. It can be worn handheld or carried as a crossbody bag. As far as tote bags go, this bag is perfect for every day. The classic shape and style make it both trendy and classic. The lady Dior-inspired tote bag is one of our favorites!
Large Lady Dior Bag
Most Popular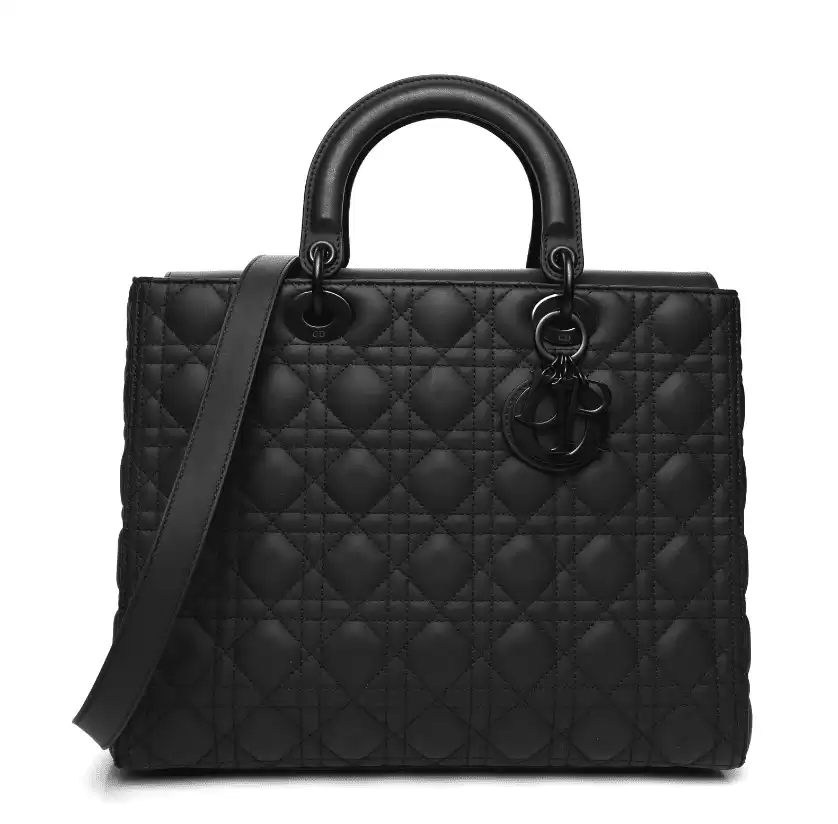 Large Lady Dior Bag
Crafted with impeccable attention to detail, luxurious materials, and adorned with the signature cannage stitching, this spacious tote exudes classic refinement.
Shop Bags
Here's an obvious choice, or perhaps not? I think we've seen the Lady Dior handbag in the small medium and large sizes, but mainly in the small, mini, and even micro sizes more so! Our Instagram influencers have advertised the smaller versions of this Christian Dior tote bag that we forget that it even comes in larger sizes.
She's a classic, a full embodiment of elegance, and held by the one and only Princess Diana. Given her namesake bag, Diana would carry this bag quite often and might even be the reason it remains so popular and regal. She is a lady, after all. Much like the saddle bag, this is a bag that is recognized as a classic handbag for the fashion house. From mini sizes to larger ones, this is as classic as classic totes go. You can find them embroidered, adorned in crystals, and crafted in the finest materials and motifs.
Dior Panarea Tote Bag Cannage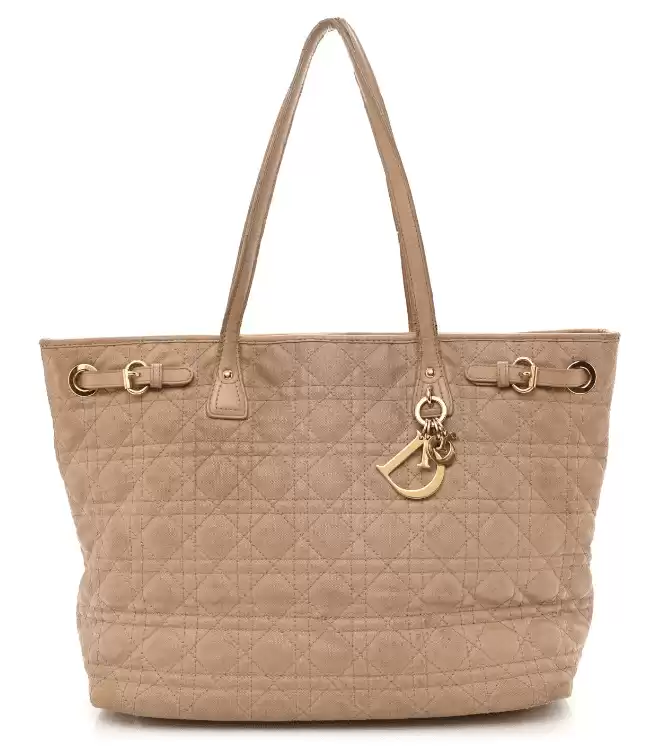 Dior Panarea Tote
The Dior Panarea tote bag is a chic and versatile accessory that seamlessly combines practicality with effortless style.
Shop Bags
The Dior Panarea tote bag is a high-end accessory that can be used with any outfit and exudes a sense of modern elegance. Made from sturdy canvas with leather accents and the distinctive Dior charm for a dash of glitz. This bag is ideal for toting around the necessities of life because to its roomy interior and well-thought-out construction, and it will continue to be a chic accessory for years to come thanks to its classic style.
The Panarea tote is a must-have for the discerning fashionista because it so elegantly marries practicality and style for use in both professional and personal settings.
Dior Canvas Print Cruise Tote Bag
Trendiest
Dior Canvas Print Cruise Tote
With its bold canvas print inspired by cruise collections, this bag effortlessly combines style and functionality, making it a must-have for those seeking a trendy and versatile statement piece.
Shop Bags
The Dior Canvas Print Cruise tote bag is a gorgeous and fashionable accessory that oozes style and adventure. This bag quickly makes any outfit look better thanks to its striking canvas print, which was inspired by the lively and colorful spirit of cruise collections. It combines both functionality and adaptability with its roomy interior, leather top handles, and removable shoulder strap, making it a great option for both daily use and weekend trips. Everywhere you go, you'll stand out in style thanks to the Dior Canvas Print Cruise tote bag, a striking piece that fuses fashion-forward design with the brand's legendary craftsmanship.
Christian Dior Tote Straw Dioriviera
Dior Straw Dioriviera
Featuring vibrant colors, intricate embroidery, and a relaxed silhouette, this bag is the perfect companion for beach outings and sunny getaways.
Shop Bags
If you're looking to really save some cash, then this option might be the best one yet. The Dior Straw Dioriviera tote bag is a simple shoulder bag made of… you guessed it… straw. The woven straw makes for a conversation starter and a really beautiful medium-sized handbag. The Dior fashion house created a straw bag that is perfect for beach days, lounging by the pool, or even a hot summer day shopping outdoors.
If you're looking for a simple Christian Dior tote bag that resembles the Dior book tote, this might be the one for you. It's a material you don't see every day but is easily recognizable. As mentioned above, the price tag of this puppy is well below the others mentioned above.
Why Is The Christian Dior Tote Bag So Popular?
You know the drill; here at Bagover.com, we like to talk about the luxury side of handbags, and tote bags are no different. Sure, can any other no-name brand do the same job, if not better than the designers we talk about? Absolutely! Do we care? No chance! We love luxury handbags; not everyone understands it, but we do.
Let's chat about a Christian Dior tote bag. The Dior book tote nearly BROKE the internet at its launch time and might have single-handedly instigated the big bag trend. While there are many features of the large handbag that might not make sense, i.e. no zipper, no magnetic closure, no pockets, too structured, etc. But let's be real, she is STUNNING.
Christian Dior Tote Bag History
First introduced by current Christian Dior creative director Maria Grazia Chiuri, the book tote has remained white hot since it was launched. It is now available in many variations, which include both embroidered and embellished, as well as full leather! It's a beautiful marriage between casual and luxe and can be styled up or down.
How much is Christian Dior Tote Bag?
The styles mentioned above can range in price. The Dior Book Tote at this moment can range for the following pricing:
Dior Book Tote Pricing
Small: $3,150.00
Medium: $3,300.00
Large: $3,500.00
As you can see, the pricing differences among the sizes are not large. It really boils down to what size is going to work best for your lifestyle and body frame. As someone who is 5'1", I might not opt for one of the larger totes but instead shop for the medium or even small. I love canvas or even velvet materials; frankly, anything by this fashion house I am inspired by.
Carrie Bradshaw carried the famous Christian Dior tote bag that folds. We would wear this today TBH.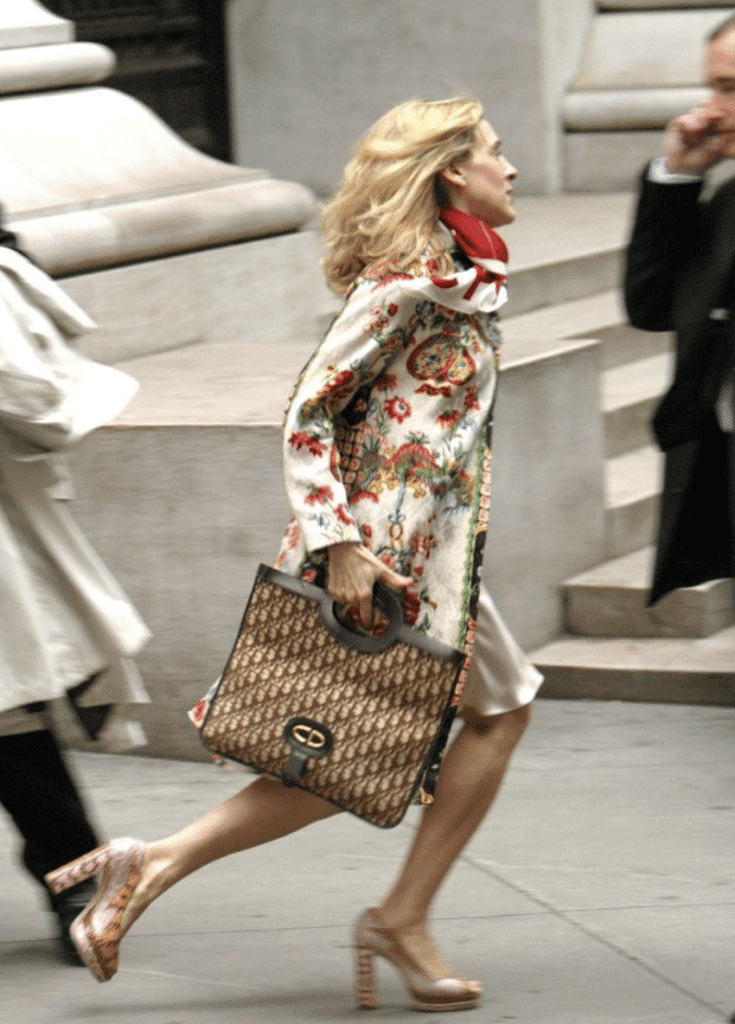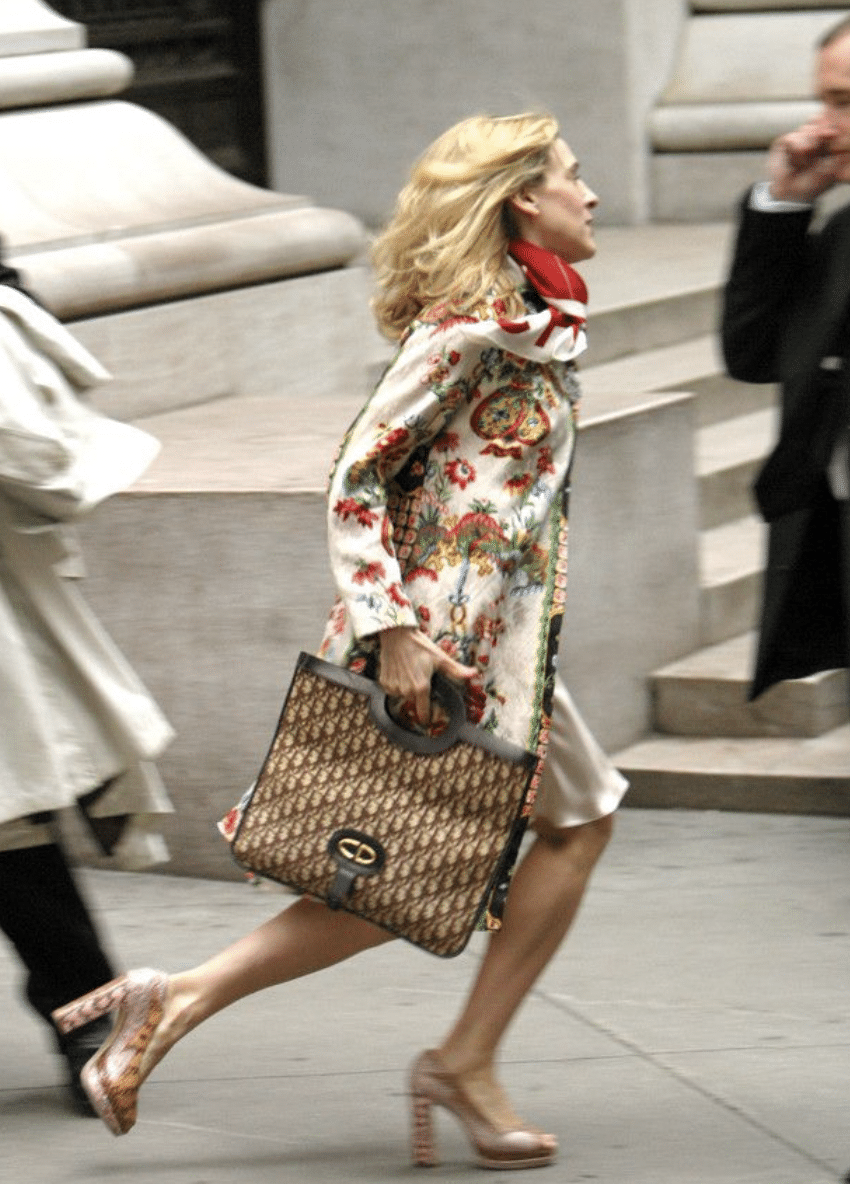 Final Thoughts
While there might be many other totes by Dior still in existence from past seasons (we love sustainability), the ones above are our faves. They are classic, chic, modern, and timeless. From their shapes to their materials, women and men globally love the recognizable prints and motifs by Dior.