Feature image courtesy of @treasuresofnyc on instagram.
The Prada Nylon Backpack symbolizes modern style and practicality. Its sleek appearance and sturdy build make it ideal for regular use. Its simple yet attractive design complements any attire, formal or casual. The backpack's water-resistant fabric is weatherproof. This backpack is a timeless choice for someone looking for a designer luxury backpack. Read on to see our honest Prada nylon backpack review.
Our Pick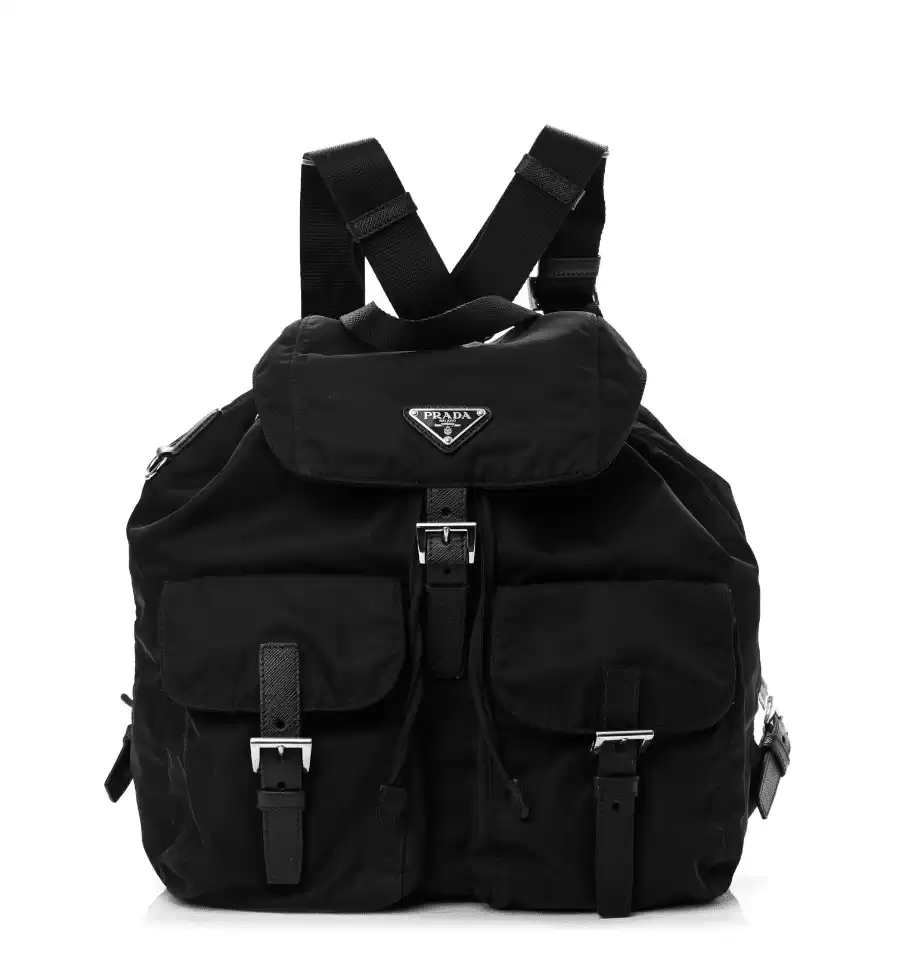 Prada Nylon Backpack
The Prada Nylon Backpack is a sleek and utilitarian accessory, crafted from durable nylon fabric, featuring a minimalist design, spacious compartments, and the iconic Prada logo, making it a stylish and functional choice for both urban adventures and everyday use.
Shop Bags
The backpack is a luxury item with a suggested retail price of several hundred dollars, which makes it exclusive to those who can afford it.
You can find Prada Nylon Backpacks at the current retail price of:
Prada Small Re-Nylon Backpack: $1950
Prada Medium Re-Nylon Backpack: $2150
Prada Large Re-Nylon Backpack: $2750
You can find Prada Re-Nylon Backpacks on resale websites at mega-discounted rates.
Find Prada Nylon Backpack Options At Discounted Prices Above
The brand's reputation for high-quality items, distinctive design, and attention to detail, however, is reflected in the price point, as seen in the durable Prada nylon bags and leather trims used on this backpack. 
A brief overview of the Prada Nylon Backpack
The Italian luxury brand's 1984 backpack has become infamous. The Prada Nylon Backpack is durable and stylish, perfect for commuting, traveling, or just the ideal accessory for your day's outfit. Abrasion- and weather-resistant nylon makes up the backpack's exterior.
It has a large main compartment and a front zipped pocket for compact items. The backpack has padded shoulder straps and a back panel for long-term comfort. The backpack is available in black, blue, and red, allowing users to match their aesthetic.
Description of the Prada Nylon Backpack's exterior and interior design
Prada Nylon logo bags are popular worldwide. High-quality, all-season nylon covers the backpack. When it rains, the backpack is waterproof. Adjustable backpack straps make carrying comfortable. The backpack may fit books, a laptop, and personal items. It has many pockets and compartments within.
The Prada enameled metal triangle logo hides a zipped compartment inside the bag. This pocket holds keys, phone chargers, and headphones. The backpack shoulder strap has a metro card or a change pocket. The backpack's classic design suits both casual and formal wear.
Size and capacity of the Prada Nylon Backpack
The famous Prada backpack offers a variety of Prada backpack sizes, providing enough room and storage alternatives for those with different demands. The small Prada re nylon, medium Prada, and large Prada bags are the most popular sizes, each with a distinctive capacity and style.
The smallest size, the little Prada Backpack with buckles, is perfect for storing small necessities like a phone, wallet, and keys. For people who require a small, lightweight Prada backpack that can also be used as a crossbody or shoulder bag, this Prada backpack variant is ideal.
The medium-sized Prada backpack has more room for storing necessities like a laptop, books, and other goods because it is bigger. Its roomy main area is ideal as a travel bag as the main internal compartment comes in handy. The multiple pockets lining the interior help with organization.
The Prada backpack is also offered in a large size for individuals who require larger bags. For travelers and explorers who need room to pack all of their necessities, this Prada backpack version is ideal. The huge Prada Backpack is made with several compartments, including one for a protected laptop, making it perfect for transporting everything you need in one spot, including shoes.
Details on the Prada Nylon Backpack
Fashionable and useful, the Prada backpack designed by Miuccia Prada herself stands out as a style totem. This backpack is perfect for any scenario and is made with premium nylon and sleek designs. Not only does the main compartment hold all your daily essentials, but the addition of side pockets allows for even more storage.
The Prada Nylon backpack comes in black, blue, red, yellow, white, floral, and camouflage, offering a range to suit any individual's style preferences. Whether slung over one shoulder or carried by the top handle, the backpack's adjustable shoulder straps make it a comfortable and practical choice. The front zip pocket makes accessing your phone, keys, and other small items easy.
What is Prada nylon made of?
Prada nylon is made of ECONYL which is a regenerated-nylon yarn. The yarn can be used over and over without compromising quality. This type of yarn is mainly made from fishing nets and discarded plastic. Fashion forward and eco friendly.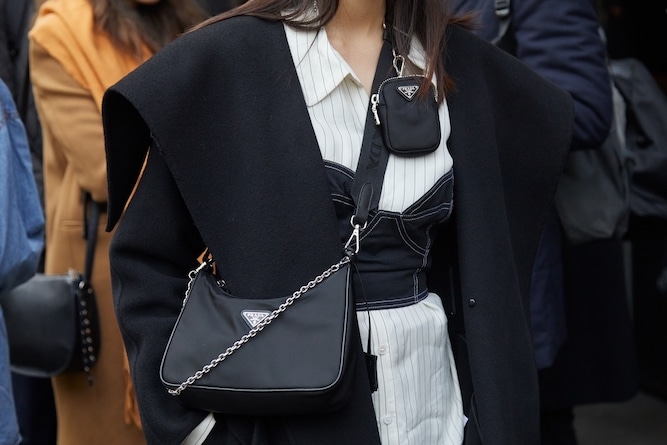 Quality and durability of the Prada Re-Nylon Backpack
Prada uses tough, waterproof, and tear-resistant nylon to ensure longevity. The backpacks are great for daily use, commuting, outdoor adventures, and even for carrying clothes. Prada Nylon Backpacks are made for school, play, and the store, as they can easily carry all your items.
The backpacks have high-quality, durable zippers and hardware, including adjustable straps that are convenient even with heavy loads on your shoulders. Due to the exquisite stitching and design, the bags are elegant and well-made. Prada Nylon Backpacks are of good quality, durable, and long-lasting, making them a great investment for anyone in need of a reliable and high-quality backpack.
Our Pick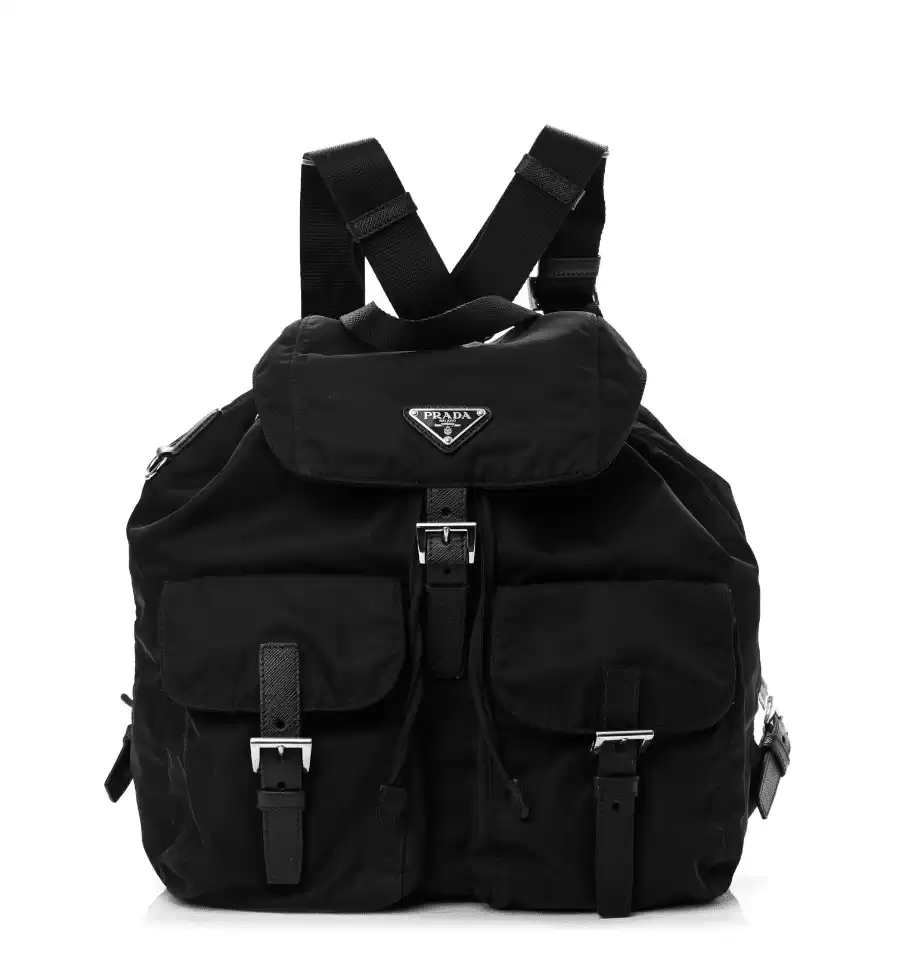 Prada Nylon Backpack
The Prada Nylon Backpack is a sleek and utilitarian accessory, crafted from durable nylon fabric, featuring a minimalist design, spacious compartments, and the iconic Prada logo, making it a stylish and functional choice for both urban adventures and everyday use.
Shop Bags
Summary of the key points from the Prada Nylon Backpack review
The Prada Nylon Backpack review highlighted several features that make it a great pick for a fashionable and functional everyday carry bag.
The backpack is well-made and robust, made to last through daily wear and tear.
The backpack has several pockets and sections for convenient organizing, making it ideal for those who need to carry multiple items such as laptops, phones, and even a change of clothes.
The backpack's size and weight are ideal for daily use, whether commuting to work or running errands, making it a great choice for those who prefer to wear bags rather than carry any other heavy Prada nylon bags or luggage. 
Personal recommendation on whether the Prada Nylon Backpack is worth buying
As a longtime owner of the Prada Nylon Backpack, I can attest to its value. The backpack has lasted nicely over time, and its spacious compartment and small front pocket make it ideal for both travel and daily usage. The adjustable shoulder straps are a thoughtful addition, ensuring that the backpack remains comfortable even after long periods of wear. Its sleek and classic style distinguishes the Prada Nylon Backpack from other backpacks, such as those made by Louis Vuitton.
The drawstring closure adds a nice touch to its sleek, modern design, giving it a timeless appeal. Overall, I highly recommend the Prada Nylon Backpack to anyone in search of a beautiful and durable backpack. Despite its hefty price, the backpack's quality and durability justify the investment. For me, it's the perfect backpack to carry around all of my daily essentials, and I believe it will be for you, too.