If you love designer handbags, then you know that not all high-end brands are created equal. Top brands like Chanel, Hermès, and, of course, Louis Vuitton can be a nerve wracking to keep clean. How to clean Louis Vuitton leather can be tough, especially if you're lost on what products will work on the delicate leather.
With such an important investment, it definitely pays to know how to properly care for and clean your Louis Vuitton bags at home. Check out the products I've used personally and see the before and after photos below!
What is Vachetta Leather?
The vachetta leather on a Louis Vuitton bag is a vegetable tanned cowhide leather. This type of leather is a Louis Vuitton product that is a process exclusive to this fashion house. The biggest misconception of LV bags is that their coated canvas is leather (this is the body portion of a Louis Vuitton Neverfull). While the Neverfull bag is not leather, the leather straps (the trim and handles) are made from cowhide leather. This part of the purse is the hardest to keep clean as it is an untreated leather therefor can patina or age naturally. The natural patina that develops reveals natural markings in the patina process, which makes creates a unique history for your purse.
However, an uneven patina can develop if you're not careful. Louis Vuitton products develop a rich amber patina with age, but naturally can also build up surface stains like skin oils, dirt stains, and more. If you gently wipe or use commercial cleaners to keep your purse in good shape, it may not be enough. Check out how to clean Louis Vuitton leather steps, tips, tricks and products listed below!
How To Clean Louis Vuitton Leather at Home
In general, it's extremely important to clean and maintain your designer handbags regularly for a variety of reasons. For starters, moisture can sit inside bags when they are in storage, causing them to lose their shine and texture. Clean them more often than not. However, you should refrain from overdoing it, especially if you used certain chemical cleaning products, as they can damage your investment.
In addition to carefully cleaning your designer handbag, you should make it a point to take care of your designer handbags properly. Whether you're a passionate collector or have just splurged on your first leather purse, take care of it because you want your purse to last a lifetime and retain its resell value, especially since they aren't cheap.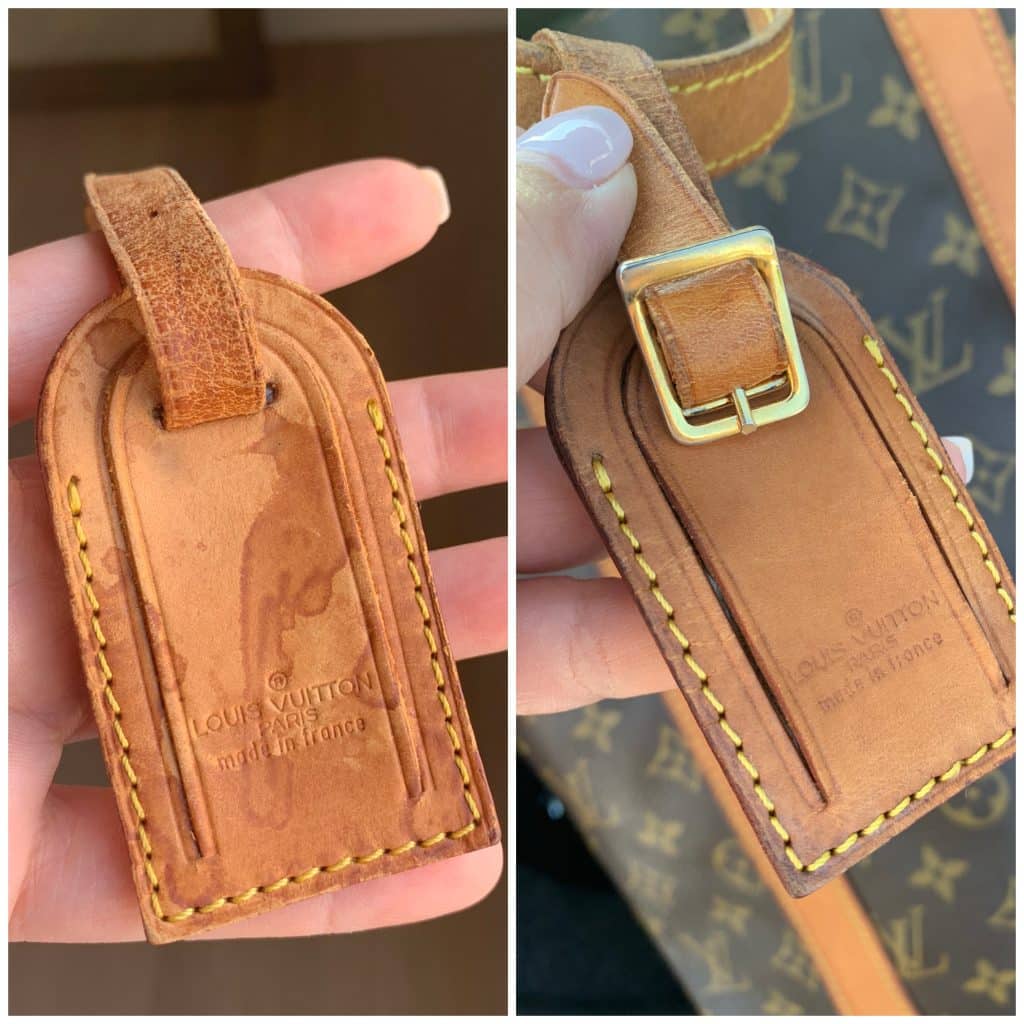 Properly Caring for a Louis Vuitton Bag
The coated canvas of a Louis Vuitton handbag is extremely durable, which is one reason why they remain in such good condition. With canvas, we're referring to LV's Monogram, their light colored canvas – Damier Azur canvases, or Damier Ebene print on your bag, all of which isn't leather. As a result, it's important to note that before you think about how to clean Louis Vuitton leather bag, proper care for a Louis Vuitton Bag is fairly straightforward and includes:
Wiping the bag down with a clean damp cloth daily or with every use. A baby wipe works great too (alcohol free).
Performing a deep cleanse and conditioning your vachetta leather every 3-12 months, depending on how often you use it.
Storing the bag away when not in use, and away from direct sunlight (avoid rooms with high humidity).
Using a luxury handbag liner to protect the lining of your bag from dirt and spills.
Must-Have Care and Cleaning Products
Before getting into how to clean Louis Vuitton leather, you can save yourself a lot of trouble by having the right care and cleaning products on-hand, see the list above. This includes metal polish for cleaning brass, leather conditioner and cleaner, and a protector spray. See below for a before and after with cleaning only one layer off old dirt and grime on these Louis Vuitton zippers.
TIP: Add the smallest amount of the BRASSO to a Q-tip and gently rub it on the areas that need polishing. Remove the polish with a microfiber cloth. Repeat these steps to get the desired look you want. Be sure to avoid surrounding areas such as canvas and Louis Vuitton Vachetta leather!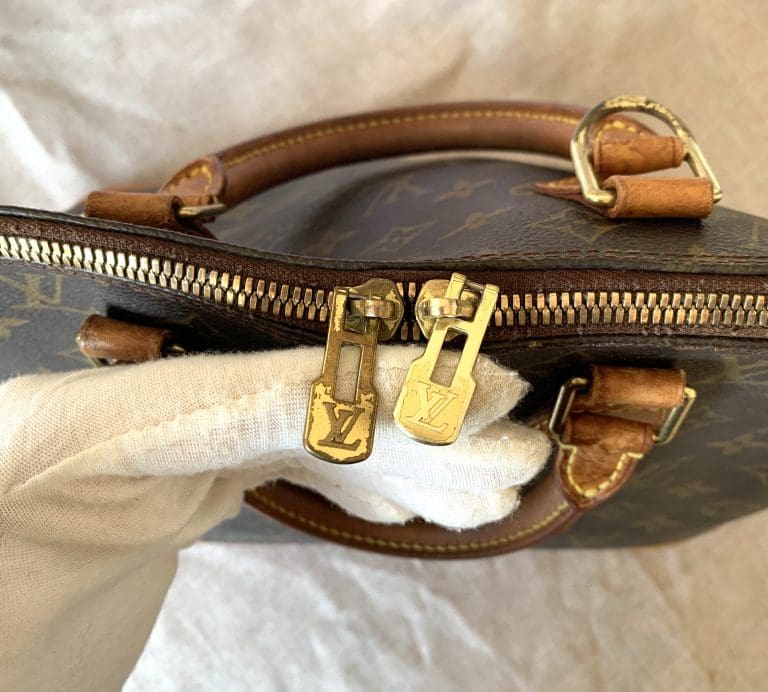 Cleaning the Outside of a Louis Vuitton Bag
Cleaning LV pvc coating canvas is much easier than normal leather, and can even be cleaned much more easily due to its hard-wearing properties. To clean your Louis Vuitton canvas, if you're using the bag every day, simply take a clean, damp cloth or even alcohol-free baby wipes and wipe the bag down.
Alternatively, if you're looking for more of a deep clean, we advise using a deep leather cleaner and conditioner. While the canvas isn't leather, a leather cleaner will still remove stains, odors, and any dirt and bacteria on the canvas.
We highly recommend Bickmore Bick (listed above) this fantastic cleaner and conditioner when looking on how to clean Louis Vuitton leather, this product can also be used on all leather parts (including the handles) of your Louis Vuitton purse that naturally darken over time.
TIP: Use a colorless microfiber cloth to apply the conditioner to the vachetta. The smaller the amount, the better, you can always add more. Slowly rub the conditioner in circular motions on the parts you'd like to clean. Allow the vachetta leather to dry fully before applying another layer. A full day to dry is best. Do not over condition the purse as it may darken the color of your vachetta. You won't BELIEVE the difference this stuff makes.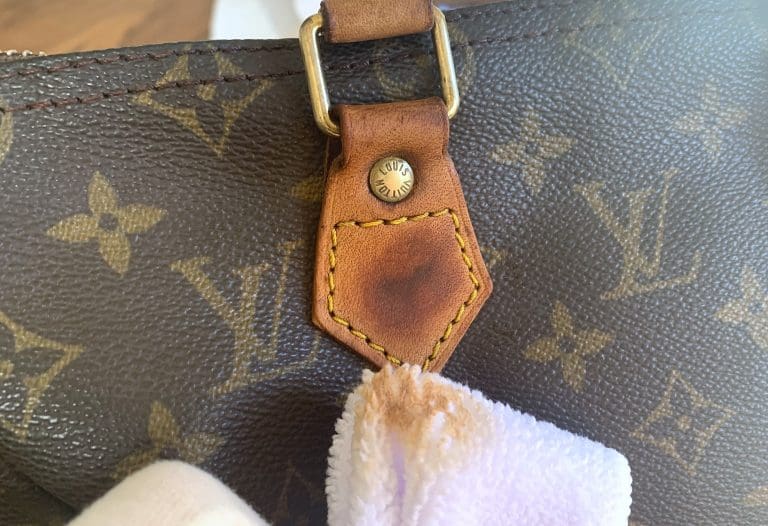 How to Clean Louis Vuitton Leather Interior
Clearly, keeping the outside of a Louis Vuitton bag clean and protected is important, but that doesn't mean you should neglect taking care of the inside of your bag. Instead, you can preserve your bag's interior by simply following these easy instructions.
1. Empty all contents from the bag, zipper pockets, and so on.
2. Next, turn the purse upside down, and gently shake over a trash can to get rid of loose residue.
3. Wipe down the bag's interior. We suggest using unscented baby wipes or alcohol free wipes to remove debris or buildup.
4. Drizzle a few drops of mild cleanser or soap over a damp multi-purpose cloth to get rid of heavier buildup.
5. Rinse and wring out the cloth, then gently clean the inside of the bag again to remove any leftover cleanser or mild soap.
How to Clean Louis Vuitton Leather Trimming
There are several different kinds of leather trimming that are used when it comes to Louis Vuitton bags. Be that as it may, most of the more popular handbags are made from Vachetta leather. This particular kind of leather trimming is made from premium, untreated, and unprotected cowhide leather. On new bags, this leather should be noticeably lighter in color.
Note that vachetta leather does get darker with time (this process is referred to as patina). Each bag will develop its own unique patina, and because the leather is untreated, stains and marks happen over time. Water stains can be especially tough to get out.
How to clean Louis Vuitton leather or to keep the leather from coloring too quickly or unevenly, it's important to take care of it. Here, you can use baby wipes with no alcohol in them, an eraser, and a dry microfiber cloth to properly clean, as well as remove stains from the trimmings of your bag. It's also highly recommended that you condition the leather trimming regularly with colorless, wax-free leather lotion.
This will prevent the leather from drying up and cracking. Again, the use of harsh or non-recommended chemicals and cleansers can and often does dry out the material, which then leads to cracks in the leather.
If you're a bit too late and your trim already has cracked in certain areas, you can always add a dab of this leather glue to keep it together. Less is more. After the glue has dried after 24 hours, be sure to condition it again with the Bickmore cleaner listed above.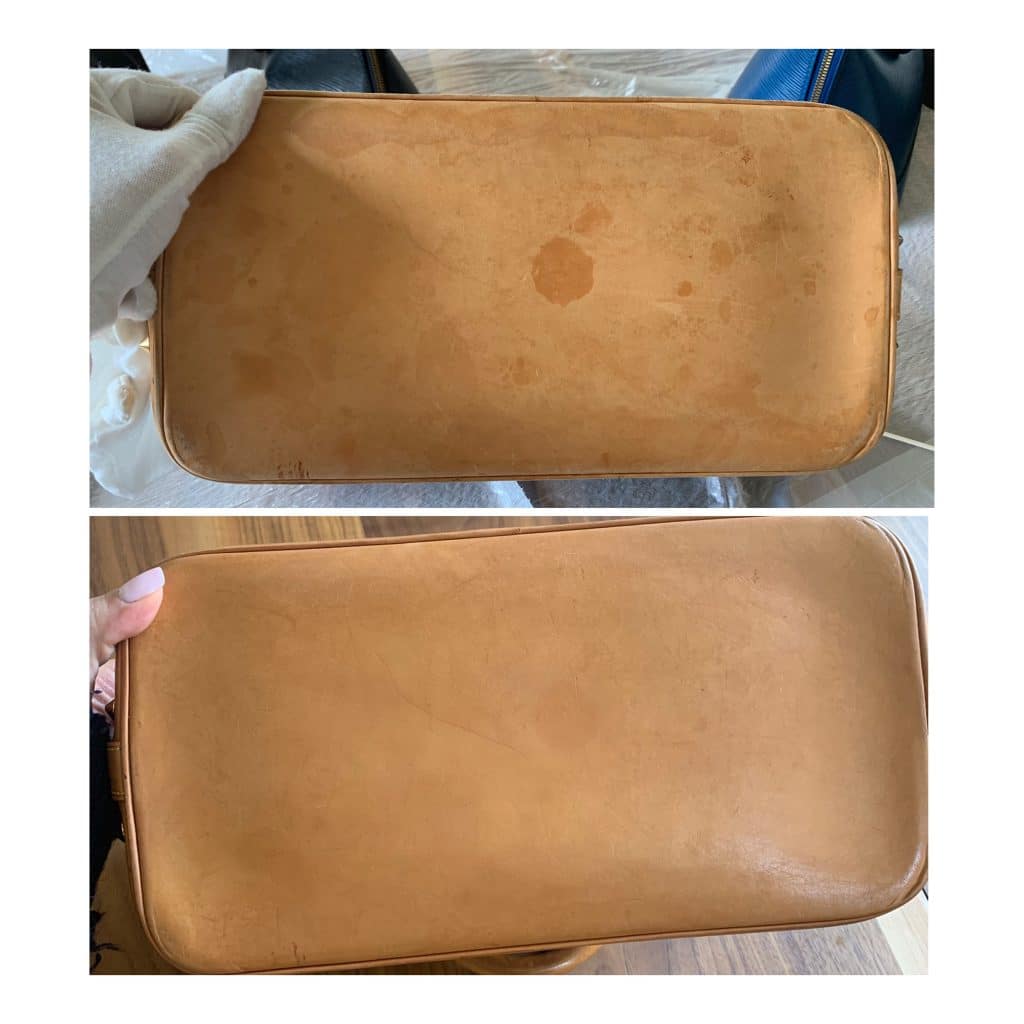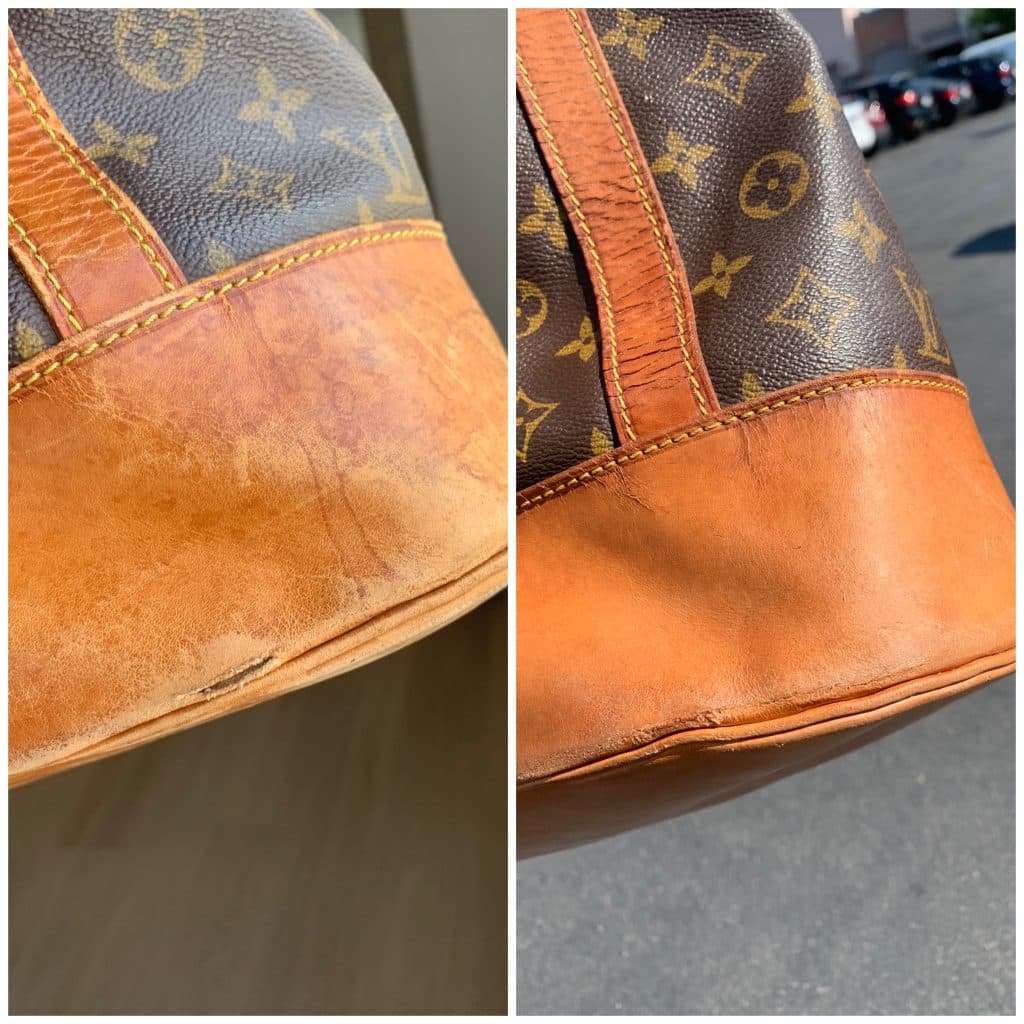 Cleaned Using Kiwi Soap & Soft Brush Bristles – Glued with Suede & Leather Glue
Getting Stains Out of Louis Vuitton
If you've spilled something more substantial on your Louis Vuitton canvas bags, try to remove whatever you spilled on your bag immediately to prevent set-in stains. You can use a clean cloth and water in this event.
However, for set-in stains, it's highly recommended that a deeper cleaning product, such as the Kiwi Saddle Soap (used for the bottom of the LV alma bag above) is the best in this instance. Use gentle scrubbing tools such as these, wet the soap with lukewarm drinking water, lather the soap up using the applicators, and lightly scrub the areas in circular motions.
Be sure not to over-drench the bag in water, the scrubbing tools should only be wet, do not pour water directly on the bag. After you're finished scrubbing, dry the vachetta with a non-wet cloth. Let the bag dry fully overnight. If you need another round of scrubbing to get deeper stains out, go ahead. But we advise against more than two rounds, as the soap and water combo may darken the vachetta slightly.
If that doesn't do the trick, try using a damp cloth with some more mild soap and water on it—repeat this step if necessary, until the stain is gone. You can also opt to gently use a magic eraser, followed by baby wipes, on your dry bag for excess dirt and water stains. Do this with caution as your how to clean Louis Vuitton leather could rub off too much if done incorrectly.
After successfully removing the stain, towel dry your bag with a multi-purpose cloth. Remember, even though it may be tempting when dealing with a tough stain, refrain from using harsh cleaners or chemicals on the canvas, as they harm the material.
See the before and after picture below using Bickmore's Leather conditioner! ** No photoshopping has been used in order to show full cleaning powers.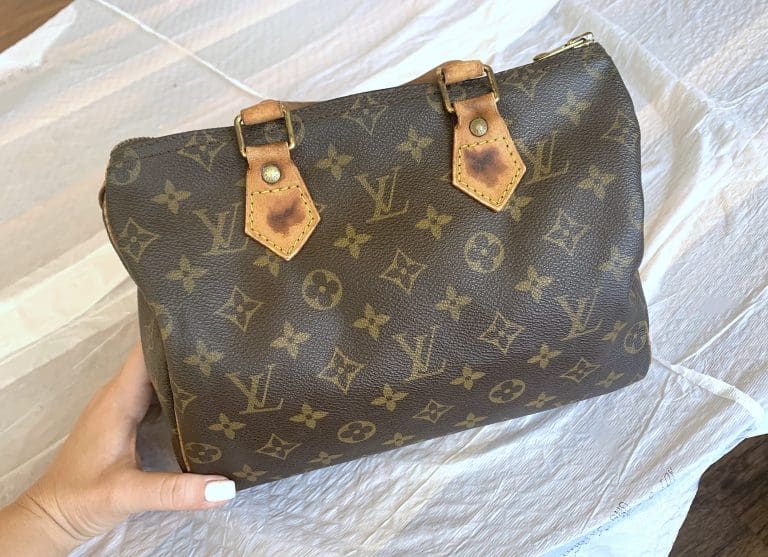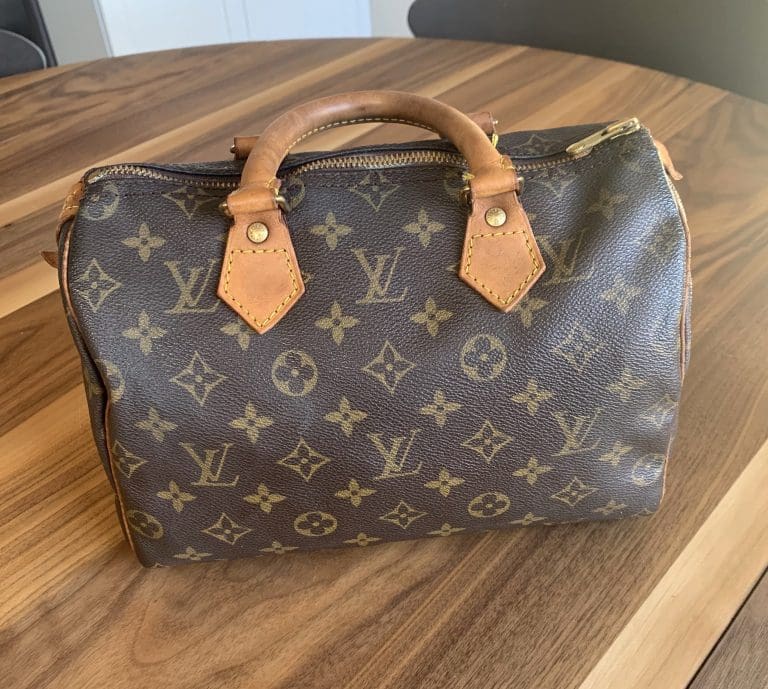 Cleaned Using Bickmore:
YES this is the same bag & NO, no photoshopping was used to show Bickmore's cleaning powers!
How to Clean a Louis Vuitton Speedy Bag (Vachetta Leather)
Since the LV Speedy Bag is one of the most popular, here are some quick tips for cleaning it. Here, saddle soap (listed above) can be your friend and will help to remove stains off your patina on your Louis Vuitton straps (great for LV Speedy bag). For stains, you can use either a damp cloth or opt for wipes. If you happen to get ink on your Speedy bag, try a little hairspray; it will do wonders. Finally, for the hardware, cleaning/polishing agents, such as Brasso metal polish (listed above) are your bag's best friend.
How to Clean a Damier Azur Canvas Louis Vuitton
Since Louis Vuitton's Damier Azur Canvas is the lightest of the canvas options with a white and gray/blue coloring, this bag style tends to get the most marked up. It's worth noting that the Damier Azur canvas is just as strong as the monogram and Damier Ebene canvas. Still, it's prone to showing more dirt and stains, and therefore requires more daily care if used heavily or ever has anything spilled on it.
How to Clean a Colored/Printed Limited Edition Louis Vuitton
Louis Vuitton also releases limited edition prints onto their canvas, including color prints and overlays on things like the classic monogram canvas. Generally, a limited edition print doesn't affect the overall fabric, and thus, the bag can be cleaned as if it were any other canvas bag.
However, there are some limited edition Louis Vuitton canvas bags that may be lighter in color. These bags are worth the extra care to avoid marks and stains. Here, you can clean a printed or limited edition canvas by following the same procedure as mentioned above.
Just remember to wipe the canvas down with a soft, clean, damp cloth daily and use a mild cleaner and nourishing conditioner once every 6-12 months on the bag.
See below for how we removed those pesky white scratches off Louis Vuitton Epi Leather bag using the Bickmore Leather cleaner. See how to clean scratches off Louis Vuitton Epi Leather using the Bickmore cleaner (product listed above) image below.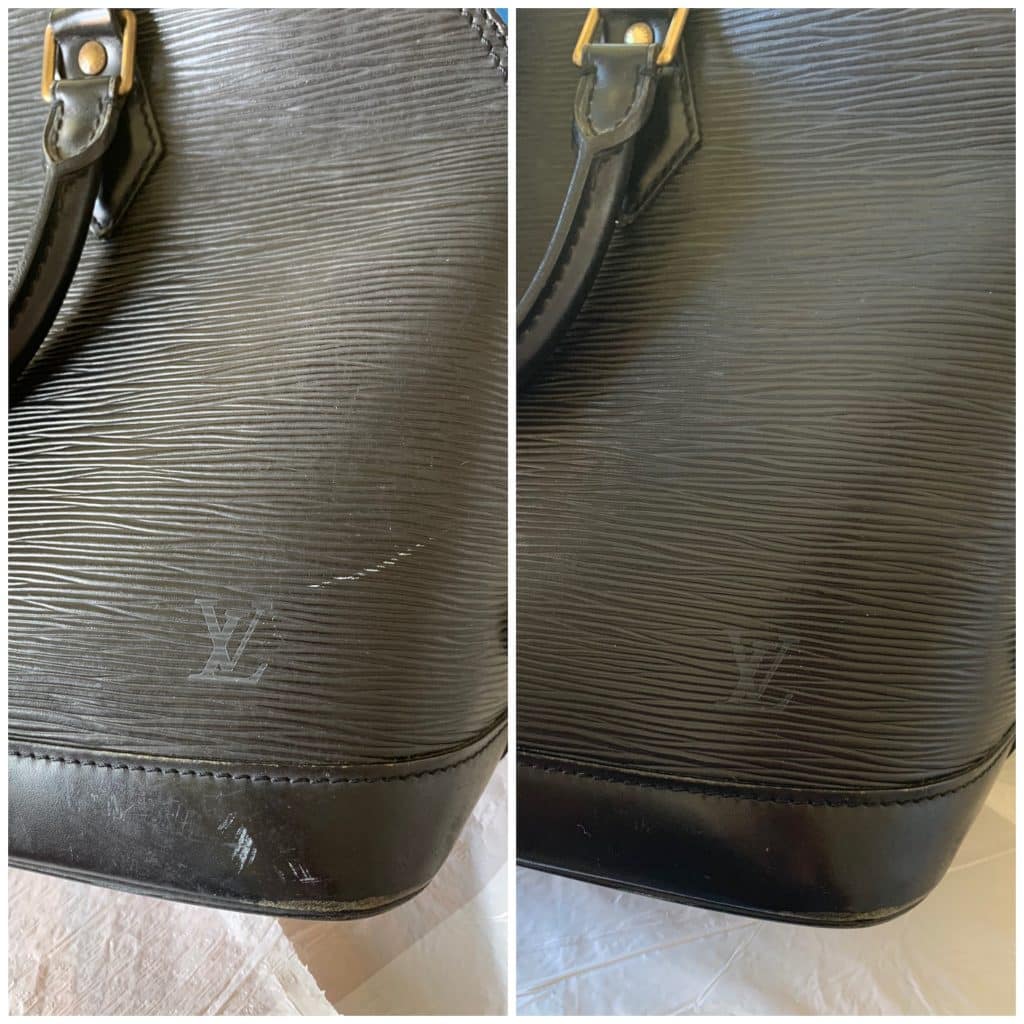 Cleaned Using Bickmore Leather cleaner
How to Store a Luxury Bag
Last but not least, before you put a bag away after using it, wipe it down with fragrance-free and alcohol-free wipes. This will help to remove dirt from the bag that has accumulated during use. It will also prevent any staining to the leather while in storage. After a good once-over with your choice of baby wipes, make sure you let your Louis Vuitton purse air-dry before storing. After all this how to clean Louis Vuitton leather research, you don't want the work to go to waste if stored incorrectly!
Once your bag is ready to be stored, you must place it in a dry, dark, and ventilated space. This is a good environment to keep your bags in because it allows the leather to breathe and prevents color fade/degradation from excessive light exposure.
Remember, humidity and leather don't mix well. Humidity actually causes leather to mold and glazed interiors to peel. You may want to consider opting for a dehumidifier for your bag storage space.
You can store your purses out in the open or a glass display cabinet, as long as the bags aren't being subject to excessive or ongoing light exposure. If you do opt for enclosed cabinet storage, make sure the space allows for the leather to breathe properly.
You can also store your Louis Vuitton handbag in a dust bag. Note that we said dust bags and not boxes. A dust bag will ultimately protect your handbag from dust accumulation and will still be able to breathe. However, storing bags in a box or air-tight container can prevent air circulation and cause the leather to deteriorate.
Folding, Stuffing, and Spacing
Quite a few Louis Vuitton handbags are designed to be folded flat and stored. That said, make sure that when you fold a Louis Vuitton handbag, you do it correctly to avoid unnecessary folds in the leather.
For example, a Keepall or Speedy's sides should be folded underneath the bag and not tucked into themselves to protect the vachetta leather. The sides should also be folded underneath (instead of on top of the bag) to avoid any glazing transfer on the handles onto the monogram canvas.
Stuffing your handbags is optional, and only needs to be considered if the bag doesn't have a robust structure, such as totes and hobo bags. If you do stuff your purses, you can use fabric or tissue paper to encourage ventilation inside the bag.
Finally, when it comes to spacing, make sure you give your handbags room to breathe. A bit of space between each bag will allow for optimal circulation and prevent them from getting squashed or losing shape, ultimately keeping them in good condition.
Final Note
Ultimately, Louis Vuitton is the world's most recognizable luxury brand and is often in high demand. Be sure to follow the steps above on how to clean Louis Vuitton leather, or spruce up a vintage Louis Vuitton bag.  Louis Vuitton canvas, in all style/prints, is instantly identifiable. Consequently, classic bags like the Neverfull and Speedy often command high prices even after many years of use. Thus, the better the condition of your Louis Vuitton handbag remains (especially the vachetta leather), the higher the resell price will be when and if you decide to part with it one day.
This article contains affiliate links.